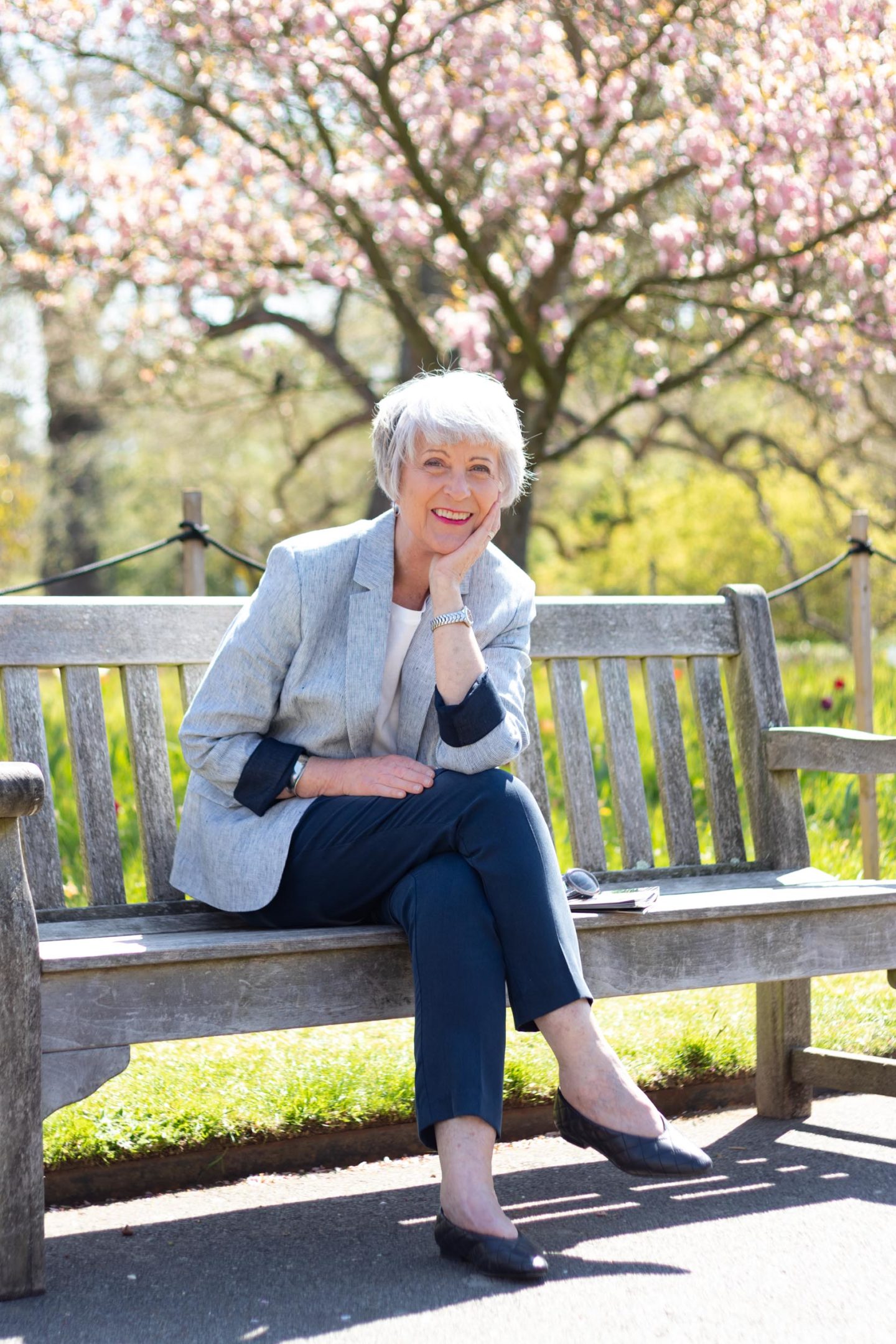 Today I wanted to show you how to style classic pieces to look chic from the Jaeger spring collection. I am thrilled to be writing this post as I am so glad that the Jaeger Brand has been revived and is now under the Mark&Spencer banner.
I have a personal reason for being a fan of Jaeger
In 1974 at the age of 24 I was the press officer for Jaeger Ltd. It was a job that "a million girls would kill for " as the character Emily says to Andy in the film "The devil wears Prada." It truly was an amazing job as I was in charge of organising photo shoots and promoting the brand to the press. I was part of a team and we had great fun as during that period Jaeger was expanding into the European market and we used to organise shop openings and fashion shows. Today I wanted to show you how to style classic pieces to look chic from the Jaeger spring collection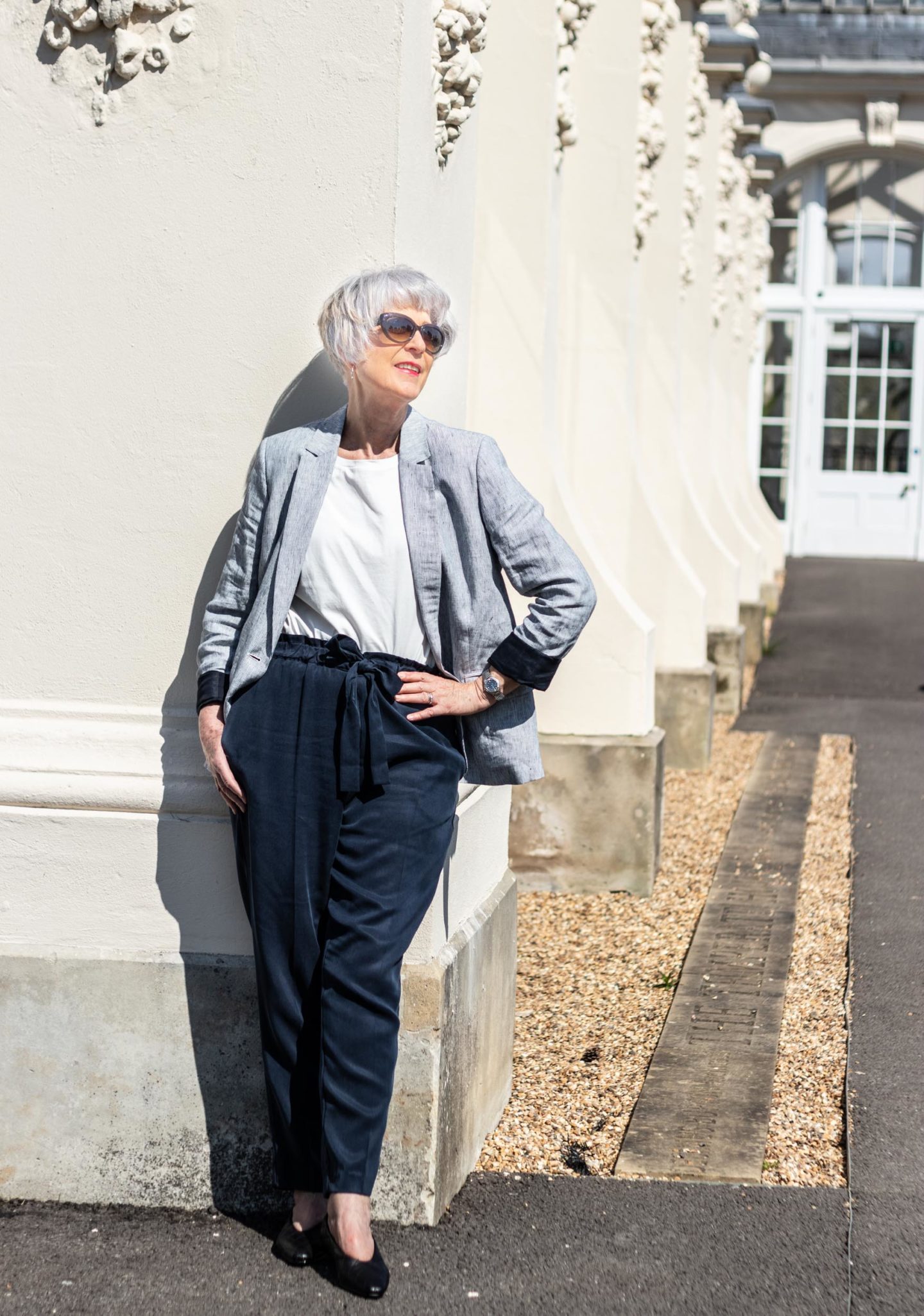 In the first two photos I am wearing a navy and white striped linen blazer. This is a really flattering well-cut classic blazer, a real workhorse in any wardrobe. Jaeger always concentrated on good quality long-wearing fabrics and this collection was no exception. I was very impressed that the jacket came well wrapped and on a Jaeger branded hanger. This will be such a useful jacket in my wardrobe. You will see me wearing it again on this blog with a pair of white jeans. I have teamed it with a simple white tee and their Tencel elasticated waist trousers. They were very comfortable and the fabric draped well. Jaeger does cut on the large side so you might need to size down.
My black leather ballet flats are also from MarksandSpencer. I already own a couple of pairs in a similar style but I like this year's quilted version. They seem to go with everything from dresses to trousers.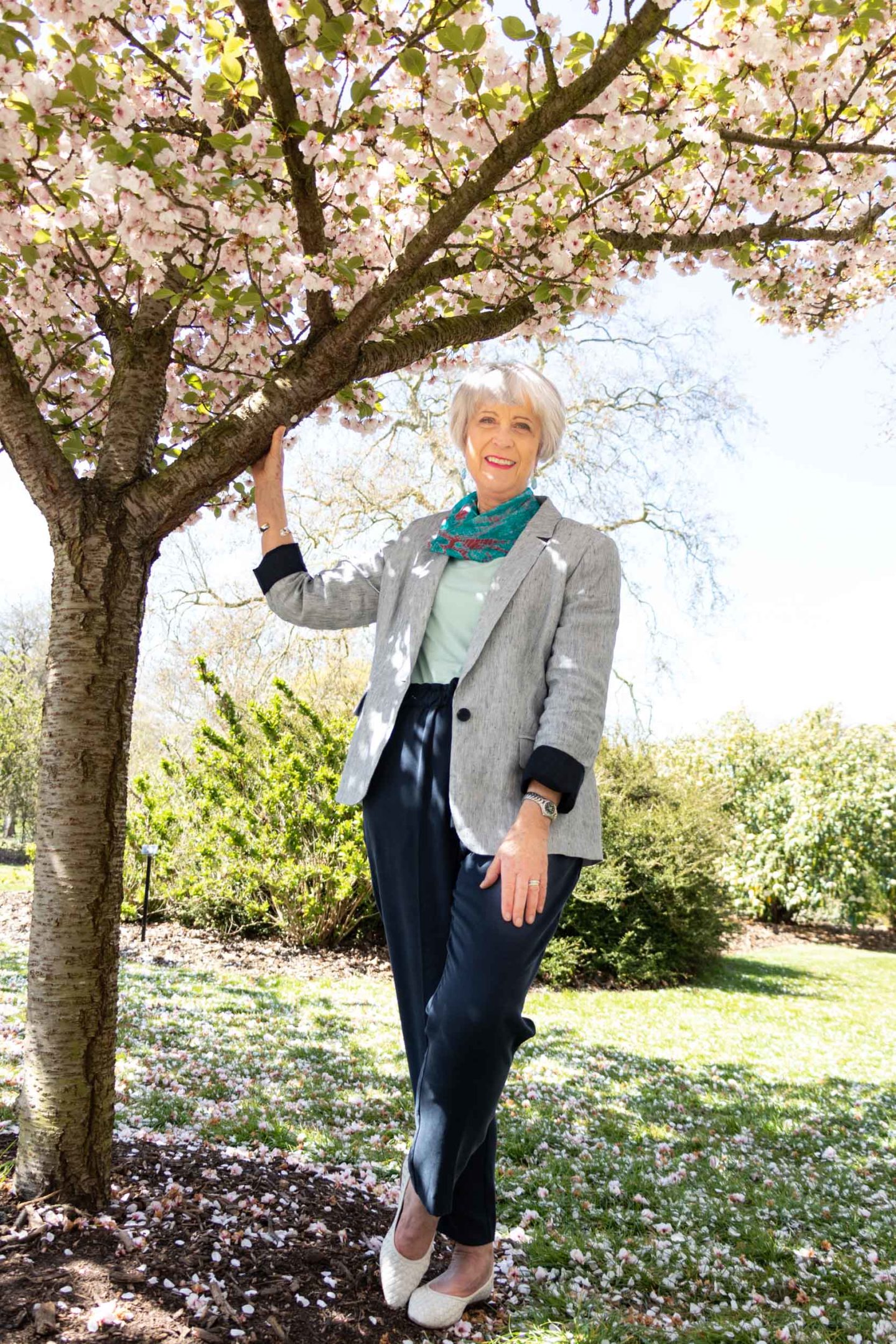 In the photo above I have added a touch of colour with this jersey 3/4 sleeve scoop neck top. This definitely came up quite large. The small scarf I am wearing was from St.Tropez market. We are hoping to get back there in June, fingers crossed. My leather ballet pumps are from MarksandSpencer.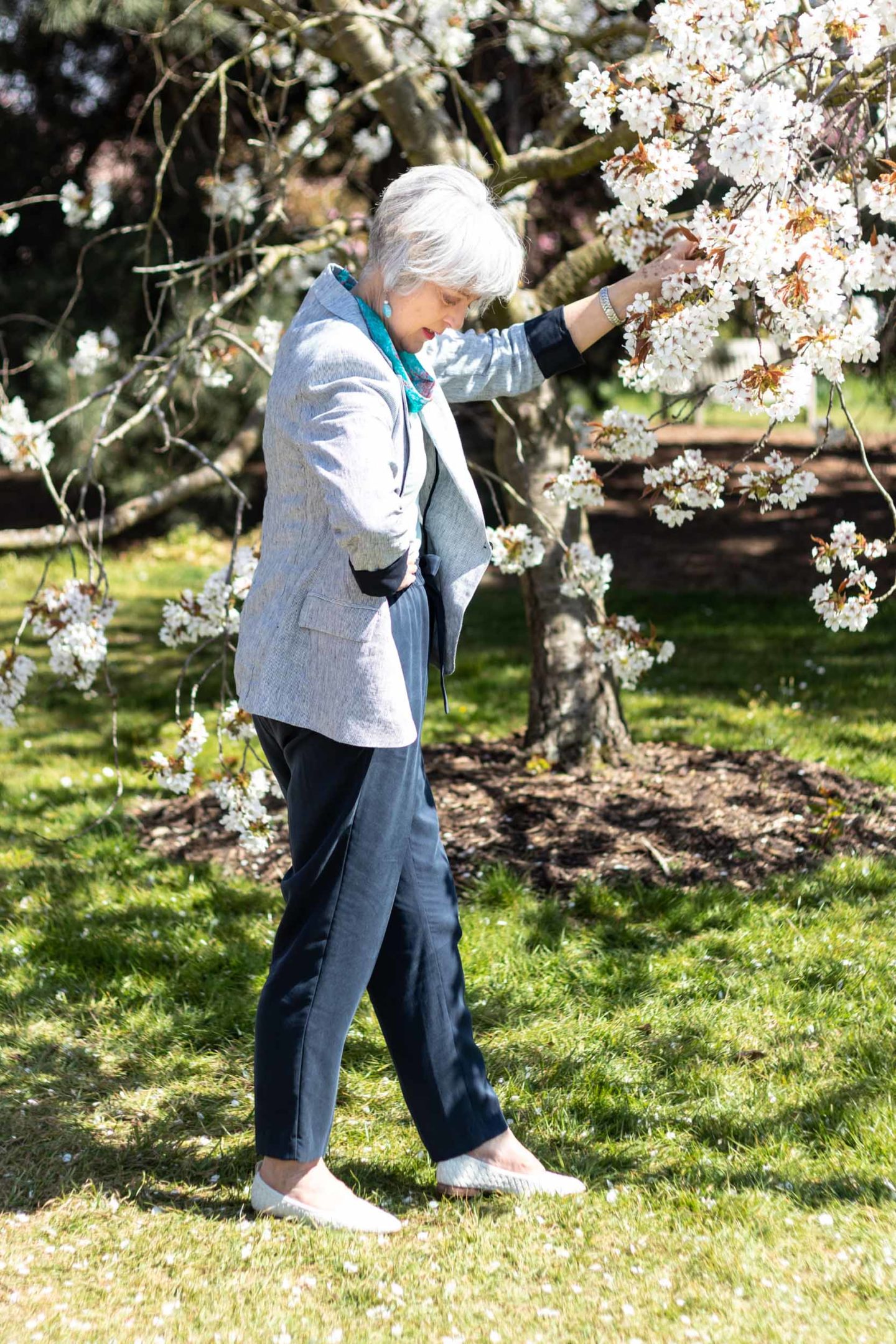 How to style classic pieces to look chic
Laura Hines took these lovely photographs in Kew Gardens, follow her on Instagram.
We had a wonderful day at Kew and we were lucky enough to just catch the cherry blossom in full bloom before the delicate petals dropped.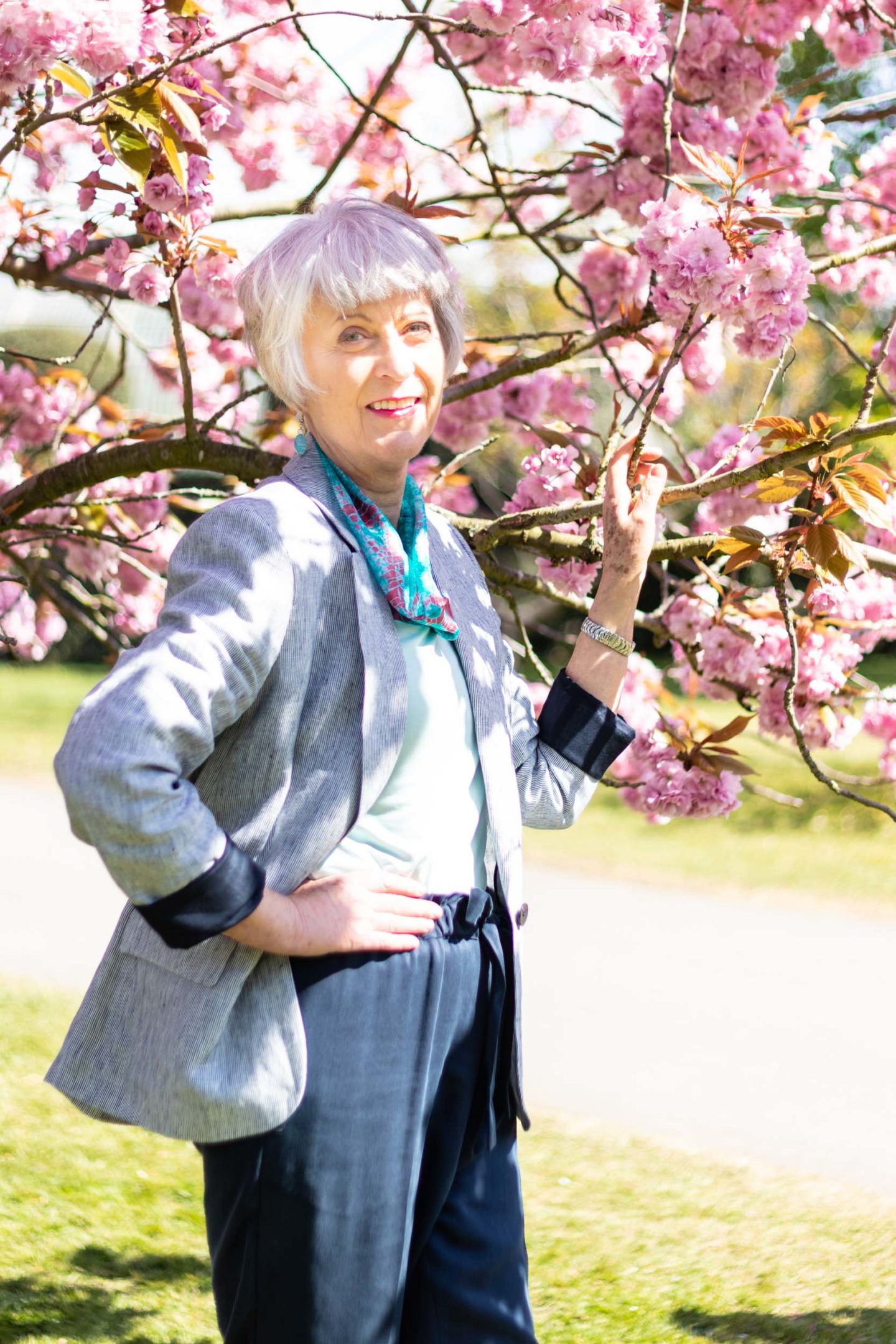 Below I have selected more pieces from the Jaeger at Marks&Spencer collection that you might like.
Disclosure: The trousers and green top were returned following the photo shoot as they were too big. The jacket and tee will be integrated into my wardrobe.