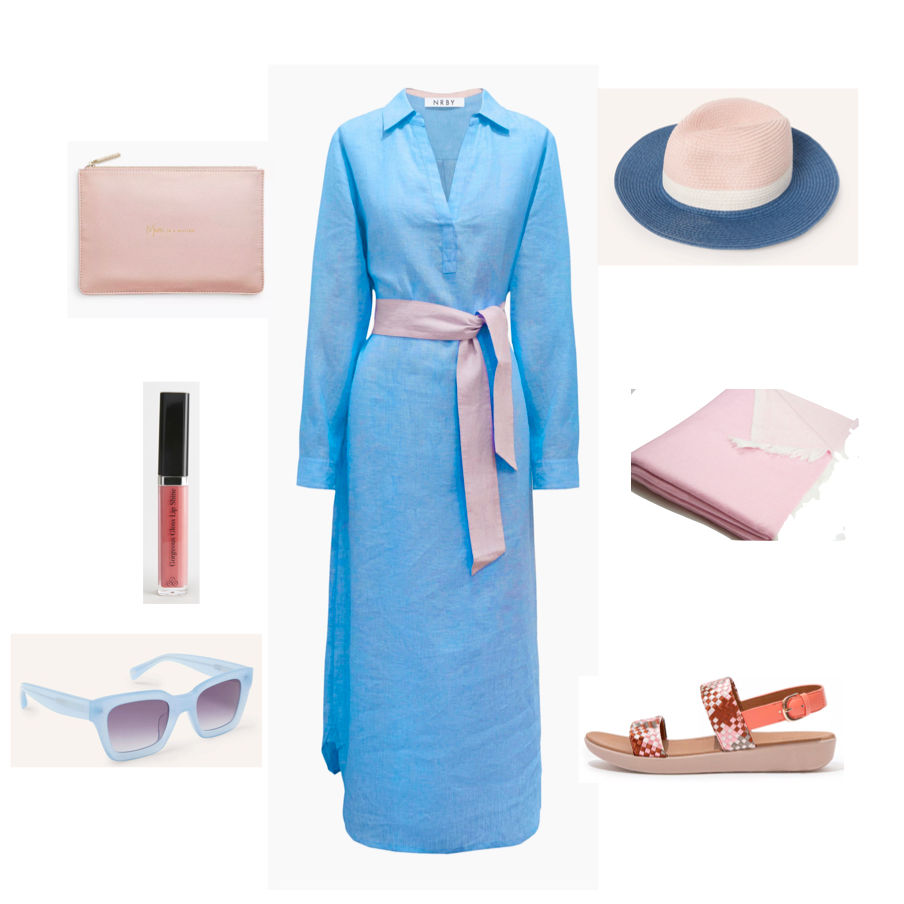 After spending the long winter months in thick heavy fabrics I feel that I want to turn from a chrysalis into a butterfly and to dress in lighter, brighter colours and fabrics. I am longing to get out into the sunshine and wear a dress. A simple summer dress is a great addition to any wardrobe. It can be dressed up or down depending on the occasion. A dress is one of the simplest garments to pop on. You don't need to consider coordination just add a few simple accessories and you are ready to go. Most of my favourite brands are offering a wide range of styles and colours. I have spent many hours researching styles and colours that I think you will like. So let's get started on how to choose a simple summer dress.
Details of above:
Pink purse JL&P | Blue linen dress with pink sash NRBY at JL&P | Pink&blue straw hat Boden | Pink lipgloss LookFabulourForever | Pink cashmere blanket wrap Etsy | Blue frame sunglasses Boden | Pink sandals Fitflop.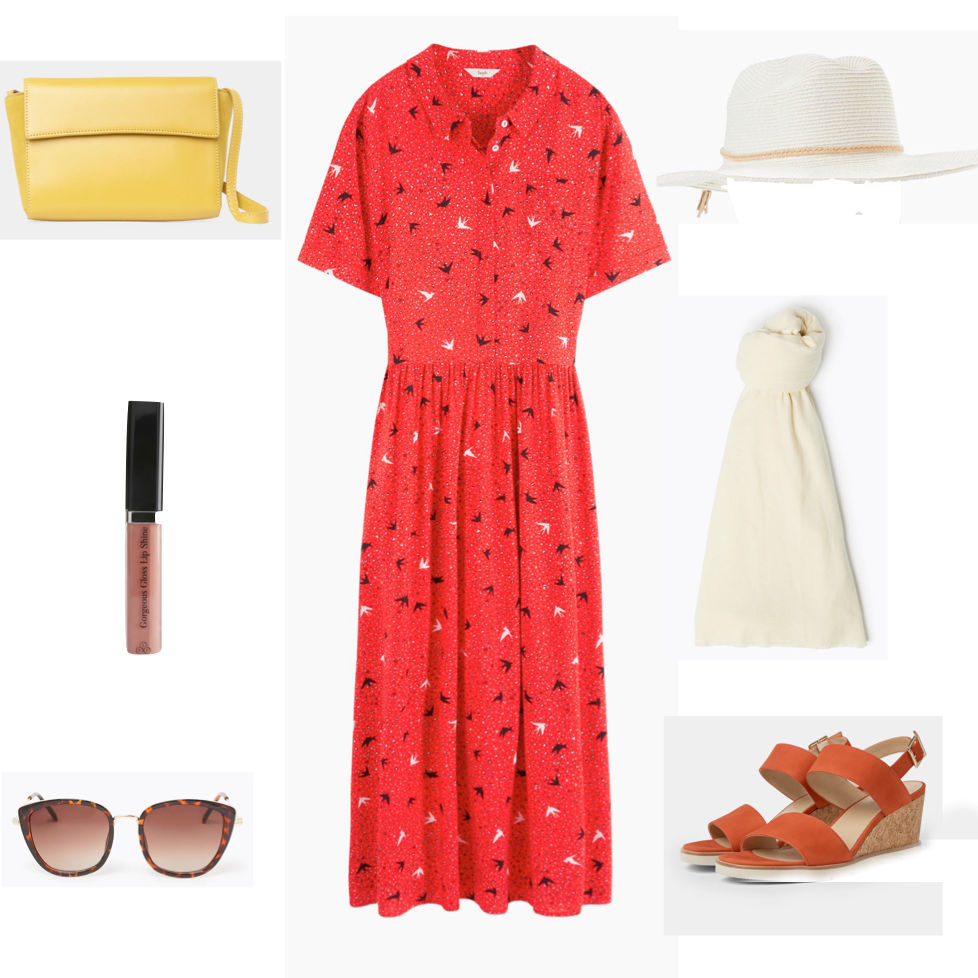 Details of above:
Yellow handbag MarksandSpencer | Red print dress Hush | cream straw hat JL&P | cinnamon lip gloss LookFabulourForever | Cream shawl MarksandSpencer | Sunglasses MarksandSpencer | Wedge Sandals by Hobbs at MarksandSpencer.
Let's look at what criteria are important when choosing a summer dress.
The occasion. Now that we are able to meet up with friends and family outside and hopefully inside (depending on where you live) our dresses need to be practical. That means if necessary we can add layers. This might take the form of a vest or tee worn underneath or a cardigan/waistcoat/jacket on top. I don't think that I am ready for sleeveless yet. I only wear sleeveless dresses in a very warm climate.
Integrate into your existing wardrobe. Whenever you buy a new item it is always important to make sure that it integrates well into our existing wardrobes. Now that many of us have switched to buying online this makes this aspect much easier. Whenever I buy a new item of clothing as soon as it arrives I have a try-on session to make sure that I can create multiple outfits using the clothes that I already own. This can be a time-consuming and messy process. It takes me ages to tidy up my bedroom afterward. However it is well worth it.
Fabric choice: This will depend on where you live. Personally, I prefer linens and cotton. Viscose can also be a good choice as viscose has improved greatly in the last few years. It is also more sustainable than a lot of fabrics on offer. I am not a fan of polyester. I know that many brands are using recycled polyester these days but I still find it not very breathable in hot weather.
Flattering shape and colour: By now most of us have an awareness of what colours suit us best. Personally, I like to wear bright cool colours in the summer or alternatively white and navy. I prefer a simple shape with some waist emphasis. However we are all different so I have put a variety of colours and shapes in my selection below.
This is the summer dress I bought two years ago and I will be wearing it again this year.
Summer dresses: