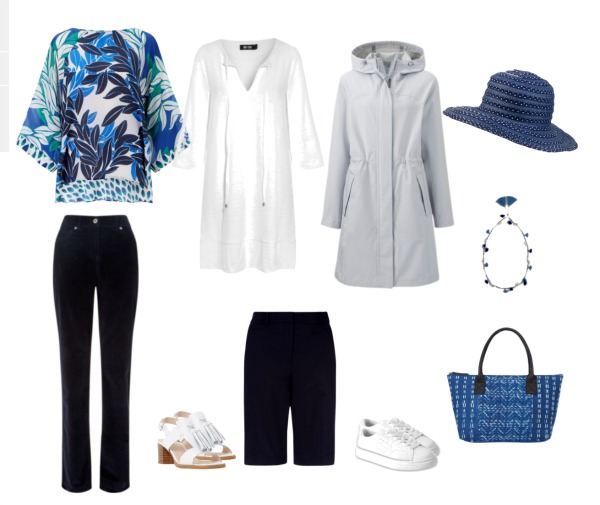 It's the time of year when having planned your holiday, maybe way back in gloomy January, you need to think about what clothes to take. By the end of June, the sales will be starting and all the good clothes will have gone. I have already had emails from readers asking for advice on what to pack for a European vacation.
As I sit here in the South of France with the sun shining and the patio doors open letting in a slight breeze I have come up with some ideas. I currently have all the above pieces or similar in my wardrobe here.
I have included a pair of shorts, I know they may not be for everybody. I have a pair in white which I only wear when going to the beach. A sunhat is essential and I always carry a colourful panier with me.
The grey Uniqlo raincoat is a really useful piece. I tried it on when I was in London and definitely would have bought it if I did not already have one similar. You never know when you might get a sudden downpour. We had a thunderstorm here yesterday afternoon with some heavy rain. Thankfully not as bad as in Paris recently. Although we did have bad floods in this area a few years ago.
DETAILS OF CLOTHES
Colourful blue top by Marella at John Lewis. Can be worn during the day and dressed up for the evening.
White towelling Kaftan dress (also comes in navy) by Me&Em. Great for the beach or for a casual lunch. It is quite short so I would probably wear it over the shorts. Also dressed up with jewellery.
Light grey raincoat by Uniqlo. As I have said such a useful piece. I think Uniqlo have a superb range of simple summer cottons this year.
Straight leg navy cotton trousers at John Lewis. I always have a pair of classic navy trousers handy.
White block heel sandals by Dune at John Lewis. I am a great fan of the block heel. Dressy but I can still walk in them.
Navy Knee length shorts by Boden. I don't like very short shorts mine are just above the knee.
White trainers I am never without a pair of white trainers. I have always liked them. These are by Adidas at Nordstrom.
Blue Panier – by East at John Lewis. I am never without one especially on market day.
Long tassel necklace – by Boden. I love ethnic style necklaces for summer and often buy mine in St. Tropez market.
Blue wide brimmed straw hat – at John Lewis
SHOP THE SUMMER HOLIDAY WARDROBE
For my USA readers some excellent summer tops, sunhats and pants at the Nordstrom vacation shop.
PS. I can't believe that some of the sales are starting, but they are so we might as well make the best of them and get some bargains for our holidays.
SALES
Handbags & Accessories at Nordstrom