Wow, what a weekend! What a wedding! The sun shone and oh those gorgeous dresses. The colours, the prints so elegant. The jewellery twinkled and everybody looked so happy. We were all mesmerised. I was not able to watch the wedding live as we went to the London Photo exhibition at Somerset House. However, I spent Saturday evening catching up on BBC iplayer, which actually worked very well as I was able to pause and replay to check out all the details of what the guests were wearing.
Yellow won the day. The stunning dress by Stella McCartney worn by Amal Clooney was, in my opinion, the front-runner. Pink and navy were also very popular colours. There were a few lovely lilac dresses, a colour I think can be especially flattering if you have grey hair. You can see what some of the guests wore over at WhoWhatWear.
There was less formality in the outfits than I predicted in my previous post which was good to see as it added to the more relaxed and fun atmosphere of the occasion. Although hats were definitely de rigour.
Details of above: Palace collection yellow print dress Hobbs // Red wrap print dress Hobbs // Yellow V neck dress The Modist // Pink dress with frill hem The Modist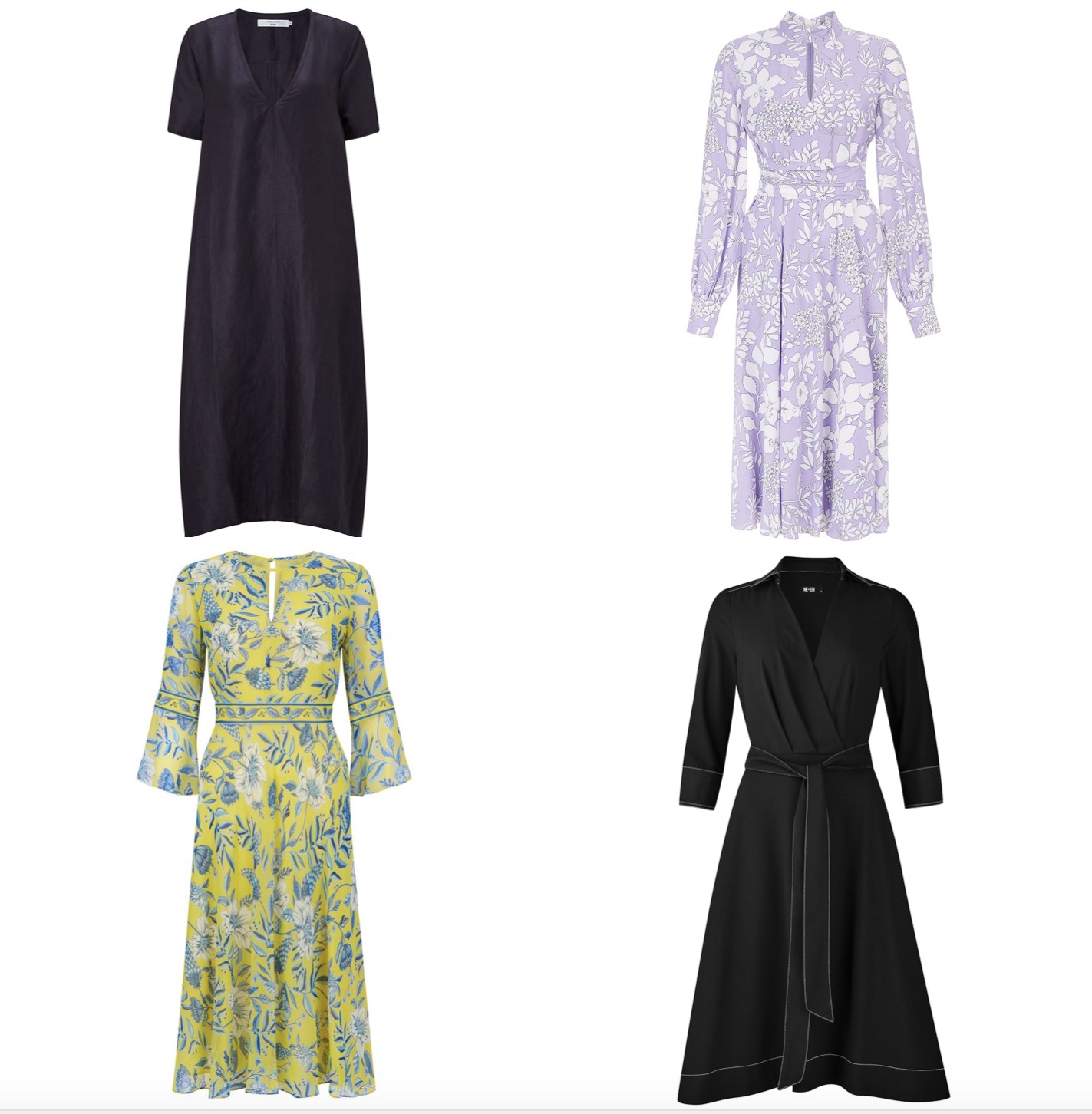 Let us hope that the sun continues to shine. I have finally got round to sorting out my summer wardrobe. I do have a couple of summer dresses from last year in working order however it is time I replenished my stock as several are looking a little tired. To this end, I have just bought the navy linen handkerchief dress (top left-hand corner) from John Lewis. It looks much better on than it does in the photo. I plan to get a photo shoot organised soon so that you can see me wearing it.
Details of above: Navy handkerchief dress John Lewis // Lilac print dress Hobbs // Yellow print dress Hobbs // Navy wrap dress with white stitching MeandEm
I have spent time trawling the internet searching for dresses that I hope you will like. Maxi and Midi styles are the most popular this season. I have included a few knee-length versions as well. Most of us like a sleeve so I have only chosen either long or short sleeve dresses. I have not included sleeveless ones. Although personally I am ok with sleeveless when the temperatures are very high.
Long Sleeve dresses:
Short sleeve dresses: