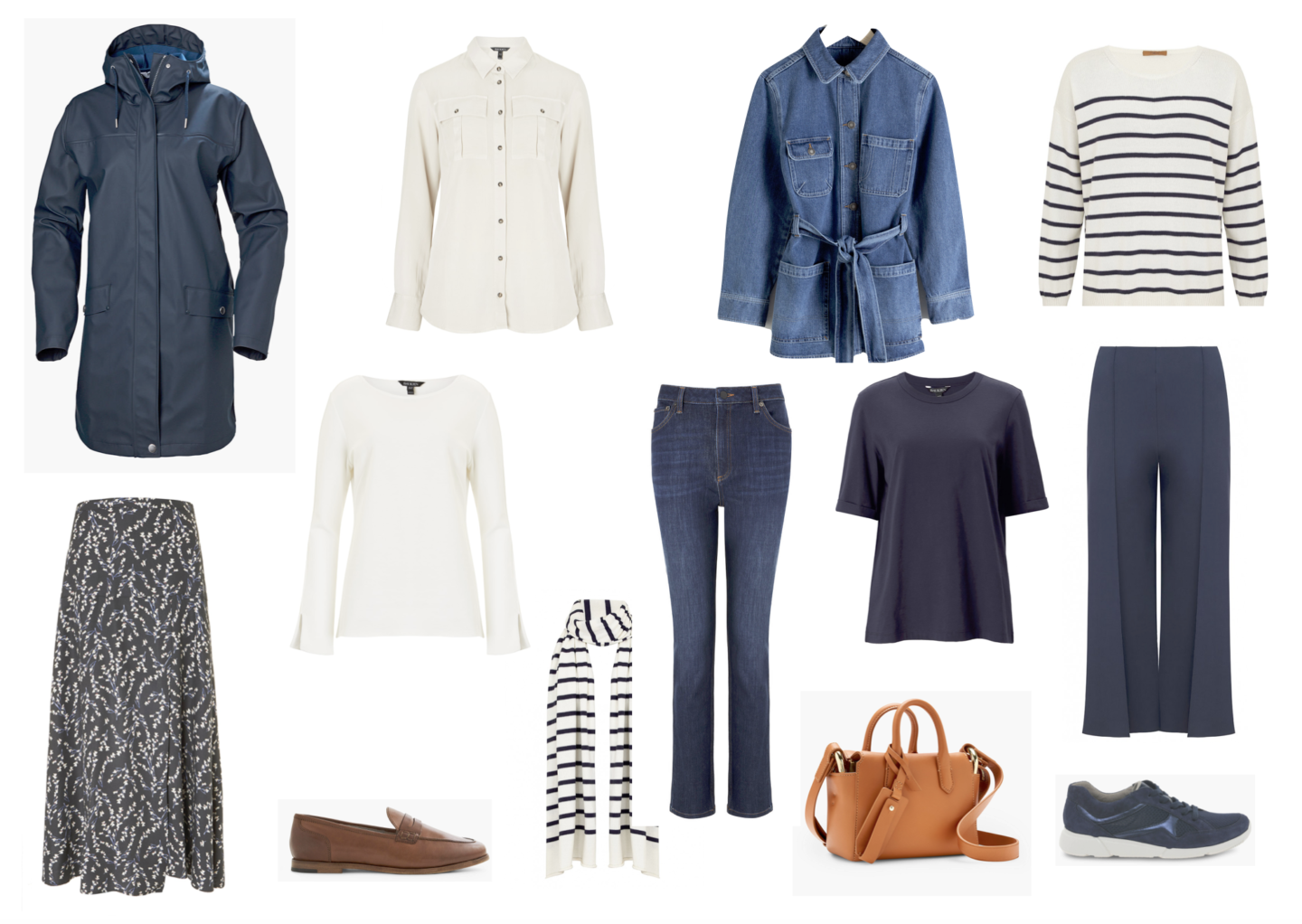 I am off to St.Tropez in the middle of March for a couple of weeks. I shall be exploring the markets as usual and reporting back on what I find especially the new styles from my favourite scarf stalls.
In the meantime, I have had a request from a reader to suggest items that I would recommend for a Spring break in France. This is becoming increasingly difficult as the seasons seem to be a bit topsy turvy. Certainly here in London it has been unseasonably warm. The trees and plants are coming into bud which is causing me to experience hayfever very strange as it does not normally arrive till about April.
Back to my suggestions for a travel wardrobe. You can see a couple of the previous ones I collated here and here. My advice, as usual, is layers and more layers. I have based my choices around a simple colourway of navy and cream with tan accessories. If you have warm colouring you could easily substitute this colourway for browns and beiges very popular this season.

Details of above:
Water resistant navy rain jacket JohnLewis&partners / stone shirt Baukjen / Denim tie waist jacket &otherstories / Breton jumper Hopefashionuk / Print midi skirt Baukjen / Cream top Baukjen / Straight leg jeans JohnLewis&partners / Navy roll cuff tee Baukjen / The power foundation wide leg crop trousers Hopefashionuk / Brown penny loafer JCrew at JohnLewis&partners / Breton scarf Hopefashionuk / Tan mini leather satchel JCrew at JohnLewis&partners / Blue trainers Gabor at JohnLewis&partners.
I would definitely advise taking a light raincoat or jacket. If you are not a jeans fan you could substitute another pair of lightweight trousers instead of the jeans I have shown. I have included a pair of HopefashionUK foundation trousers. Their foundation pieces are ideal for travelling. I find them very comfortable, they don't crease and take up very little space in a suitcase. Tee shirts and tops make great layering pieces and the lightweight denim jacket is a versatile fabric for this time of year. I have added a skirt as it can be dressed up or down. Wear with a sweater during the day and add jewellery for an evening look.
This is just the basics you can add your favourite extras depending on where you will be staying, what activities you will be participating in and whether you will be attending more formal events.
I pack everything in travel cubes. It makes life so much easier as you can separate your underwear tops etc or even create outfits in separate cubes for when you arrive if you are super organised.