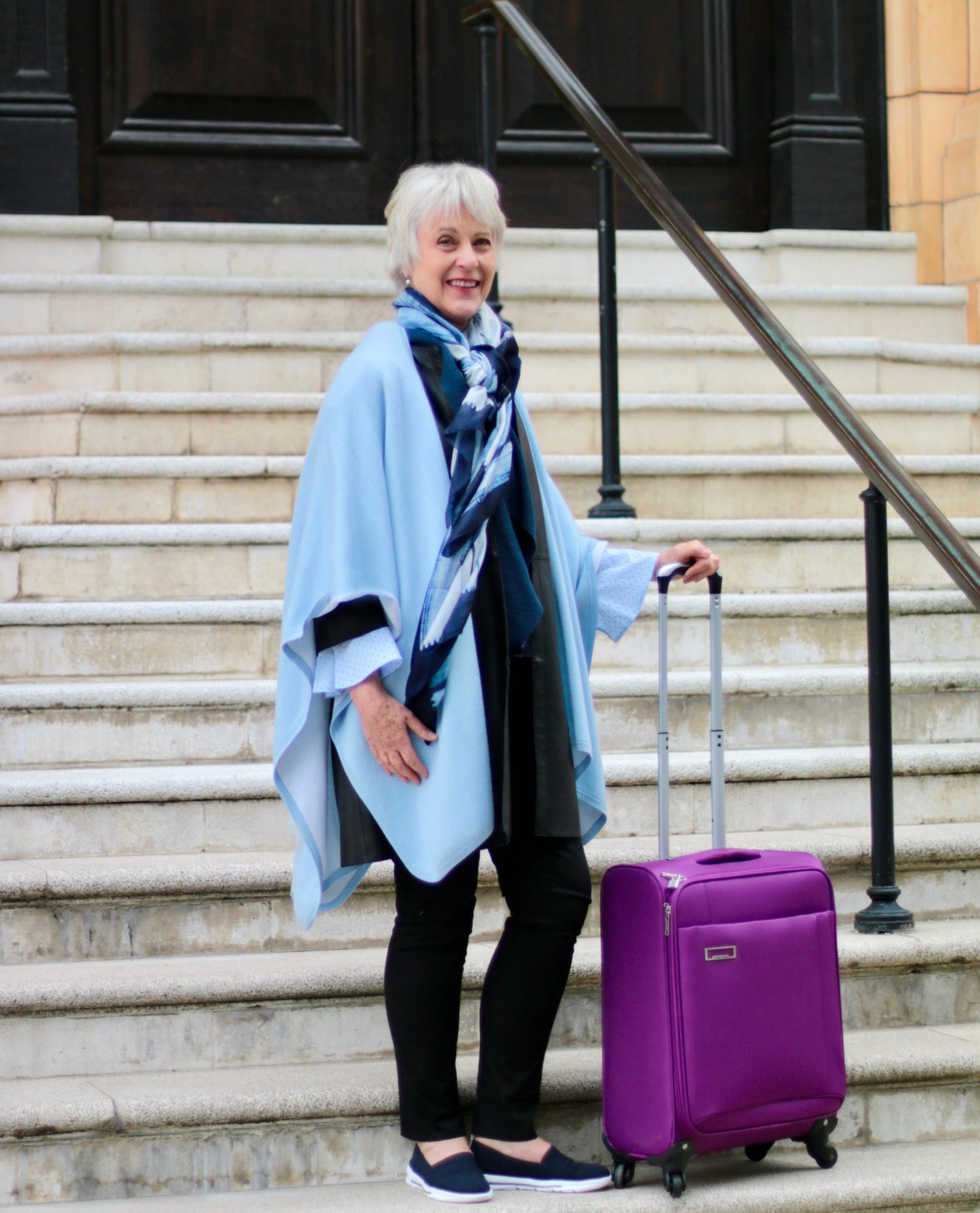 Based on my recent post capsule wardrobe for a two week spring trip to the South of France. I thought I would demonstrate how I travelled from London to Nice by layering the pieces. Layering in this way has two benefits. Firstly if you start your journey, as I did, travelling early in the morning by tube to City Airport you can add extra layers. It was chilly so I appreciated the sleeveless boiled wool jacket and the light blue cape slung over my shoulders. Secondly it means that you will have more room in your carry on case for extras. I have to take my computer when I go to France in order to carry on posting on this blog!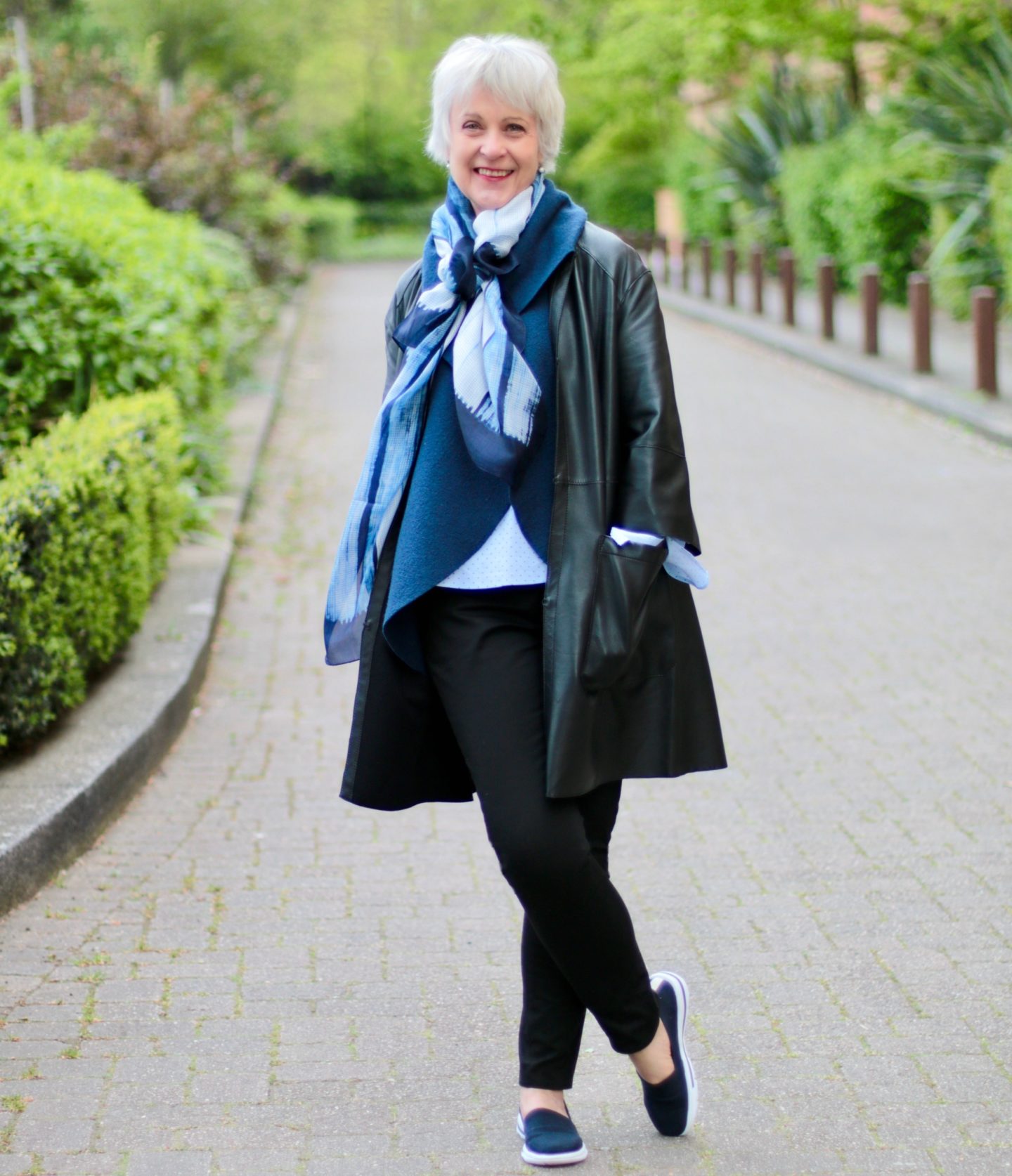 Divesting myself of my cape reveals my lightweight black leather coat which I am wearing over my sleeveless wool jacket and pale blue bell sleeve top (sold out similar). The cape also comes in useful to wrap round my shoulders should the air conditioning in the plane create a cold environment. The slip on canvas shoes (similar) are practical and comfortable and will be useful for strolls on the beach. The navy/light blue silk scarf adds interest and could be worn with a kaftan as a bandeau round my hair (very 60's).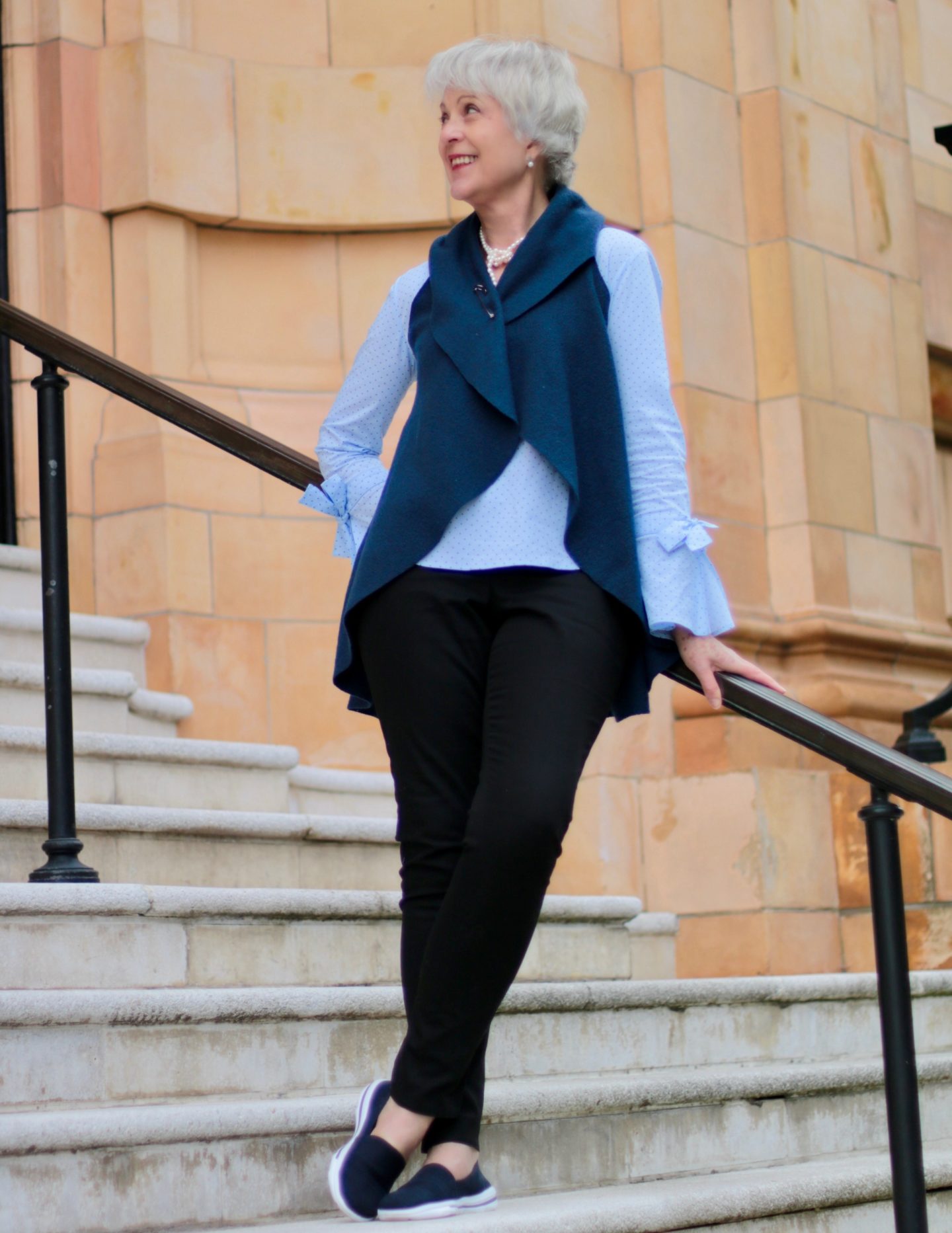 Revealing the navy sleeveless jacket over my light blue bell sleeve blouse. I have teamed these with dark navy trousers originally from Jaeger some years old (similar)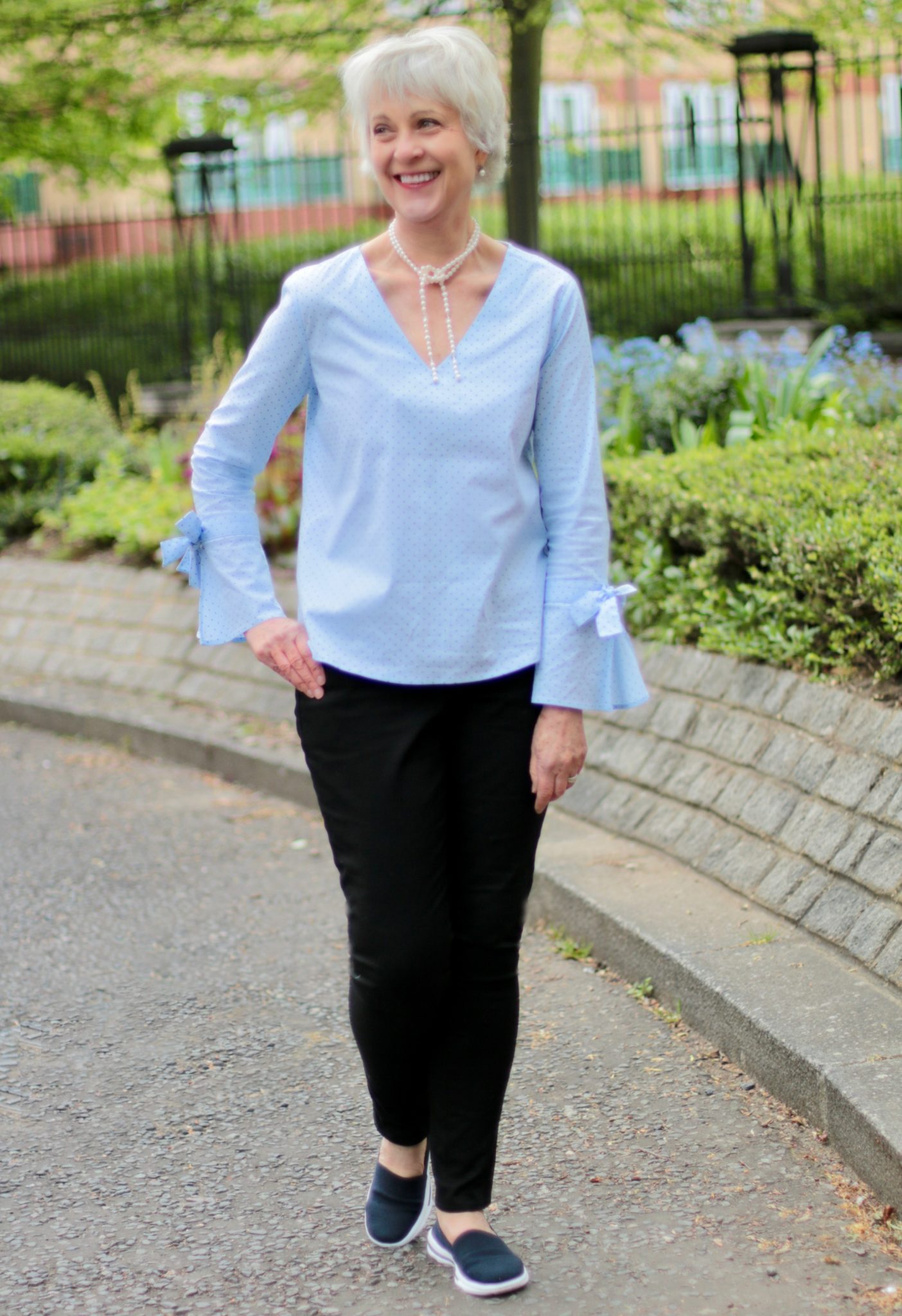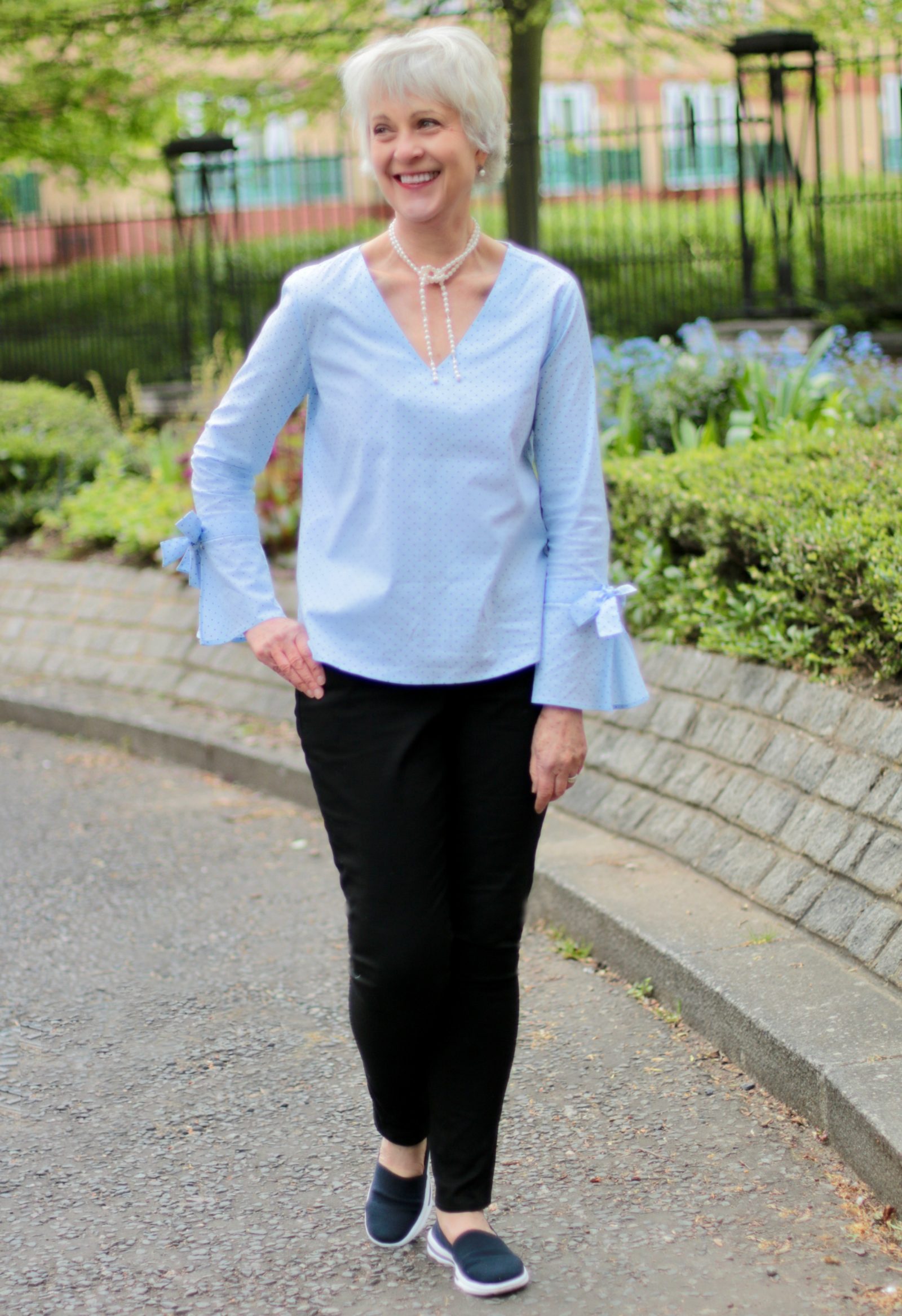 The final layer for when I arrive to sunny skies and warmer temperatures. Pearl necklace some years old (similar)
This is an example of how layering for travel can work keeping you comfortable during fluctuating temperatures on and off the ground. Feel free to substitute the individual items that will suit your style, shape, colouring and departure and arrival locations.
Airtravel has become commonplace for many of us in this modern world. Whether short or long haul the principal of layering works.
SHOP TRAVEL LAYERS: