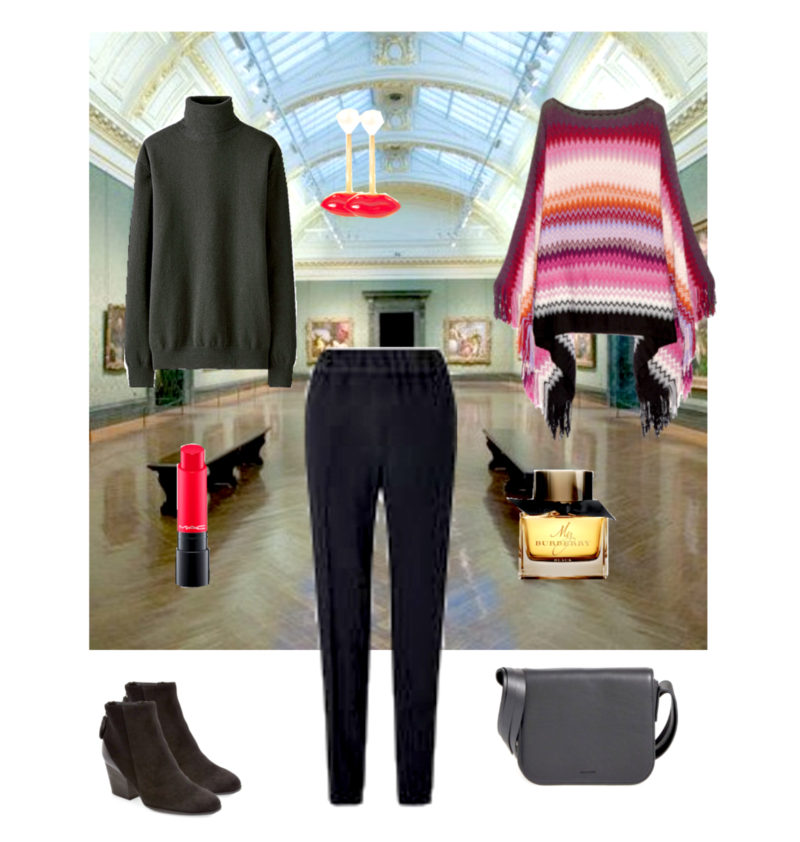 This is the second post, first one here, in which Susan of Unefemme and I explore the question "Is there a difference between the way British and American women dress for events. This week we will be visiting an art gallery/museum.
I am so lucky to live about 30 minutes from central London. We are blessed with many amazing museums and art galleries. This year I went to the opening of the Royal Academy of Arts summer exhibition, one of my favourites, as it displays up and coming artists as well as extasblished ones.
SHOWN ABOVE: Turtle neck // earrings sold out similar // stripe poncho // perfume // bag // trousers // boots // lipstick
What I would wear.
As far as what to wear is concerned in my opinion a pair of comfortable boots or shoes are a priority. You want to appreciate the art and not be distracted by feet that hurt. My preference is a pair of ankle boots with a small stack heel. I find that very flat shoes can cause my feet to ache after a couple of hours standing around. Then I stick to my basic comfortable neutrals. Trousers are my go to piece. I have teamed them here with a black sweater. You can unleash your creativity with a bright coloured poncho. Then why not show off your colourful top with a funky pair of earrings. A practical cross body bag completes the look. For the evening event I swapped the sweater for a cream silk shirt and wore my wide leg velvet trousers.
Pop over to Unefemme to see how Susan has interpreted this wardrobe challenge.
ARTY PICKS