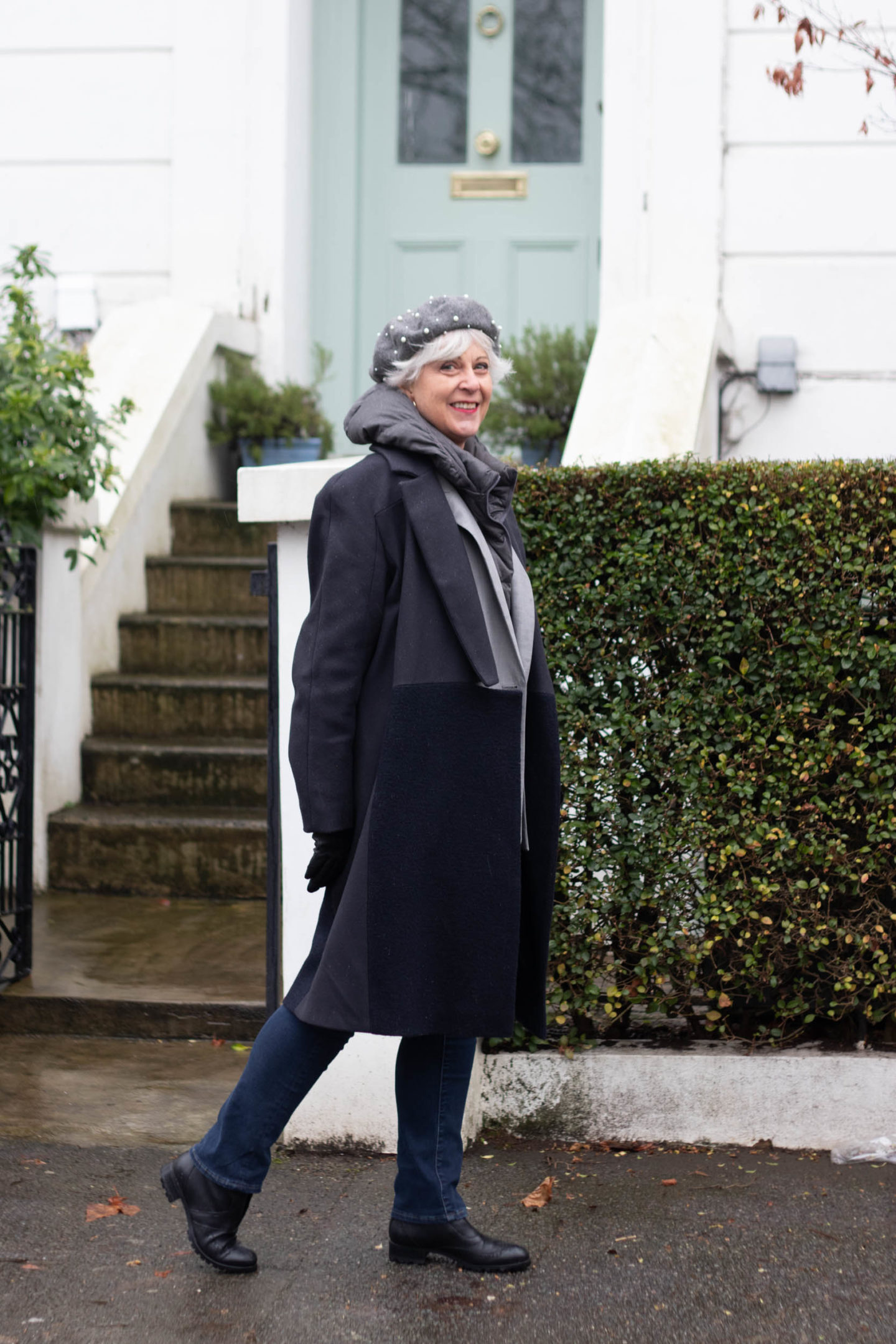 I have titled this post The Art of Winter layers however I consider mastering the art of dressing with layers is a very important one to learn. It is an especially important skill to learn if you are planning to travel to Europe during the autumn, winter or even spring months. I had a request from a reader recently about what to pack for a visit to London in March. A very difficult question to answer as last year at the beginning of March we had snow. See what I wore then here. Yet my husband's birthday is at the beginning of March and we have been known to sit outside in the sun at our local bistro.
Details of outfit above: Navy/grey colour block Jaeger (several seasons old) worn in Auxerre Jan 2018, grey check jacket &otherstories (last year) formal wear suited and booted, grey puffa waistcoat Uniqlo (about 5 years old) jeans Levi JohnLewis&Partners (last year) Black ankle boots (about 3 years old) Grey beret St.Tropez market. See below for details of similar.
The answer to these questions is undoubtedly layers. The day these photos were taken by my very talented photographer Laura Hines the weather was dire, very cold wind, some snow and grey skies.
Adding a pink wool mix scarf from St.Tropez market and a Fedora hat helped to keep me warm. Hats are essential when it is very cold. We loose a lot of heat from the top of our heads.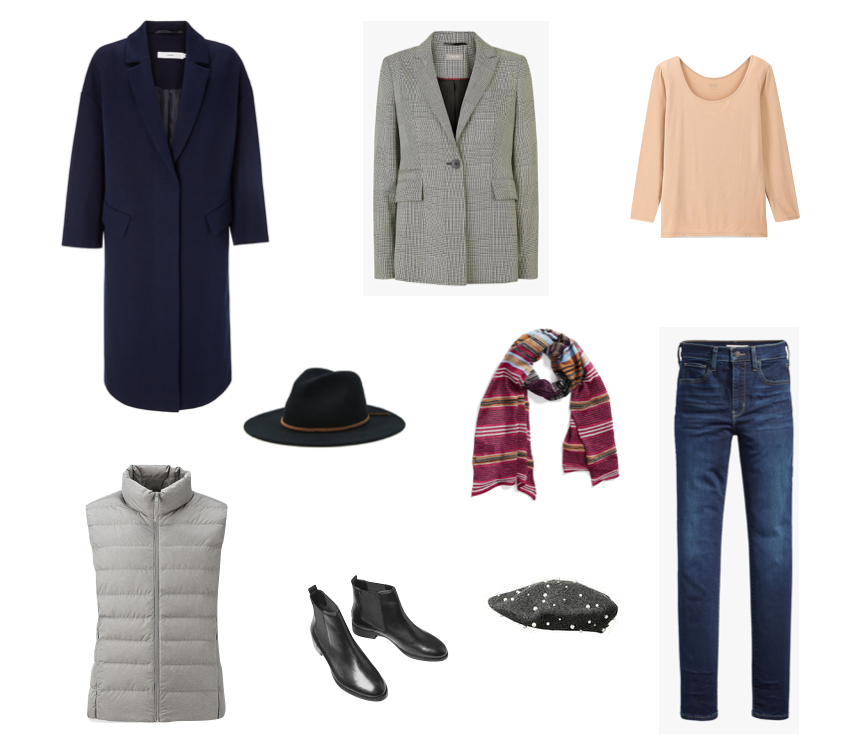 Anatomy of my outfit:
Navy coat JohnLewisPartners / Grey check blazer JohnLewis&Partners / Heattech T-shirt Uniqlo / Grey down vest Uniqlo / Fedora hat Nordstrom / Mult stripe scarf Nordstrom / Levi jeans JohnLewis&Partners / grey pearl beret / Black ankle boots Marks&Spencer.
Most of the items I am wearing in these photos are some years old, as I tend to buy good quality and keep my clothes for many seasons. Below I have created a composition of similar pieces. Uniqlo is always a good hunting ground for layering as they have their puffa coats and waistcoats all year round.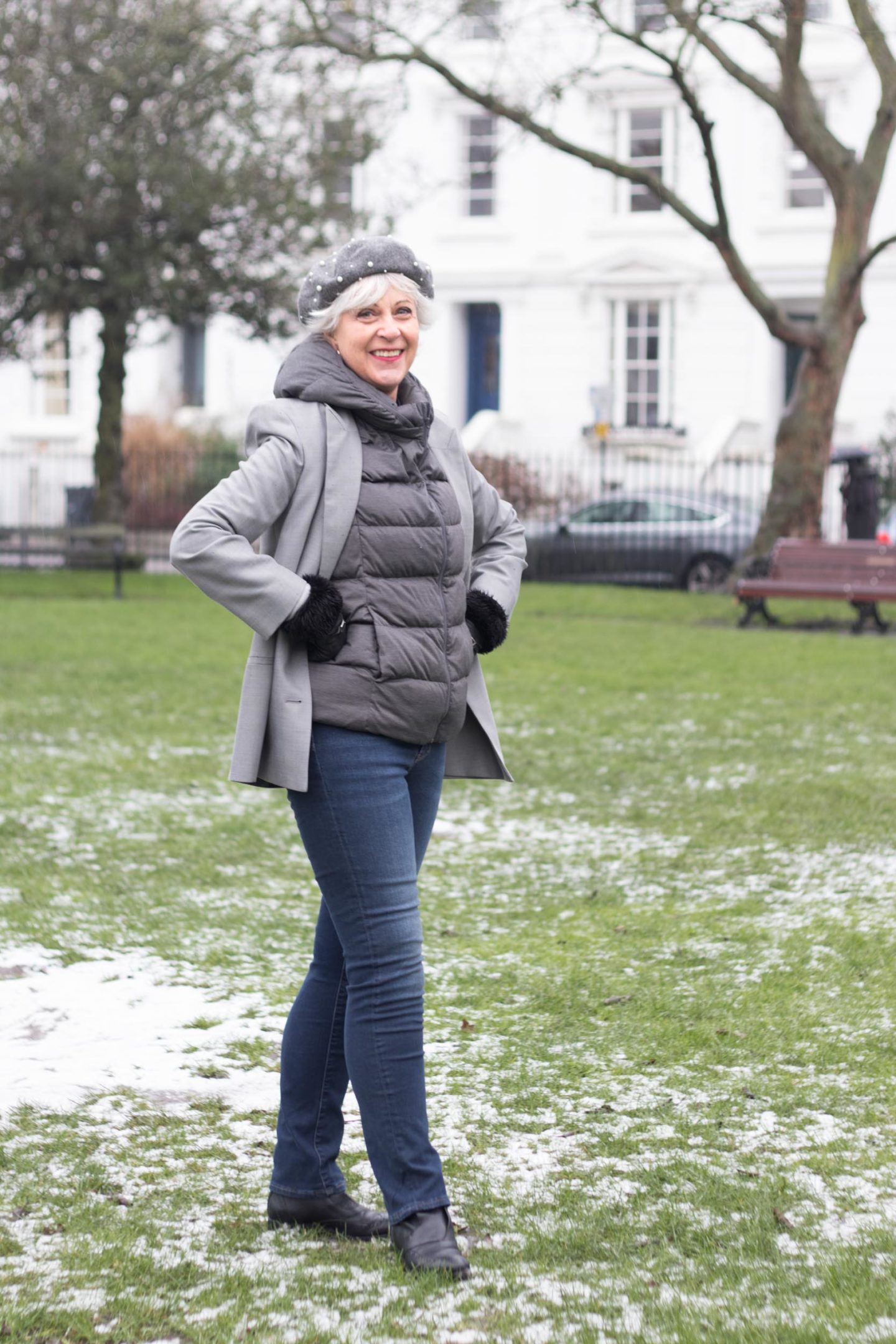 When I took the coat off I felt a bit chilly but still reasonable warm as I am also wearing a thermal vest underneath.
These stunning photos were taken by Laura Hines. Follow here on Instagram