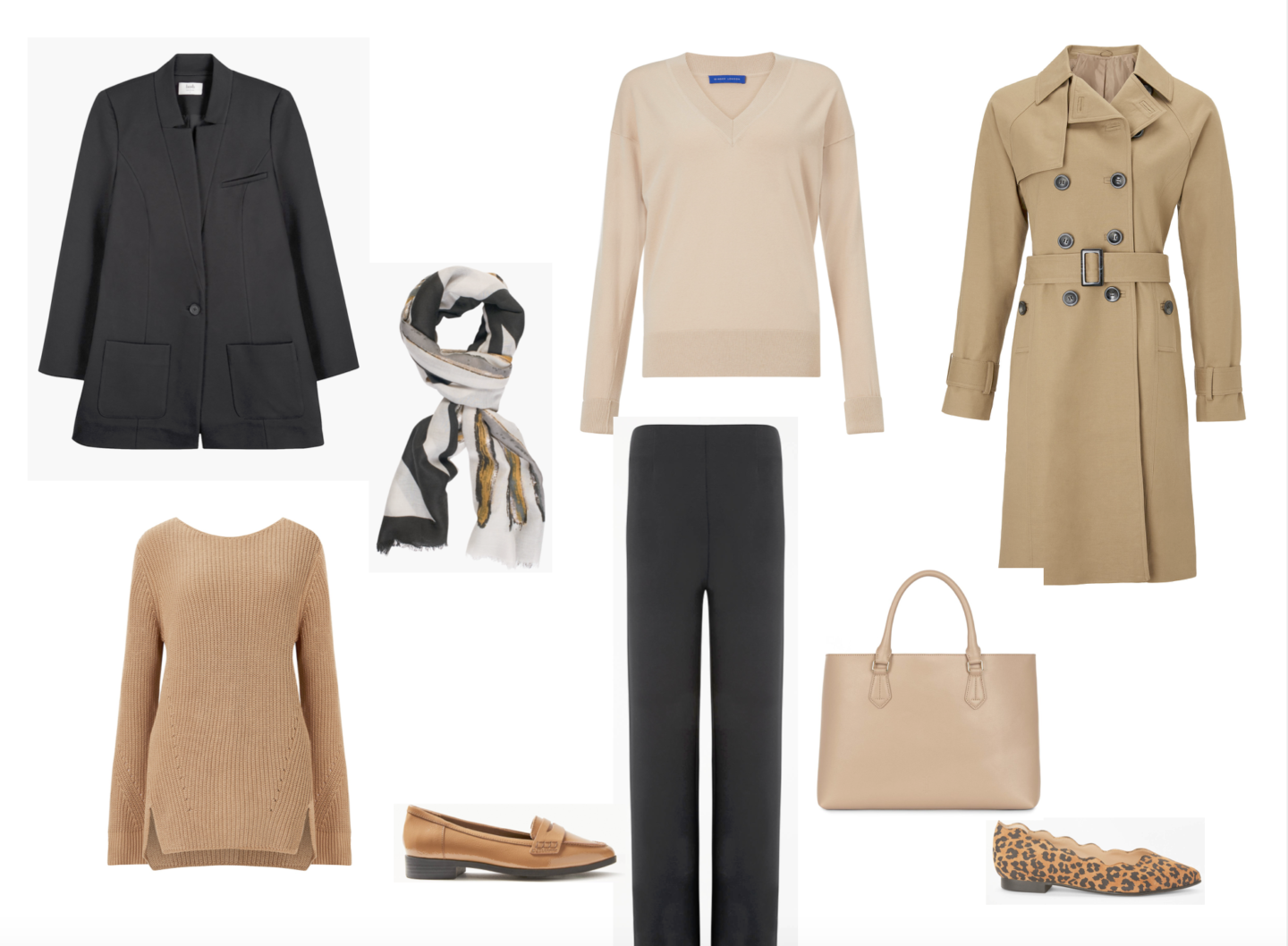 Continuing with my series on how to mix neutrals. Many of us have black in our wardrobes. Even though it may not be the most flattering colour to wear as we get older we are loath to give it up, me included. I have a large collection of black trousers and a few black tops. The trick is to learn to combine it with colours that work for us.
Beige and camel can also be tricky colours to wear especially if our hair has turned grey. We definitely do not want to wear all beige and disappear into the background. As beige and camel are going to be very popular colours this season lets see how we can make it work for us.
Details of above: Black jacket Hush / scarf JohnLewis&partners/ V neck beige sweater JohnLewis&partners / beige DB trench JohnLewis&partners / camel tunic sweater Baukjen / patent beige loafers MarksandSpencer / Winserlondon black miracle trousers Johnlewis&partners / Beige holdall bag Hobbs / Leopard print pumpsJohnlewis&partners.
Black and camel
These colours can look very elegant and sophisticated if carefully integrated into our wardrobes. Think accessories such as bags, scarves and shoes. Beige and camel can also look very chic combined with white later in the season. Combining textures is another way that these colours can look upmarket, not dreary. Italian women are good role models on how to wear neutrals and look elegant.
Not all beiges and browns are the same. Some are cool toned and some warm. The very warm browns, rusts and camels do not suit my cool skin tone. However, I do have a 15-year-old brown Max Mara coat that is definitely a cool brown. It is a very easy to wear "dressing gown" coat. I think that I will get it out of mothballs and combine it with my blues, greys and pinks.
Will you be wearing beige this season or do you consider it a bit grannyish?