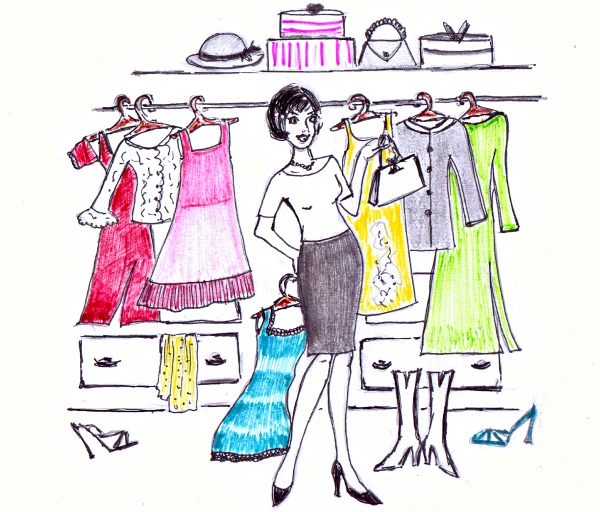 Sketch by Dee
I have decided to do a series of post on "shopping your closet".
I take pride in the way I dress and look. I feel that it is something that is very important as we get older. In my opinion it is not a good idea to slowly slide into "I don't care mode". At the same time I do not feel that it is constantly necessary to keep up with the latest trends, which might have been true in our younger years. An accessory in the latest colour or style is often all that is needed to perk up an everyday look.
Another factor that I personally need to consider is that I do not have the budget or the room to store a large quantity of clothes. I am not a fan of buying cheap clothes but prefer to invest in basics in good quality material that will last for many years. This strategy does not preclude the occasional impulse purchase on the high street which can have it's merits and help to liven up the classics.
This leaves me with a slight conundrum with regards to outfit posts on this blog. I do occasionally do reviews for brands, however not very often as I have strict criteria regarding what I consider appropriate. I therefore do not have a large wardrobe of "freebies".
The aim of this blog is to introduce you, my readers, to looks you might like or might inspire you to adapt to your own style and lifestyle needs.
For the next few months I will be seeing how hard I can make my current wardrobe work. I will be doing the usual research to find similar pieces should you wish to replicate the look or fill in some gaps in your wardrobe.
Let me know what you think of this new strategy.