How I have worn my polo neck sweaters this season.
Polo neck or turtle neck sweaters (depending on which side of the pond you live) have returned to popularity after many years in the wilderness. The once counter-cultural statement of the 1950's has evolved into a useful staple piece for your capsule wardrobe.
Despite being very simple they can look very chic, elegant and french. They are useful for layering and adapt well under coats, jackets, (especially the sleeveless ones). They go particularly well with flared jeans and wider trousers and can be layered under sleeveless dresses to cover up the arms. It has even become acceptable to wear polo/turtle sweaters for an evening out especially if they are black or navy and have a touch of shimmer incorporated into the yarn.
The polo neck many not be for everyone, however they do have in my opinion two great advantages. Firstly they keep your neck very warm and cosy in the cold weather and secondly they do a great job of covering up a maybe less than perfect neck.
This is definitely an item you need in your wardrobe during the latter months of the year. A wear-with-anything winter wonder.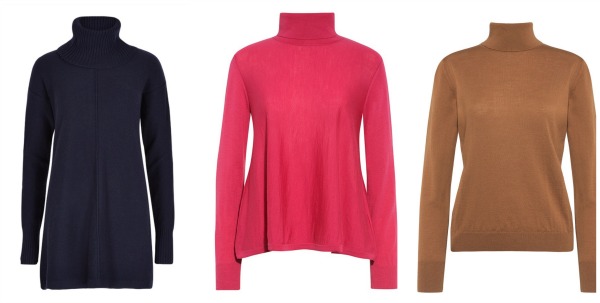 Meandem have an interesting and unusual selection. Some of the styles have additional snoods so can be worn 2 ways, either polo or crew neck.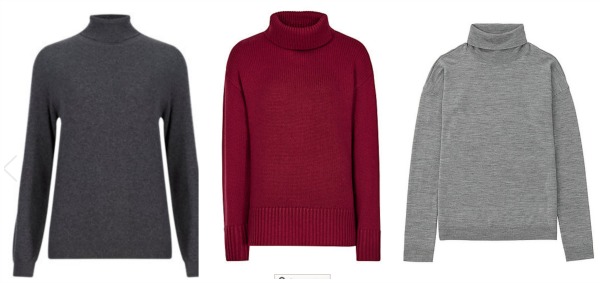 Dark grey cashmere at M&S // Deep red roll neck by Reiss at John Lewis Pale grey turtleneck at Uniqlo.
M&S have a good selection from cashmere to cotton rich ones that can be layered under other knits.
John Lewis also has an excellent range of roll neck sweaters.
Uniqlo have some reasonably priced turtleneck sweaters. I especially like their merino wool. They make excellent presents.
Nordstrom have a good selection in their autumn sale, some with 40% reduction.
POLO/TURTLE NECK SWEATERS