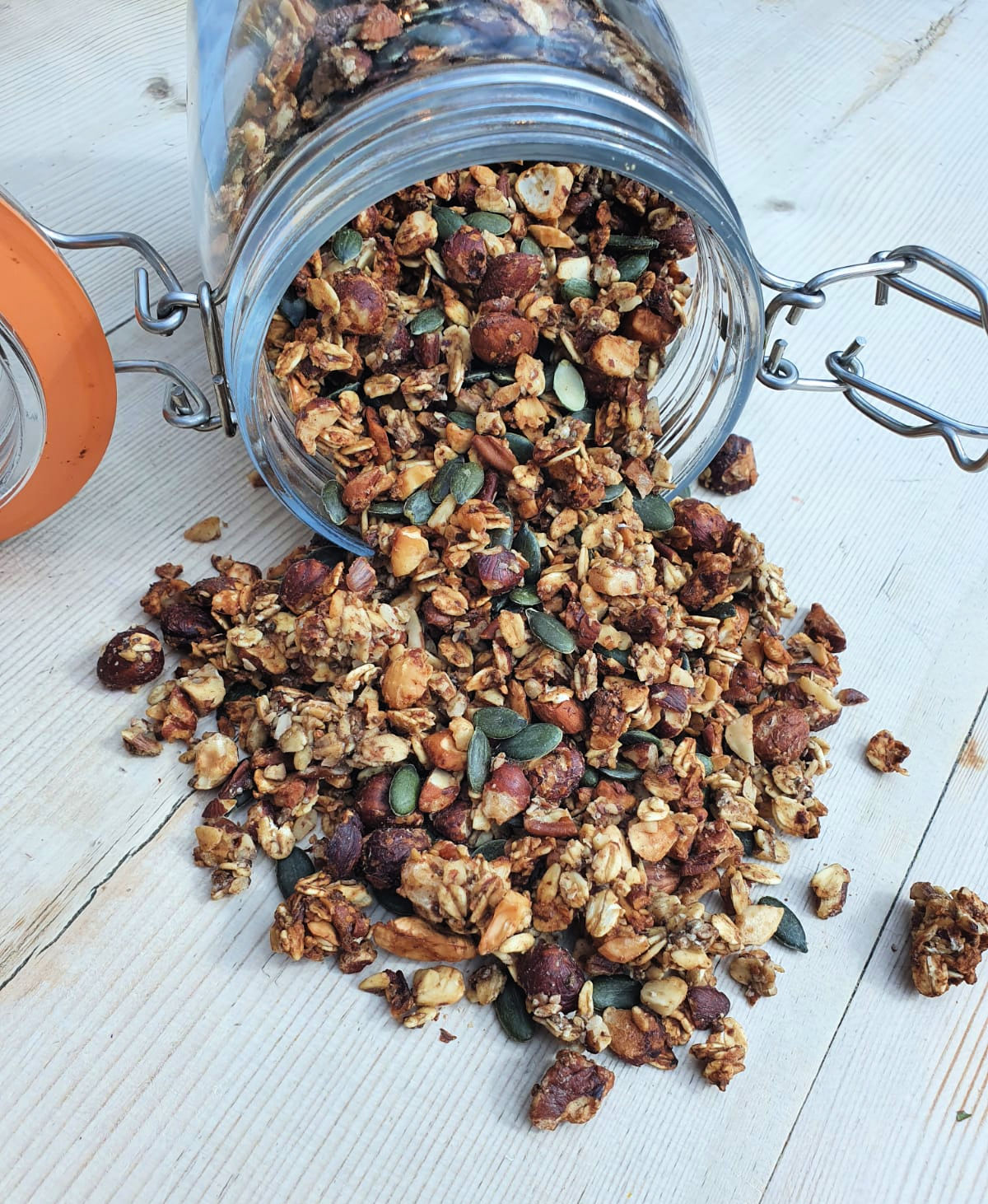 This month I am sharing a delicious granola recipe created by Emma Marshall. Good homemade granola is one of my favourite breakfast choices. It is a great protein-packed breakfast option and can also be enjoyed as a delicious and satisfying snack.
Personally I have experimented with quite a few different recipes and tried some of the packet options. I find that many of the commercial ones are too sweet for me as they contain some form of sugar or sweetener. The above version created by Emma is definitely my current favourite. She has found a way to reduce the sugar and at the same time ensure that the granola is as nutrient-dense as possible.
According to Emma Granola is rich in protein, fibre and micronutrients but its nutritional profile varies widely depending on the specific ingredients.
Although it can contain some healthy ingredients, when it is shop bought it is usually packed with hidden, excess sugar. Some have as much as 4tsp in a single serving!
Eating too much sugar may increase your risk of many conditions such as type 2 diabetes, heart disease and obesity. By making our own we know exactly what we are adding and can make it a really healthy breakfast choice.
Emma's new granola recipe is sweetened only with bananas giving it a subtle sweetness as well as being packed with some really nutritious ingredients.
Banana is a good source of the important heart-healthy minerals potassium and magnesium and contains soluble fibre that can help moderate blood sugar levels and keep you feeling fuller for longer. They are an ideal way to sweeten granola naturally so no need for any added sugars.
Banana Nutty Granola
400g mixed raw nuts – I use almonds, cashew, hazelnuts, walnuts, pecans – or a mixed plain bag
175g gluten-free or normal jumbo oats
150g pumpkin and/or sunflower Seeds
2 large or 3 small ripe bananas
1 tbsp flaxseeds
1 tbsp water
1 tsp cinnamon
1 tsp vanilla extract
Preheat oven to 180C (356 Fahrenheit) Gas mark 4

Place nuts in a blender or food processor and roughly chop. Place in a large bowl.
Place bananas, flaxseeds, water, cinnamon, nutmeg and vanilla in a blender (no need to wash it, just put it in!) Blend until smooth.
Add banana mixture to bowl with nuts. Add the oats and seeds. Mix well.
Cover a baking sheet with parchment paper to avoid sticking. Pour granola mixture on a baking sheet and spread.

Put on the middle shelf of the oven and bake for 15 minutes. Remove from the oven, give the mixture a good mix and return to oven for further 15 minutes.
For best results, turn off oven and leave in oven to dry out for a few hours.
Then store in an air-tight container.
You can check out more of Emma's delicious summer recipes here and here.
Emma has recently published an ebook which I have just purchased. It contains the above granola recipe plus a variety of other delicious recipes from soups to salads and plenty of vegetarian options.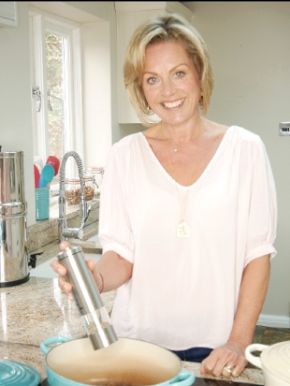 A New Collection of Recipes – Get Your E-Booklet Now!

Clean, fresh, delicious recipes available in my first cookery booklet.
I am extremely excited by my new recipe booklet, showcasing a collection of my favourite recipes which I regularly use with clients. All the recipes are gluten, dairy and refined sugar-free.

Health, variety and flavour are at the centre of my ethos.

For an insight into my healthy eating program and way of life, purchase this e-booklet which is now available on my website.

I am offering the booklet at a discounted price to my subscribers for £8.99To purchase please click the button below.
I have bought mine and have had it printed and bound. It will be travelling with me to France this Sunday where I can use fresh ingredients from the local markets to make the recipes.
I made the recipe yesterday and it is absolutely delicious.