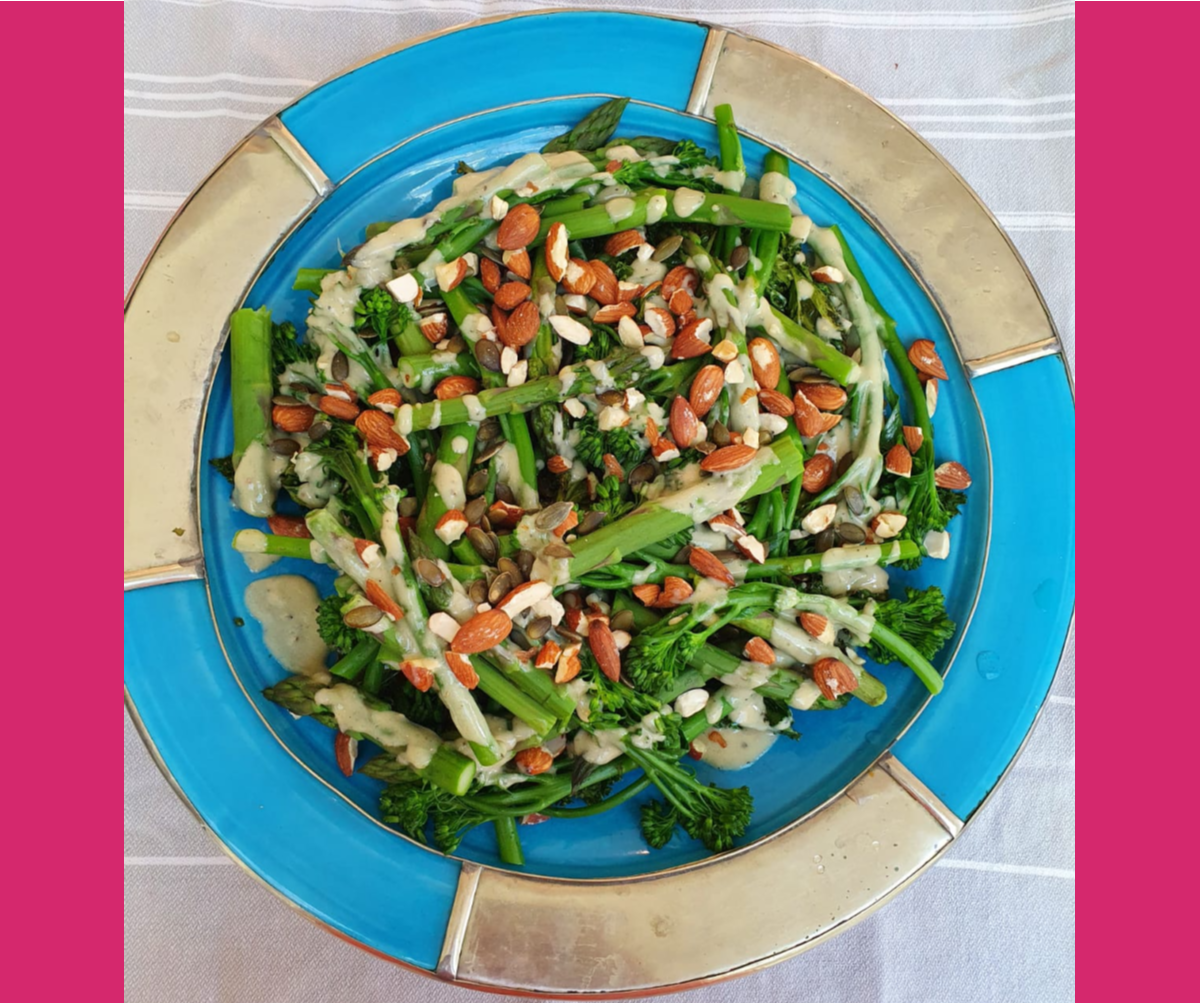 I love the Summer season. It is when all the fresh summer vegetables are in the shops. Asparagus is one of my favourites. The asparagus season is in full swing, so I've been adding some to most of my dishes. The season is a short one, so I encourage you all to make the most of it and try this healthy summer salad.
This healthy summer salad is versatile and bursting with green goodness. If you are not a fan of asparagus you can substitute it with any green vegetable of your choice.
According to Emma asparagus is packed with many nutritional benefits. It is rich in prebiotic fibre which helps promote healthy gut bacteria and is a great source of antioxidants including glutathione which helps to keep the liver healthy. This salad could be called a superfood salad as it is packed with lots of other nutrient-dense foods such as roasted kale and broccoli. It is topped with a citrusy tahini dressing and scattered with nutritious toasted nuts and seeds
Lots of the time Kale is labelled as being bland and unappetizing. This tasty recipe debunks these misconceptions. A good trick is to bake it, which gives it a little crunch and creates a perfect base for any salad. Kale is rich in a whole cocktail of minerals important to the health of the bones, including calcium, magnesium and phosphorous.
The dressing is made with creamy tahini. Tahini is a paste made from toasted, ground sesame seeds. Not only does it have a lovely nutty flavour but it is full of healthy fats, vitamins and minerals. Another bone supporting food as it is a great source of phosphorous and manganese, both of which play vital roles in bone health
A HEALTHY SUMMER SALAD ROASTED KALE, ASPARAGUS AND BROCCOLI SALAD WITH A TAHINI DRESSING
Serves 4
250g bag of kale torn into small pieces
1 bunch of asparagus, tough ends removed and chopped in half
200g tender stem broccoli trimmed and chopped in half
2 tbsp olive oil to rub on kale
Sea salt and black pepper
Dressing
2 tbsp Tahini
1 tbsp Olive oil
Juice 1 Lemon
2 tsp Maple syrup
4 tbsp Roasted plain nuts and seeds – I use roasted bashed almonds and pumpkin seeds
HOW TO ASSEMBLE THE SALAD
Preheat the oven to 200c/Gas 6
Tear up the kale into small pieces, removing the tough stalk
In a bowl toss the kale in the olive oil, rub it in and season with salt and pepper.
lay on a baking tray and bake in the oven for approx 5 minutes until beginning to crisp.
Check halfway, mix and keep an eye out for it so it does not burn.
Blanch the asparagus and broccoli in boiling water for 1 minute – drain in cold water.
For the dressing mix all the ingredients in a bowl and season with salt and pepper
Serve on a platter with the dressing drizzled on and scatter with the roasted nuts and seeds
This dish is a perfect pairing for a summer lunch or BBQ. Combine with a roasted chicken and some roasted butternut squash for a simple yet delicious and healthy meal.
Another delicious salad by Emma Marshall that you might enjoy.