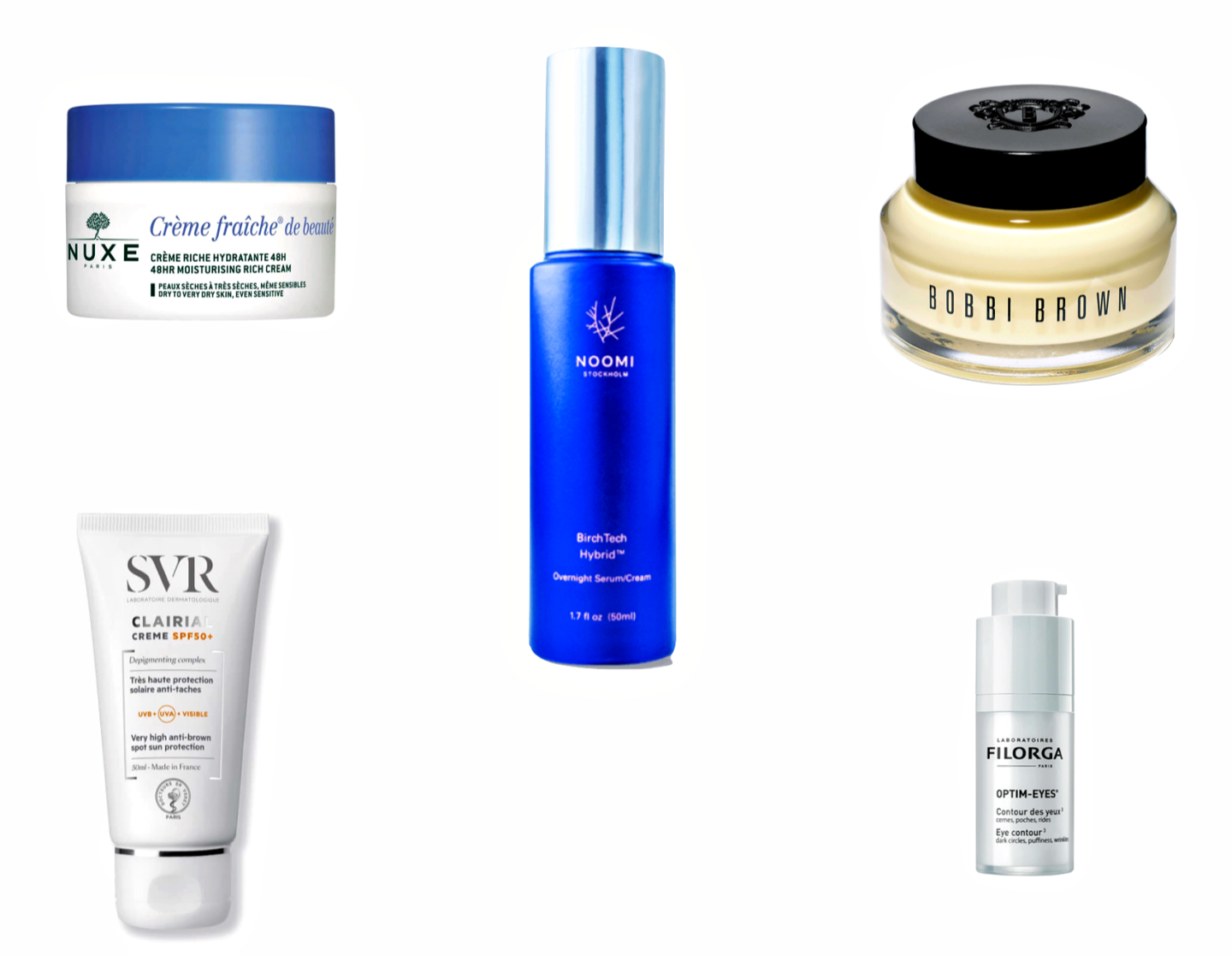 It may seem trivial to be talking about how to continue to take care of our skin at the moment, however, I find that with so much out of our control continuing to look after and nurture our skin is one thing that we do have control over. I find that keeping to a daily morning and evening ritual of cleansing and moisturising my skin is somehow comforting. Also, I don't want to wake up when all this is over with dry parched skin.
I therefore decided to share with you the products I am currently using and why I consider them to be beneficial.
Nuxe creme fraiche rich hydrating cream My skin was definitely feeling a bit parched. The cold easterly wind that has been blowing here recently has dried my skin. So I have added this cream to my morning routine.
Noomi Birch Tech I have written previously about using Retinol on my skin. A dermatologist recommended Retinol when I had a check-up following the removal of a cancerous spot on the tip of my nose. I have been using some version of it ever since.
The previous serum I was using was a bit strong and my skin became very dry so I was very happy when I was sent a bottle of the Noomi BirchTech Hybrid overnight serum/cream. It contains 0.5% Retinol (which is a good level to start with if you have not used Retinol before) + Vitamin C, Hyaluronic Acid and Swedish Birch Sap. The ingredients are 100% natural. Read more here. One of the reasons I really like this product is because it is a one-stop-shop. Before I was using my Retinol serum plus several other products. The Noomi BirchTech is now all I use every evening. After three weeks of nightly application, my skin is definitely looking clearer and brighter.
Noomi have very kindly offered my readers a discount with Code josephine20 (20% off BirchTech Hybrid Serum/Cream + Free shipping)
https://noomistockholm.com/product/birchtech
josephineduo (30% off BirchTech Hybrid + Pillowcase when bought together + free shipping) https://noomistockholm.com/shop. (I will be writing about the silk pillowcase in a future post). FREE SHIPPING ALSO COVERS THE USA.
Bobbi Brown vitamin make-up base If I am in a hurry this is a good quick moisturiser/primer under foundation. I use it alternately with the Nuxe creme. Recommended by India Knight of the Sunday Times.
SVR creme SPF50 high protection anti brown spot cream Now, this is one of my very important discoveries. This cream not only protects your skin for UV light but also blue light emitted from our devices. Now that we are probably doing more Netflixing and working at home on our computers I consider this cream very important. Although the science is not yet conclusive as to how damaging blue light is for the skin, personally I prefer to be safe than sorry.
Filgora eye cream. I purchased this eye cream when I was last in Paris (that now seems so long ago). This cream is quite pricey but the skin around our eyes is delicate so I prefer to use a specialist cream.
Are you continuing to take care of your skin? If so are you doing anything different at this time or do you have any hints or tips to share with us? Please leave them in the comments section.
I will be back on Monday with more useful items to take care of our hands and faces
Disclaimer. The Noomi BirchTech cream/serum was kindly gifted to me. I genuinely really like the product and all words are my own.