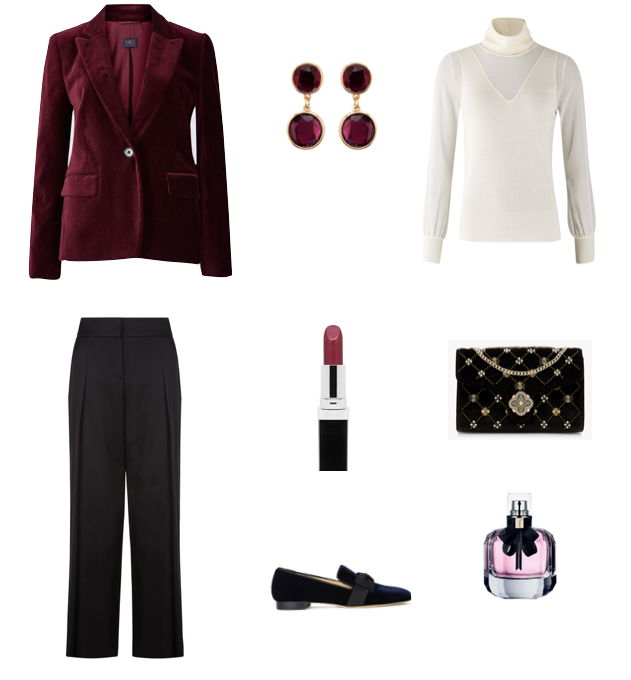 Party dressing should be the fun part of the festive season. A chance to pamper yourself, dress up and relax.
However, the quest for the perfect party outfit can be fraught with stress. If your current party wear is looking a tad jaded and you want to add a piece or two to jazz up your existing stables there is plenty of choice in the shops at the moment. I would advise planning ahead and not leaving it to the last minute. Many of the best items are selling out fast.
Details of above:
Burgundy velvet SB blazer Unfortunately this jacket is very low in stock Hush have an excellent green velvet jacket which I have just ordered // red earrings // cream top // embroidered bag // perfume // black velvet shoes // black trousers // LFF soft plum lipstick
Where to start? We all have different social occasions, some more formal than others. So access what you are going to need. Then make a list. You may only want to invest in one key piece – a beautiful dress, a pair of party shoes or some statement jewellery.
Unless you are going to a "black tie do" most of the old rules have gone out of the window. The modern style of party dressing is much more casual and laid back. This year I am looking for a pleated midi skirt that I plan to wear with a chunky knit during the day and the dressed up in the evening with a silk top and some statement jewellery.
Let's take a look at some of the options. Velvet is very on trend this season so there is plenty of choices. How about a sumptuous velvet jacket which is lustrous enough to wear with pieces that you already own, such as a simple camisole and plain black trousers. Cos has a great DB velvet jacket in navy. There is a lovely DB navy jacket by JCrew reduced in the sale.
When it comes to shoes make sure that they are comfortable, you may be standing around for several hours. Luckily there has been a transformation of flats over the last few seasons. Hobbs has some lovely velvet loafers that tick all the boxes or you could try their floral version.
Maybe just add a bejewelled evening bag to a simple trouser suit or LBD. Embellished evening bag
I will be back with a few more ideas over the next few weeks.
Just to remind you that it is sale week so I will be back with some sale picks on Wednesday and Friday. In the meantime here is a list of stores that are already on sale.
WoolOvers Extra 30% off clearance CODE SHEAR 30 – They have excellent classics at very reduced prices.
Nordstrom Fall sale up to 40% off
John Lewis & Partners have already started their Black Friday sale. Great bargains in the kitchen & electrical departments and women's fashion Their own brand range is good so is their cashmere.
More options: