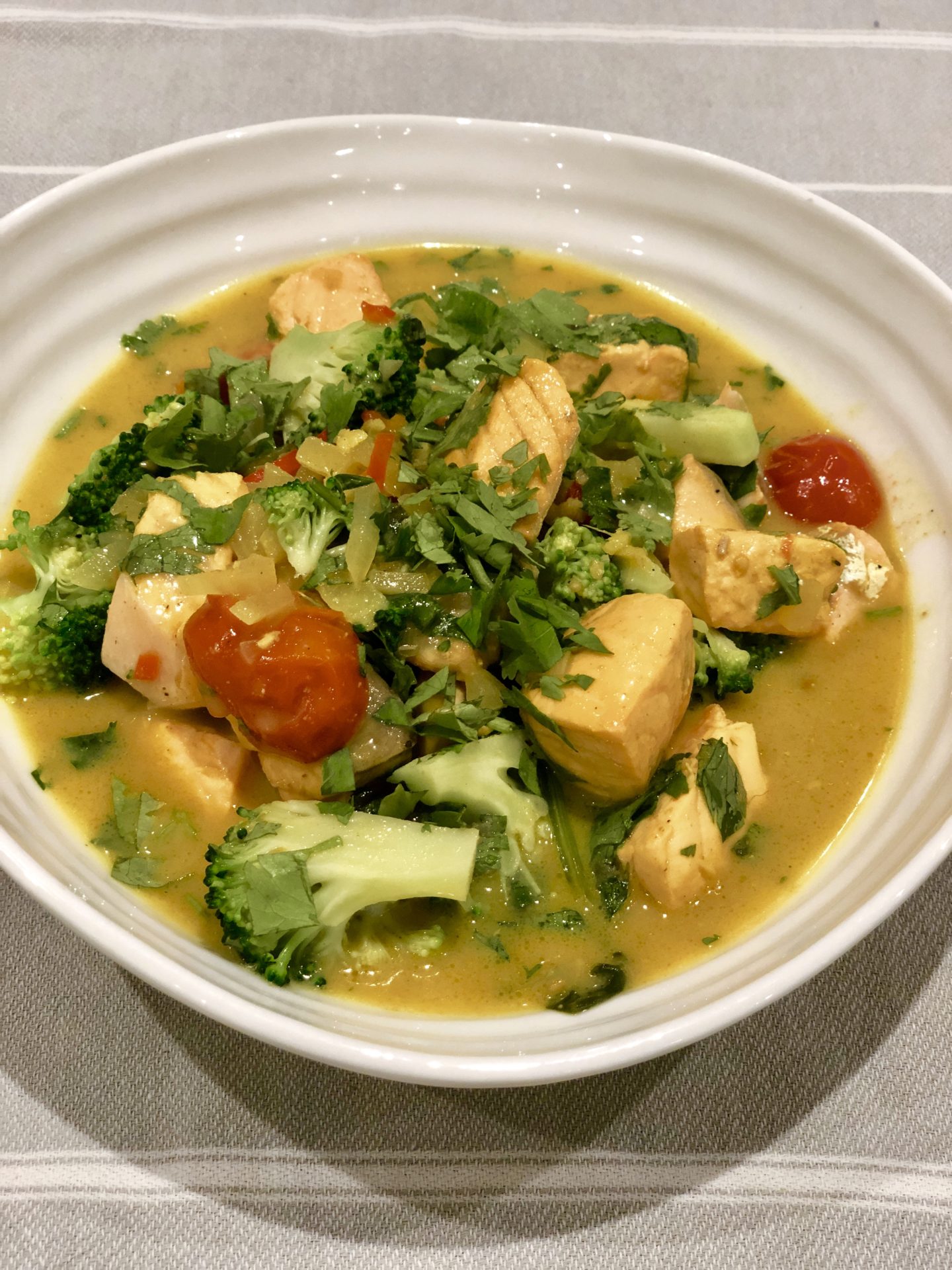 Last week I attended one of Emma's cookery demonstration days. It is the second one I have been to. I can highly recommend them. Her recipes never fail to be unusual and delightful. As she makes the dishes Emma takes the time to explain the health benefits of each ingredient and how our body processes them. The theme for the day was about how to eat tasty food and still maintain a healthy weight. She shared some sweet treats alongside the savory recipes.
Another benefit I find with Emma's recipes is that they are relatively quick to make. We all lead busy lives these days. Many of the dishes can be made in advance or frozen ensuring that you always have a good meal at the ready.
I have already made this salmon and ginger broth at home. It is so quick to make and really warming and tasty especially in these colder months.
You can make the sauce in advance and then just before serving add the spinach, the salmon and stir in the fresh coriander. You could even freeze the sauce and then defrost and add the rest of the ingredients.
Ginger is among the healthiest and tastiest spices and really livens up a dish. You can grate it into lots of dishes to add extra flavour.
It is packed with nutrients and bioactive compounds that have many powerful benefits.
Ginger has a long history of use in various forms of traditional/alternative medicine. It has been used to help digestion, reduce nausea and help fight the flu and common cold.
Gingerol is the main bioactive compound in ginger, responsible for much of its medicinal properties. It has powerful anti-inflammatory and antioxidant effects.
You can serve this with brown rice.
SALMON AND GINGER BROTH
Feeds 4 – 6
1 tbsp coconut oil
1 onion chopped
2 cloves garlic finely chopped (peeling is optional)
30g ginger grated
½ to 1 red chilli deseeded and chopped
1 tsp ground cumin
1 tsp ground coriander
½ tsp garam masala
½ tsp turmeric
sea salt and pepper
250ml vegetable stock
1 tin coconut milk
½ juice of a lime (3tsp)
500- 600g salmon skinned and cubed
20 cherry tomatoes halved
a large handful baby spinach, broccoli, kale or any green vegetable you like.
a handful of chopped coriander
Heat coconut oil in a large pan and saute the onion, garlic, ginger and chilli for 5 minutes to soften.
Add the spices and season
Continue to fry over a medium heat for another few minutes
Add the stock coconut milk bring to the boil.
Add the tomatoes and simmer for 10 minutes until the sauce has thickened a bit
Add some lime to taste and check seasoning.
Add the cubed salmon and stir through gently for 5 minutes until cooked
Add the spinach or kale and the chopped coriander and serve
I find that Saute pans are the best for making this recipe. JohnLewis&Parnters have a good selection.
You might also like Emma's Chicken cumin recipe.