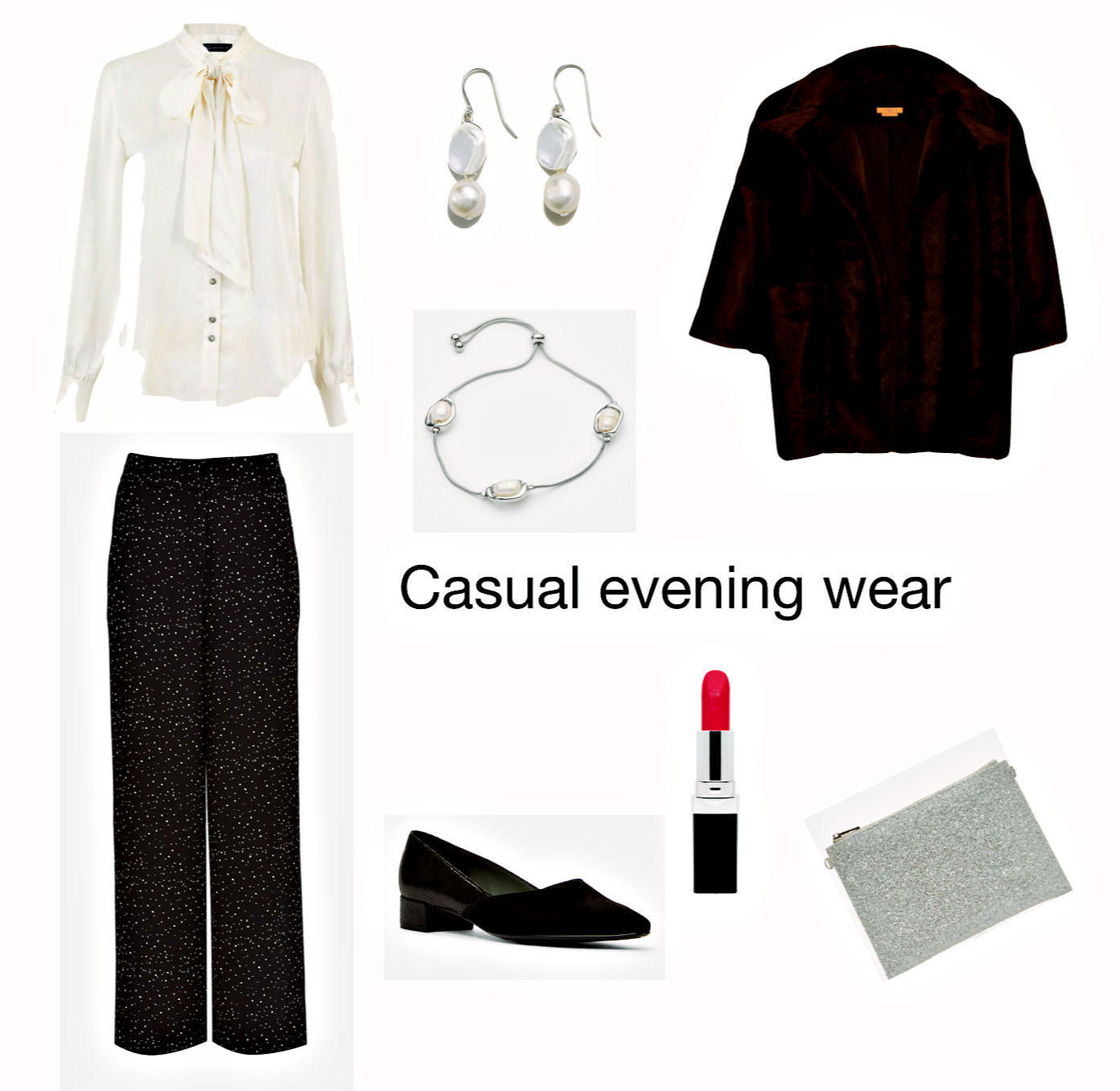 As the party/event season approaches we start to search in our wardrobes for something suitable to wear. I find that these days I very rarely have a formal event to attend, if I did I would probably hire rather than buy. I do not want a garment hanging in my wardrobe gathering dust. Casual evening wear is all I need.
Details of above:
Cream tie neck blouse MarksandSpencer / Pearl drop earrings Jigsaw / Pearl and silver bracelet at JohnLewis&Partners / Faux fur jacket Hopefashionuk (It looks black in the image it is actually chocolate brown) Hope do ship internationally / Black spot trousers JohnLewis&Partners / Black low heel shoes Peter Kaiser at JohnLewis&Partners / lipstick LookFabulousForever / Silver clutch bag JohnLewis&Partners.
I am more likely to be invited to casual drinks or dinner with friends than a formal do. I like to have a few versatile pieces in my wardrobe that I can mix and match and dress up or down depending on the occasion.
We all want to look our best for a festive occasion. Half the thrill of an evening out is the preparation. Putting on our make-up and choosing our outfit. We want to look chic and elegant but not too overdone, if you know what I mean.
If we are buying something new it is good to give a nod to the season's trends. This year it is sparkles and glitter all the way. Sequins can be a girl's best friend. When worn near the face they add light and glow. As well as sparkly tops this year many brands are offering sequin or sparkly trousers and skirts. These are best co-ordinated with a plain top and simple accessories. These trousers can also be worn during the day with a chunky sweater perhaps for brunch or lunch.
There are also a variety of faux fur coats and jackets. They are ideal to add that final touch of glamour for an evening out. They are also extremely versatile and can be worn with jeans or trousers during the day.
Casual evening wear mix and match options: