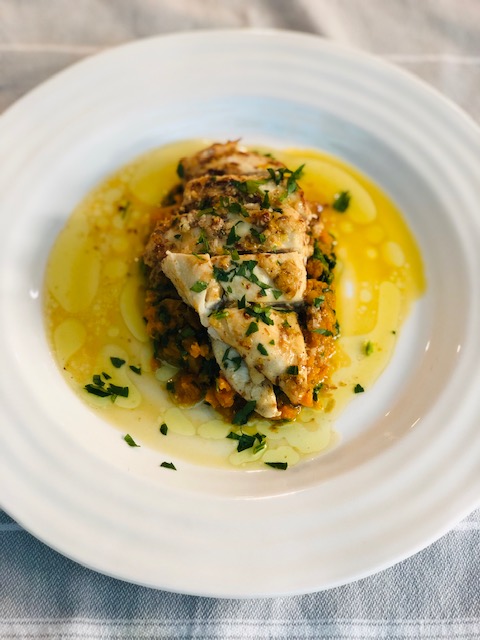 Delicious food low in carbohydrates
I think from time to time we would all like to loose a few pounds, especially if we have been tucking into deserts on our holidays. Over to Emma for this months healthy recipe.
"For my weight loss clients I am always trying to create new ideas to give them delicious food which is simple to make and lower in carbohydrates. In this recipe I have made the mash from carrots and spinach with some fresh ginger and parsley, this is a brilliant substitue for mashed potato.
I am always encouraging my clients to eat more vegetables to increase those vital phytonutrients in their diet and with this mash we have added spinach which is well known for its nutritional qualities and has always been regarded as a plant with remarkable abilities to restore energy, increase vitality and improve the quality of the blood.
There are good reasons why spinach can produce such results, primarily the fact that it is rich in iron. Iron plays a central role in the function of red blood cells which help in transporting oxygen around the body, in energy production and DNA synthesis. Spinach is also an excellent source of vitamin K, vitamin A, vitamin C and folate as well as being a good source of manganese, magnesium, iron and vitamin B2. Vitamin K is important for maintaining bone health and it is difficult to find vegetables richer in vitamin K than spinach. Others include kale, broccoli and cabbage.
I have made a simple but delicious marinade to liven up the chicken using lemon, cumin, garlic and olive oil. You could also make this dish with chicken thighs, you just need to bake them for 40 minutes rather than 25 minutes.
I like to serve this with a big green crunchy salad with watercress, cucumber, avocado and scattered with pumpkin seeds."
Lemon Cumin Chicken served a with Spinach and Spiced Carrot Mash
Serves 4
50ml olive oil/rapeseed oil
Grated zest of a large lemon
4 tbsp lemon juice
1 teaspoon cumin
2 garlic cloves
¼ tsp chilli flakes
salt and black pepper
4 boneless skinless chicken breasts
In a bowl whisk together the oil, lemon zest, lemon juice, garlic, cumin, salt and pepper and chilli flakes.
Add the chicken and turn to coat it, cover the bowl and leave in the fridge for at least 4 hours or overnight to marinade.
Preheat the oven to 180C/Gas mark 5
When ready to cook heat a frying pan over a medium to high heat, add the chicken and fry on each side for 2-3 minutes until golden.
Lay chicken on a baking tray lined with parchment, drizzle over the remaining marinade and bake for 25 minutes until cooked through.
Spiced Carrot and Spinach Mash
5 large carrots (400g) peeled and diced
2 large handfuls of spinach (150g)
small knob of butter/pure sunflower spread
1 tsp fresh ginger
½ tsp mixed spice
a handful of fresh chopped parsley
sea salt and black pepper
Put the carrots in a small pan, cover with water and bring to the boil and reduce heat to a simmer for 20 minutes then drain.
Put the spinach into a wide pan with a splash of water over a high heat and cook until wilted 3 to 4 minutes. Drain and chop into smaller pieces.
Mash the carrots, add the butter and ginger, season with salt and pepper and mash again. Stir through the parsley and spinach.
Place the mash in the centre of the plate, add sliced chicken over the top and pour a little sauce over and serve.
Bon Appetit
You can see more of Emma's healthy recipes on the blog by typing "Nutrition" into the search box at the bottom of the page.
Kitchen utensils:
When I am chopping a large quantity of meat and vegetables I find good quality knives make all the difference. I would recommend these by Robert Welch available JohnLewis&Partners. Pricey but will last a lifetime.
Emma Marshall Nutrition
Emma is a registered Nutritional Therapist. A member of BANT (British Association of Nutritional Therapists) and CNHC (the Complementary and Natural Healthcare Council). You can contact Emma at Emma Marshall Nutrition. You can also follow her on Instagram where she shares some of her delicious recipes.