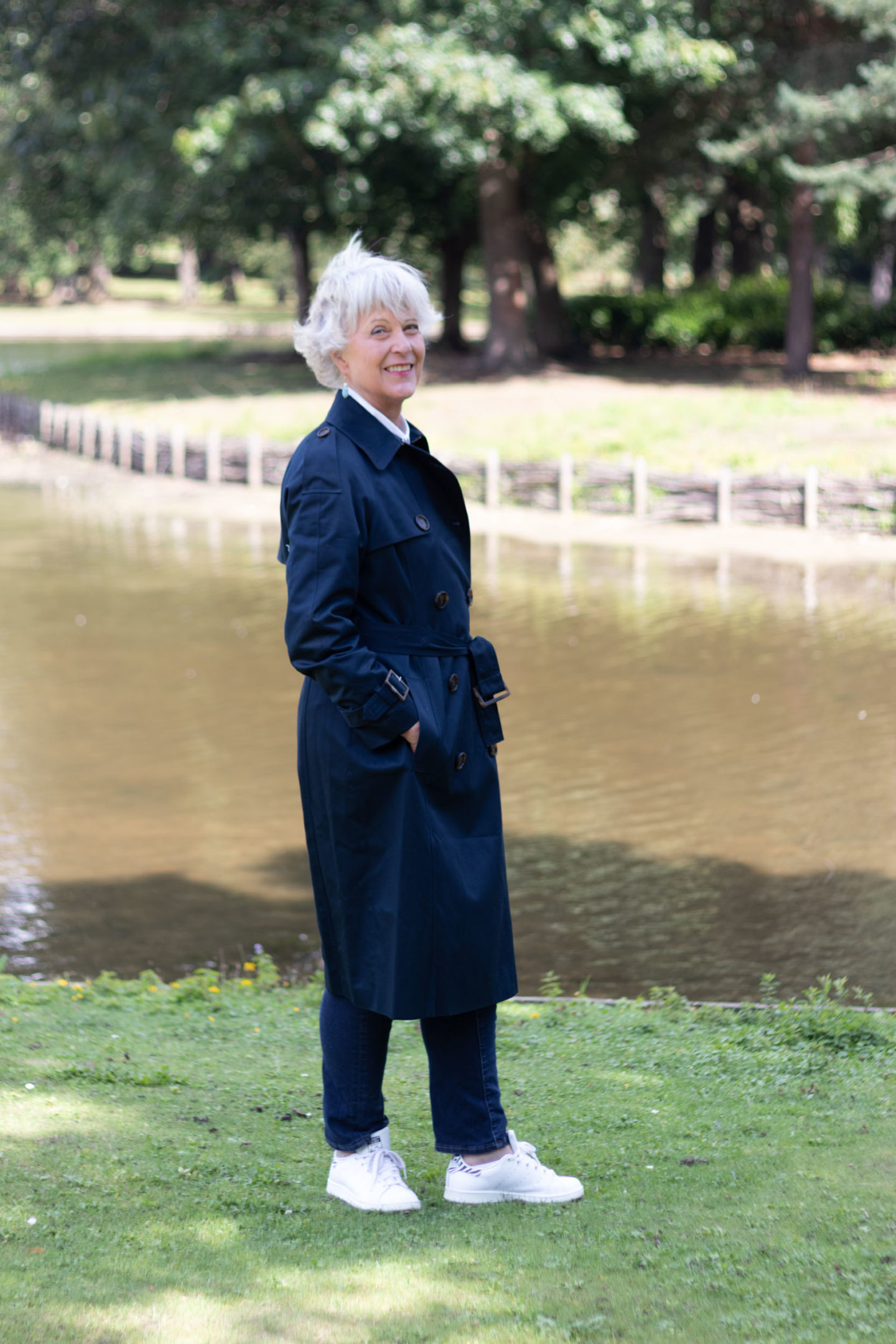 Is the classic trench coat ever out of fashion? I don't think so. Every time I visit Paris I see many chic Parisian women wearing a classic trench. The trench coat was originally an item of clothing for Army officers who wore them in the trenches during the First World War (hence its name). You can still see these influences for example the storm flaps and straps around the wrists.
The modern trench coat
The traditional colour of a trench coat was khaki. However since it has become an everyday fashion item it is available in various shades of beige, navy and black. You can also find the trench style, or a version of it, in a variety of bright colours. My personal preference is navy as not only is it a more flattering colour than the beige on me but I also find the darker tone more practical.
The navy trench I am wearing above is from Autograph at MarksandSpencer. It is cotton so will not be waterproof like some of the heavier waxed versions. However, it is a great all year round coat. You would need to add a thick sweater or padded waistcoat when the weather gets really cold. It comes up fairly true to size. I was between a 10 and a 12 but chose the 12 to allow for layering. It is nicely finished with storm flaps, tortoiseshell buttons and buckle belt.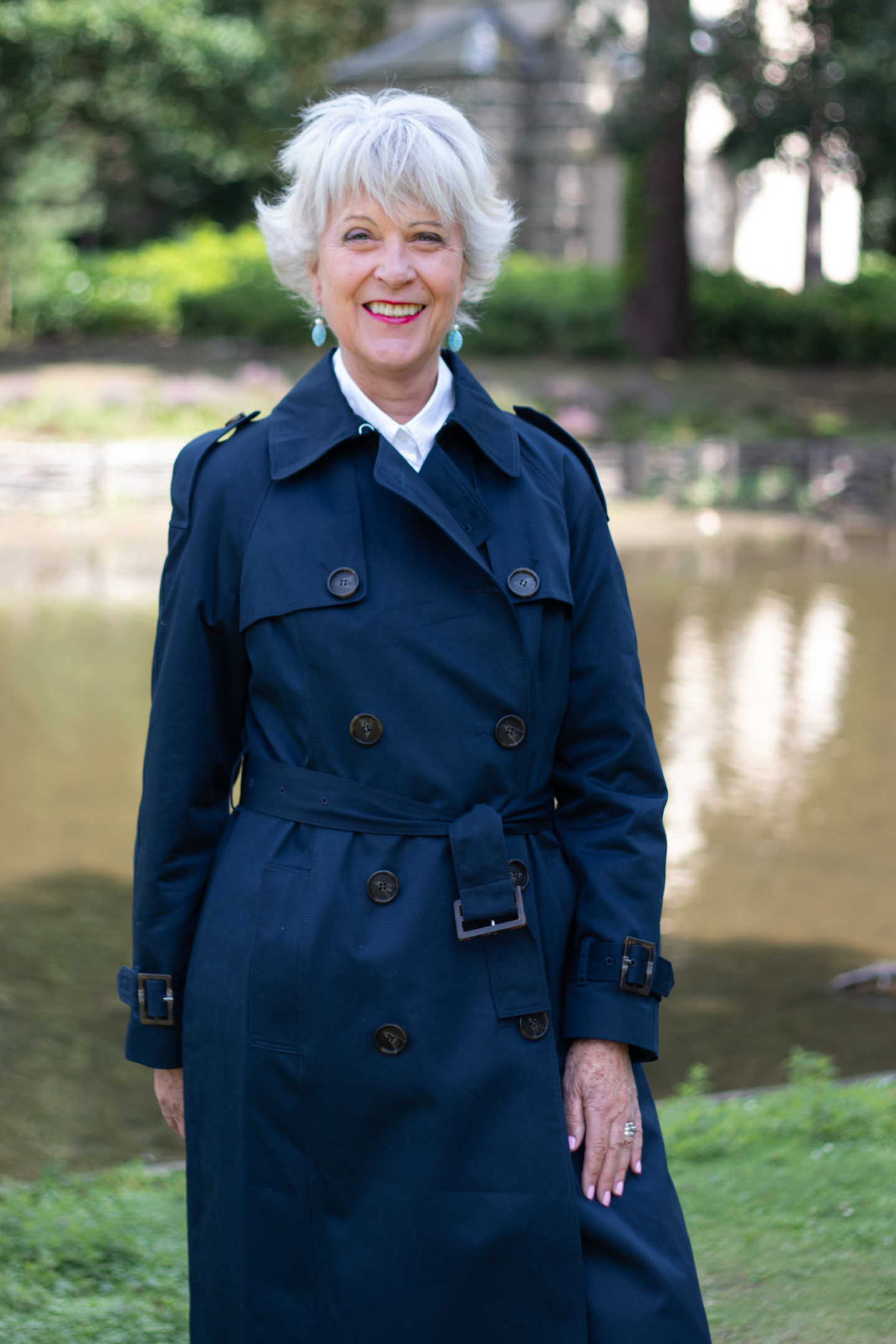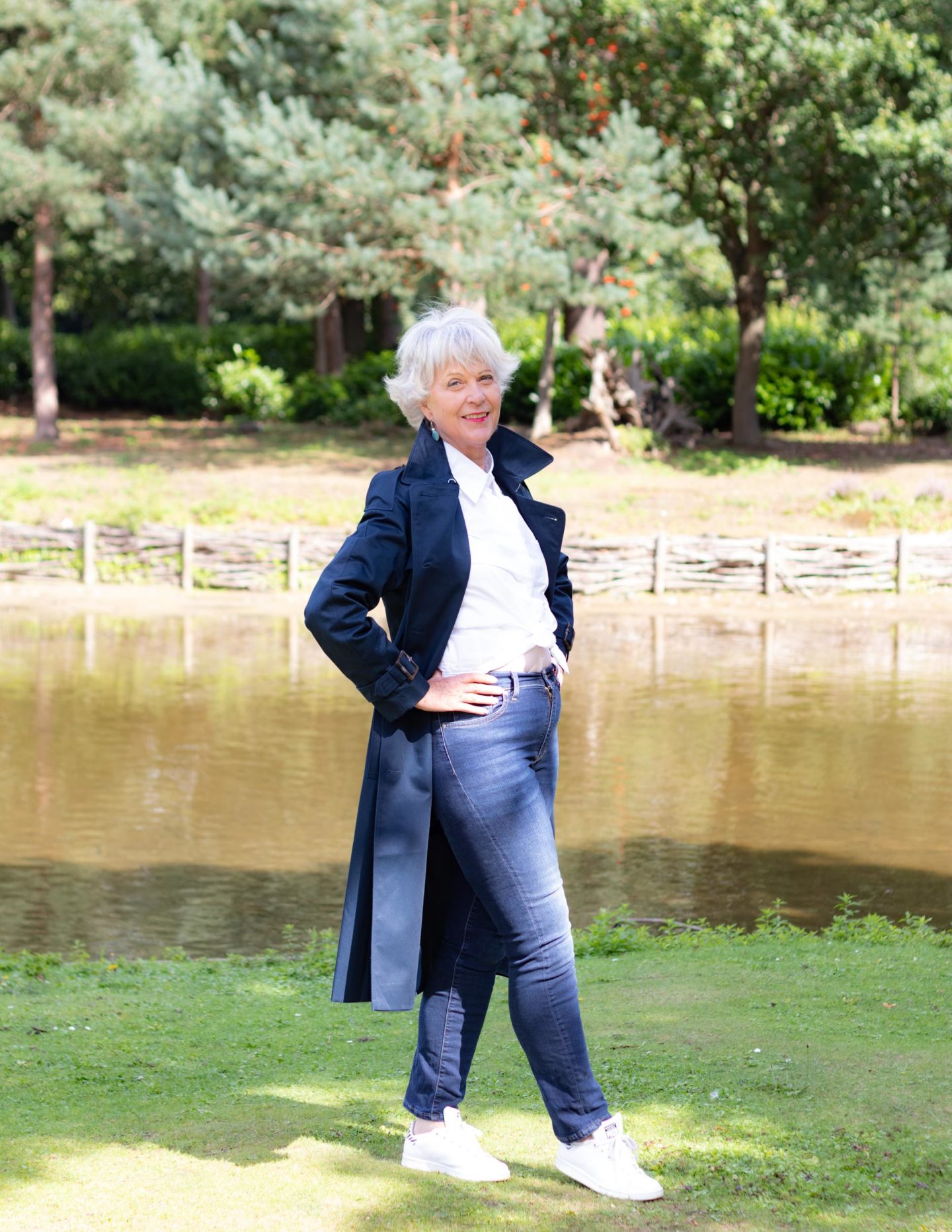 For a simple look I have paired it with my Levi blue jeans and a white shirt (several years old) and my Stan Smiths.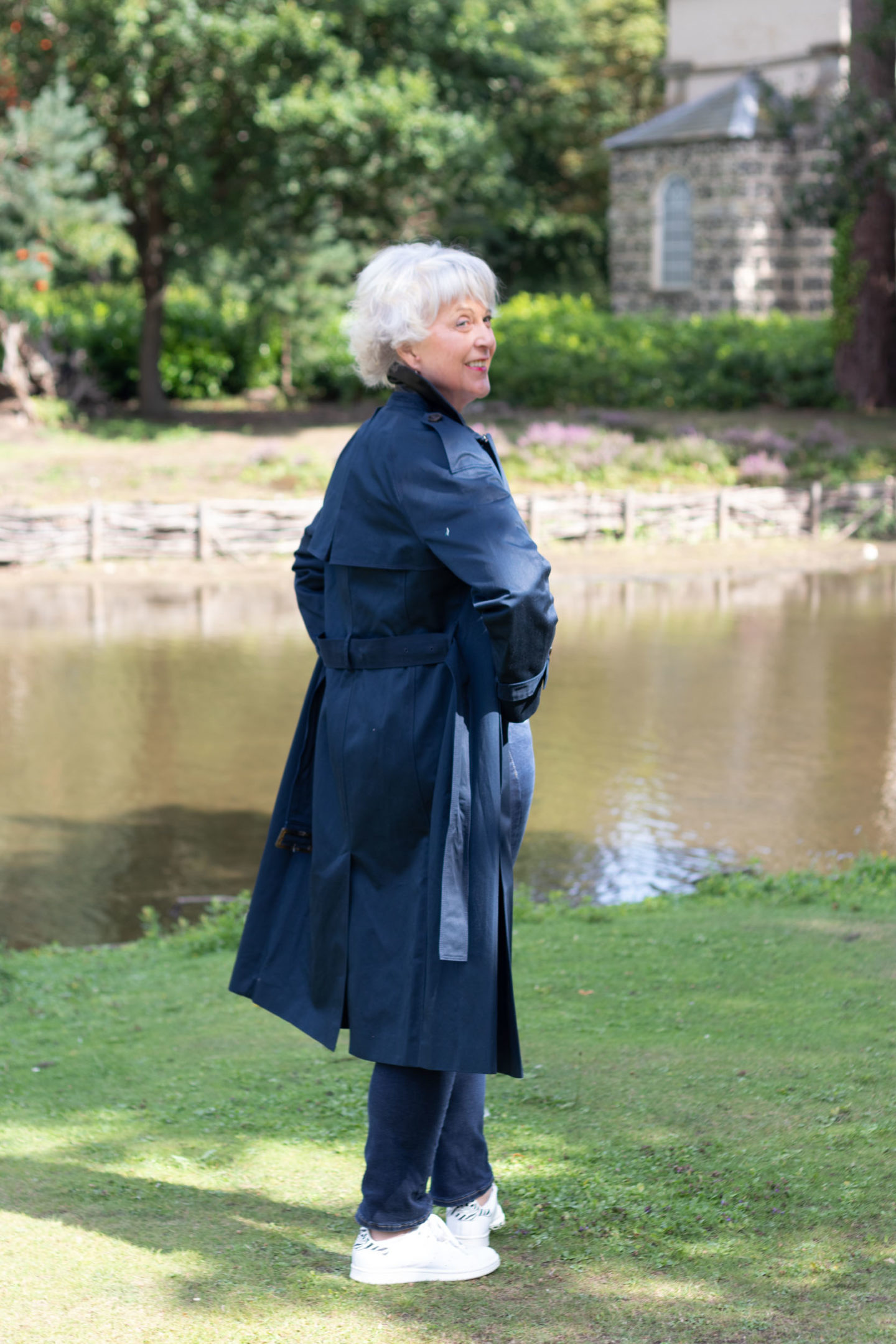 Trench coats definitely stand the test of time. I bought a short trench coat in 2015 and I still have it in my wardrobe. You can see me wearing it here.
Not sure if you can see from the photo but I have knotted my white shirt at the front. This is a good trick if you are wearing a shirt that is long. If you tuck a long shirt into trousers or jeans you risk getting an excess of fabric spoiling the line of your trousers. Probably not a trick for those of you who would prefer not to draw attention to your waist.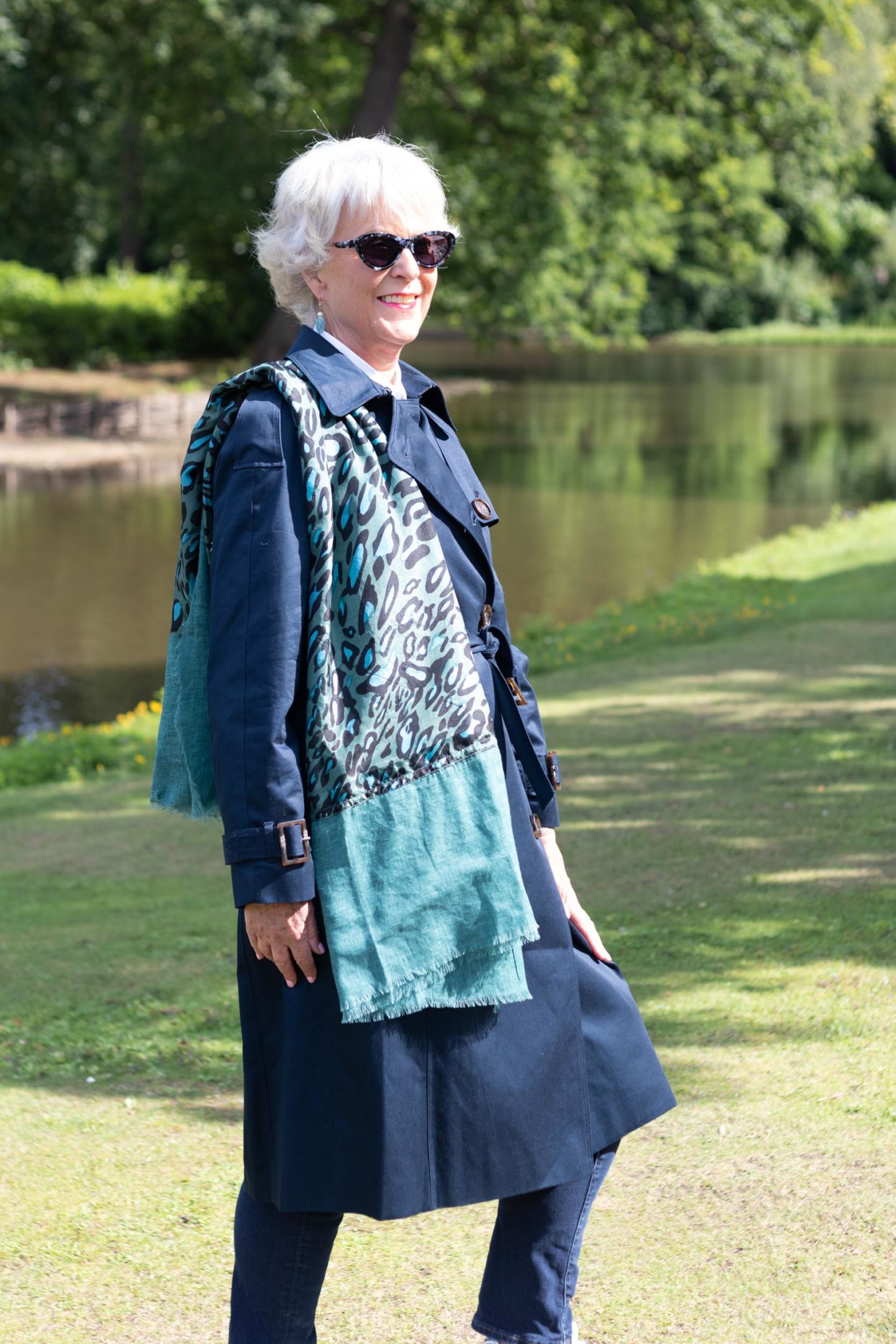 The animal print scarf I am wearing is from St.Tropez market. It is beautifully soft 70% cotton and 30% silk, measures 180cm x 180cm and is available in green (as above), mid blue with beige spots and grey with yellow spots. If you would like me to order you one email me at chicatanyage(at)icloud.com.
If you have not already watched my interview with Andrea Pflamer where I discuss how french women shop you can see it here till Monday 9th.
A SELECTION OF TRENCH COATS:
The photographs were taken by Laura Hines. Follow her on Instagram
The Photographs were taken at Claremont landscape gardens in Surrey. Well worth a visit if you are in the area.