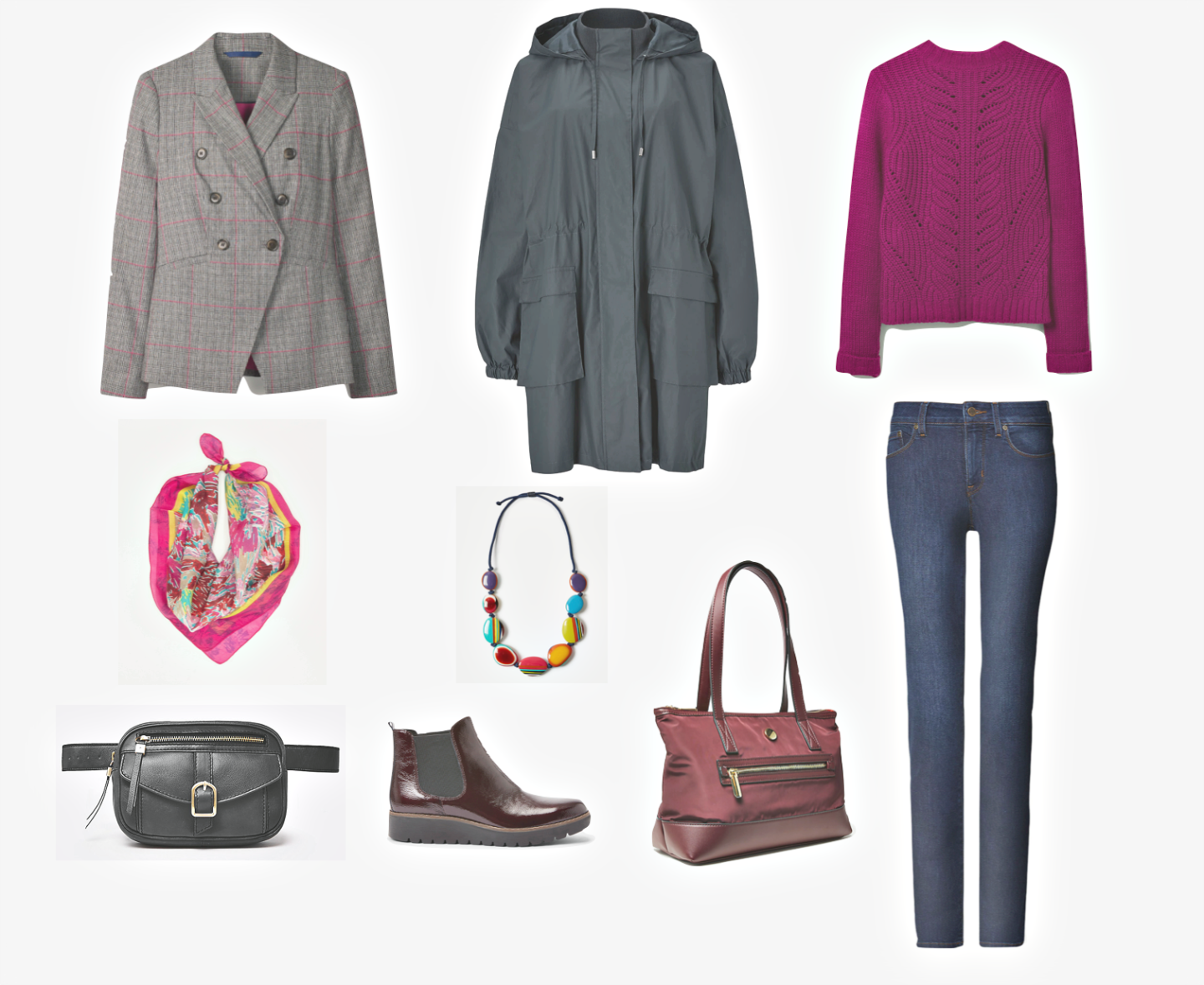 Capsule wardrobe for a trip to Paris this September
I am planning a very exciting short trip to Paris at the end of September. This visit will be purely for pleasure and not for work. I will be travelling with my daughter and one of my best friends and her daughter. It is an interesting story as this friendship spans three generations starting with our mothers being very good friends and our daughters carrying on the tradition. So I am looking forward to some laughs.
I am sure I will spend some time sitting in cafes "people watching". One of my favourite occupations. I will then be able to let you know what the chic Parisian women are wearing this Autumn.
I have started to plan my capsule wardrobe. The image above shows what I will be wearing for the journey. I find a lightweight mac essential for travelling as you never know when a shower can occur. I will be taking my grey check jacket. It is a couple of seasons old so I have selected a similar style which is currently available. If the temperature is predicted to be warmer I might swap out the sweater for a lighter version. I find comfortable jeans practical for travelling. A pair of comfortable ankle boots are essential. I bought mine last year. I always use a bum bag as I like to keep my essential documents such as passport, iphone etc safe when travelling on the metro.
Details of above:
Grey check blazer Boden / navy showerproof coat JohnLewis&Partners Unfortunately this jacket has sold out since I wrote the post similar / Plum cable knit sweater Boden / Small pink silk scarf Chicatanyage shop / Multicoloured necklace Marks&Spencer / Straight leg navy jeans JohnLewis@Partners / Black bum bag Marks&Spencer / Zip detail tote bag Marks&Spencer / Burgundy ankle boots JohnLewis&Partners /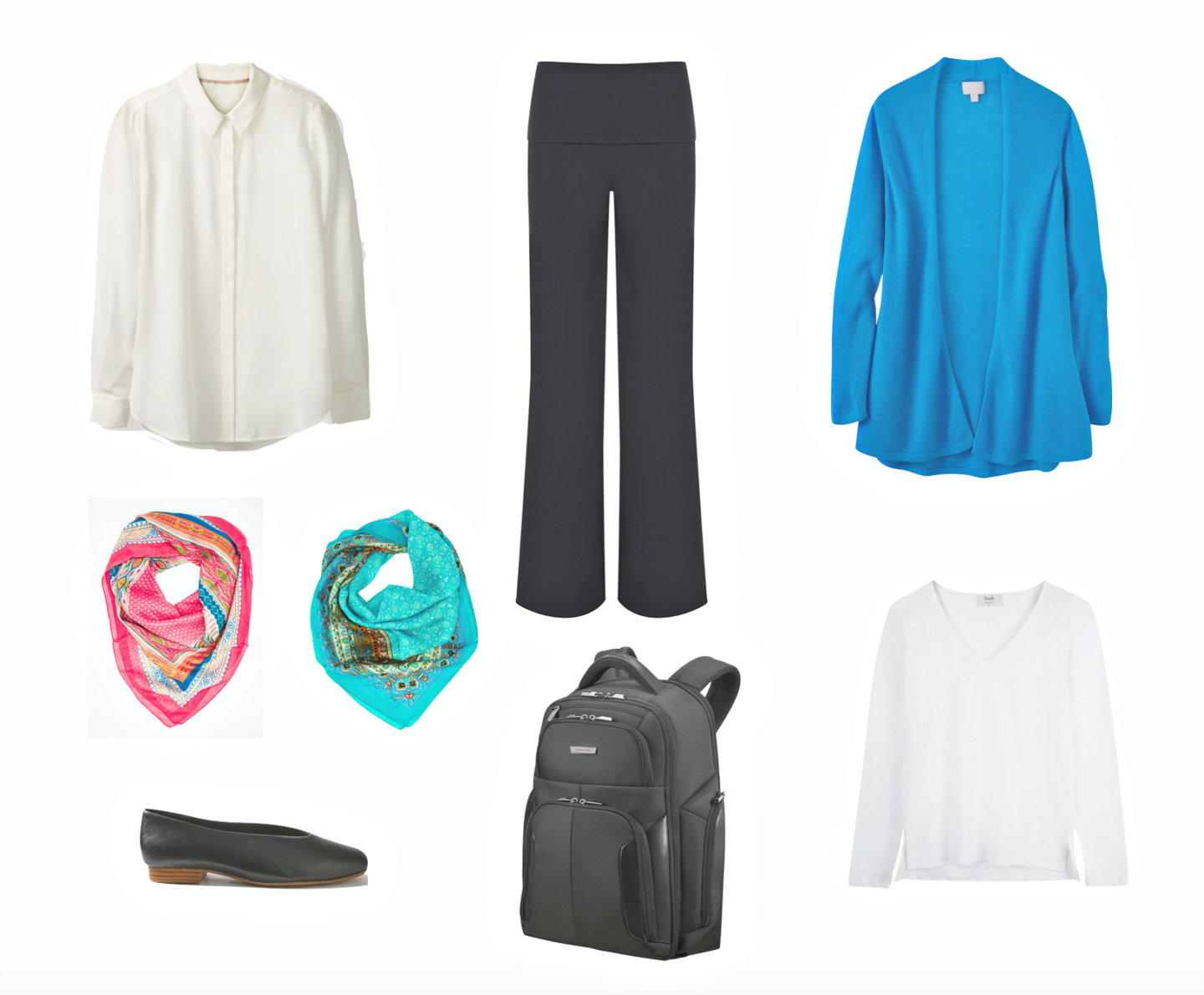 Capsule wardrobe for a trip to Paris this September. In my bag (I will only be taking a rucksack) I will have a silk cream shirt, which I plan to wearing under my check jacket for dinner on Saturday night, teamed with my black trousers and flat black pumps. On Sunday I will probably wear my jeans plus a simple white tee under the blue longline cardigan. I will be taking three scarves, they are so useful for ringing the changes. Also some costume jewellery.
I will be keeping the colour palette neutral with a few flashes of colour. I find that the Parisians keep their basic items dark toned and then add brighter colours with their accessories. It will be interesting to see how they are styling their outfits this year.
Details of above:
Silk shirt Boden / Black wide trousers HopefashionUK / Blue long line cardigan Pure collection JohnLewis&Partners / Multicoloured apricot silk scarf Chicatanyage shop / Multicoloured turquoise silk scarf Chicatanyageshop / Black pumps Marks&Spencer / Black rucksack JohnLewis&Partners / White tee shirt JohnLewis&Partners.
You can see what I wore for an October trip to Paris a couple of years ago. I do remember it being quite chilly then and having to buy a thermal vest.