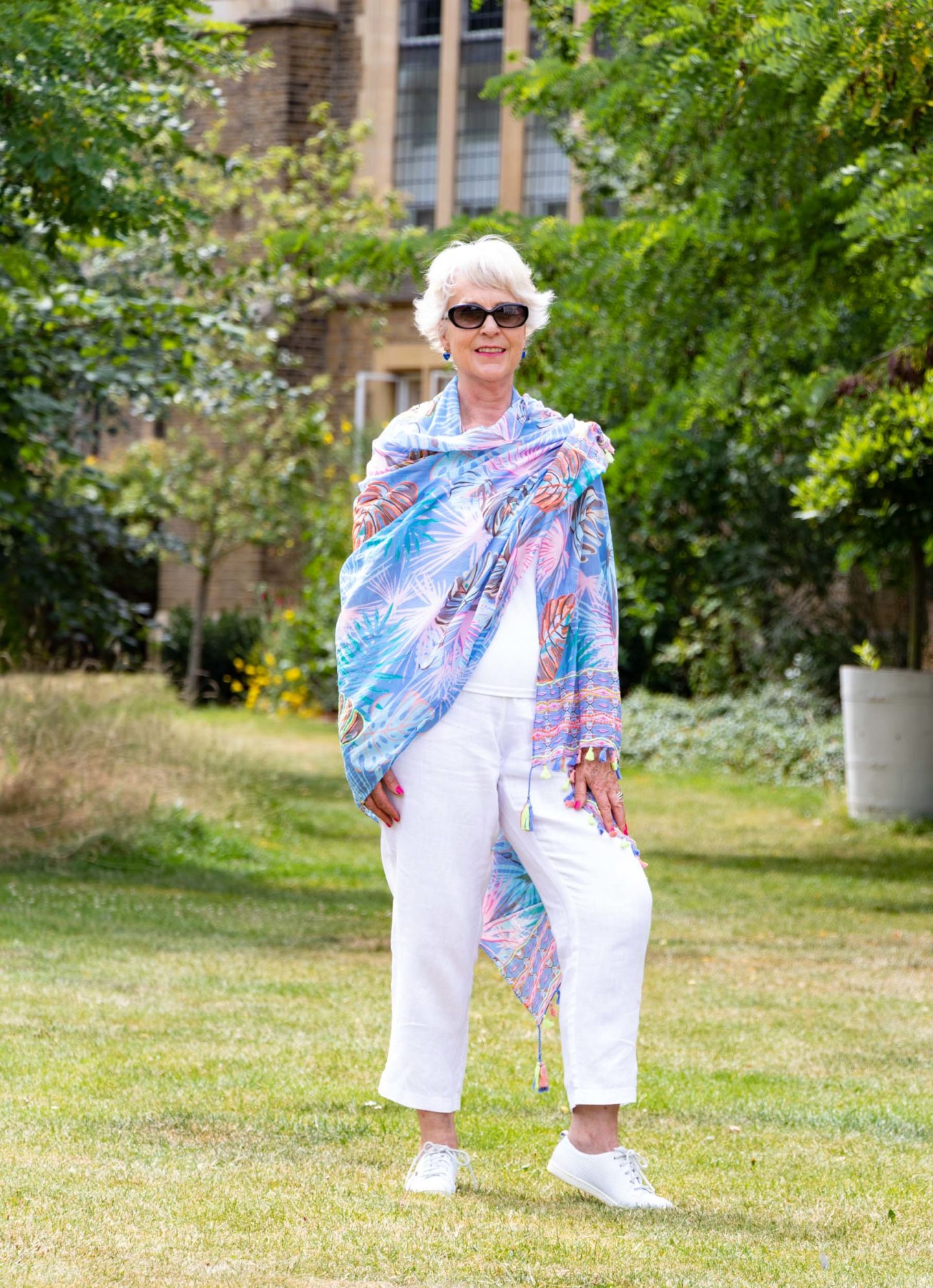 Late summer – how to liven up your wardrobe
How to liven up your wardrobe in late summer. I am beginning to feel a little tired of my summer wardrobe. We have had fairly continuous sunshine here in London since the beginning of July so I shouldn't really complain.
White has definitely been the front runner in my wardrobe this year. I seem to have been wearing it on repeat with a few accents of pink and navy.
What has really kept me going are my accessories. I find that a brightly coloured scarf or a colourful necklace helps to ring the changes even thought the base of the outfit is simple.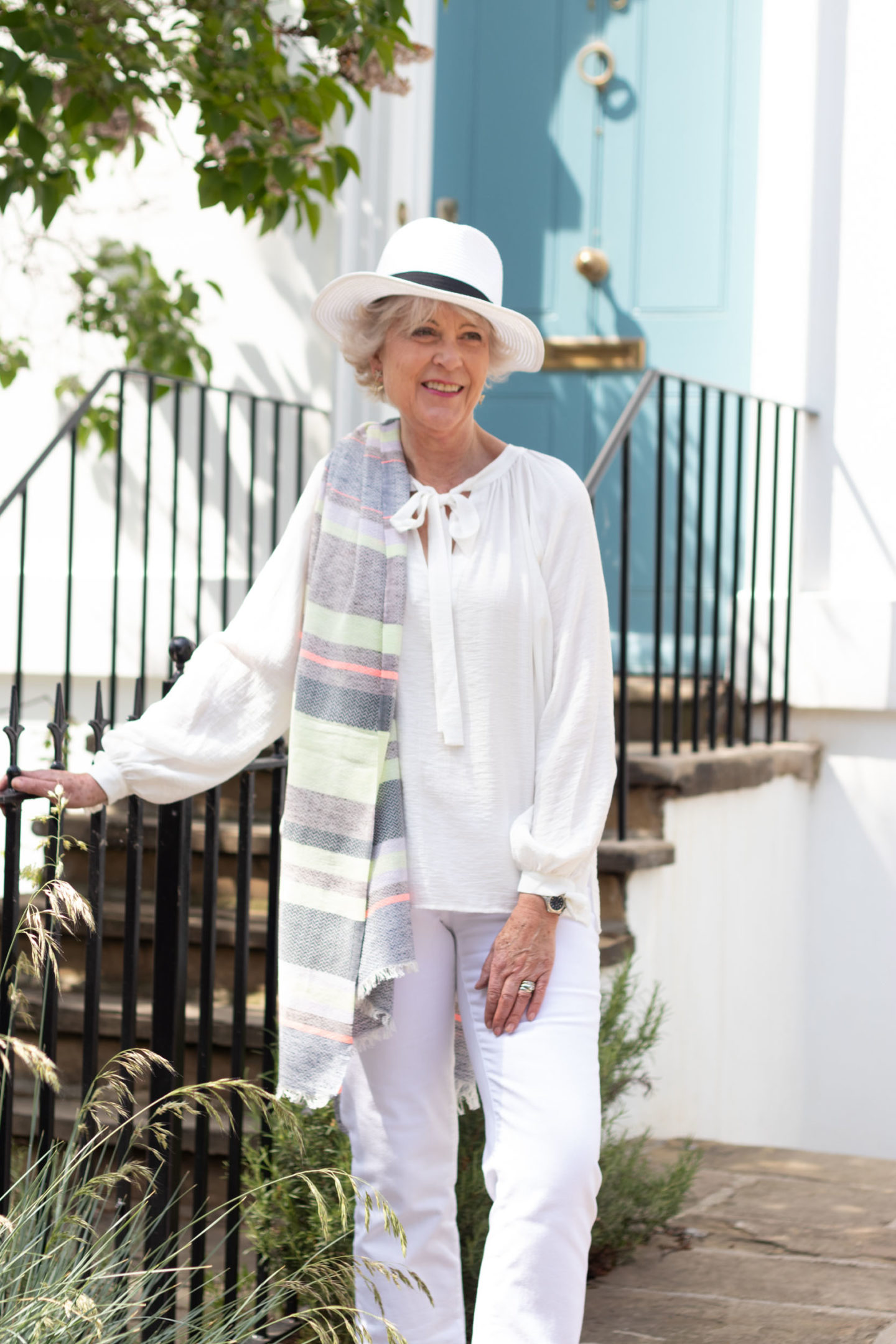 I have not made many purchases this season. All my white trousers are a few years old. I have bought a couple of new white tee shirts. White tees never seem to last more than one season. These ones from Cos are my favourite. Chevron stripe scarf Chicatanyage shop.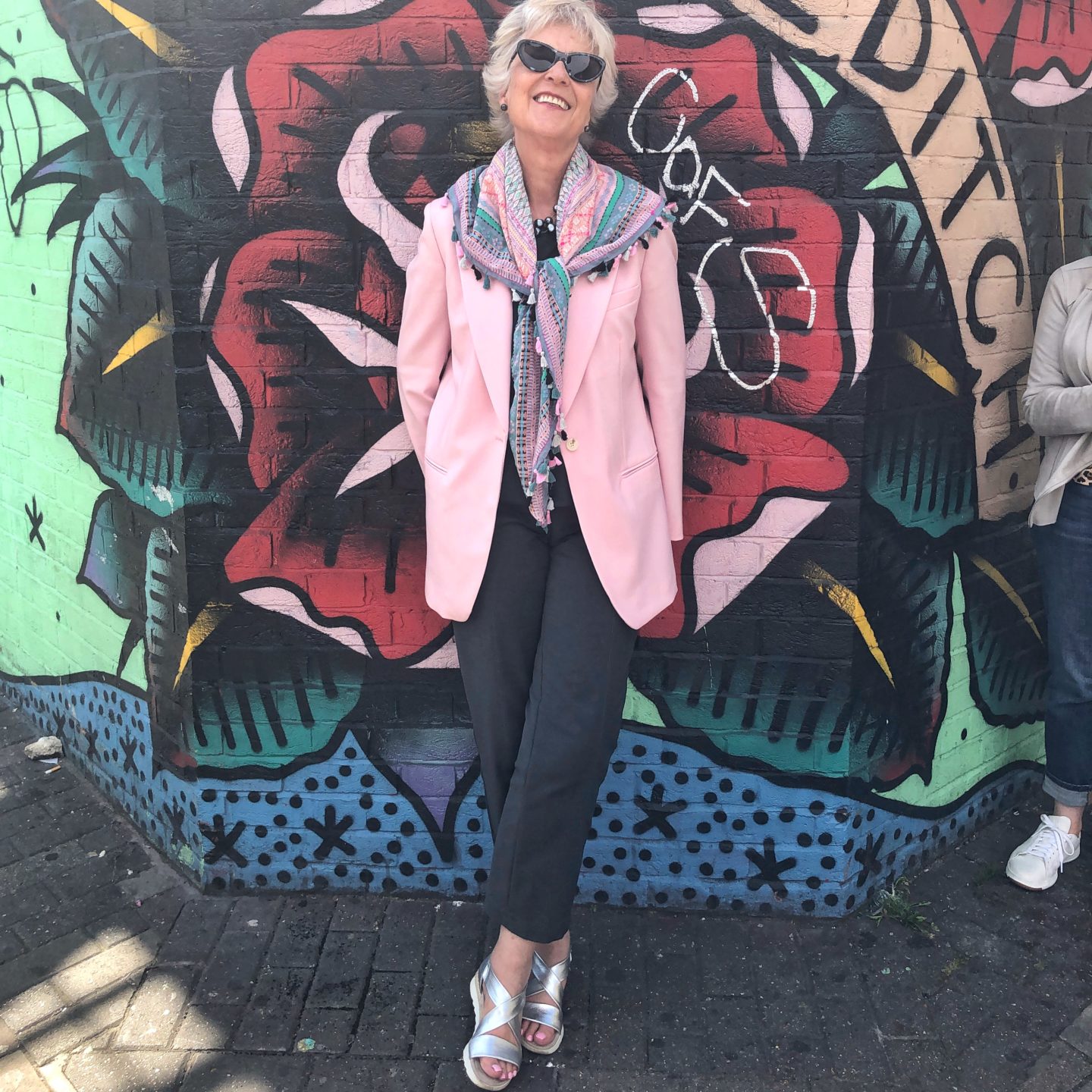 For a lunch in Shoreditch with Susan of Unefemme and her husband, I added a pink jacket and a brightly coloured scarf to my neutrals. I bought the jacket at the beginning of the season and wore it repeatedly until the weather turned too warm for jackets. I will be wearing it again this Autumn. Embroidered geometric scarf Chicatanyage shop.
How to transition slowly into a new season:
A good way to transition slowly into a new season is to wear your lighter colours from the summer with the new darker autumnal tones. I will be swapping the silver sandals for ankle boots and changing my cotton scarves for some lightweight wool ones.
A classic South of France look. In my opinion what really lifts an outfit is the addition of accessories. Scarves and necklaces are my favourites and of course not forgetting my hats. It is very important to wear a hat in strong sunlight as if your hair tends to turn a yellowy tone as mine does the sun's rays make this worse.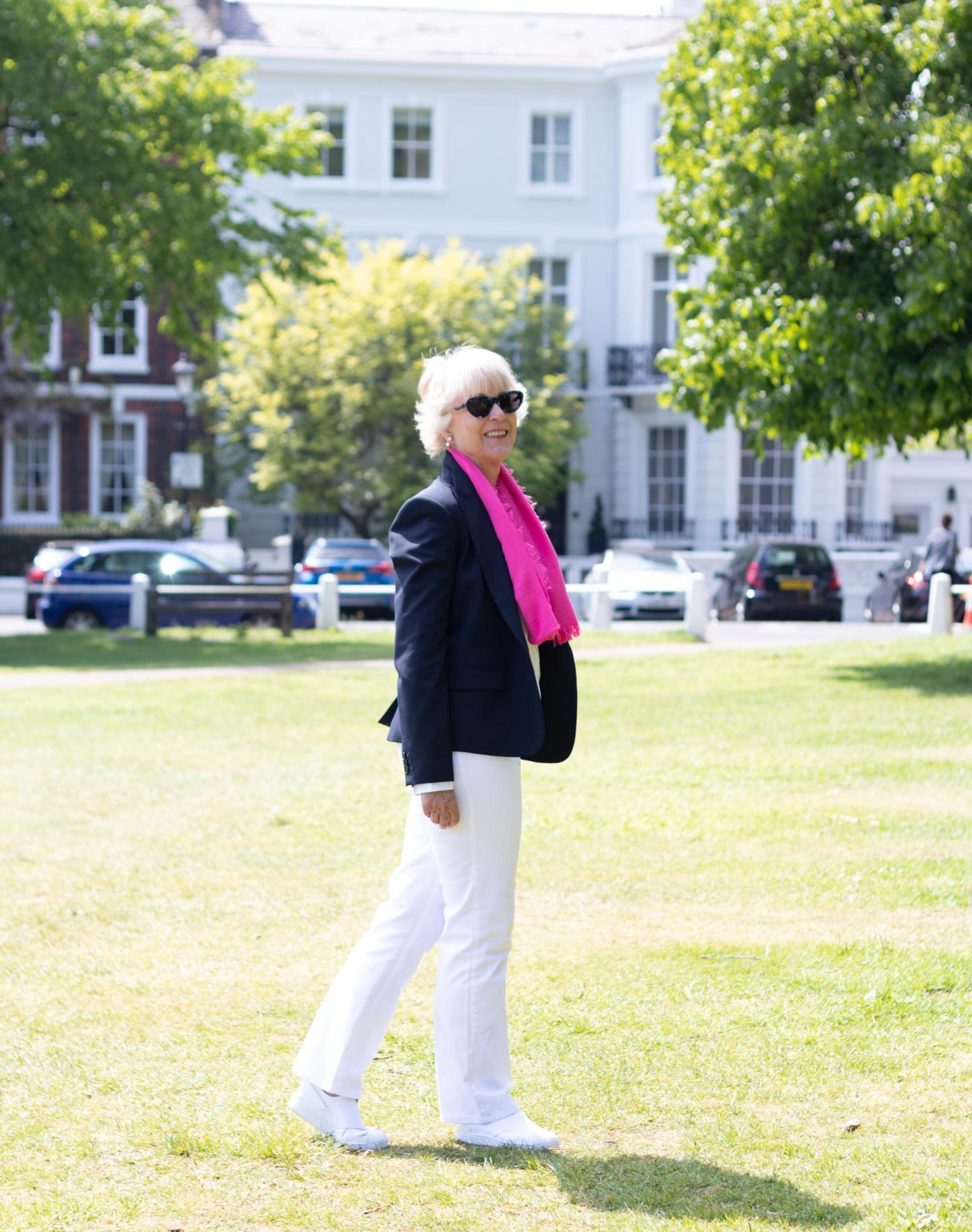 This jacket has been in my wardrobe for many years. It is such a classic that I am sure it has many years of wear to go yet. Navy blazer by Theory.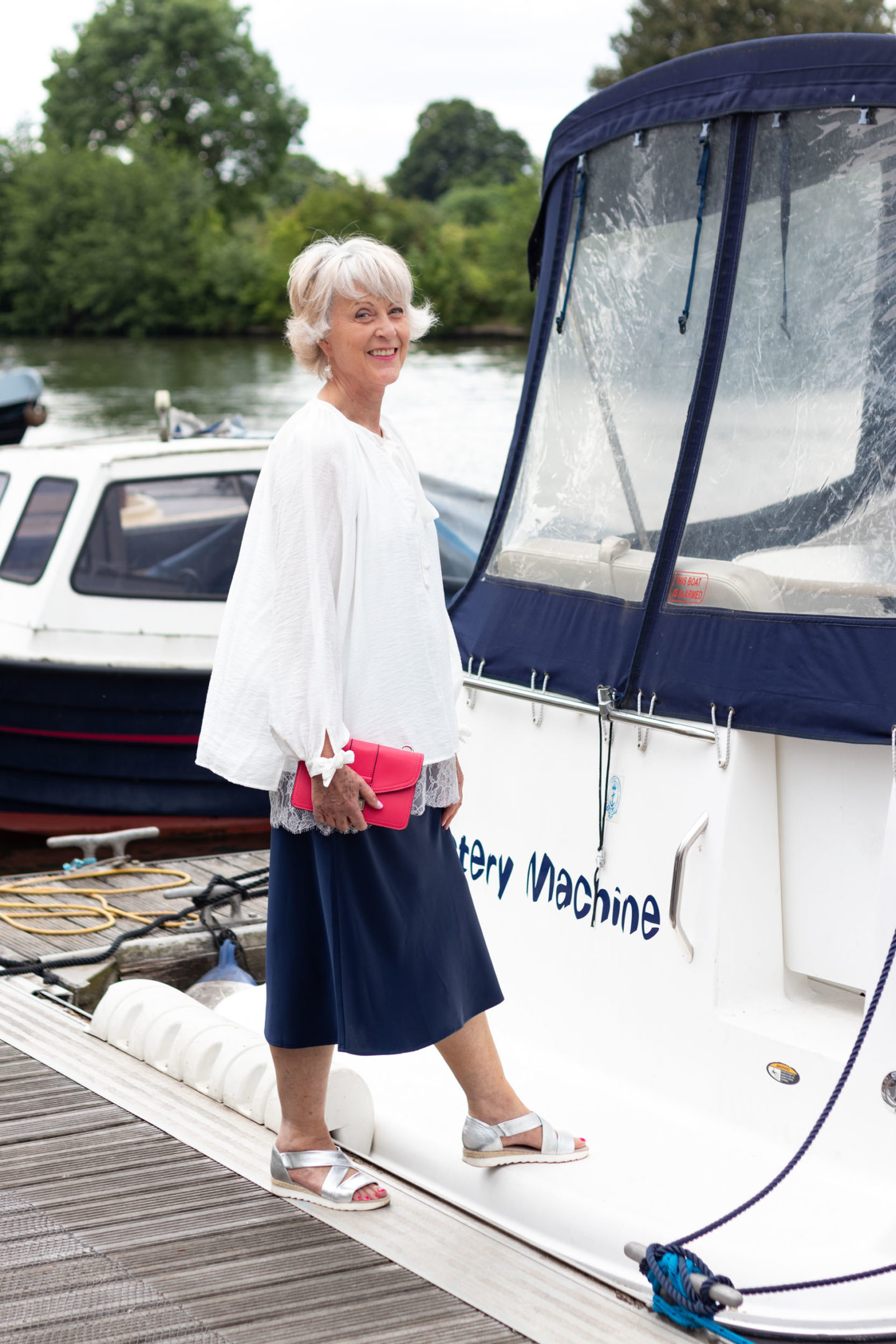 I have not worn my navy skirt as much as I anticipated. Probably because I'm a bit lazy as doing the "leg tan thing". I intend to wear it throughout the autumn and winter with a pair of knee-length boots and a chunky sweater. Skirt still available 60% reduction in the sale now £38. My ivory tie front top is also available in the sale.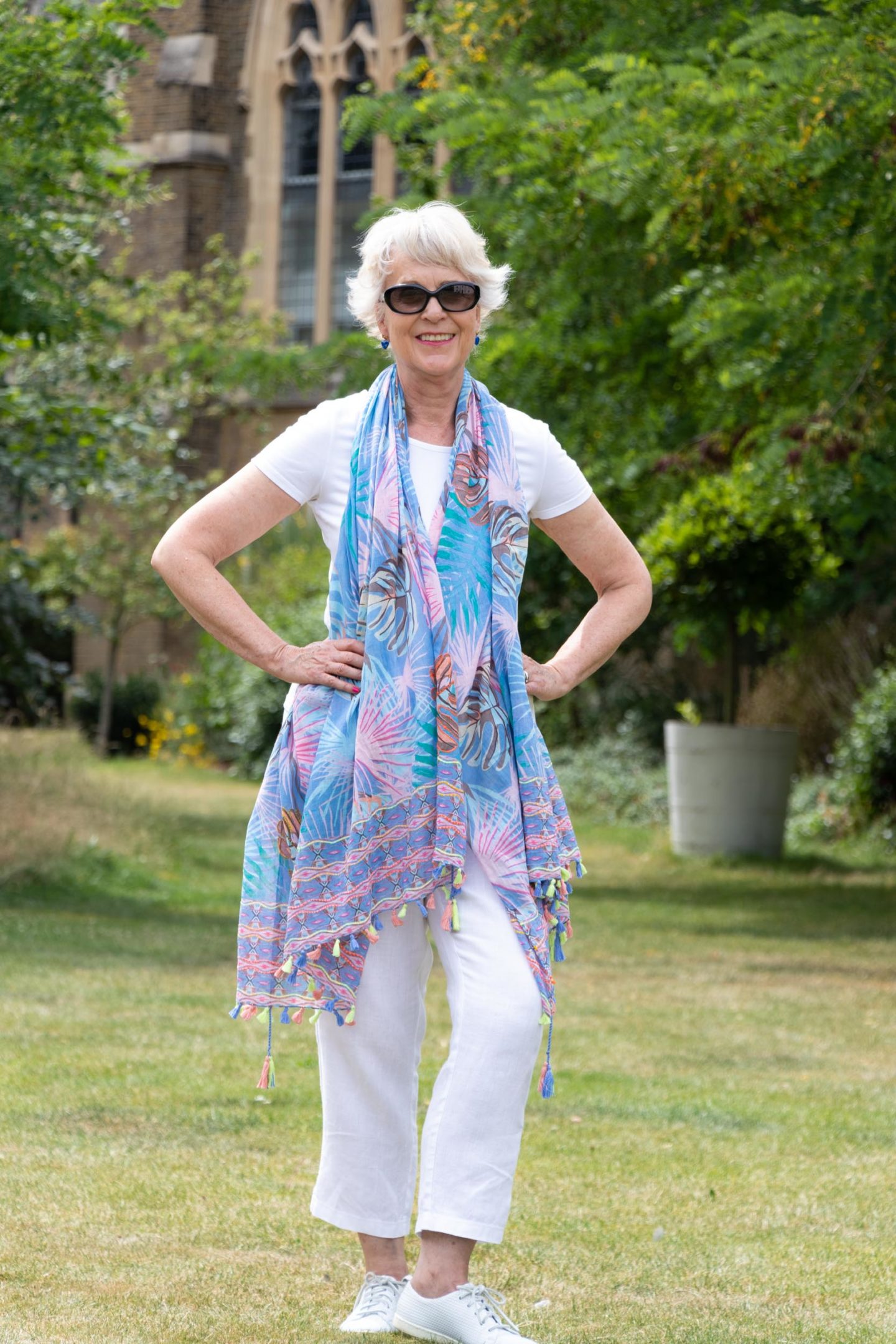 My tropical leaf scarf/pareo is available at Chicatanyage shop.
More ideas of how to use accessories to get the most out of your wardrobe here and here
Do you wear lots of white and light colours in the summer months or do you find it impractical?
Summer in white: