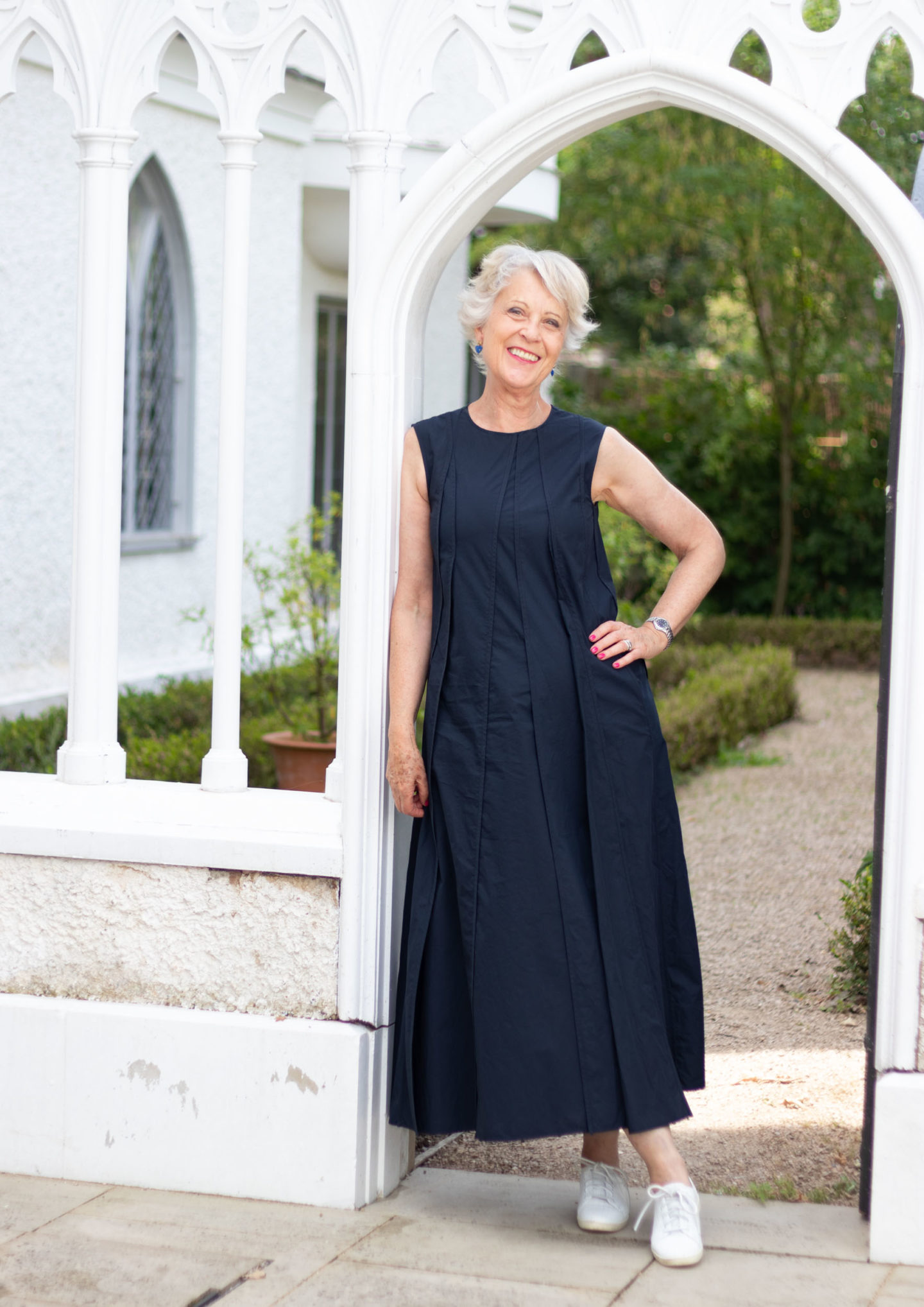 Can we wear sleeveless dresses in the heat? I am sure that this post will create some interesting debates in the comments box. All opinions welcome provided they are polite.
Last year I was ill-prepared for our long-lasting heatwave. I did not have enough cool dresses to wear and by the time I got round to buying one all the best ones were sold out. So this year I decided to add at least one new cool cotton dress to my wardrobe and I am very glad that I did. The sleeveless maxi dress I am wearing above is from Cos. They have a very good selection of cotton and linen dresses both with and without sleeves.
One thing I can't stand is synthetic fabrics in the heat, Way too clingy and sweaty. I only wear either cotton or linen. Personally, I like maxi dresses as I prefer to cover my legs however if you are petite a knee-length version would probably work better.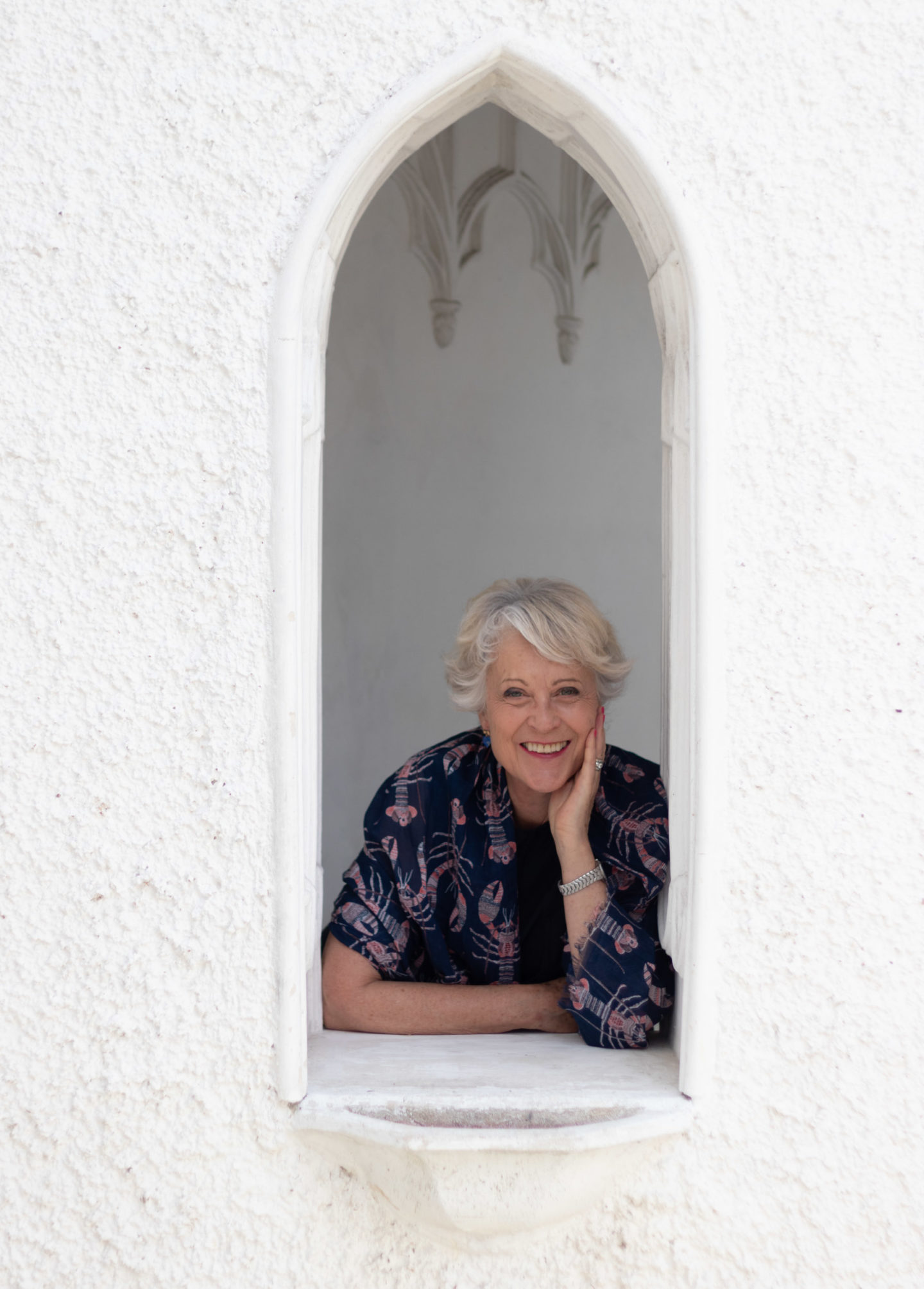 I have one of our cotton shawls draped around my shoulders. The Lobster print scarf is from Chicatanyage. For some unknown reason lobster motifs were very popular this year in the South of France.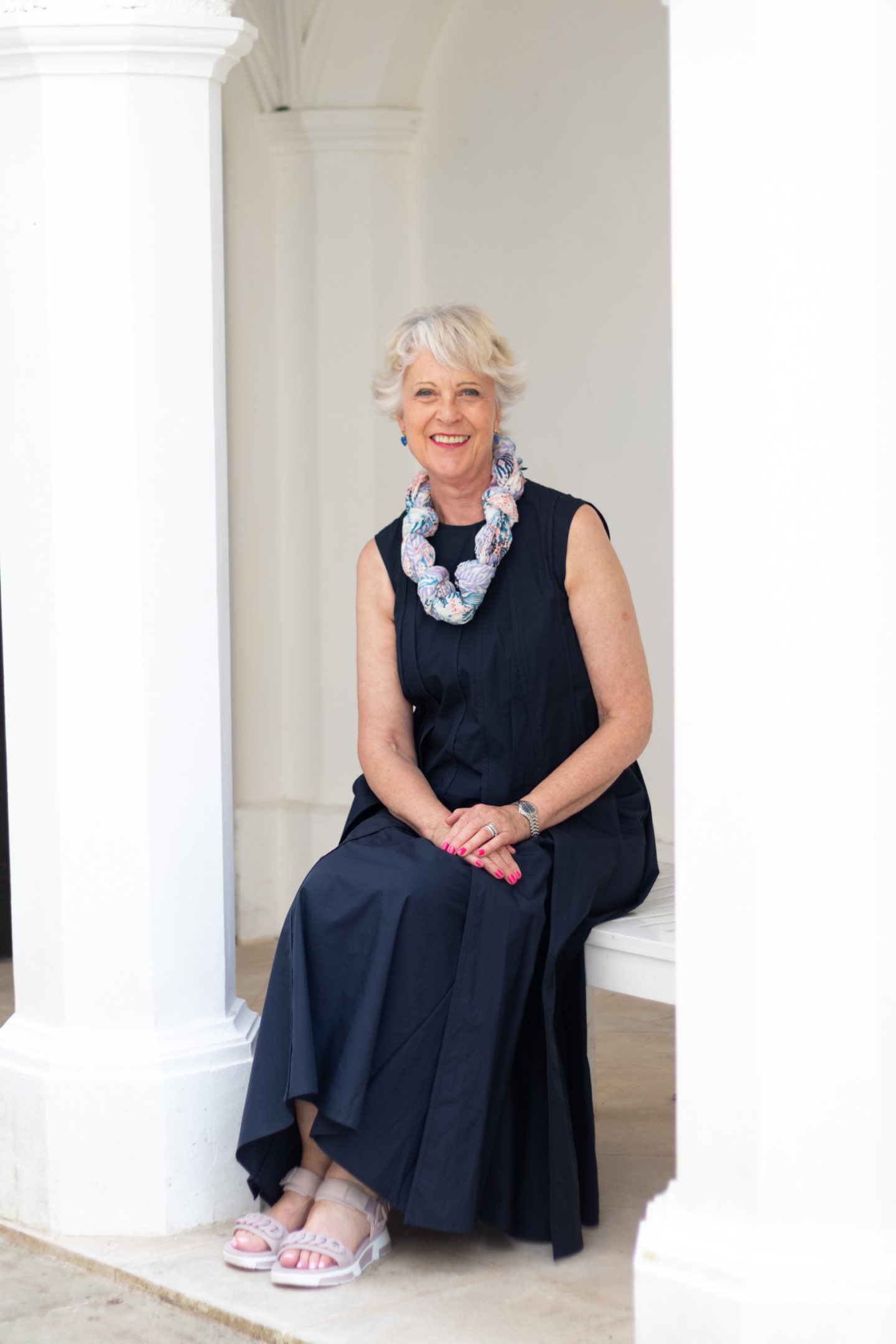 I am wearing our blue cotton coral scarf. I have tied a row of knots along the length of the scarf to create a necklace effect. This is a great way to draw attention towards the face and away from other areas of the body, in this case the upper arms
This Summer we were in France till late June. During the last few weeks temperatures were in the late 30s centigrade and for the last couple of days 40 degrees centigrade. One of my favourite pass times, especially when I am in France, is people watching. I noticed that many chic French women of a certain age in our village were wearing sleeveless tops and dresses, both maxi and knee-length with confidence. They did not seem to have any issues with their arms being on display.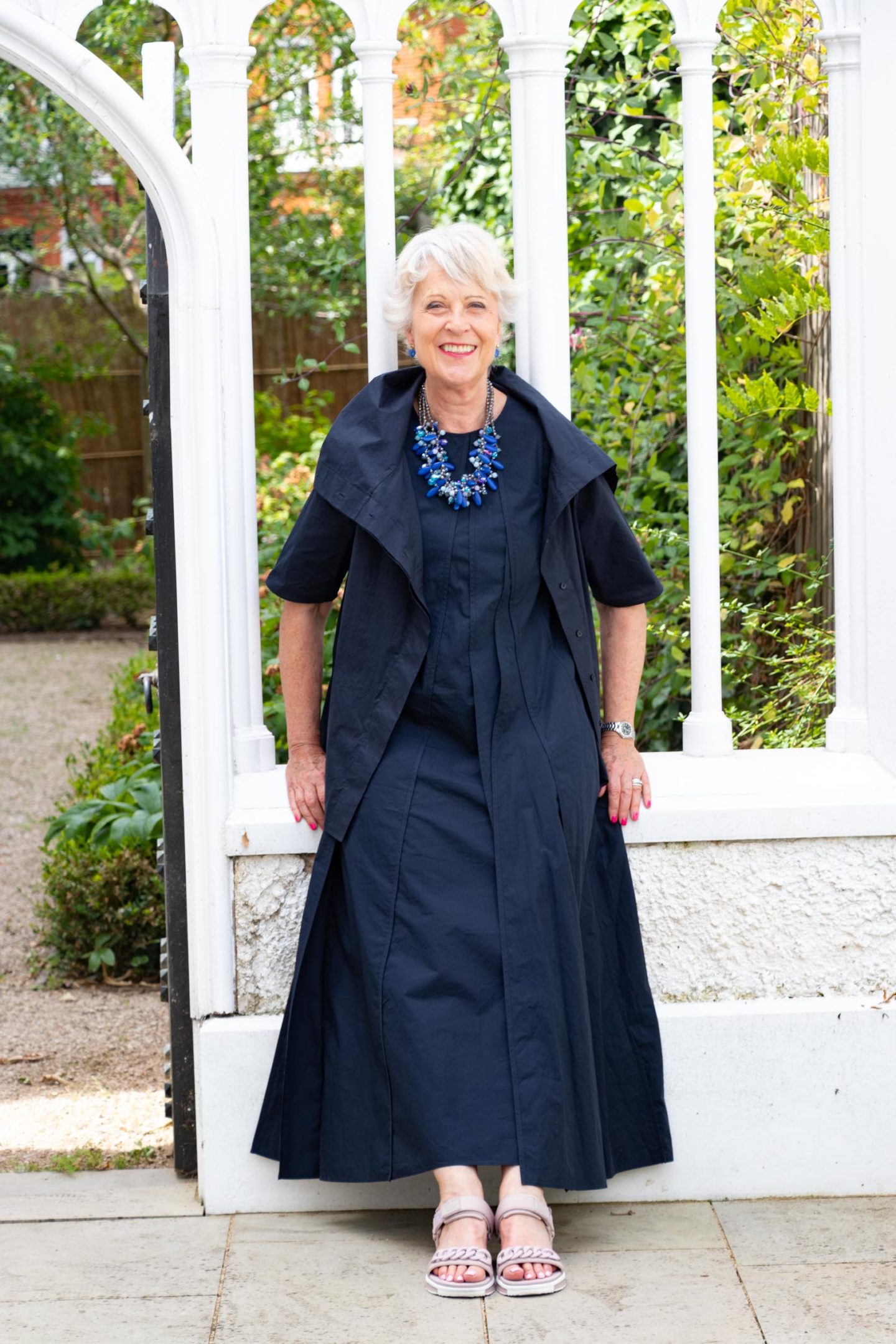 Just in case I want to cover my upper arms I bought this matching jacket again from Cos. Mine is very asymmetrical with a wide collar. It seems to have sold out online however this one would work well as a cover-up. My blue necklace is from Grimaud Market, available from a selection online at LesbijouxdeNatasha. I may be able to get necklaces similar to the one I am wearing for the shop. Let me know in the comments box if you would be interested.
My gorgeously comfortable sandals are the Heda style from Fitflop. They also have an excellent collection of sandals in their sale including the snake print ones I featured here.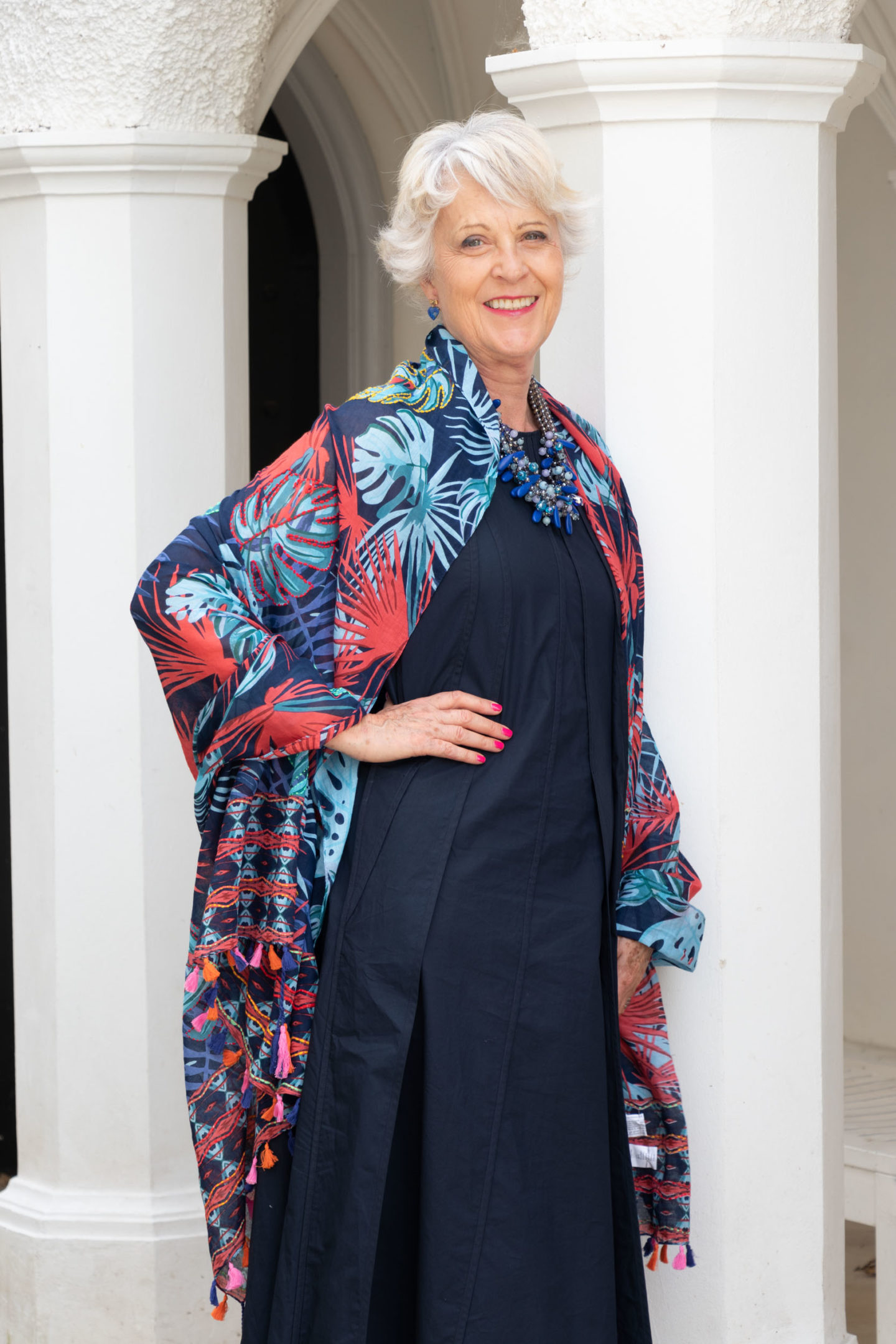 Another alternative to cover your arms which I use all the time is to throw a scarf or shawl over your shoulders. The colourful tasselled shawl I am wearing above is the embroidered tropical leaf scarf available from a selection at Shop at Chicatanyage.
Over to you. Do you ever wear sleeveless tops or dresses when the weather is very hot?
If you are not a fan of sleeveless dresses I have chosen a selection of dresses both with sleeves and without. Dresses continue to be popular for Autumn and some of the dresses below would transition well into the new season.
Selection of dresses:
The photographs were taken by Laura Hines. Follow her on Instagram
Location Strawberry Hill House