At this time of year when the sun is shining, we may prefer to spend our time outdoors having fun as opposed to cooking large meals in our kitchens. Yet we still want to eat healthily. It is hard to find really tasty low carbohydrate snacks that you can nibble on guilt-free. Emma Marshall of Emma Marshall Nutrition has come up with some great ideas for healthy snacks. I have cooked these flatbreads myself and they are absolutely delicious.
LOW CARBOHYDRATE VEGETABLE FLATBREADS MAKE GREAT GUILT-FREE SNACKS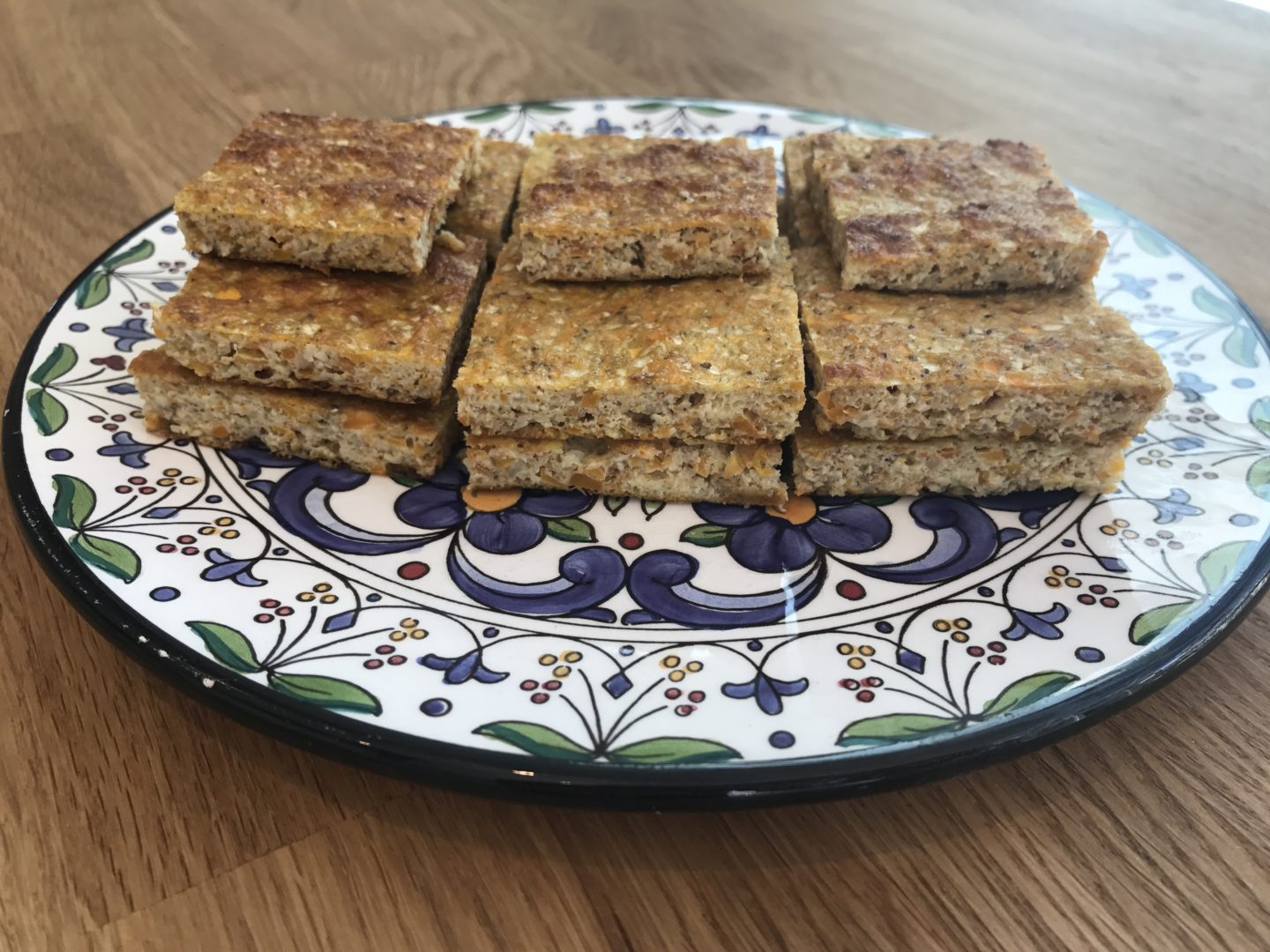 To make them you use ground almonds, this is a perfect gluten-free option and a great choice for anyone on a low carbohydrate diet. Almonds are a great source of vitamin E, iron, manganese, magnesium, potassium and calcium. They have fewer calories than wheat flour and are great for those looking to eat foods that keep blood sugar levels low.
The flatbreads are made with a blend of carrots and cauliflower. Cauliflower is another fantastic choice for those following a low carbohydrate diet, it is a fantastic source of fibre and provides high levels of vitamins and minerals especially vitamin C and K.
Carrots are a great source of beta carotene, an important component of skin and eye health.
Carrot and Cauliflower Flatbreads
Makes approximately 36 small bites
400g Cauliflower and carrot
100g ground almonds
1 tsp sumac or other dried herbs if you prefer
sea salt and black pepper
4 free range eggs
a sprinkle of sesame seeds on just before baking
In a processor blend the vegetables until they resemble breadcrumbs.
Put the veg into a large bowl and add the rest of the dry ingredients and season with salt and pepper.
Add the eggs and mix together with a large spoon.
Transfer to the baking tray and using your hands/pallet knife flatten the dough.
Preheat the oven to 200C (Gas Mark 6) and line a baking tray (26 x 35cm is good but go slightly larger if you want them thinner) with parchment paper.
Transfer to the oven and bake for about 25 minutes or until slightly golden and firm.
Remove and cool before turning upside down to carefully remove the paper.
You can then cut as you want, you can shape them for canapé bases in circles or squares or make them larger.Store in an airtight container. When I want to eat them once stored I like to re- crisp them for 5 minutes at 200C (Gas 6)
They can be stored in an airtight container. When you want to eat them once stored re-crisp them for 5 minutes at 200C (Gas 6).
You could cut them into fingers and spread dips on them or make them slightly larger and use them as pizza bases. For a healthier alternative to bread you can cut them to make sandwich size pieces.
TO MAKE INTO A PIZZA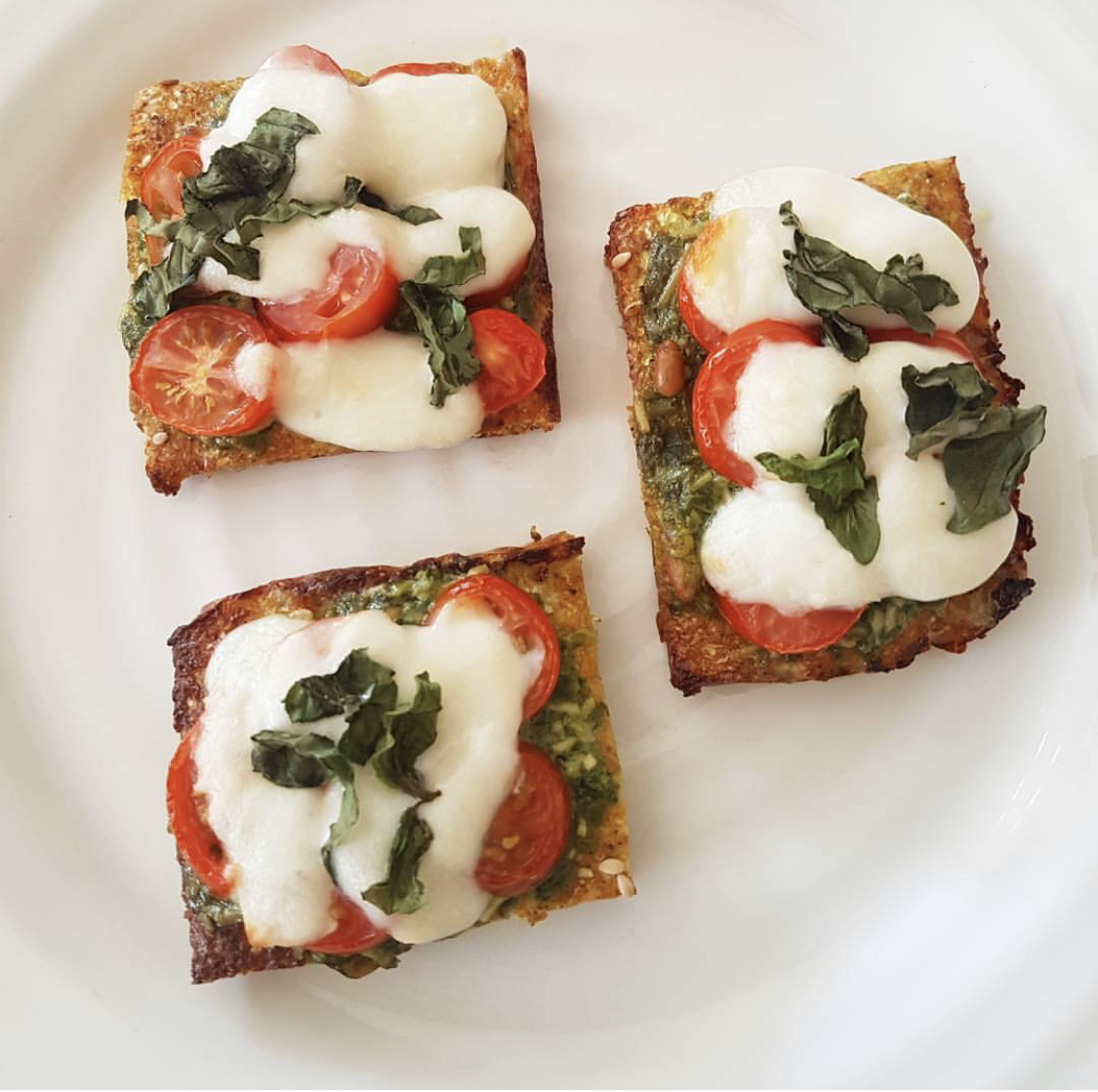 Cut the flatbreads to the size you want. Put them onto a baking tray and spread with some pesto.
Thinly slice tomatoes and mozzarella on top and sprinkle over some fresh basil. Drizzle the toppings with olive oil and season.
Bake for 10 mins at 200C/Gas 6 until crispy and golden
Other ideas are sliced mushrooms and rocket and parmesan
Goats cheese, caramelized red onion and thyme