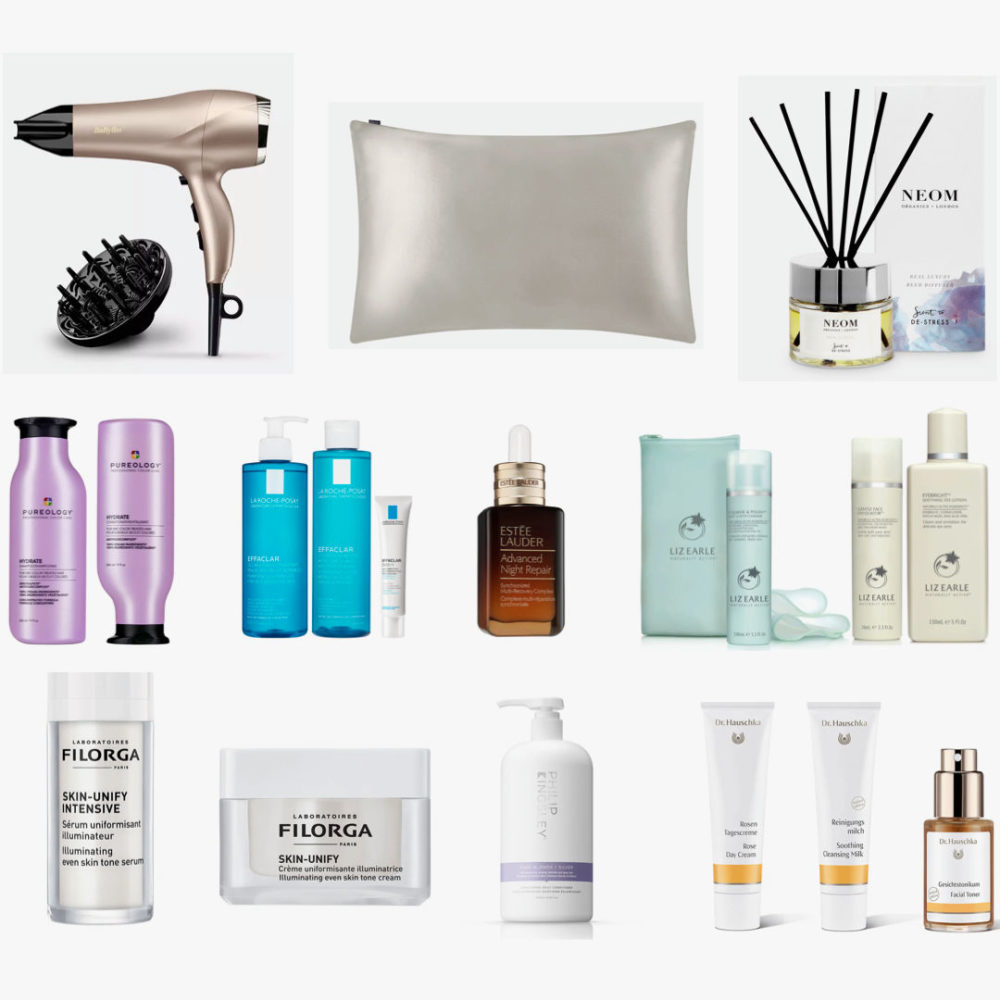 I am publishing my Black Friday sales post early this year as many brands have already started discounting selected items and the sales are in full swing. In this post I will be focusing on how to shop wisely in the Black Friday sales. It is so easy to get carried away and I think we are all conscious of not over shopping so I have laid out some guidelines. I will not be purchasing any clothes this year due to my ongoing wardrobe decluttering however I will be stocking up on beauty products from my favourite brands. There are great bargains to be had on most beauty sites and I have listed below the ones that I use on a regular basis.
Details of above:
1st Row Hairdryer JL&P | Silk pillow case Lily silk | Neomi diffuser JL&P.
2nd Row | Pureology hydrate shampoo & conditioner LookFantastic | La Roche-Posay 3 step routine LookFantastic | Estee Lauder advanced night repair LookFantastic | Liz Earle skincare trio LookFantastic
3rd Row Filgora skin-unify intensive Feelunique | Filgora skin-Unify Feelunique | Philip Kingsley silver conditioner | Dr.Hauschka Rose day cream set Feelunique.
Other good beauty sites with excellent bargains:
I feel that this is an ideal time to fill your bathroom cabinets with items that might normally be out of your price range. I will leave some links below to beauty sites that I regularly buy from. Beauty websites can also yield great gift ideas for male as well as female friends or members of your family.
One beauty product definitely worth buying is the Foreo face cleanser and massager. (I really love mine and am tempted to buy another one that I can keep in France). I also bought one for my daughter last year and she loves it.
Look Fantastic – They have what they call Cyber Warmup.
Link to Look Fantastic US site.
Feelunique have a Black Friday week.
LookFabulousForever is one of my favourite beauty sites. They are currently offering 20% off everything with code BF21. Offer ends soon.
Luckily over the years I have build up a cohesive wardrobe consisting of well made classic basics many of which I have had for a long time and still continue to wear and enjoy. As regular readers of my blog will know, I continually "shop my wardrobe" to create new outfit combinations. I consider this to be the most sustainable way to continue to enjoy fashion and stay stylish and chic at whatever age we are.
If you are in the market to replace some of your items of clothes, here are a few tips. Personally I am looking to replace my Nordic walking boots.
How to shop wisely in the Black Friday sales.
A few tips to stay calm, buy wisely and not suffer from buyers regret:
Planning is everything
1. Do you need to replace your staples or add a touch of colour and excitement to your wardrobe?
2. Have you been eyeing that covetable piece that was too expensive but is now within your reach?
3. What about a couple of stunning accessories to brighten up your classics?
4. Statement jewellery and scarves always come in useful at this time of year.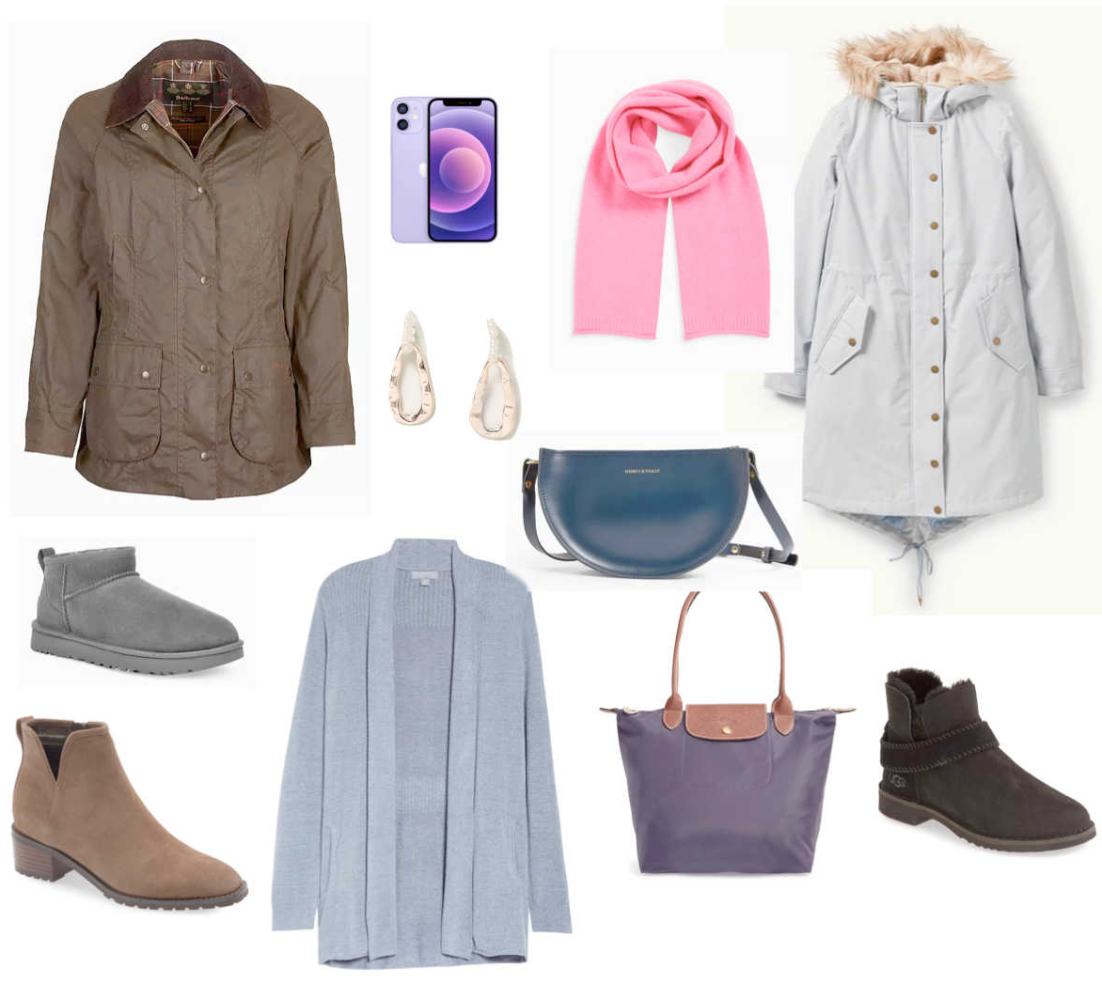 Details of above:
Barbour jackets JohnLewis&Partners | iPhone 12 mini JohnLewis&Partners | Pink scarf JohnLewis&Partners | Grey waterproof parka Boden | Oval pearl drop earrings MarksandSpencer | Half moon leather shoulder bag JohnLewis&Partners | Grey Ugg boots JohnLewis&Partners | Brown booties Nordstrom | Blue cardigan Nordstrom | Small Le Pilage shoulder tote Nordstrom | Water resistant bootie Nordstrom.
How to shop wisely in the Black Friday sales
If you are buying for friends and family
Make a list of the people you want to buy gifts for and what category of gift you think they would appreciate. It saves time if you can click straight through to the relevant section.
I have just treated myself to a new Apple iphone 3pro. If you are an Apple fan and are thinking of upgrading John Lewis have some great deals.
MeandEm Who I consider to be an investment luxury brand. I have kept my MeandEm purchase for many years and still love them. They are classic with a twist and fit well into my curated wardrobe. This year the owner Clare Hornby has decided not to discount items. Instead they will be donating £10 from every purchase made on Friday 26th November to The Prince's Trust.
Below is a list of stores that are offering Black Friday/Week deals.
NORDSTROM – Beauty gifts with purchase (good value)
JOHN LEWIS & PARTNERS – Black Friday 20% off Barbour jackets hundreds of prices lowered even further.
BODEN USA 30% with code J9R7 off outerwear and nightwear
BODEN UK 30% off with code J7H4 off outerwear and nightwear
LANDS'END (US link) – 40% off all full price styles US Code CADER UK code CCQ3
THE WHITE COMPANY – 20% off everything WITH CODE JOY20. Good for gifts and for lovely Christmas table decorations.
MARKSANDSPENCER – has special offers on selected items + decorations and wine.
MARKSANDSPENCER are also offering 40% off bedlinen and kitchenware – Two areas where it is good to stock up in the sales.
LILY SILK – I love the Lily silk products especially their pillow cases. They have a fantastic sale with up to 40% off the second pillow case.
UNIQLO Black Friday sales (US link)