I can't believe that this year has flown past so quickly, not only are we nearly in December but it is time to make our lists and of the important people in our lives and give serious thought as to what to buy our friends and family for Christmas. This year I have chosen gifts that I consider will be practical and have longevity. So in this post I have collated a selection of practical and cosy seasonal gift ideas. Starting with the practical.
Details of above:
Wellness collection gift set MarksandSpencer | Cocktail shaker MarksandSpencer | Vacuum insulated leak-proof drinking bottle MarksandSpenceer | Sports head light MarksandSpencer | Amazon echo dot smart speaker with Alexa voice control JohnLewisandPartners | Whisky stones for keeping drinks cold MarksandSpencer | Italian leather holdall JohnLewisandPartners | Nespresso coffee machine JohnLewis&Partners | Mens roll-up travel bag JohnLewis&Parnters | Classic backgammon set JohnLewisandPartners | Large day backpack JohnLewis&Partners | Headphone stand JohnLewis&Partners.
As our family has grown, I now have four grandchildren ranging from eleven to eighteen months my priority is their presents as I feel that Christmas is so much about their joy and excitement. For my two younger grandchildren I have chosen books this year. I feel that they already seem to have a vast quantity of plastic toys and I don't want to add to that. I have chosen Roald Dahl for the six year old. MarksandSpencer have a great collection of nightwear and clothes with a Roald Dahl theme or you can buy the books here.
A selection of cosy and practical seasonal gift ideas
The second category I have chose I would refer to as "cosy gifts". I have selected them from The White Company. I feel that they offer good quality items. The grey towelling bathrobe I have featured below is a classic. My husband gave me a similar one three years ago. It washes well and is still in good condition. I think that The White Company offer some of the best candles, diffusers and home sprays have . All their fragrances have natural lingering aromas. I especially like their winter collection.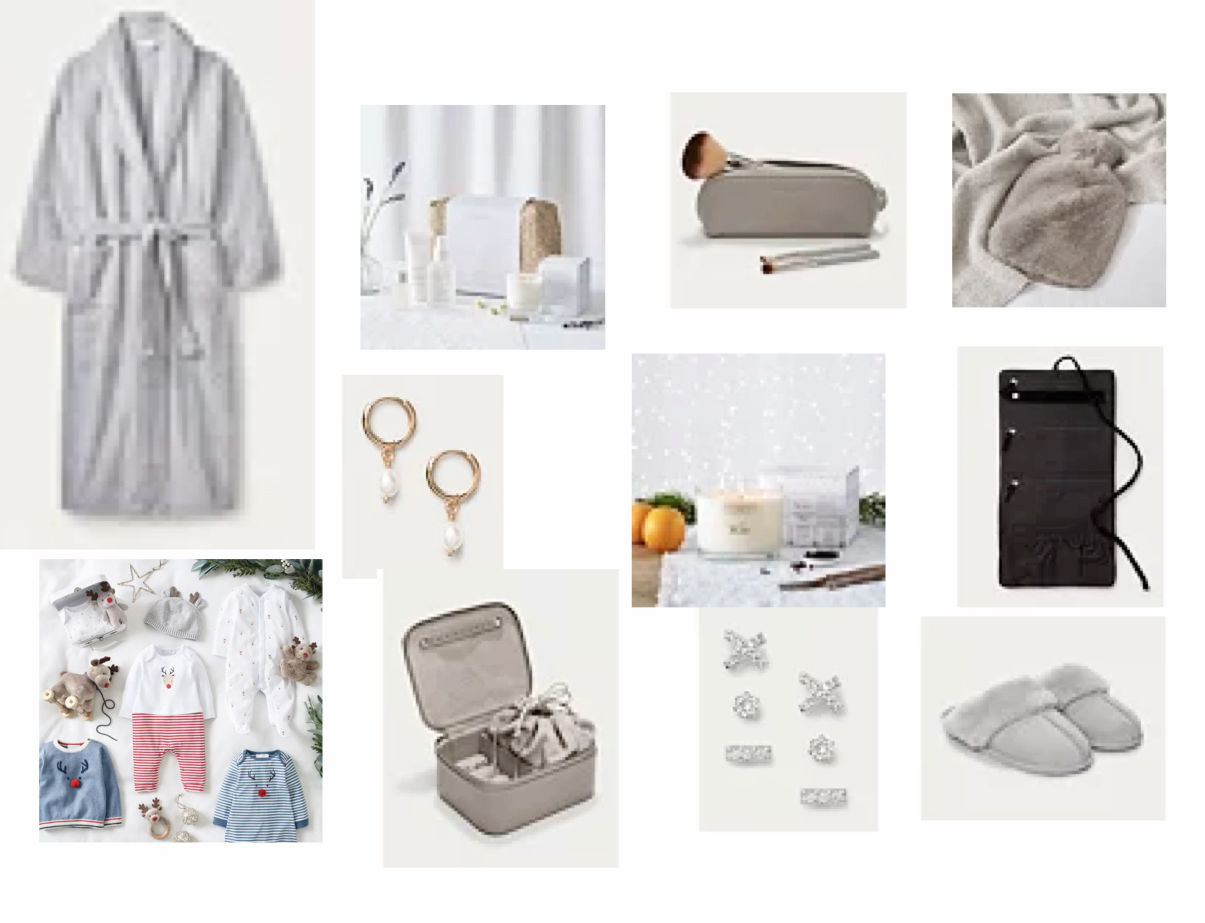 Details of above:
Unisex dressing gown | Sleep wellness basket | Leather brush case with brushes | super soft faux fur water bottle | Gold plated pearl earrings | Winter large candle | Velvet jewellery roll | Babies gift selection | Leather travel jewellery case | Selection of jewellery on velvet cushion | Suede mull slippers.