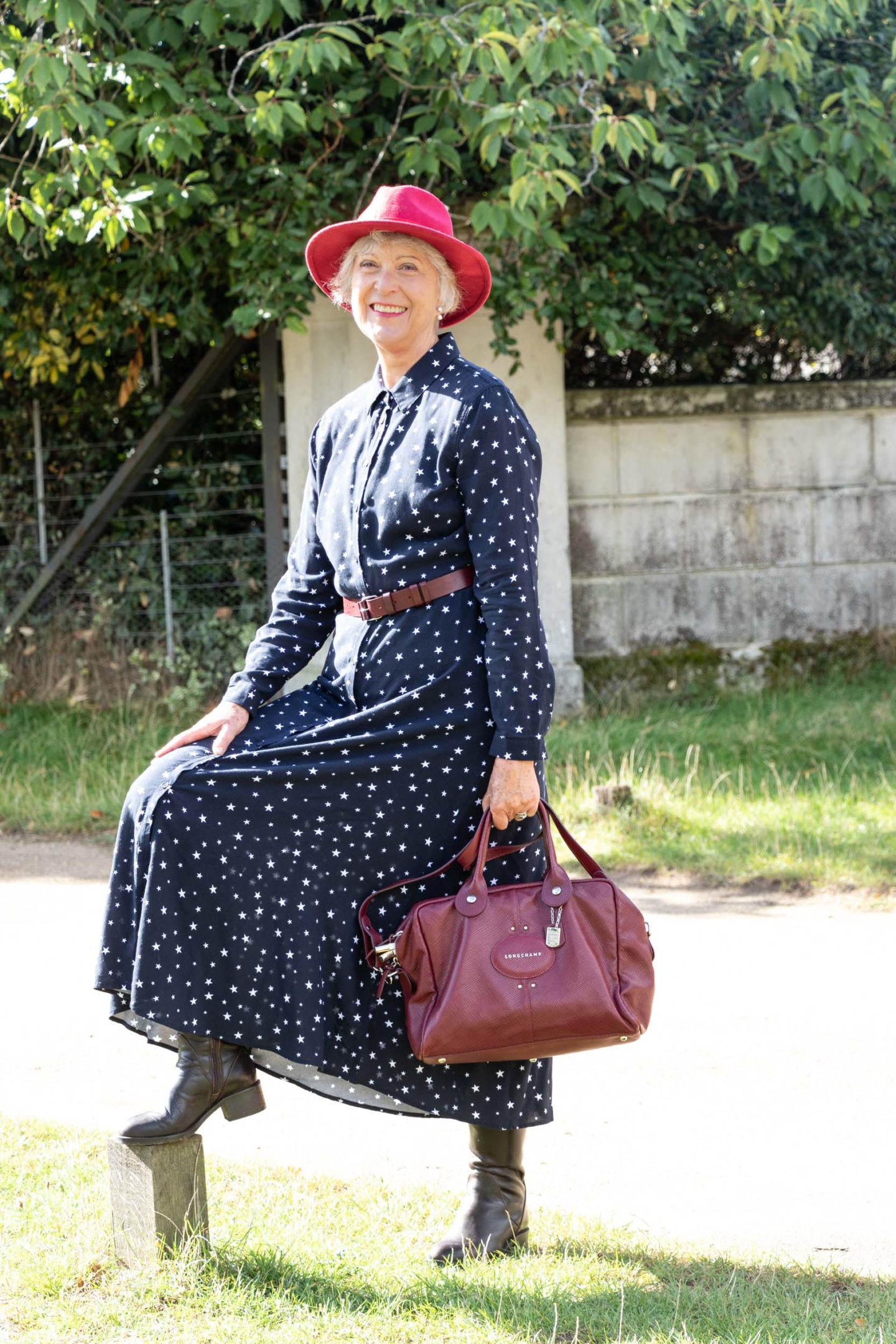 I purchased this maxi dress (still available but only size 10 left) from Hush at the beginning of Spring. You can see me wearing it here. It has been very useful over the last few months. I have worn it on many occasions. Now it is time to pack away my linens and cottons and get my warmer clothes out of storage. I intend to keep the items that I think can be adapted to the cooler weather in my wardrobe. So I thought that I would write a post about how to adapt a dress for the autumn season.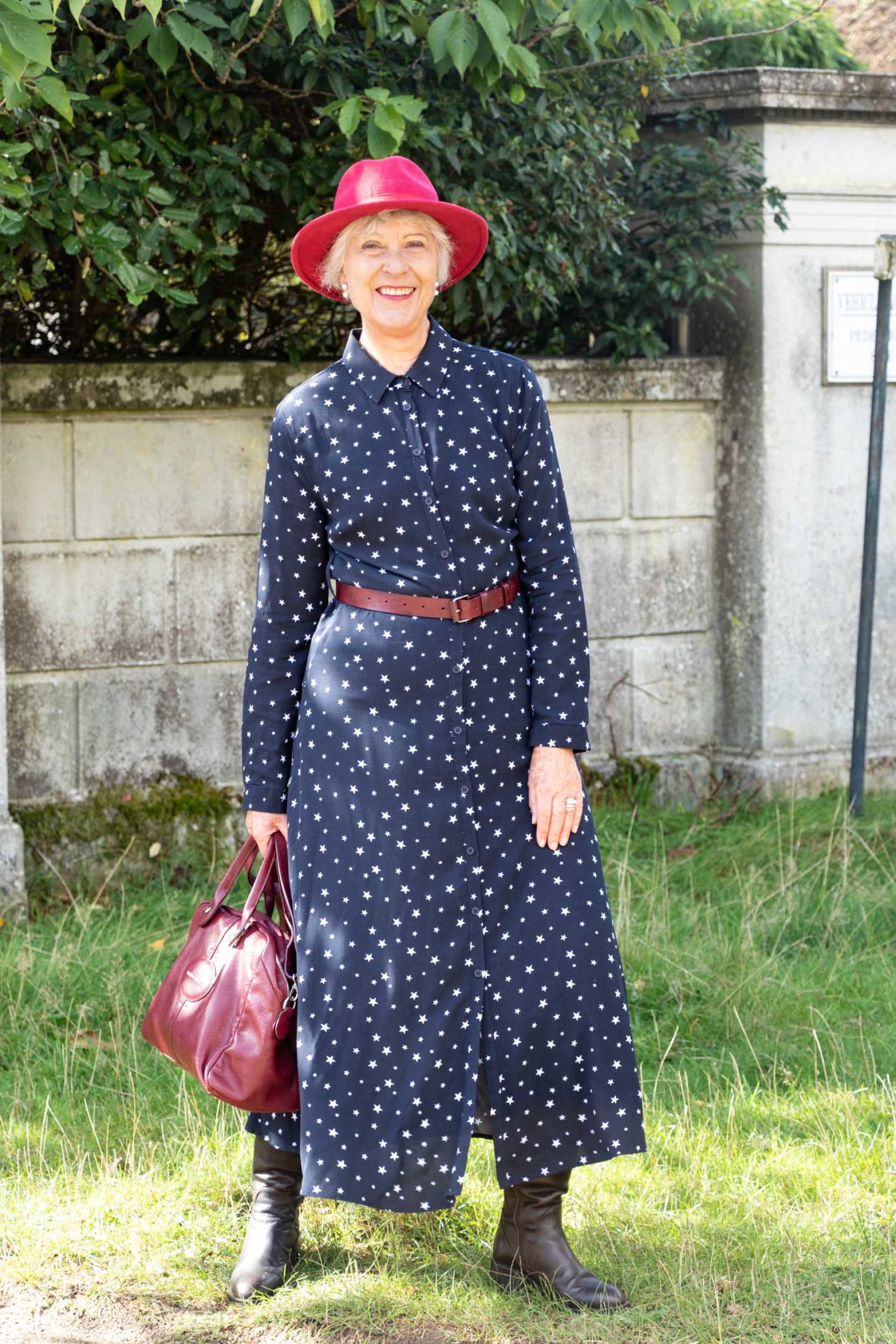 The first thing that I have done is to add one of my favourite bright burgundy red fedora hats, a red belt and my Longchamp red holdall. I am also wearing my brown knee-high boots which automatically gives this outfit a wintery feel. I have small feet and wide calves which is always a challenge when buying boots. Hotter have some excellent ones.
How to adapt a dress for autumn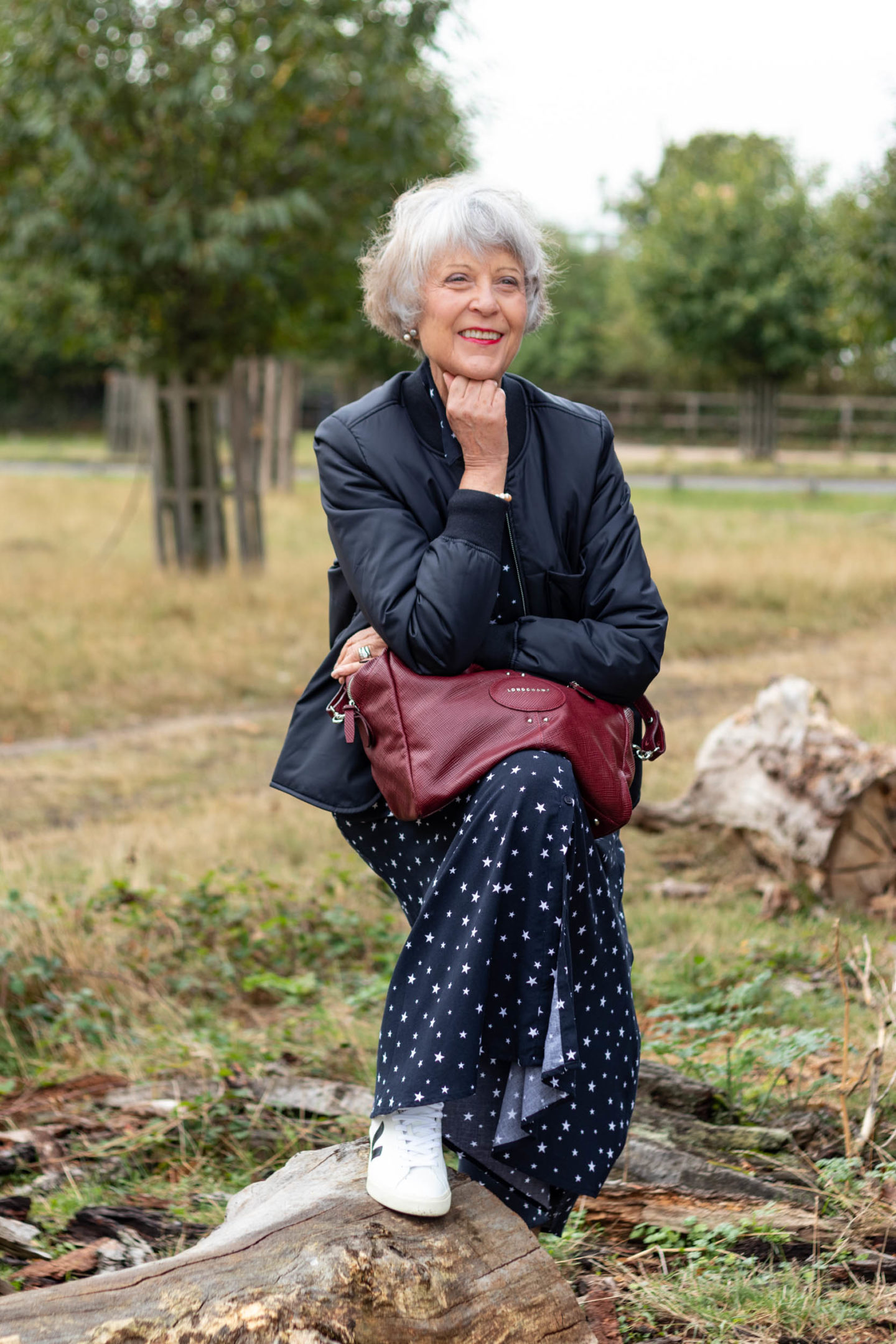 If you don't want to start wearing your winter boots just yet I think the dress looks just as good with a pair of sneakers. The ones I am wearing are Veja. They are a new addition to my wardrobe. I have wanted a pair for ages, having seen them all over Instagram. At first, I considered them a bit pricey, then I found these on Net-a-Porter for £90. I know that you can find cheaper trainers but I do think that these are worth the money.
They are extremely comfortable and are made from sustainably sourced leather. I chose the low top as opposed to the high top as I found that the high top version rubbed my ankles. Net-a-Porter has a large collection of Veja trainers in different styles and colours.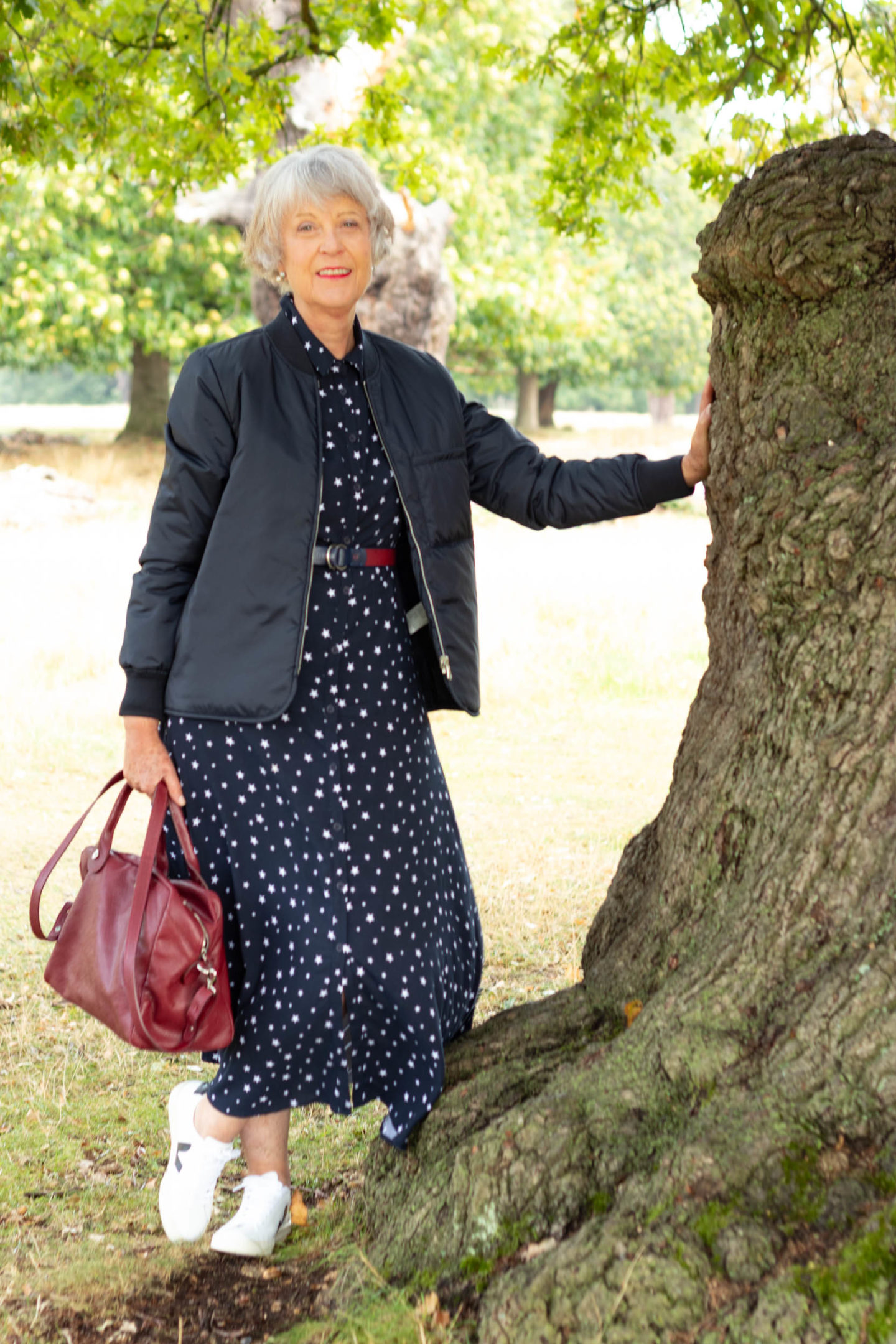 For warmth, I have added my navy jacket from Arket. It is part of their 2-in-1 series from Arket and can either be worn alone or as a lining for my fishtail parka as seen here. This years version.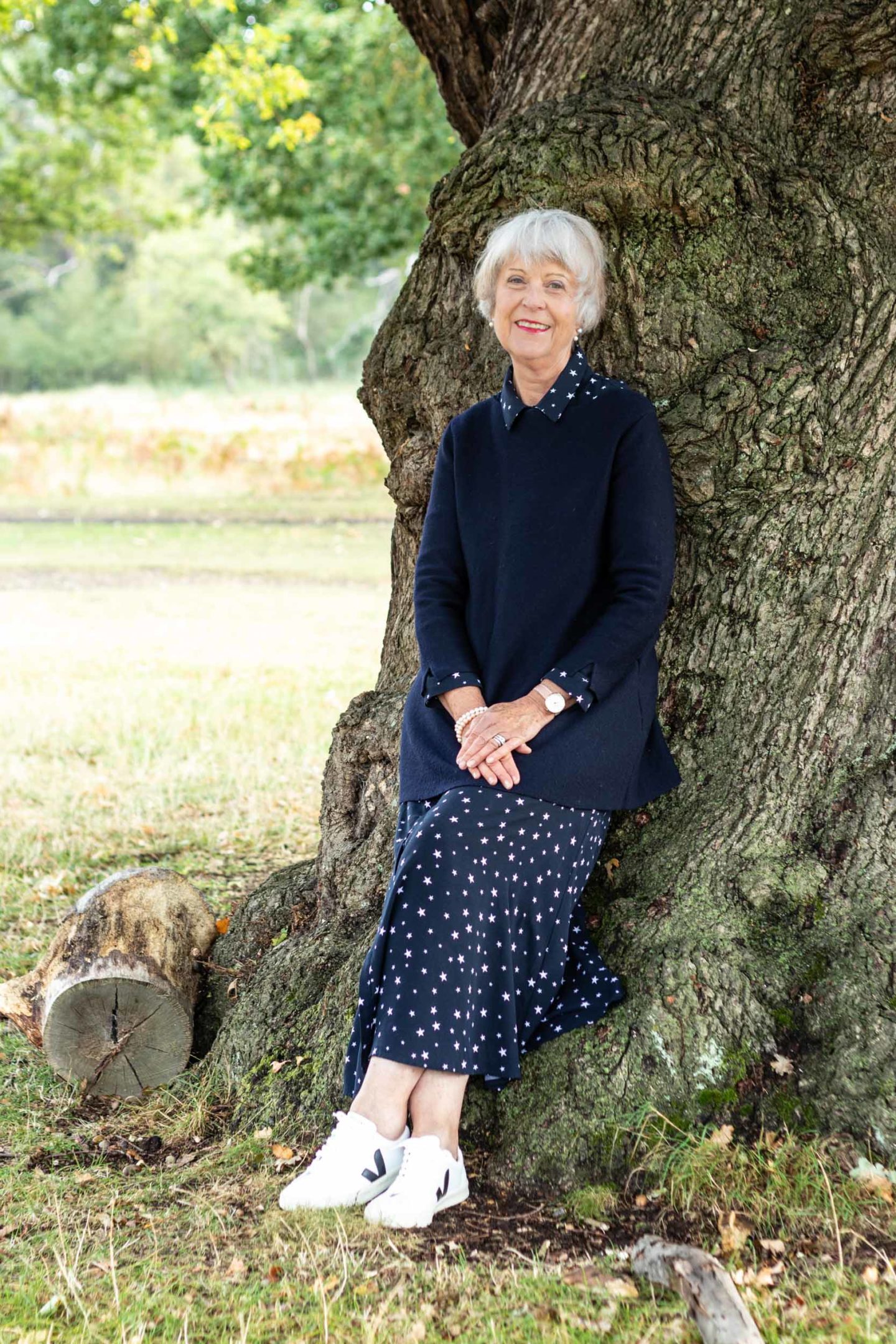 Another way to adapt a lightweight dress for the winter is to add a sweater. Either a longline crew neck one in a similar toned colour as I am wearing above or a polo neck sweater, which will transform your dress into a skirt. Navy sweater some years old from Cos (similar).
I trust that this has given you some inspiration about how to get the most out of your wardrobe and transition some of your pieces from summer to winter.
If you have any other tricks or tips on how to get the most wear possible out of your wardrobe do leave them in the comments below.
PS. There are still some bargains available at our scarf shop.
All photographs were taken by Laura Hines. Follow her on Instagram
Location Richmond Park
Disclaimer: Products featured on Chicatanyage sometimes (but not always) include affiliate links. This means that a small referral commission may be paid. This contributes to the cost of maintaining this blog. Chicatanyage could not exist without these small payments so thank you for your contribution.