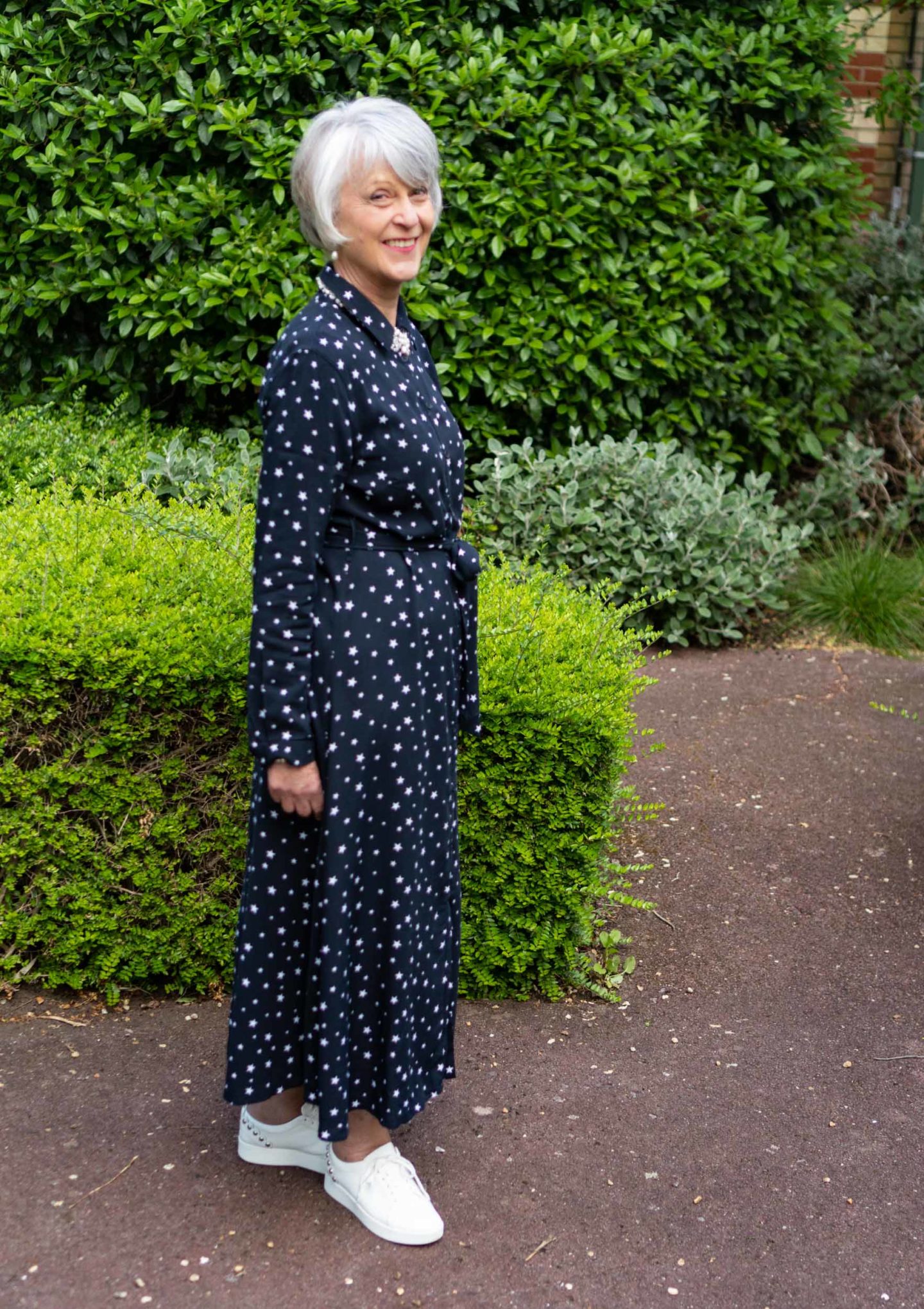 I find maxi or midi dresses with sleeves hard to find. Each Spring I search for that one special dress that is easy to wear, versatile, adaptable and flattering. A challenging task as I like my dresses long so that they cover my legs. This year I have found one that totally fits the bill. A navy star print long-sleeved maxi dress from Hush.
A lot of other women also seem to think that it is a flattering and versatile dress. It is selling very fast with only a few sizes left. However it is worth saving the link in your browser and checking back at regular intervals, that is how I was able to buy mine. Trainers from FitFlop.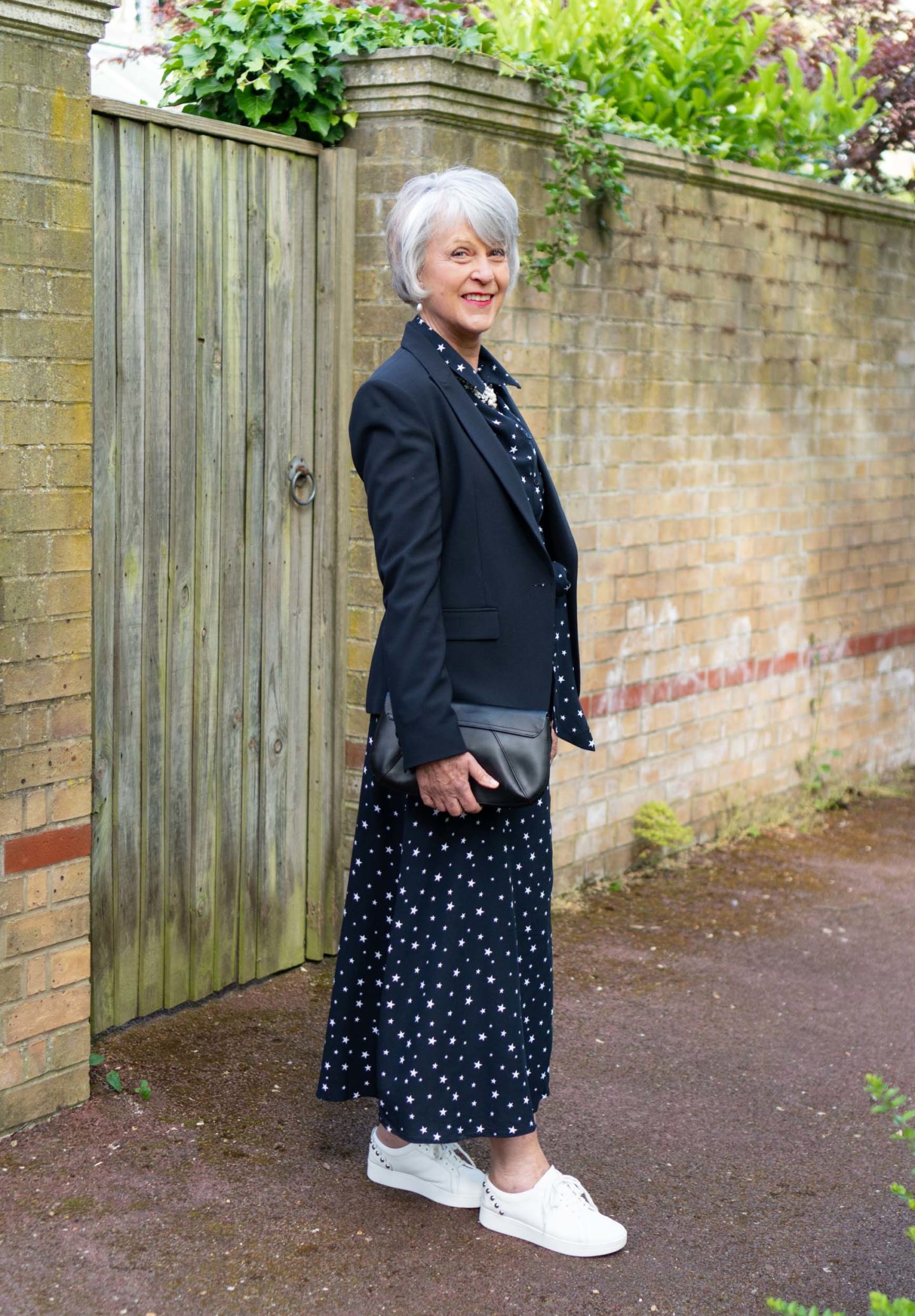 It felt lovely and very feminine putting on a dress after all these weeks of wearing joggers, jeans and trousers every day.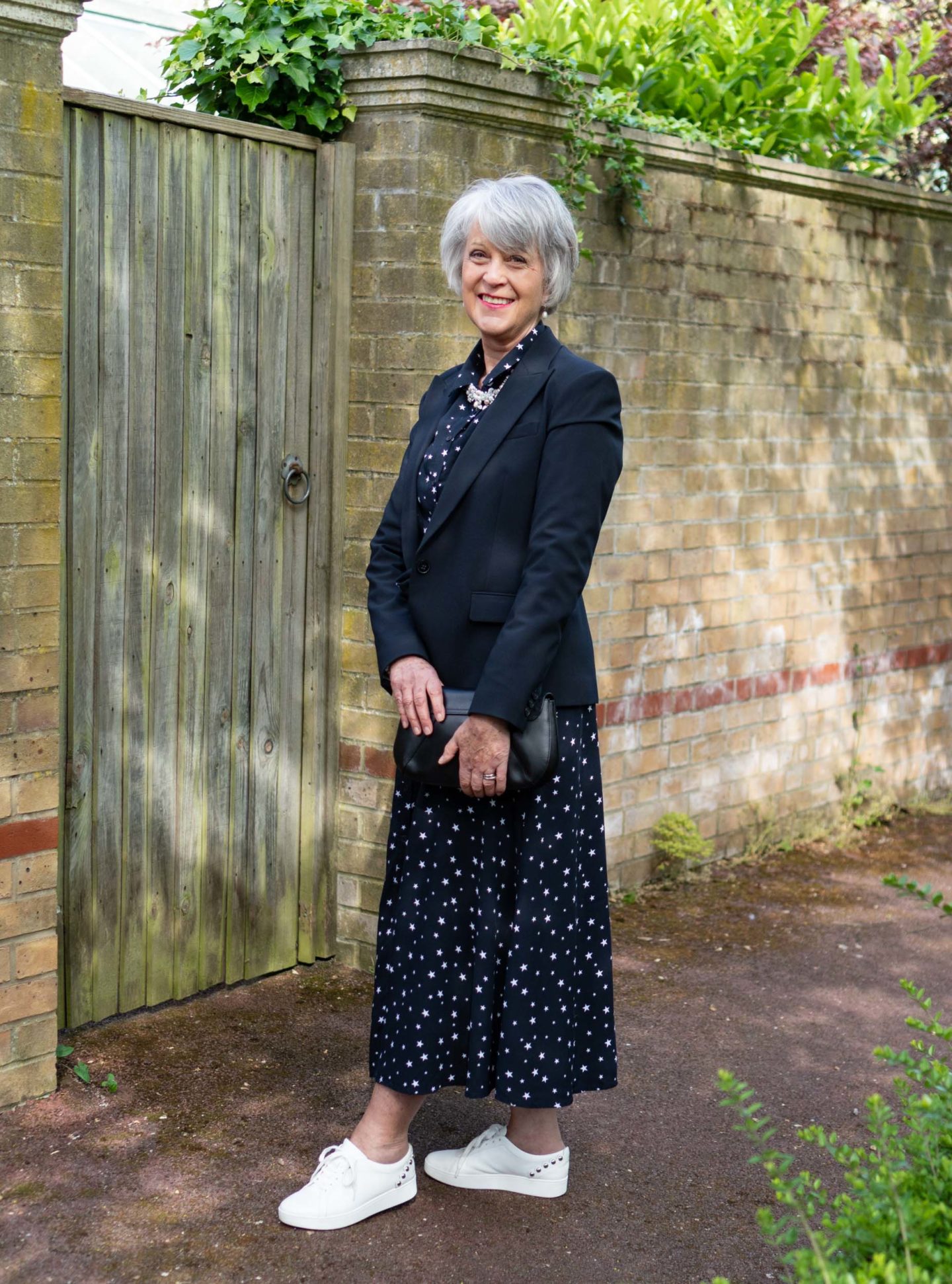 In the photo above I have added my Theory navy blazer which I have had since 2016 and have worn multiple times. It is expensive however it must rank as a classic as it is still in stock. A black clutch bag finishes the look. You could add a pair of low heeled pumps for a dressier occasion; if we ever get to attend one.
You can see me wearing the same blazer in 2018 with a pair of pattern trousers, which are also still in my wardrobe.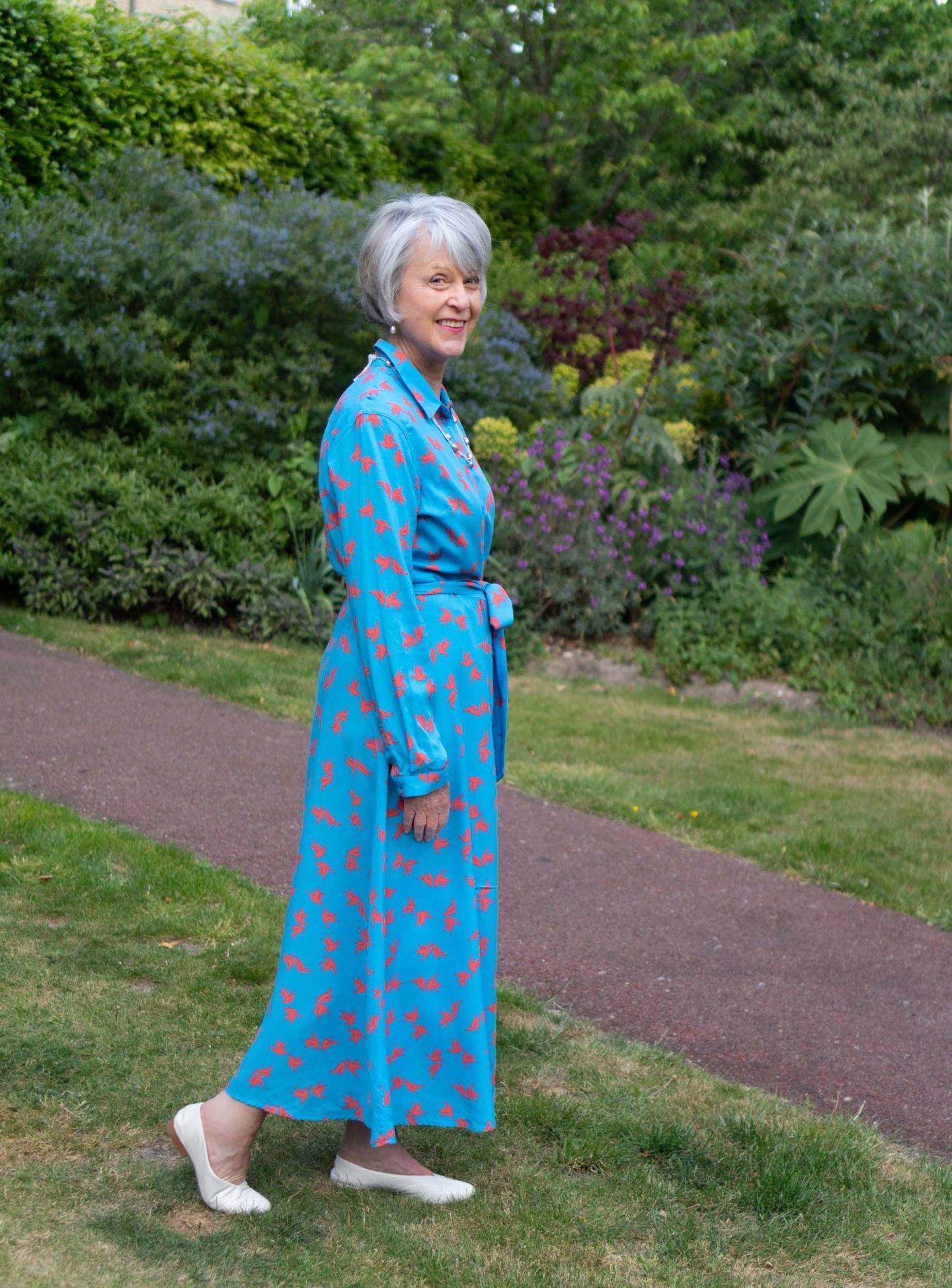 The same style dress in mid blue/bird print pattern. It is also selling fast but worth checking back for possible returns. I have searched other brands and come up with similar maxi and midi dresses which are shown at the bottom of this post.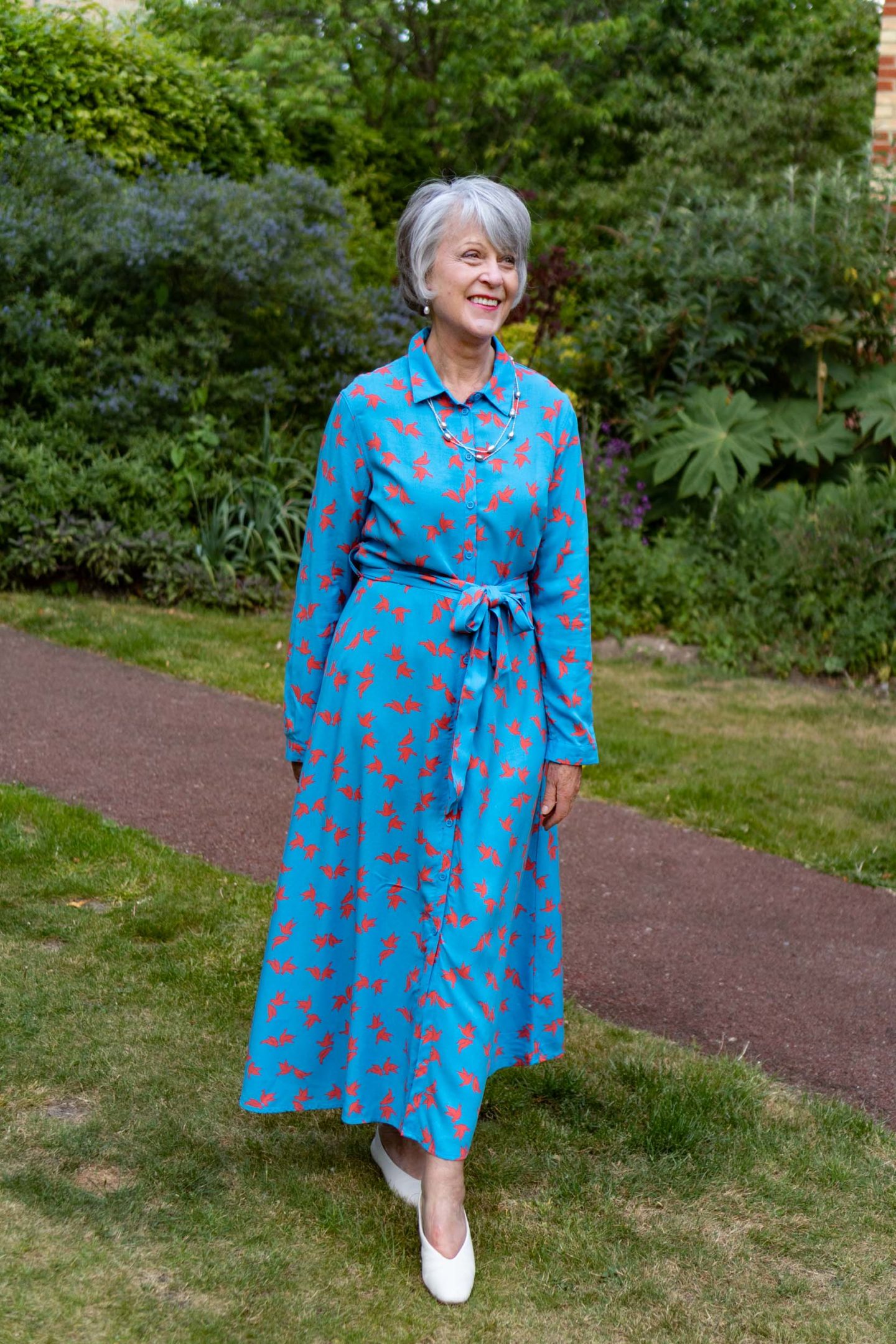 Grey freshwater pearl necklace from Chicatanyage shop. Cream pumps a few years old similar.
I bought both dresses to try on and have decided to keep the navy colourway. The mid-blue was lovely however I felt that the navy version was more practical and co-ordinated better with the rest of the items in my wardrobe. I already have a blue cotton dress which I bought from Cos last year. With the addition of a chunky sweater I can transform my navy dress into a skirt for the winter.
MeandEm currently has a sale which includes some of their lovely feminine maxi dresses.
Versatile and flattering Maxi and midi dresses