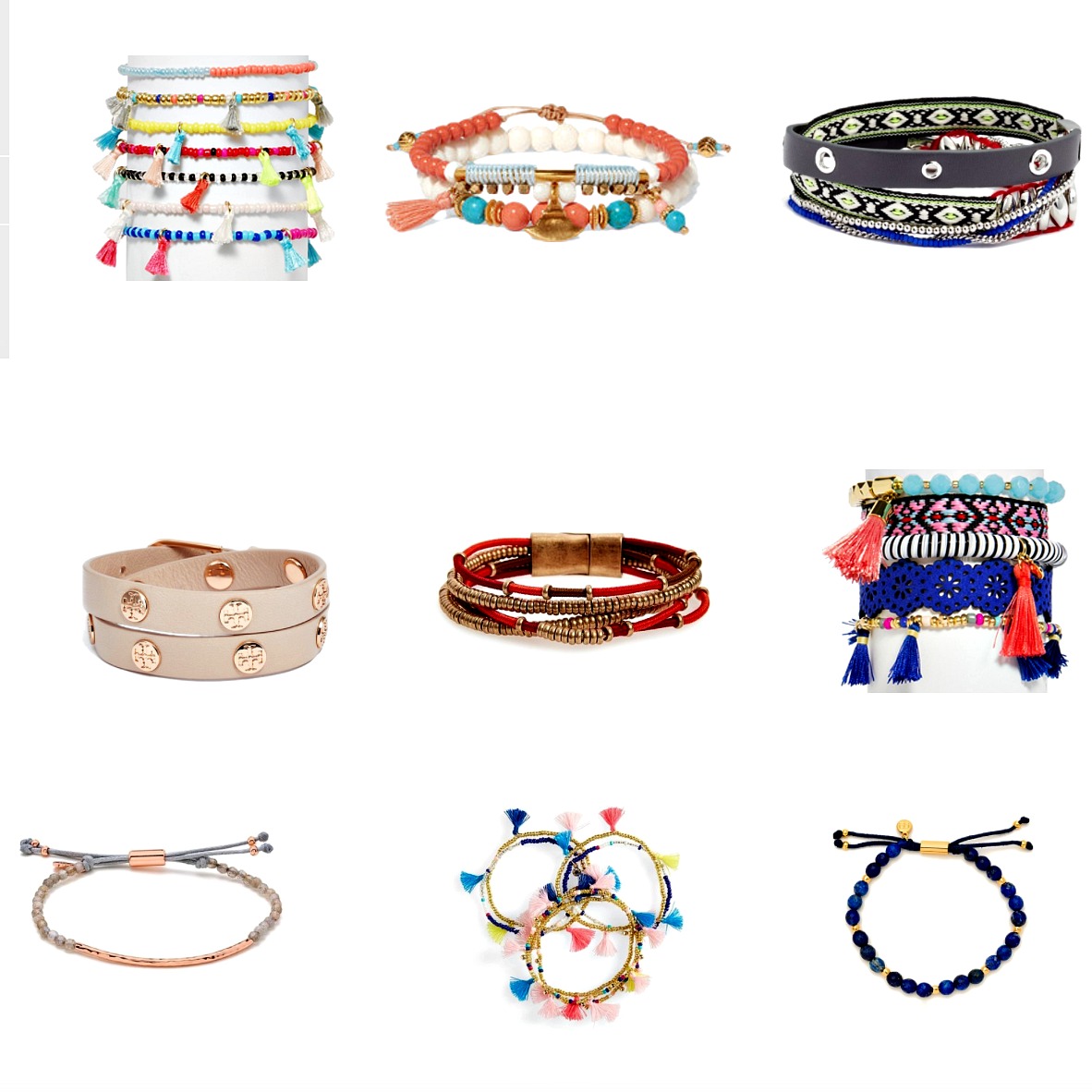 Ethnic bracelets make chic holiday accessories. Ever since Brigitte Bardot appeared on the scene in the 1950's St. Tropez has been known as a chic and hippie village on the Cote D'Azur.
Et Dieu… créa la femme was filmed there in 1956. Briditte subsequently bought her house "La Madrague sur la route des Canebiers à Saint-Tropez en 1958." Thus she contributed to making this little known village an international legend.
Top row: Multi strand // Coral & turquoise // Wrap stud bracelet //
Middle row: Double wrap leather stud // multi strand red/bronze // Mahala set of 5
Bottom row: gold/bead bracelet // Beads & tassels set of 7 // semi precious stone beaded black/gold
When I am here in France I love to visit the market in St. Tropez April 2017 and January 2017 It is a treasure trove of hippie scarves, kaftans and ………..
quirky ethnic jewellery.
Ethnic Bracelets:
I particularly like hunting for bracelets. The kind where more is more and you pile them onto your wrists. They are brightly coloured, often made of fabric, leather, string and adorned with pearls and coloured jewels. They have an ethnic vibe. You can imagine the young women over 50 years ago strolling down the beach in their bikinis and ethnic bracelets!
I can't wait till our local village market this week and the larger St. Tropez market (held every Tuesday and Saturday mornings) to go hunting for some new ethnic bracelets to add to my growing collection. I will report back.
If you are not able to visit a French brocante in the near future I found some great examples of ethnic bracelets at Nordstrom and Etsy and Net-a-Porter
Here are my choices: