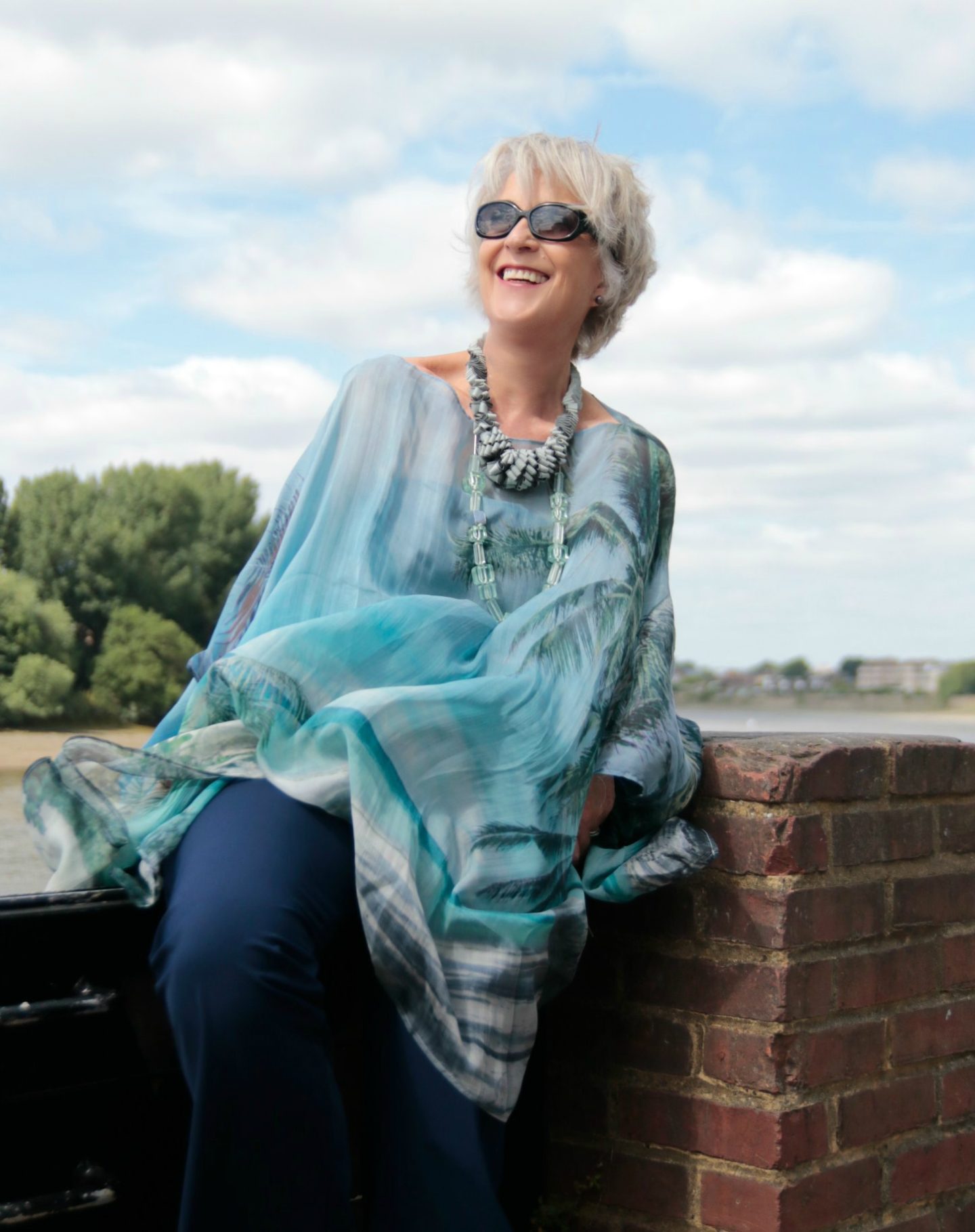 If you are looking for an outfit that packs like a dream, can be worn multitude ways and looks chic and elegant I have found one. There is nothing like the feeling of soft chiffon floating in the wind. Although these photographs were taken by Hammersmith Bridge, near where I live in South West London, they are evocative of blue skies, long summer days on the beach or sipping cocktails on a balmy summer evening. The beautiful silk chiffon pop on top I am wearing is by HopefashionUK. It depicts an aqua sea, warm sand and palm trees. How much more summery can you get. I have teamed it with their foundation roll top wide trouser in navy. I will be talking more about the versatility of this piece and how well it travels later in the post.
How I created different looks with these two pieces.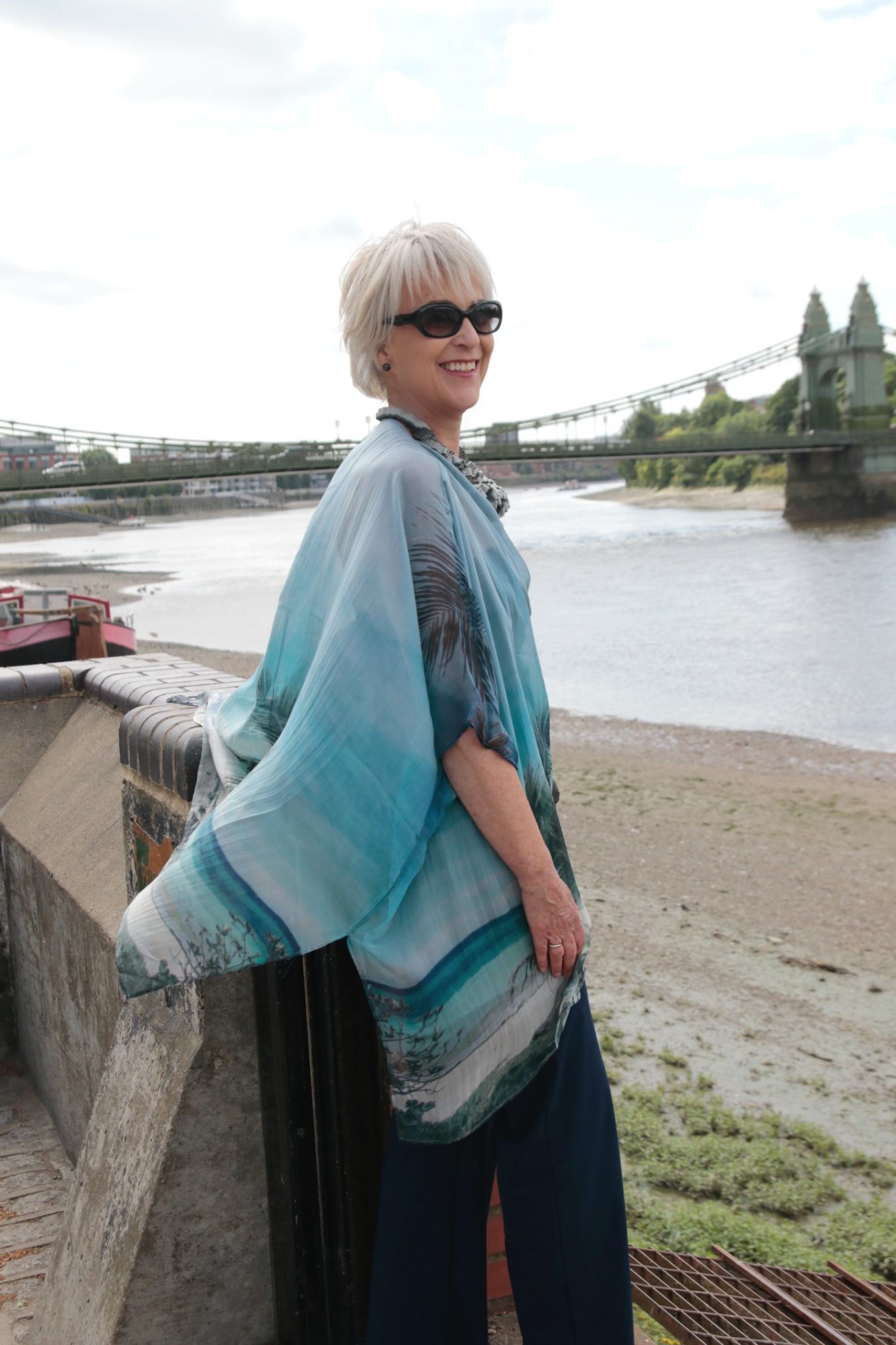 All the photos were taken by my friend and fellow blogger Julie of Jafinthebox. Do check out her blog. She is a French mum living in London. She writes about her adventures. Her photos are superb and if you are thinking of visiting the UK she has checked out a wide range of our historic stately homes and parks and has many to recommend. She also has a great Instagram feed.
It was very breezy the day we took these photos but such fun.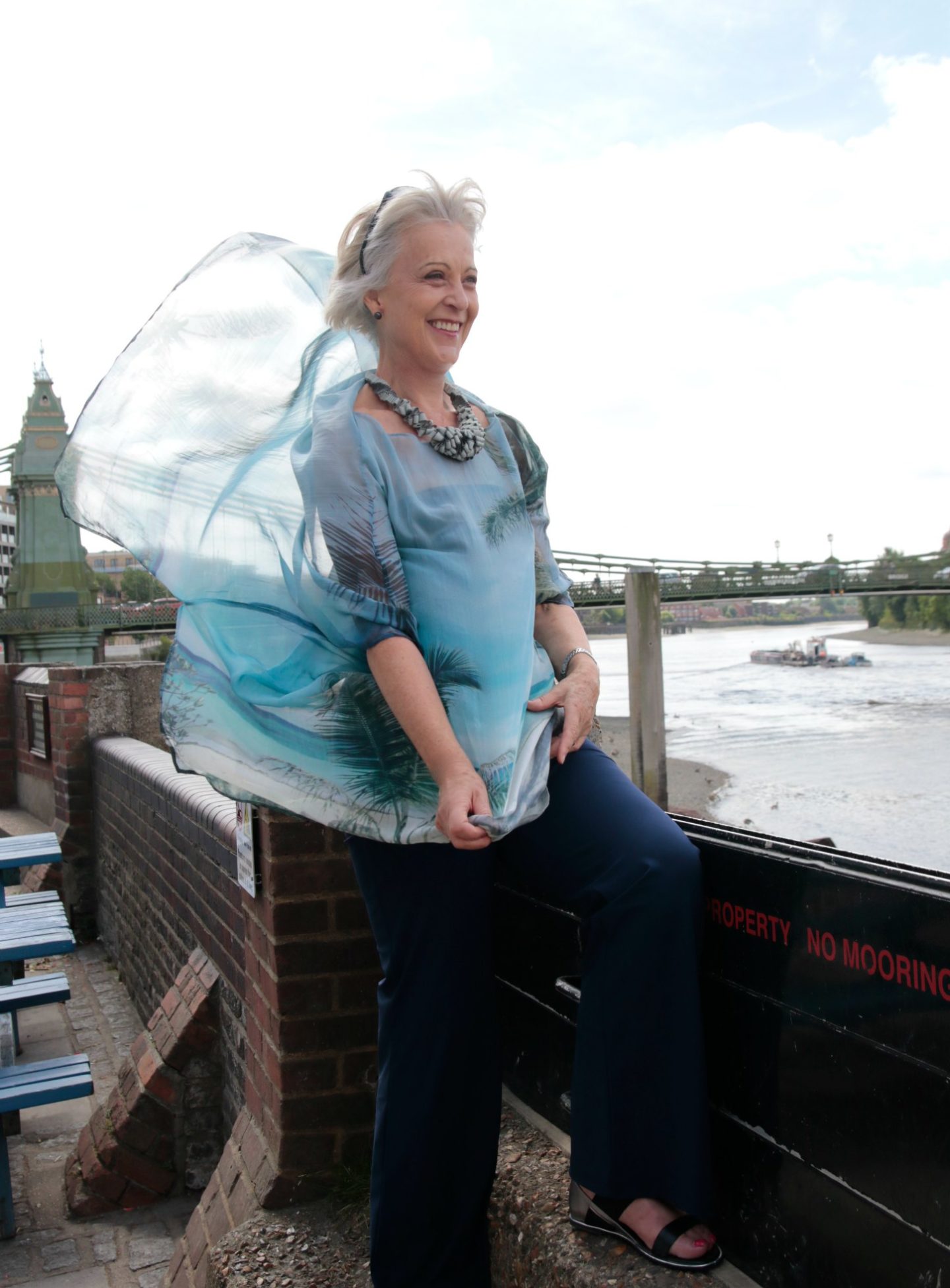 I feel very waffty in this top as though I might fly away at any moment.
The first three images were styled casually as though I was going for lunch on the beach at a posh restaurant; or as I am currently finishing this post from the South of France not far from St. Tropez lounging on a million dollar yacht.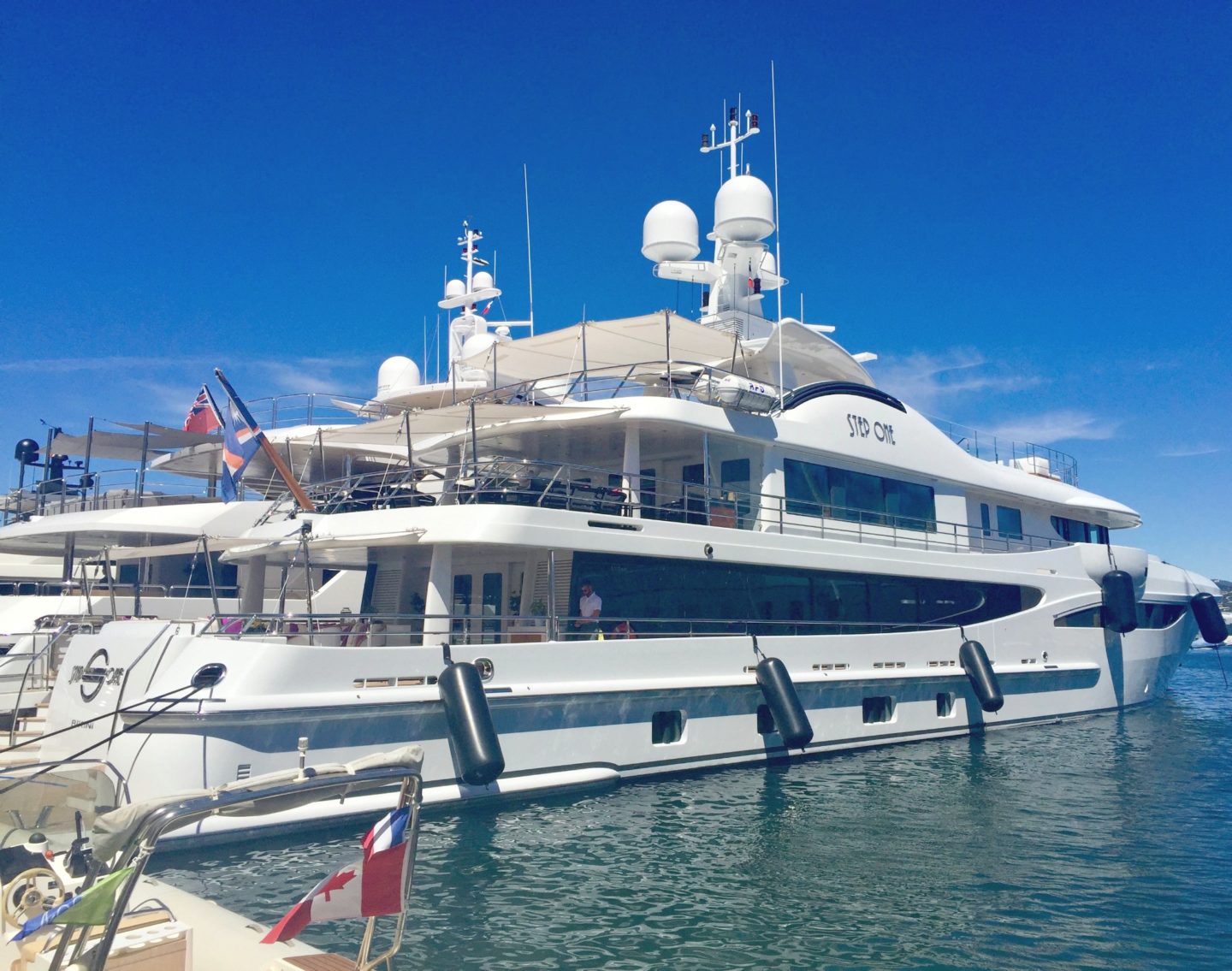 Have not received an invite yet (must have got lost in the post!). Probably a good thing as I tend to get sea sick even moored in a harbour.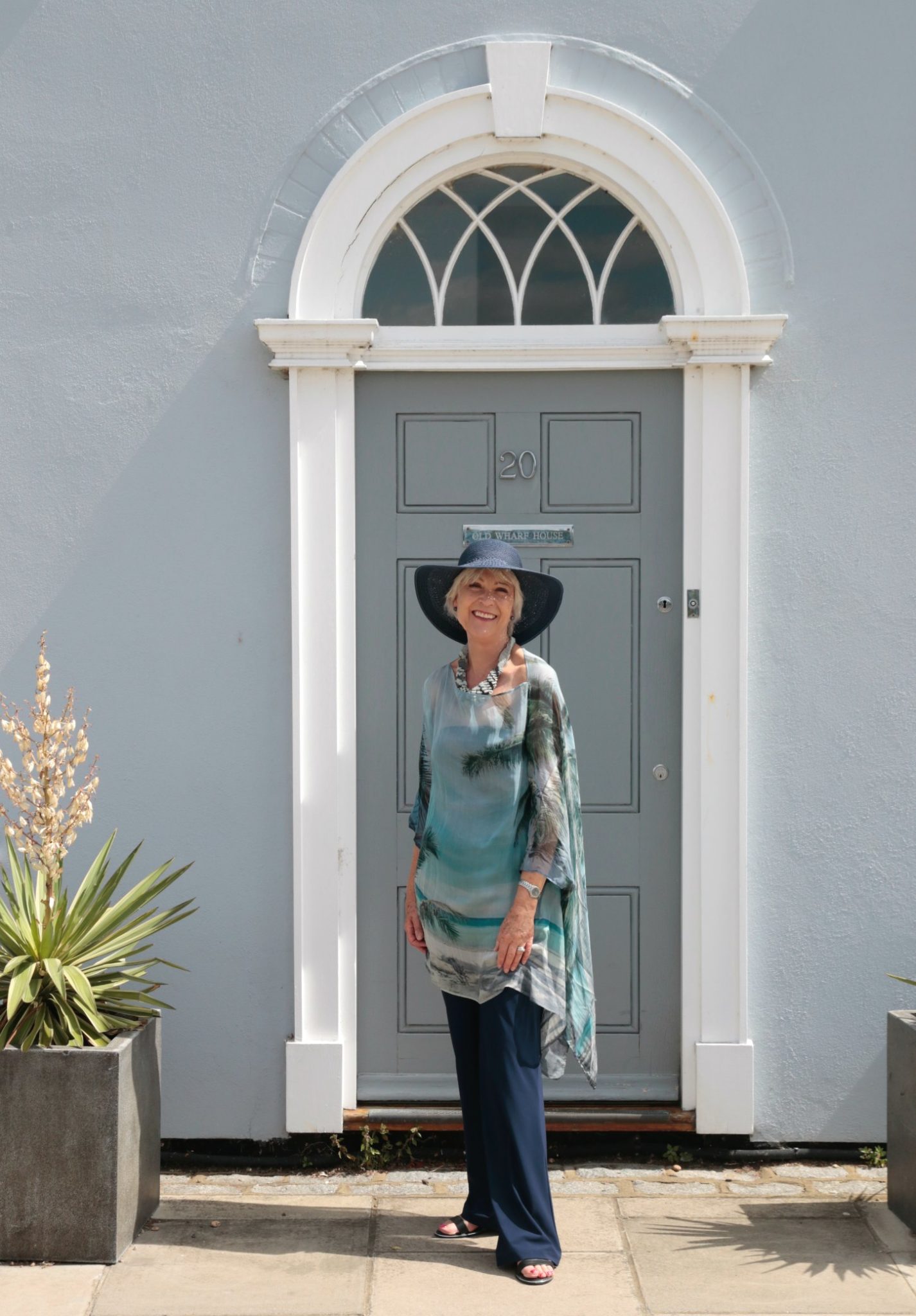 Here I have styled the top and trousers more formally. Simply add a hat et voila ready for a garden party or corporate hospitality at Wimbledon.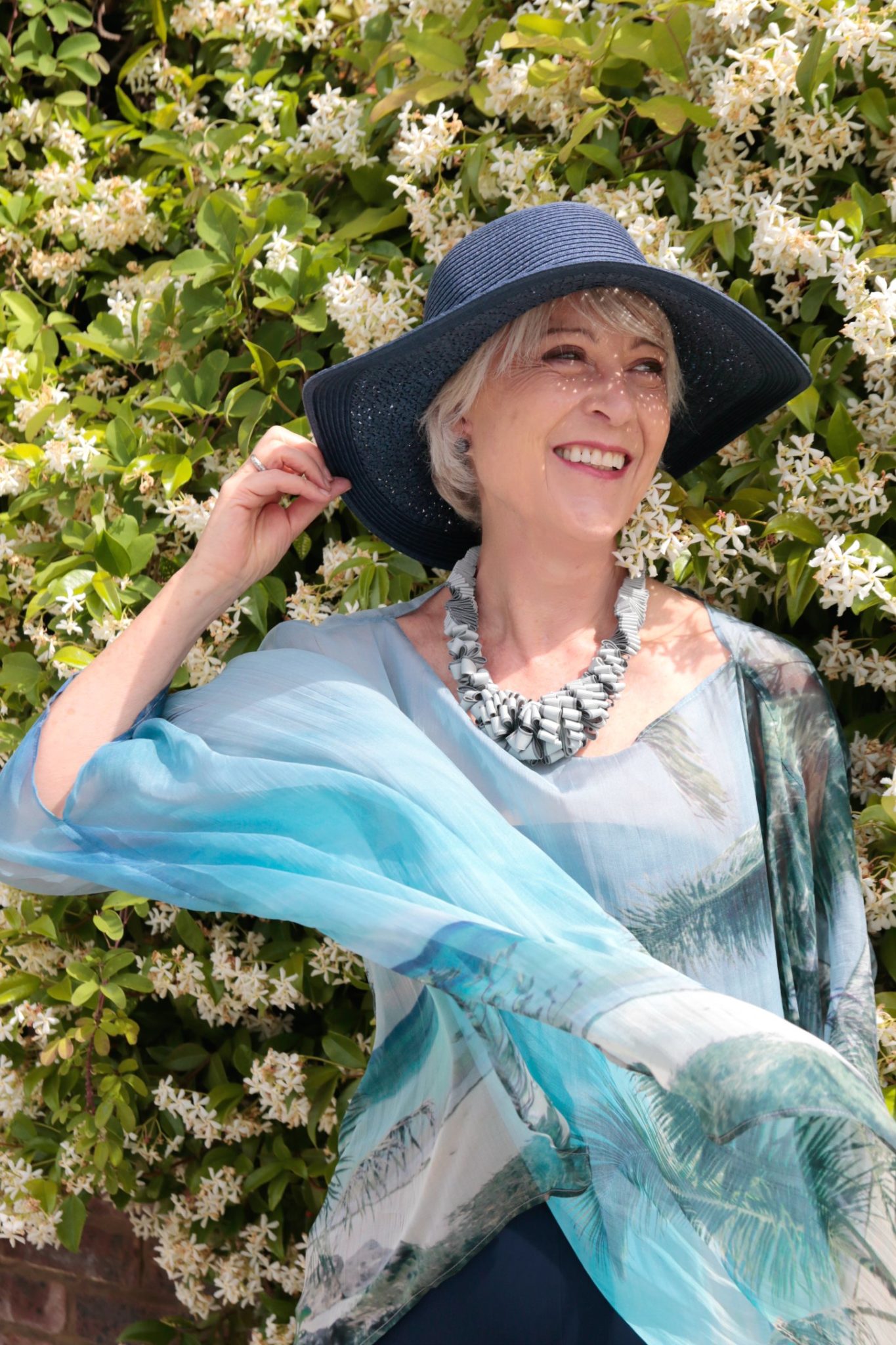 As you know I am a great fan of hats. They serve two purposes. They frame the face and protect against the sun.
Now for the exciting bit. Pull the extended roll top up over the bust and you have a fabulous Foundation 'jumpsuit'. Two garments for the price of one. It is a very long time since I have worn a bandeau top (or did they used to call them "boob tubes") I will definitely be wearing this jumpsuit with a chiffon wrap to cover my shoulders. I could not resist this photo as the wind nearly whisked my floaty chiffon top into the sky.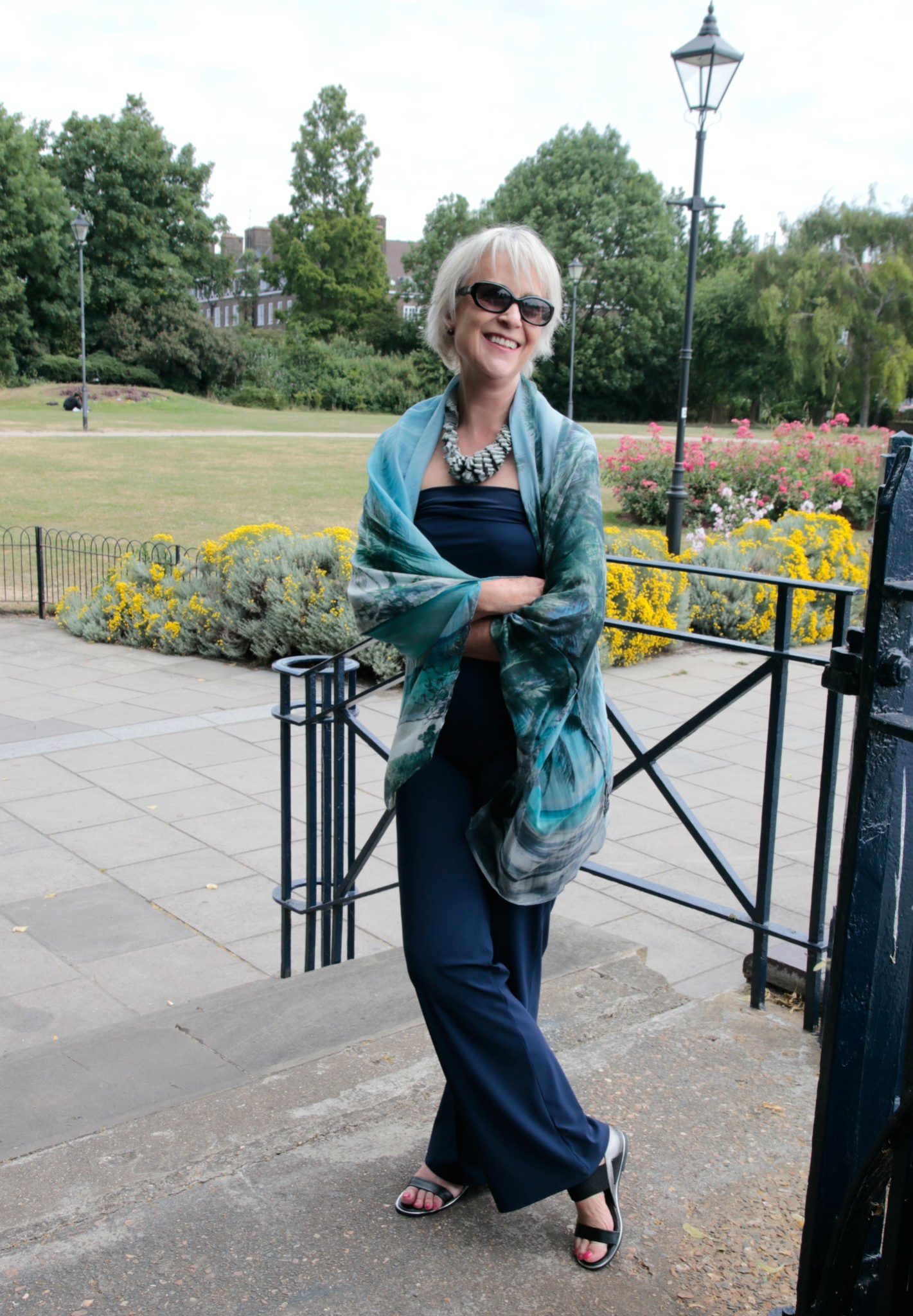 A bit more decorum. This is how I will be wearing my jumpsuit.
I plan to write another post to show you how I travelled from London to Nice in these trousers and was able to adapt my outfit according to the varying temperatures.
Both necklaces are some years old. I seem to be wearing two together in the first image. Oh well I just could not decide which. In the end I preferred the shorter one.
SHOP ACCESSORIES:
Hopefashion do shop internationally and are planning outlets in the US in the future. I will keep you informed.
Disclosure: This is not a sponsored post however the clothes were borrowed for photographic purposes. The trousers proved such great "packers" they are still with me and I am planning to feature them again in a "how to travel in the heat" post.