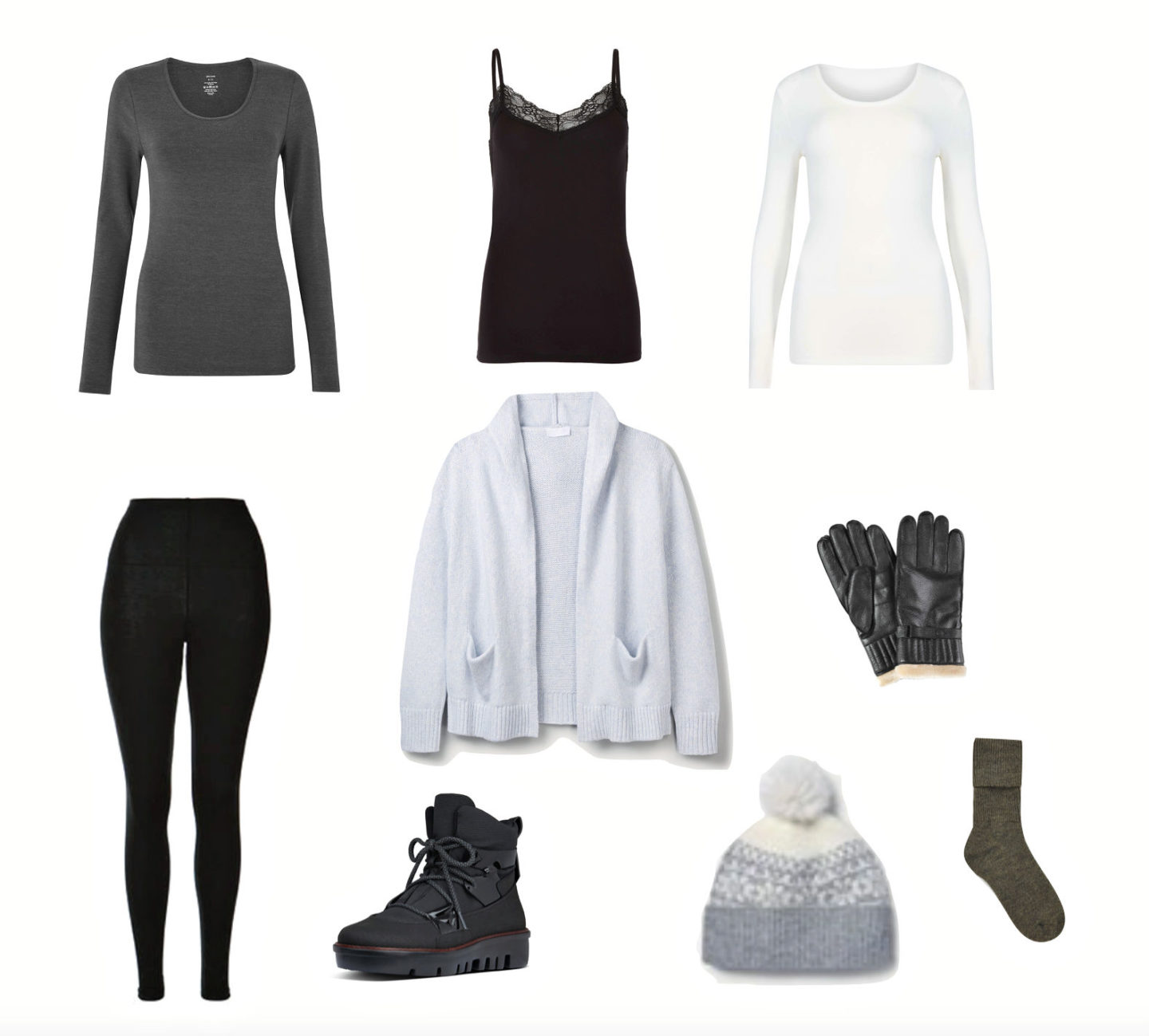 Winter warmers to keep you cosy this winter:
It is the time of year when "frosty winds make moan", in other words, it is getting very cold outside. The only way to keep out the chill is with winter warmers to keep you cosy. In my book this means thermals, cashmere and lots of thin layers.
Details of above:
Top row: Black silk thermal vest JohnLewis&Partners / Black lace thermal vest JohnLewis&Partners / Cream Heatgen thermal vest MarksandSpencer. /
Middle row: Micro leggings with stirrups Arket / Cosy grey hooded cardigan The White Company / Leather gloves Barbour at JohnLewis&Partners.
Bottom row: Glace black walking boots Fitflop / Wool/cashmere Fairisle Beanie hat The White Company / Padded socks Cos
I mostly buy my thermal underwear from MarksandSpencer; Their polo neck thermal tops. are particularly useful. I have one in cream and one in navy and they are great under V neck sweaters.
JohnLewis&Partners also have a good range. I love my silk long sleeve thermal vests as featured in the top row. They are incredibly soft and comfortable and as long as you wash it carefully will last you for years, mine have.
Uniqlo Heattech is also excellent. I remember having to go out and buy one on a visit to Paris in December. It was freezing and I did not have enough layers with me. Luckily there was a Uniqlo shop just around the corner from my hotel.
When it is really cold I like to wear leggings under my trousers. This can be tricky if you wear skinny trousers or jeans as the leggings tend to ride up the leg as you pull them on. I have found the solution to this with my new Arket stirrup leggings from their sportswear department et voilà they stay in place all day.
Another thing you need on a cold muddy rainy day is a sturdy pair of boots. I recently bought my Grace boots in black from Fitflop (they still have a sale on and there are great reductions).
More winter warmers:
I would like to take this opportunity of wishing all my loyal readers a VERY HAPPY CHRISTMAS. Thank you so much for all you lovely comments I cherish every one.
I will now be taking the next week off to relax and enjoy the festive season. I will be back in the New Year with news and views from St. Tropez.