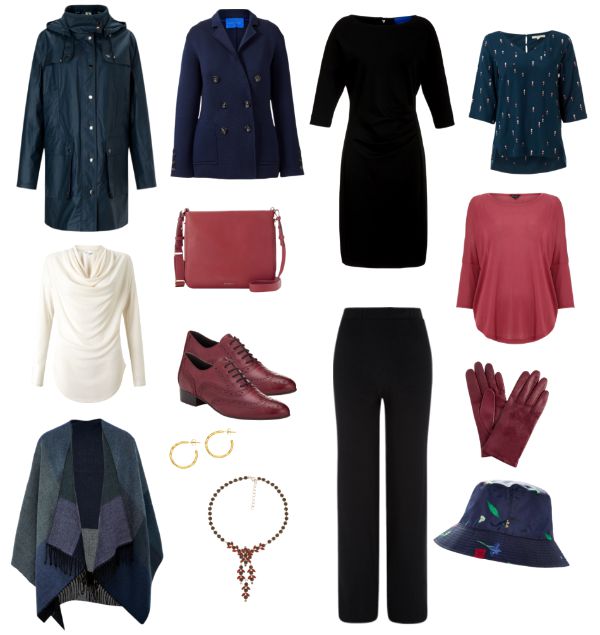 London Capsule
What to pack for an autumn trip to London?
I have had several readers contact me asking my advice as to what they should wear and pack for their forthcoming trip to our often wet and windy island.
Now if I could accurately predict our mercurial weather I would be much in demand working for the meteorological office rather than writing this blog. As I can't perform this impossible task I have put together a capsule wardrobe for a visit to London or any other of our thriving cities.
I have based my choices on items that can be layered and included practical footwear and some waterproof pieces.
I would highly recommend some thermal or silk underwear. They are light, easy to pack. If you choose a black or cream in good quality material they can also double as another top under a jacket or cardigan. Landsend offer some good ones as do John Lewis.
DETAILS FOR LONDON CAPSULE
Waxed jacket (useful for country as well)
Knitted blazer in navy merino wool by Winserlondon
Miracle dress by Winserlondon
S/S spot top
Cream cowl neck jersey top
Red cross body bag
Red berry top
Pointed leather brogues
Black straight leg trousers by Winsmoor
Leather gloves in claret
Oversize check scarf/cape by Viyella
Ripple hoop earrings in gold
Vintage necklace in red
Waterproof rainhat by Jules.
Stop back in a few days time and I will have advice on what to pack for a visit to the British countryside.
SHOP THE LONDON CAPSULE