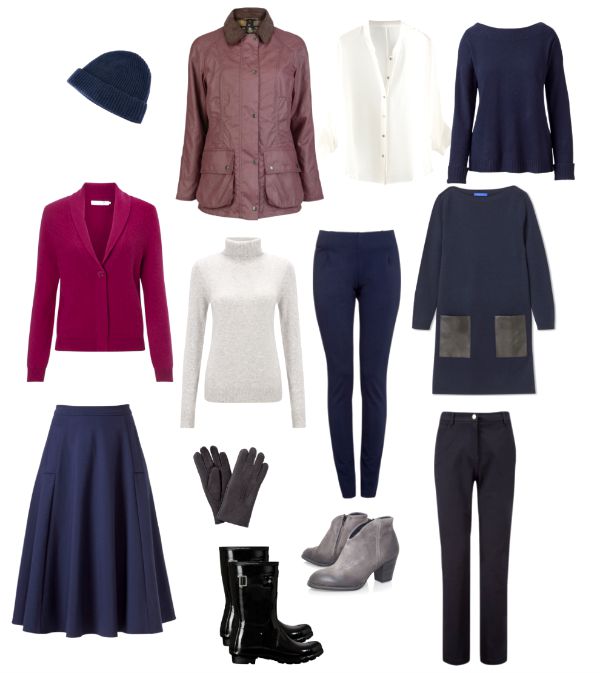 The second post in the series on what to pack to visit the British countryside.
In this post let us imagine that you are coming over to the UK and either staying with friends or family in the beautiful british countryside. You can expect long walks, visits to the local village pub and cosy teas by the fireside.
Make sure you have a waterproof jacket. I think that the traditional Barbour is the best. Don't forget those wellies. Now that Hunters make short ones there is no need to wear the traditional long version, unless of course you are planning a trip to a farm. Layers, layers, layers and if possible cashmere sweaters will keep you cosy as the wind blows.
You could wear the wool dress with leather pockets over the leggings. Add the polo neck under the dress or team with the claret cardigan. I have added a wool midi skirt (if this is not your style replace with a pencil skirt or trousers). This can be teamed with the short boots or dressed up for a visit to a gastro pub with the addition of the cream top, add either the polo neck or the cardigan for extra warmth. The permutations are endless.
The selection above is designed to assist you with the basics. Depending on the length of your stay and itinerary you may need to add other items. Don't forget to bring jewellery and scarves they do not take up much room and help to ring the changes.
DETAILS FOR COUNTRY CAPSULE
Navy cashmere beanie hat
Waxed jacket by Barbour
Cream silk shirt
Cashmere sweater by Winserlondon
Cashmere shawl collar cardigan in claret
Roll neck sweater in light grey
Navy leggings by Winserlondon
Warm lambskin gloves in grey
Paul green ankle boots in grey
Smart navy jeans by Viyella
Short wellingtons by Hunter
Now you can enjoy the blustery winds and the mud.