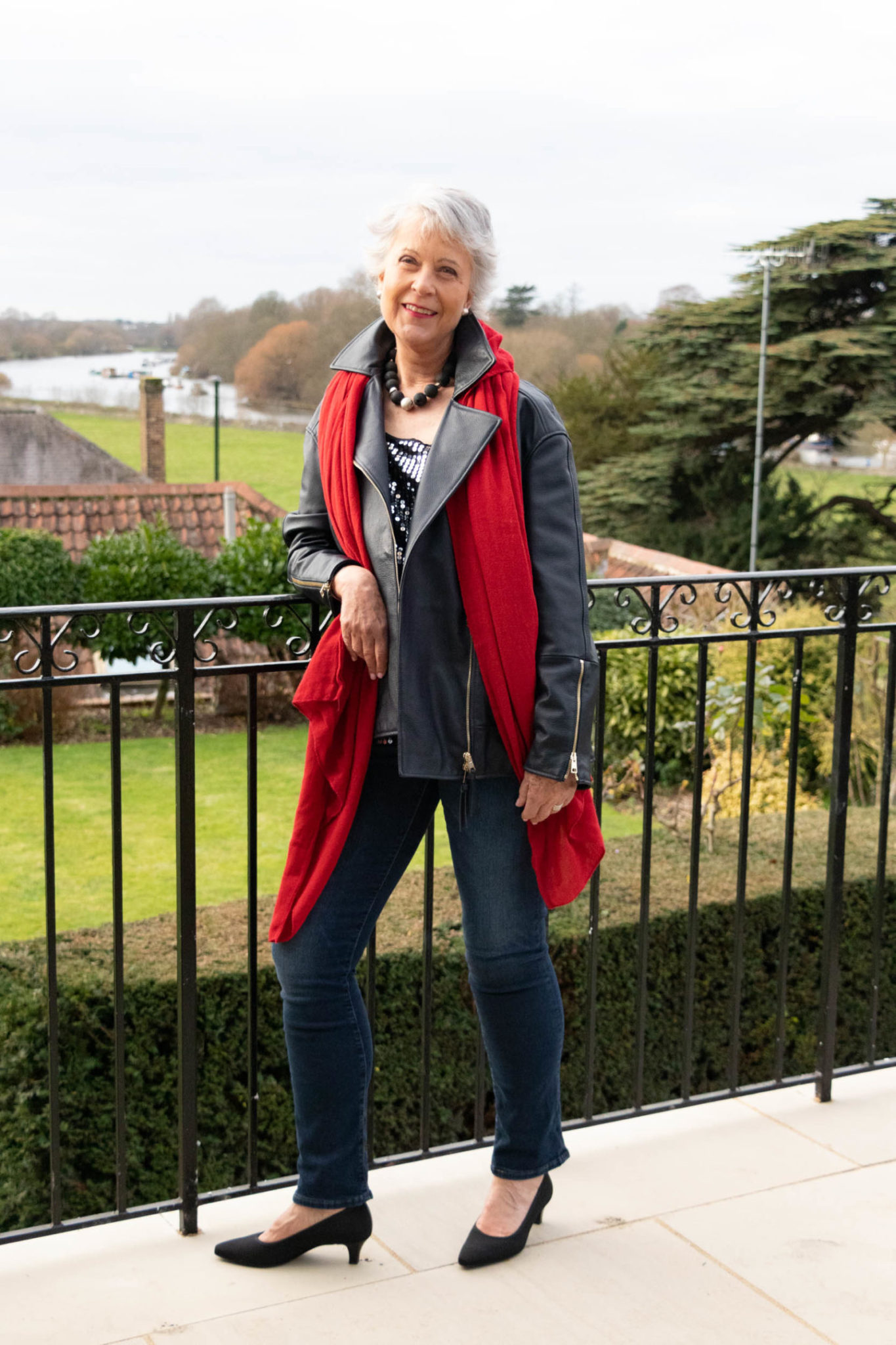 I thought that I would look back and do a review of my favourite outfits Autumn 2019. It was interesting to notice that I did not actually purchase a lot of new items last season. I seem to be making progress on buying less and buying better. The new pieces that I did add to my wardrobe proved to be very useful additions and I wore them on repeat.
My leather jacket has to be my all-time favourite. The photo above shows my first experiment with mixing day and evening. You can see how I styled it more casually in 2017 here. The jacket is originally from MeandEm, pricey but well worth the expense. They still stock a similar version. If you prefer a cropped leather jacket there is one in their sale.
Last year I discovered the MarksandSpencer Sienna jeans. I now own three pairs, dark denim, black and white. They are very reasonably priced and seem to fit my pear-shaped figure well.
My aim this coming year is to build on this foundation of buying less and buying better. I intend to learn to be even more creative with the clothes that I already own. One of the strategies I used this year was to mix day and evening. Occasion dressing is becoming less and less formal so if you buy carefully and create original combinations there should not be any items left unworn and languishing at the back of your wardrobe.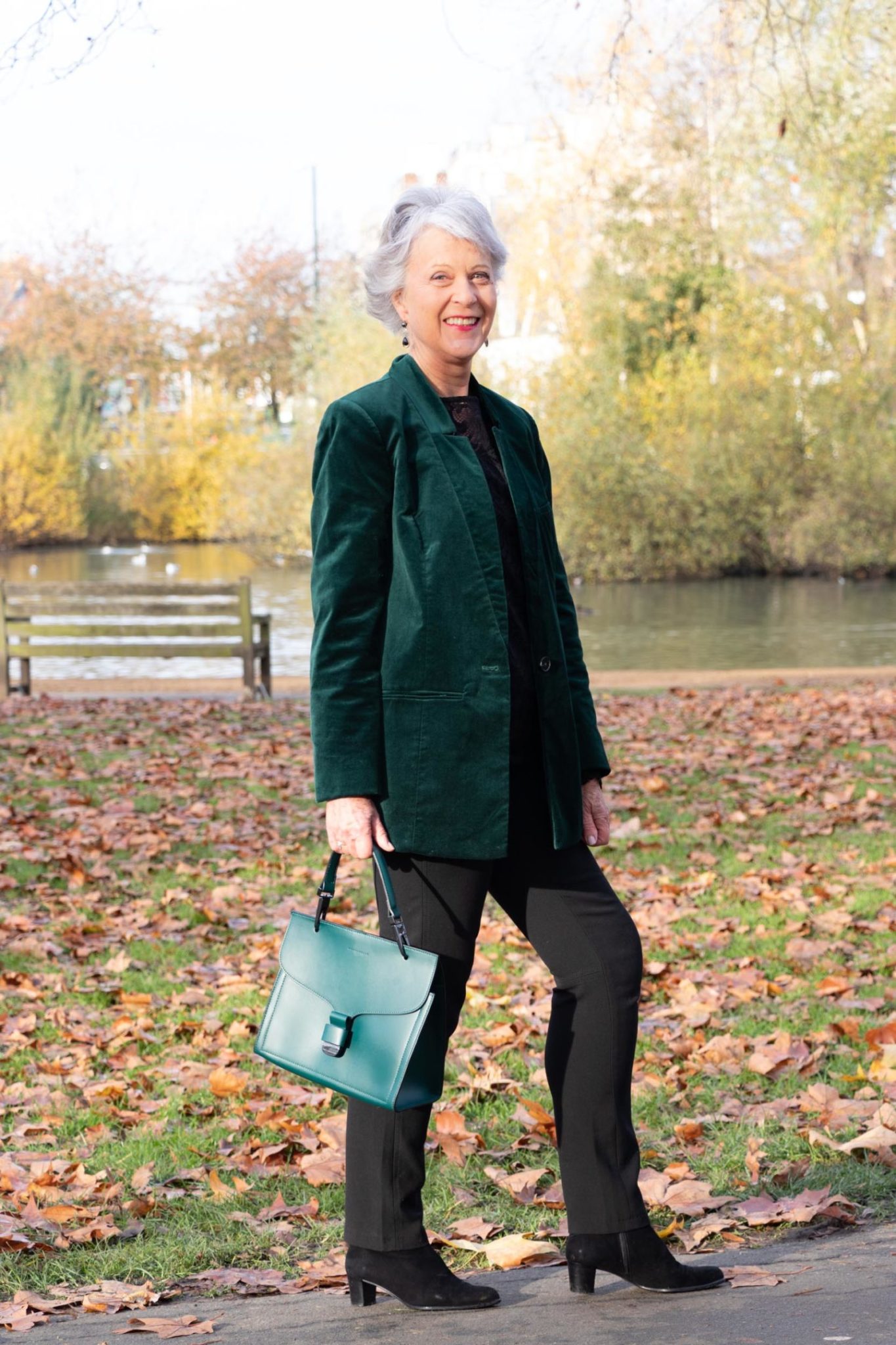 My green velvet from Hush. I bought it the year before last and still love it. It transitions well from day to evening. Hush still carry this style and it is currently reduced from £129 to £75. In fact, Hush has a good selection of jackets and coats in their sale. I find their tailoring excellent quality.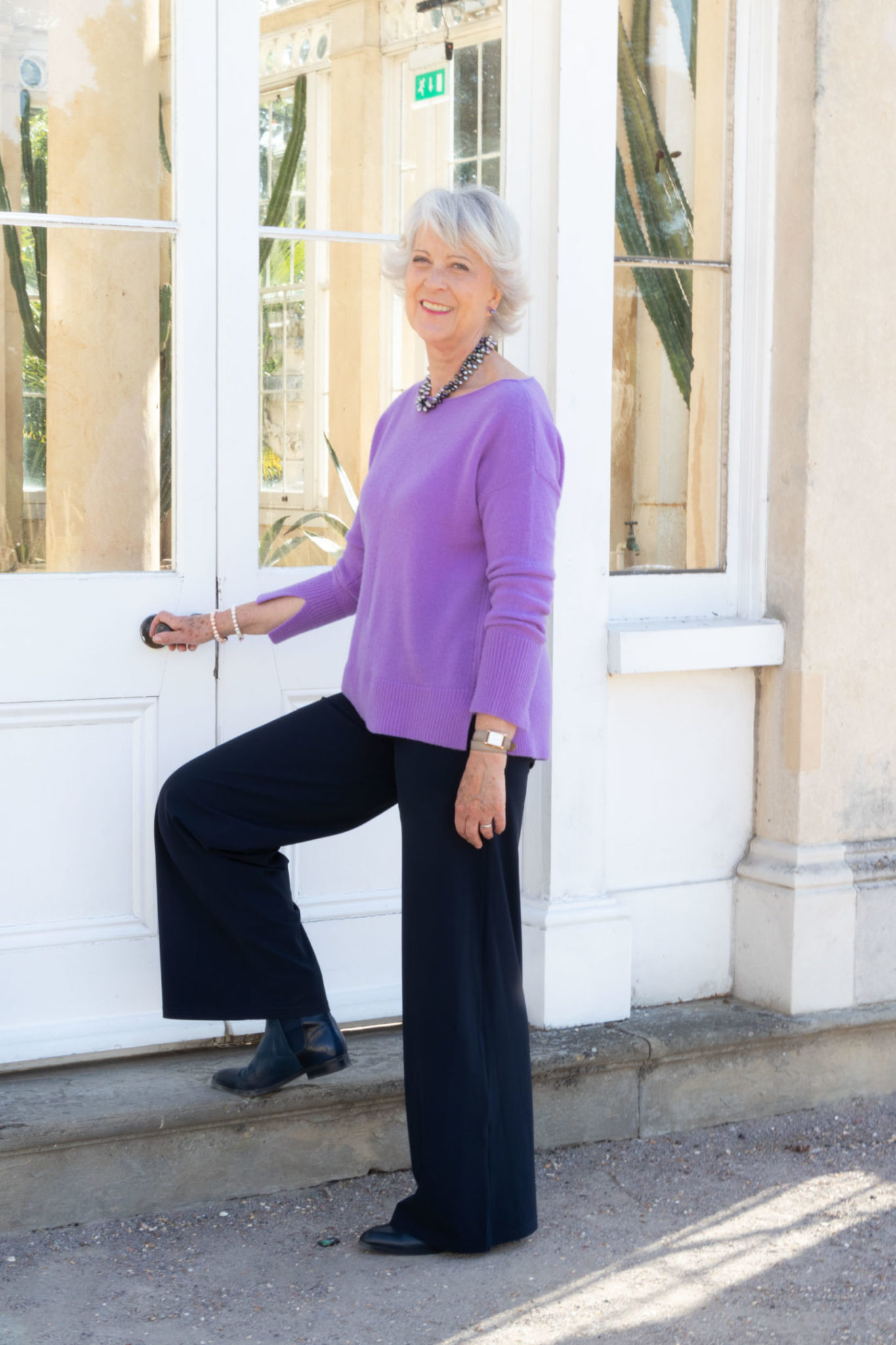 I just love the colour of this light purple sweater by Hopefashionuk (it was kindly gifted to me following the photoshoot). It is now currently reduced from £150 to £60 in their sale. I am a great fan of Hopefashionuk. Their collections are well suited to the constantly changing figure shapes of us older women. I have built up quite a collection of their foundation pieces over the years, they are ideal for travelling as they don't crease.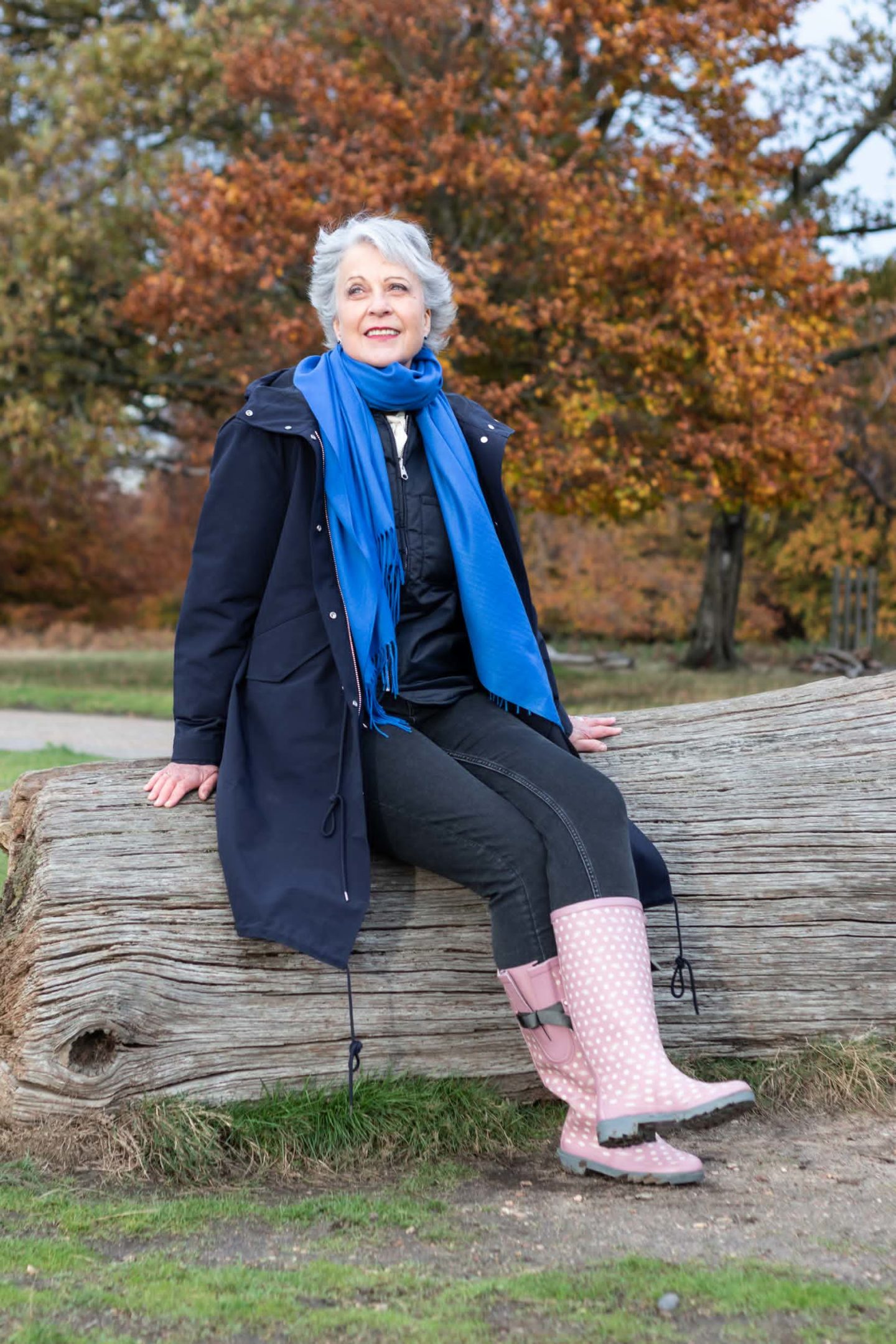 The most useful article of clothing I bought last season is my navy parka from Arket. The more I get to know the brand the more I like it. They are creative and sustainable with the fabrics they use and the designs are simple and practical. My parka is part of their 2 in 1 collection. I subsequently purchased the jacket lining (which can also be worn on its own). I therefore have three outfit options. The pink spotted wellies (gifted) are from TheWideWellycompany.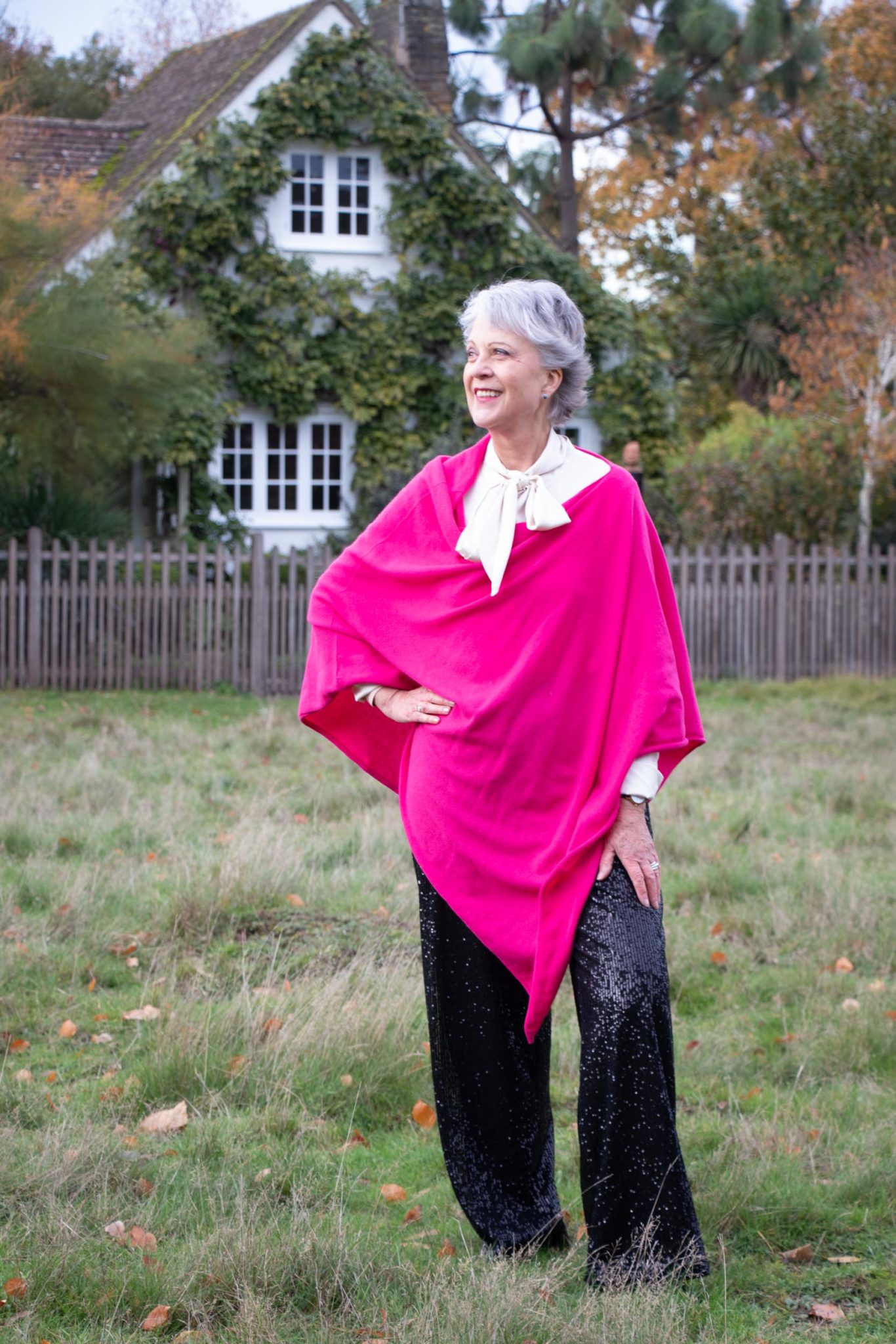 Another example of mixing unusual fabrics. This is the first year that I have explored wearing sequins for both day and evening. Sequins have never really been my thing; so I was agreeably surprised at how versatile they can be. Very Parisienne, french women often just add a touch of glitter to their everyday outfits for special occasions. I have even seen them wearing sequins with jeans.
My black sequin trousers are from Hopefashionuk (borrowed for photographic purposes). They are now in the sale reduced from £120 to £84.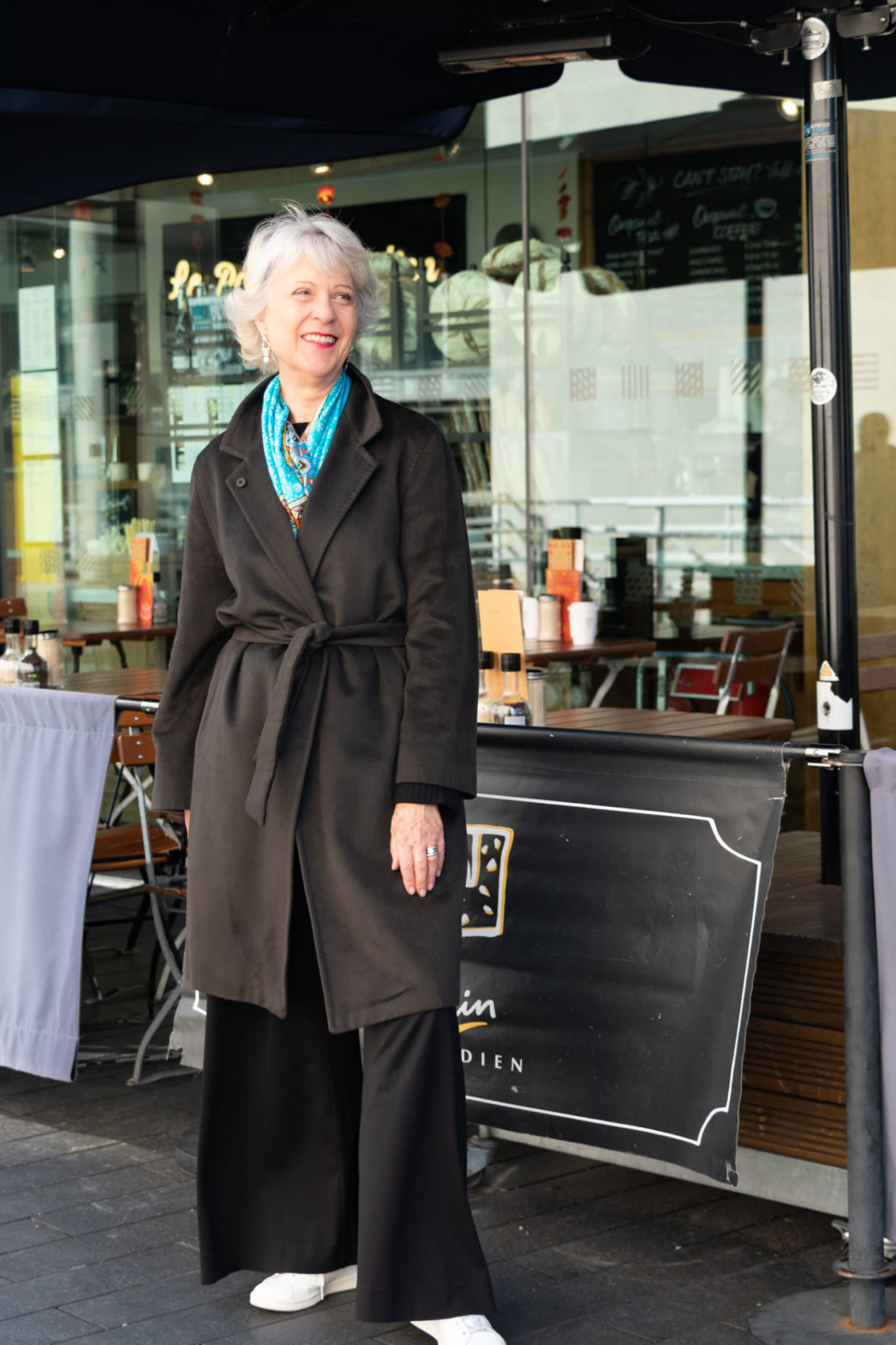 Probably the oldest garment in my wardrobe.
My tried and trusted Max Mara coat which must be about twenty years old and still going strong. I have dressed it down here with a pair of wide-leg palazzo trousers from WinserLondon and white sneakers from Fitflop who still have an excellent sale on. I am tempted to stock up as I find their shoes and boots so comfortable.
Review of my favourite outfits Autumn 2019
I have found this a really helpful exercise and I will be reviewing my last Spring/Summer wardrobe before making any future purchases.
The photographs were taken by Laura Hines. Follow her on Instagram