Sadly our trip to France has been postponed till September for various family reasons. I was looking forward to sharing images of St. Tropez and my Summer wardrobe but that will have to wait. Instead, I have had time to do some internet surfing and have discovered that several brands have started their summer sales already. Cos is one of them. There are quite a few seasonal and in-between season items to be had at greatly reduced prices. So if you need any fill-in items for your wardrobe now might be a good opportunity. JohnLewis&Partners have a comprehensive selection of reduced items and MarksandSpencer has a small selection. Below is my selection of items reduced in the early Summer sales.
Details of above:
Levi 501 original jeans JL&P | Hobbs blue cardigan at JL&P | Straight leg linen trousers JL&P | Beige trench coat at Cos | Printed blouse Cos | Red linen jacket Jaeger at MarksandSpencer.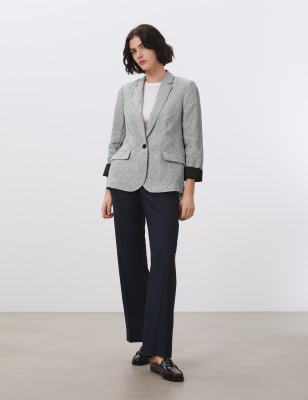 My blue stripe linen jacket that I featured in a blog post in May is also on sale reduced from £160 to £99. I have found it extremely useful and have worn it on many occasions. Plus there are many more bargains in the Jaeger at MarksandSpencer sale.
Since I wrote this post JohnLewis&Partners have expanded their sale with some items reduced by 50%.
The White Company have also started their sale. Good for high-quality bed linen and candles/room fragrances as well as clothes.
My selection of items reduced in the early Summer sales