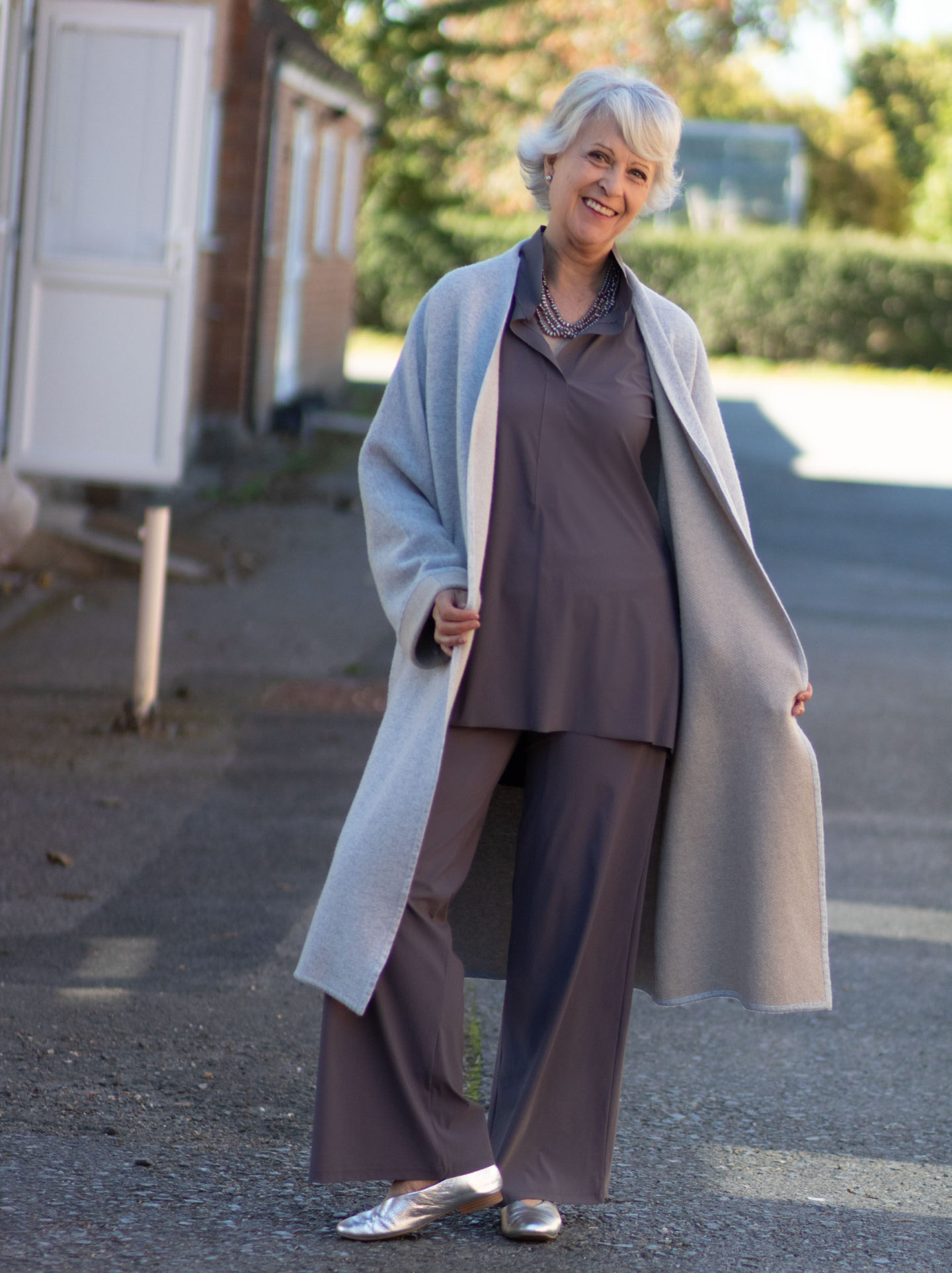 This season Hope Fashion has created a modern confident feminine collection. It is definitely one of my go-to brands for comfortable easy to wear clothes.
I have great admiration for Nayna Mcintosh who founded Hope Fashion three years ago. Each season she manages to create a collection of wearable and stylish clothes in quality fabrics and fluid designs suitable for real bodies. She really understands what women of our age need to flatter our changing figures.
The designs are timeless
During a recent wardrobe clear I noticed that none of my Hope pieces went into the recycle pile. The designs are timeless and each season you can build on your existing collection. I have trousers that are a few years old and still going strong.
Above I am wearing a grey/oatmeal double knit coat (not available till 25th October) over Foundation deep waist wide leg trousers in grape and bonded trim tunic in grape. My silver shoes are by Marks&Spencer. They are so comfortable that I have just bought another pair in bronze.
Above the velvet top in Fuschia available end October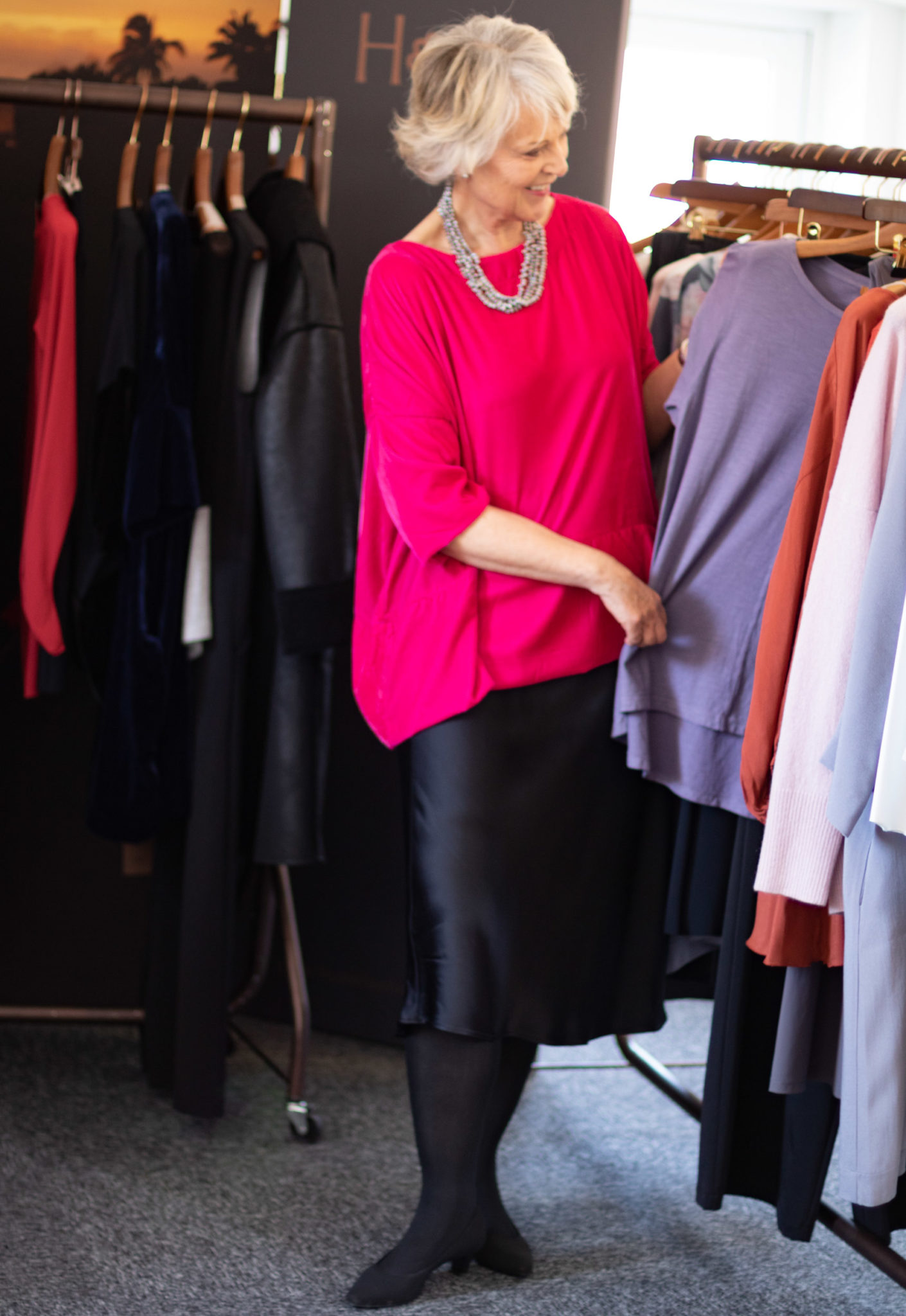 My trip to Hope Fashion HQ
On a beautiful sunny day, I drove up to Hope Fashion HQ. It is set in the heart of the beautiful Berkshire countryside.
I had a fantastic time exploring the new Autumn 2018 collection and putting outfits together to photograph. It was being like a kid in a sweet shop. I loved everything and found it very difficult to choose.
There is a good selection of neutral basics; however, I was particularly drawn to the bright vibrant pieces. I feel that as we get older a touch of colour near the face is very flattering. It can also help to lift the spirits.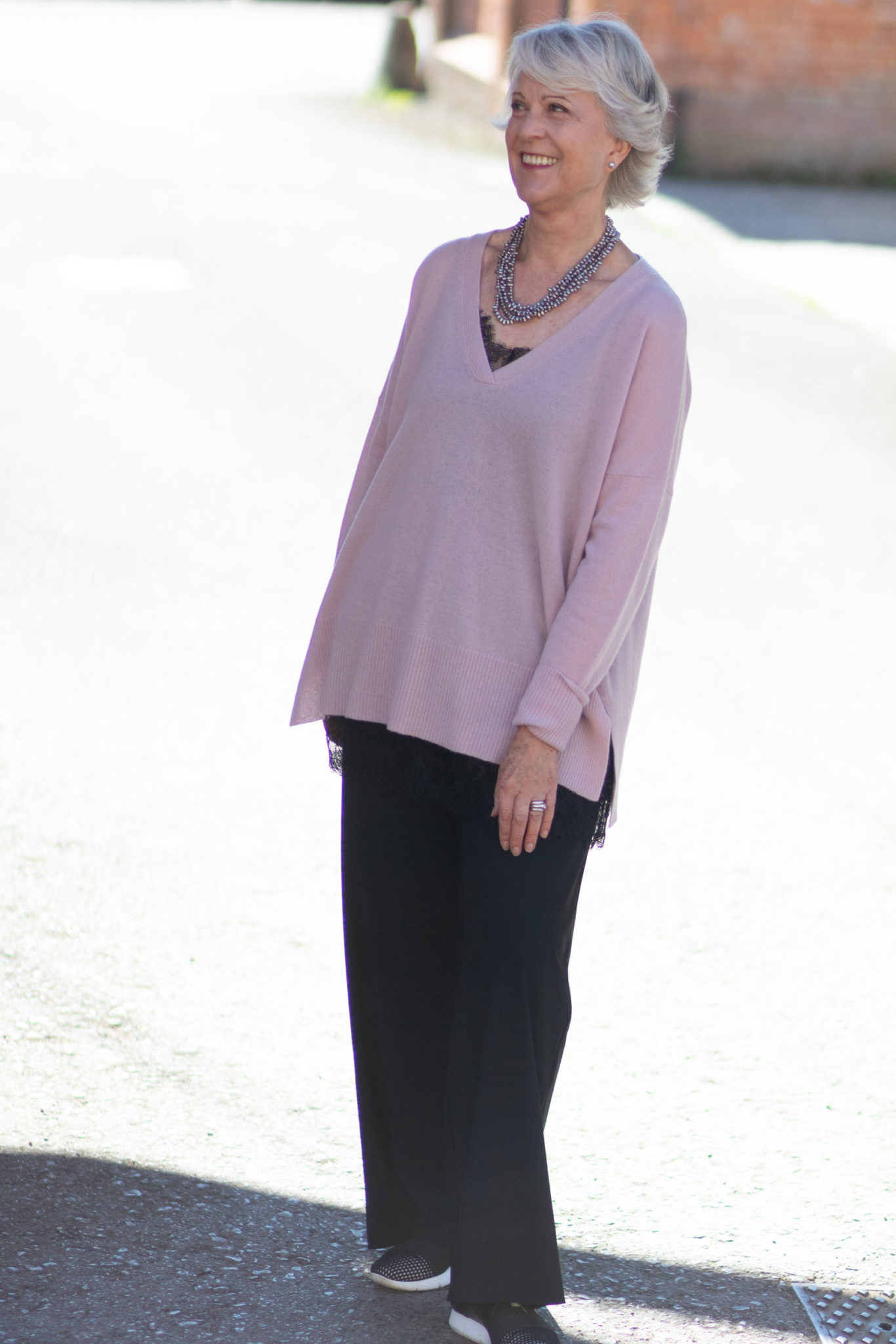 The foundation range
I am a great fan of the Foundation Range. They form a very practical base on which to build an outfit. They are amazing for travelling as they roll into a ball and don't crease.
This season the Foundation Range has been expanded to include The Power Foundation Collection. The fabric has been seamlessly fused together. This means that the waistband on my favourite wide leg trousers feels more supportive. The extra stretch in the fabric streamlines the figure. Above I am wearing the new foundation-wide leg trousers in black.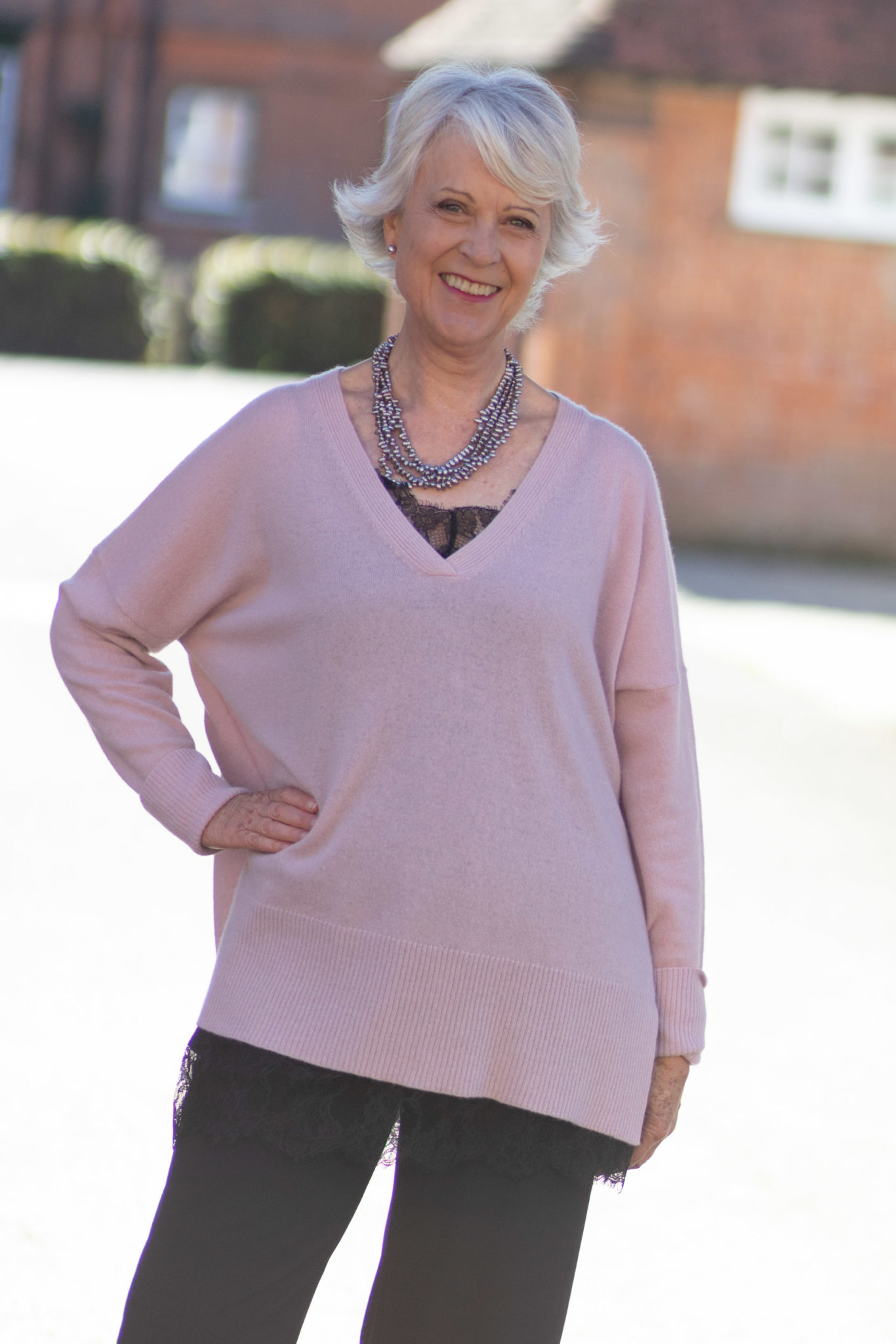 A great addition to the foundation range is the longline cami top with lace (you can just see the lace peeking out at the top and bottom of my pink boyfriend jumper). Such a useful piece, I can imagine wearing it in the evening under a velvet tuxedo jacket.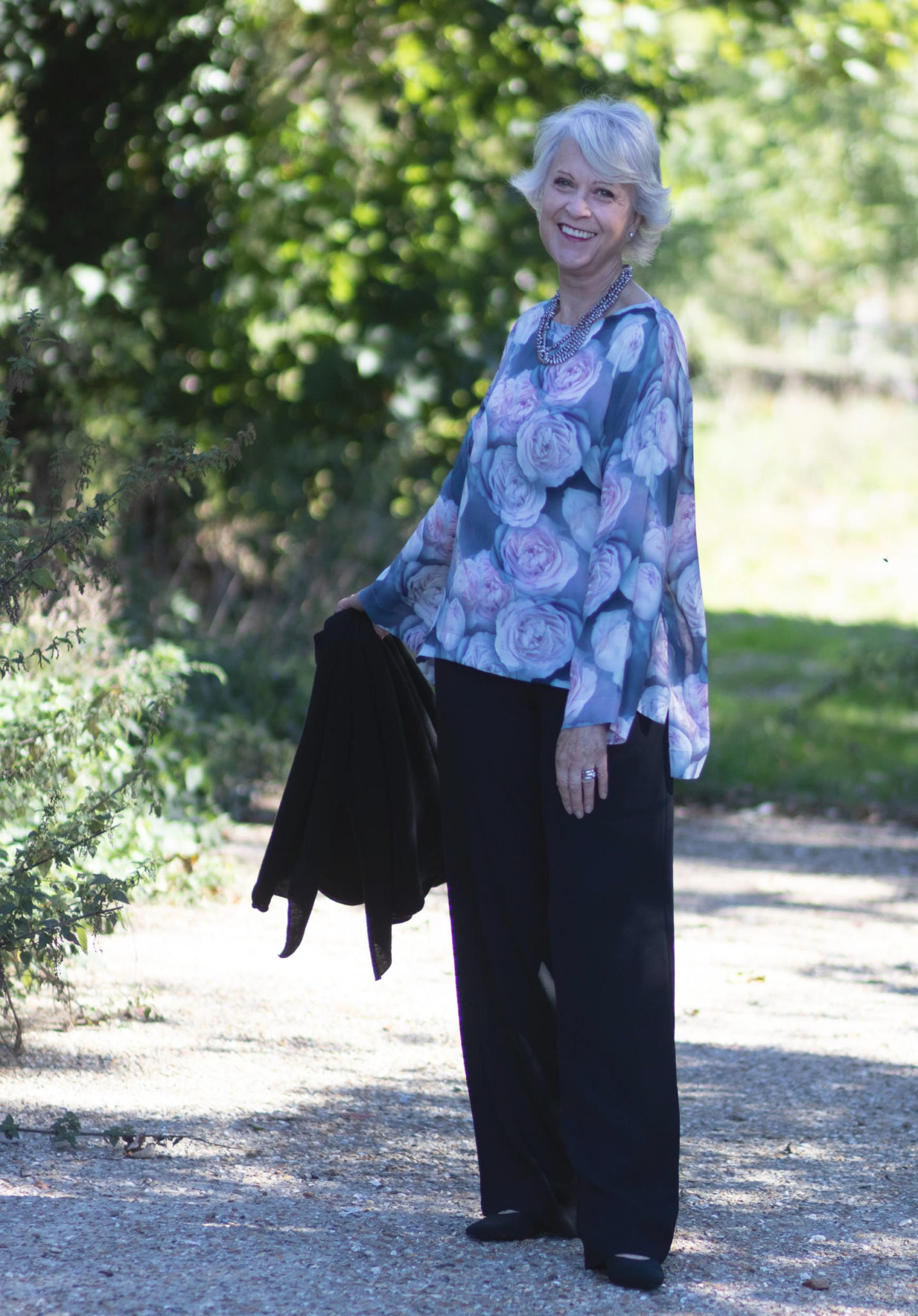 My personal preference is for plain rather than print fabrics. However, I fell in love with the subtle rose print top I am wearing above. Perfect for now and I can see it teamed with a pair of navy or white trousers next summer. You could dress it down with jeans. The options are endless.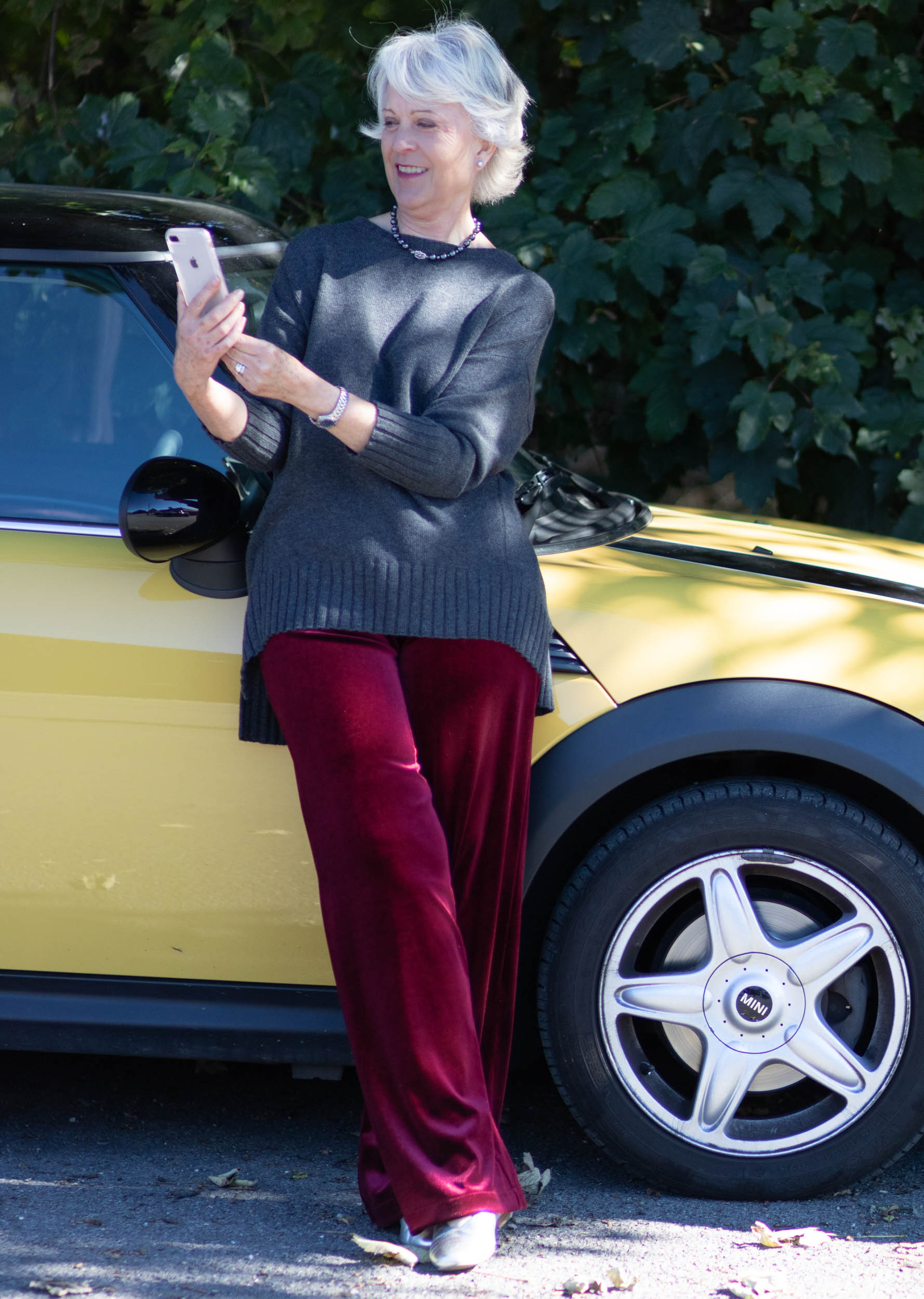 My mini normally steals the show in photographs but this time it has been upstaged by these gorgeous velvet long wide-leg trousers in claret. They are so comfortable. I love wearing velvet during the day. I have teamed them here with a casual curved hem jumper.
The velvet story will be available end October. The beautiful jewel colours will be perfect for the festive season.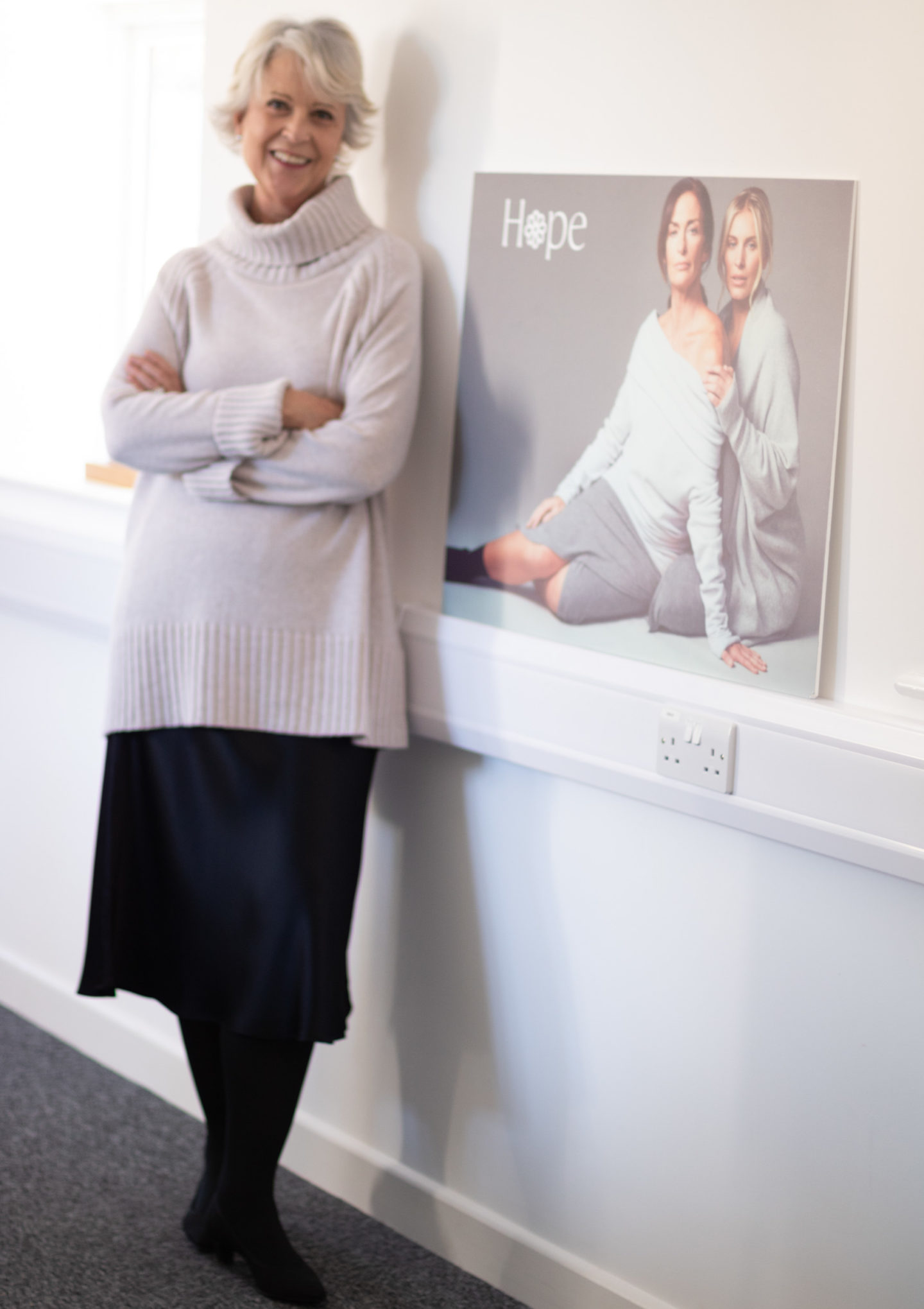 Now, this bias-cut midi skirt really surprised me. I don't wear many skirts as I never seem to know what to do about covering my legs and what shoes to wear. I was amazed at how flattering this skirt was. The silky fabric draped flattering over my curves.
I have teamed it here with a slouchy roll neck jumper ; however, it could equally be dressed up for the evening with either the silk tie front shirt or a lightweight poncho over a foundation top.
In conclusion
Nayna prides herself on listening to her customers and their new designer Karen Boyd still embraces the Hope Fashion signature style and has produced a collection that is modern, confident with feminine touches. If you want to read more about Nayna and why she founded Hope Fashion click here.
This is not a sponsored post. I borrowed the samples for photographic purposes. The yellow Mini is mine.