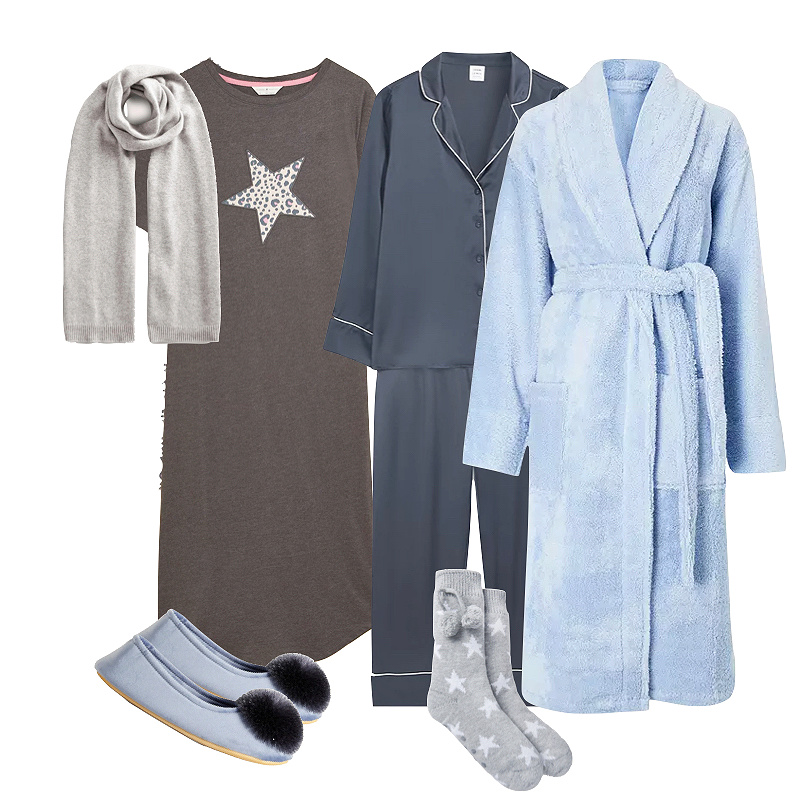 Cosy nightwear to keep us warm this winter. At this time of year I like to snuggle down in the evenings to watch a series on Netflix or Amazon Prime. List of my recent viewings at the bottom of this post.
Details of above:
Grey sparkly cashmere shawl Boden || Animal print nightdresses MarksandSpencer || Silk pyjama set JohnLewis&Company || Luxury towelling robe JohnLewis&Partners || Pompom slippers Boden || Star slipper socks The White Company.
I have chosen a few items above and below that will keep us cosy during the long dark winter evenings. A nice pair of warm socks are essential or a snuggly pair of slippers to keep our feet warm. I always think that pyjamas look more dressy than a night dress for wearing casually in the evening. I often wrap a scarf around my neck for extra warmth.
I watched this series recently having been recommended it by Sandra Howard author of "Love at War". She came to give a talk at our local library so I have a signed copy. The novel is set in Cairo during the Second World War.
Set in Cairo in 1941 during the Second World War. How the SAS was formed as a regiment. Interesting characters. Some violence and plenty of scenes depicting the nightlife in Cairo during that era.
NETFLIX
From Scratch
Taken from a book by the same name and based on a true story, this series depicts an emotional journey between two people and their families, beautifully set against a backdrop of Florence and Sicily. Highly recommended
Firefly Lane
This series, covering 2 seasons, is based on the novel of the same name and navigates the lives of two teenage girls in the 1970s all the way through to their adulthoods in the 2000s. I am currently watching this. Took some time to get into but now enjoying it.
The Good Nurse
This film relates the true events of a nurse, extremely well portrayed by Eddie Redmayne, working in an American hospital. This slow-burning thriller is very watchable, despite the fact that it tells the story of a serial killer. Recommended by a friend. Have not watched this.
PRIME VIDEO
Ten Percent
A series based on the French version entitled 'Call my Agent' is a comical take on life inside a talent agency and the lives of the people in the spotlight and behind it.
Modern Love
Covering 2 series, this is a collection of unique stories exploring life and love and their joys, trials and tribulations, each inspired by the New York Times column entitled Modern Love.
APPLE TV
The Morning Show
A two-series drama with a third coming soon, this stars Jennifer Aniston, Reese Witherspoon and Steve Carell and takes a candid look at the modern workplace through the lens of the people waking up America on an early morning TV show. Watched this some time ago.
NETFLIX
Episode 5 of the Crown – My husband and I both enjoyed it. I thought Diana was well caste.
Cosy nightwear to keep us warm:
Another great way to keep warm in the evenings and save on our ever-increasingly expensive heating bills is to add a layer of thermal underwear. You might like to check out my recent post recommending my selection here.
WISHING YOU ALL A VERY HAPPY CHRISTMAS AND NEW YEAR
2022 has been a very exhausting year. We moved house last February and are still renting in Thames Ditton. Happily, we have found a place to buy in the village. It has the most magnificent views of the river Thames with Hampton Court bridge just in view. We plan to move there in Mid-February.
We will be going to France just after Christmas for a well-overdue rest. I hope to publish a post on St. Tropez market and the local Brocante while I am there.