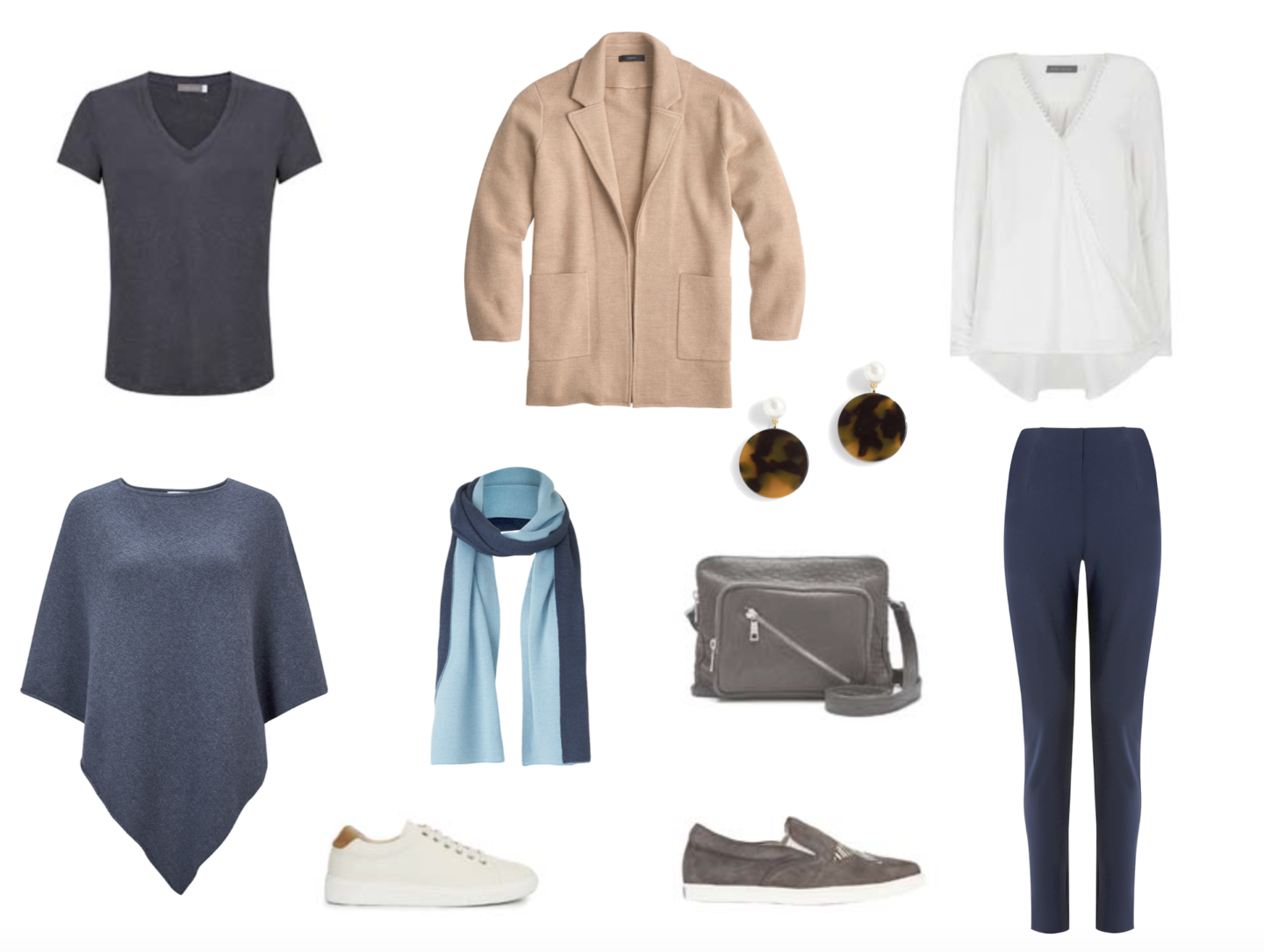 What to wear for travelling at this time of year? That is the question. With Spring just around the corner, it does not seem right to wrap ourselves up in our winter garb, unless of course, our itinerary takes us to chilly climes. So I have put together a couple of ideas based on simple light layers. These are just guide lines, feel free to adapt them to your own circumstances.
A few comfortable layers are key
I have included some short and long tops and easy slip-on cardigans and jackets. A coatigan is a particularly practical option. It is smart, cosy and can be worn over trousers, jeans, leggings or dresses if you prefer.
Details of above:
Dark navy tee Mint velvet / Open front sweater blazer J.Crew (US) / Ivory wrap front top Mint velvet / Light navy wool blend poncho Jigsaw / Reversible scarf WinserLondon / Zip leather bag Mint velvet / Tortoiseshell earrings J.Crew (US) / Navy miracle leggings WinserLondon / Cream/beige trainer Mint velvet / Zebra stasr trainer Mint velvet.
Comfortable shoes are a must. I find that my feet tend to swell when I travel long haul so make sure that your shoes are roomy enough or have some stretch. Personally, I prefer slip on styles as they save faffing around during security checks. Alternatively, I find that my tried and tested trainers fit the bill.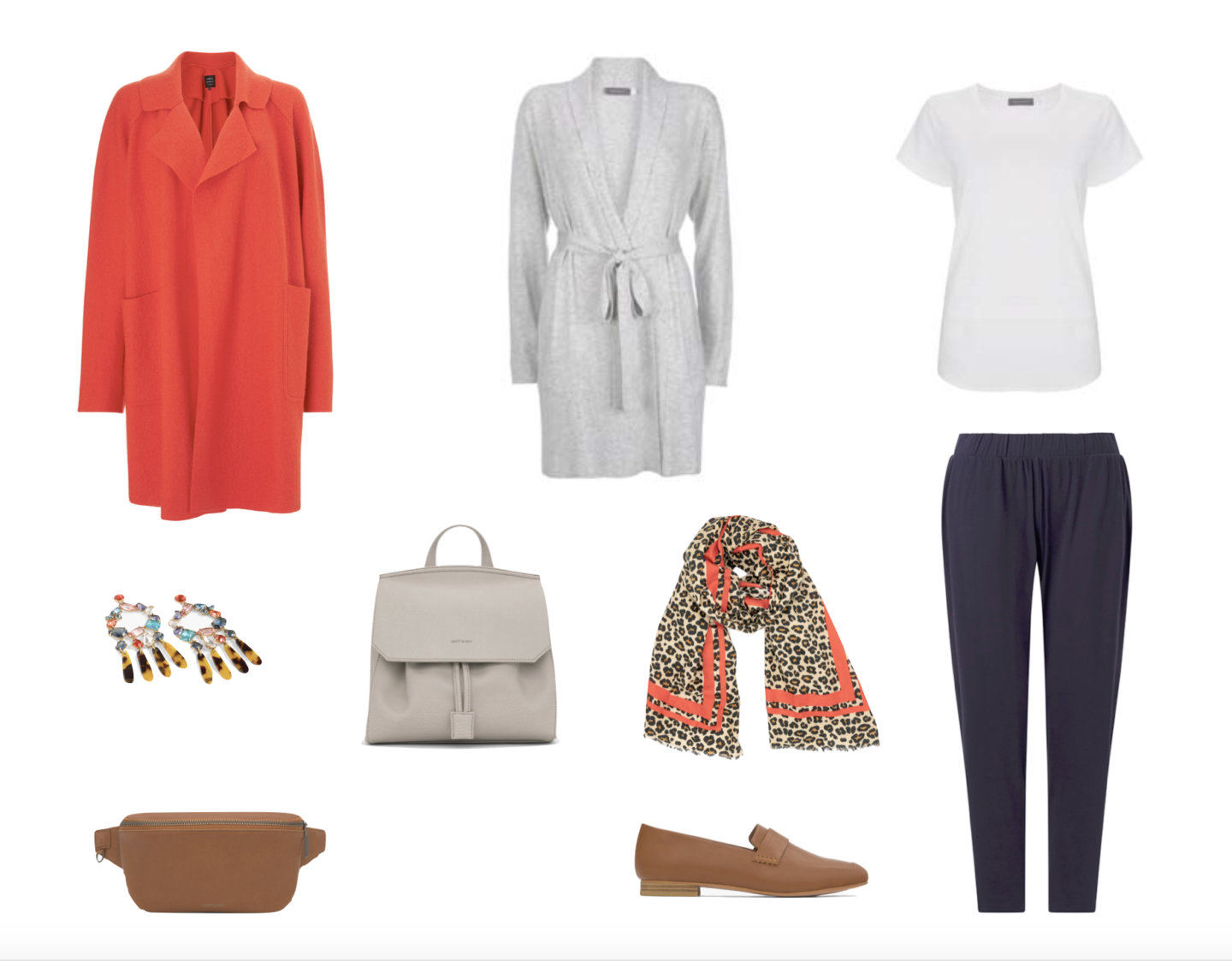 I like to travel in loose trousers rather than jeans. I find that jeans can become a bit tight around the waist. Elasticated trousers often get a bad press however you can find some great styles in the sports department. As I said in my last post Athleisure wear has been updated. A well-chosen piece can be coordinated with a stylish top to create a comfortable stylish look.
Details of above:
Relaxed coatigan JohnLewis&partners / Belted longline cardigan Mint velvet / White tee Mint velvet / Crystal drop earrings J.Crew (US) / Grey cross body bag Matt & Nat / Leopard print scarf St.Tropez market / jersey trousers Baukjen / Tan belt bag Matt & Nat / Comfortable tan loafer Matt & Nat.
Scarves, wraps and ponchos make ideal travelling companions. Aeroplane cabins can be very draughty. You can wrap a warm scarf/shawl around your neck, your feet or roll it up into a ball for a pillow.
I like a medium sized cross body bag with separate compartments. Not too heavy but just large enough to take your documents and other essentials. I am also a fan of the belt bag (a much nicer description than the bum bag) but that is a personal choice. I find them very useful for keeping my passport, credit cards and other small valuables safe. When I go to Paris I always use one as I don't like travelling in the metro without having my essential documents etc safely stowed away.
You might like to check out my last April capsule travel wardrobe for the South of France.
I think that just about covers the basics however if you have any other practical ideas do please share them in the comments section.