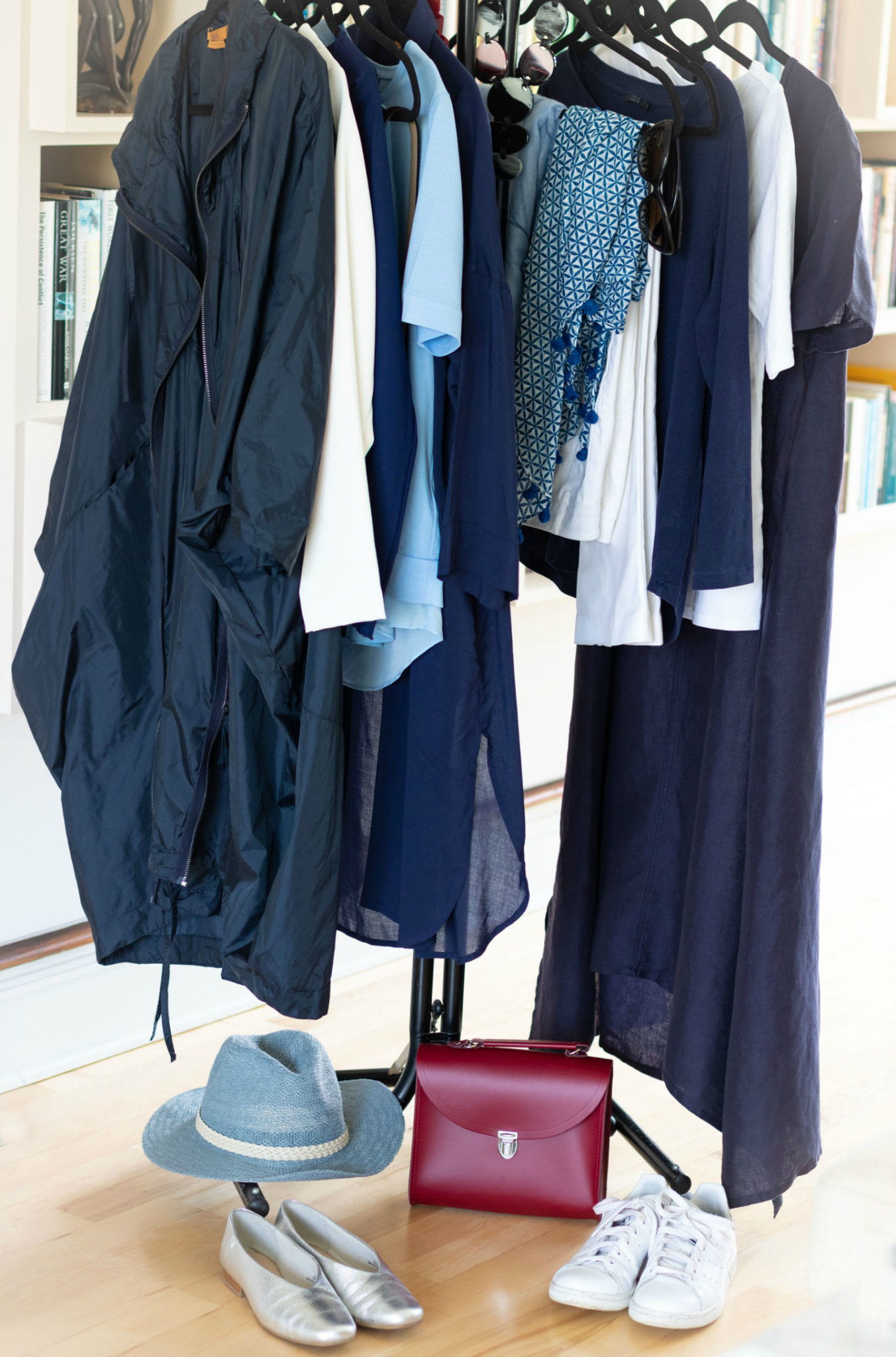 What to pack for a trip to Paris in June. I spent yesterday afternoon getting ready for my impending trip to Paris this Saturday. The excitement is mounting as I am so looking forward to meeting up with Susan of Une femme. We will be exploring the delights of Paris together.
If our last two meetups in Paris are anything to go by we will be doing a lot of walking, talking, sitting in cafes, possibly visiting a museum, shopping and not forgetting the most fun "people watching".
This year planning any trips in Europe has been challenging as the weather has been very mercurial and forecasts not that accurate. At the moment the state of play is hot with rain and thunderstorms.
I have based my wardrobe on navy and white with a touch of pale blue. Not dissimilar to the selection I packed for my recent trip to Wales. Although this time I have swapped my warmer navy trousers for a pair of white cotton ones by WinserLondon and added a pair of black lightweight ones for travelling. These will also work well for the evening teamed with a cream top. I don't think I will be needing a sweater so have packed a couple of cotton tees instead. The pale blue one is a lovely trapeze shape and the plain navy one, also a flattering loose fit, are both from Cos.
I shall be taking a couple of dresses, firstly my new navy linen maxi dress from John Lewis, which will work well during the day if the temperatures rise as predicted. It can then be dressed up with jewellery and my M&S silver flats (US link) for the evening. The second choice is a button through dress by Hopefashionuk which I plan to wear open over my white trousers and MarksandSpencer white tee shirt. I will definitely be taking my Hopefashionuk navy parka. It is extremely lightweight and can be rolled up and carried in my bag in case of a sudden downpour.
I shall be taking plenty of scarves and jewellery to ring the changes. My burgundy satchel by The Cambridge Satchel company adds a touch of colour.
What shoes to take is always a conundrum. With all the walking we intend to do they need to be comfortable. At the moment I am planning on wearing my trusty Stan Smiths (US link) to travel in. However, if there looks like there will be heavy rain I might swap them for a more heavy duty trainer. The silver flats should be ideal for the evening. I might add a pair of sandals if I have room in my small bag.
I won't be taking my computer with me to Paris so do follow my adventures on Instagram.