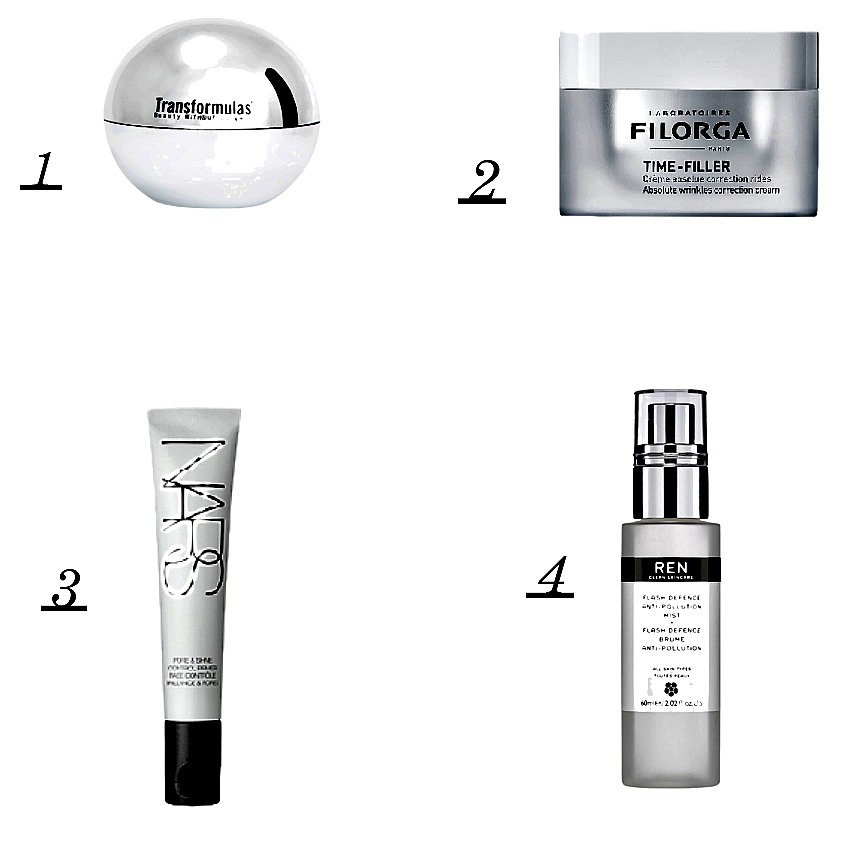 As I have not written a post on beauty products for several months I thought I would do an update on skincare for women over 50. I stick to the same routine on a day to day basis. It consists of a nightly, or sometimes every other night, dose of a Retinol serum. I get these product through my dermatologist.
However after the harsh winter months and the ever increasing air pollution in our cities I felt it was time to add a few more "defense" products to my current regime.
DETAILS OF PRODUCTS IN THE IMAGE: 1.Transfhormulas 2. Filgora Time-Filler at Lookfantastic and Nordstrom 3. Nars primer at Nordstrom and feelunique 4.Ren anti pollution mist at Lookfastastic and Nordstrom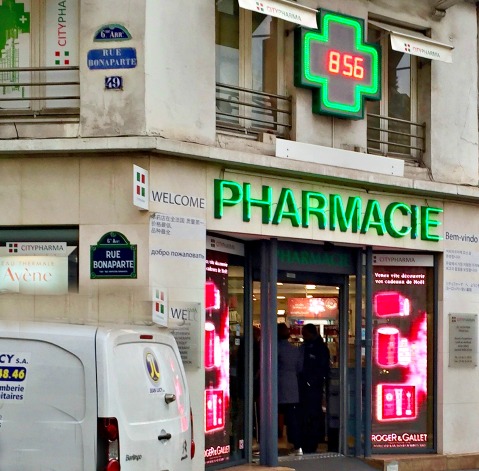 On my visit to Paris last year Susan of Unefemme and I visited a fantastic chemist. It stocked a wide range of excellent skincare products at reduced prices. It felt like being a kid in a sweetshop. You can see by the clock above the door how early we were prepared to get up in order to arrive before it became too crowded. There was so much choice it was a tad confusing. Susan said that she used the Filorga Time-filler and liked it so I thought I would try it. I am very glad I did as it is excellent. The Filgora brand is well known and respected in France.
Now for eye-care. I must admit that I am a bit lazy when it comes to applying eye cream. I know that it makes a difference when I make the effort to apply a good quality cream. I have been using the transformulas eye lightening serum and their eye radiance for some time. So I was very happy to be introduced to their Marine eye-zone cream. I have been applying it night and morning for the last couple of weeks and love it. It is very light and glides on. I will report back in about a months time with my assessment of the overall effects.
The other two products I am trying are the Nars primer. I have to use a SPF50 suncream every day due to my history with skin cancer. As I like to apply a primer this can add up to a lot of layers. So I was thrilled to find a good primer with a SPF50. It has made my morning routine quicker and less fiddly.
Finally the most significant product is the REN anti-pollution mist. I wrote a post on air pollution and the damage it does to the skin here. I have been shocked recently by the level of pollution both in France and the UK. When I was in Paris you could travel on the metro for free as the pollution level was extremely high. The government hoped to encourage people to leave their cars at home. You could actually see the grey haze in the sky. London has also been on high pollution alert for the past few weeks as the weather here has been cold and damp.
Do share your tips and tricks on how you keep your skin in good condition. Especially how you protect it from the ever growing risk of pollution.
PS. I have updated my shop with additional transitional outerwear.
Disclosure: The Transfhormulas eye cream was gifted to me. All opinions are my own.