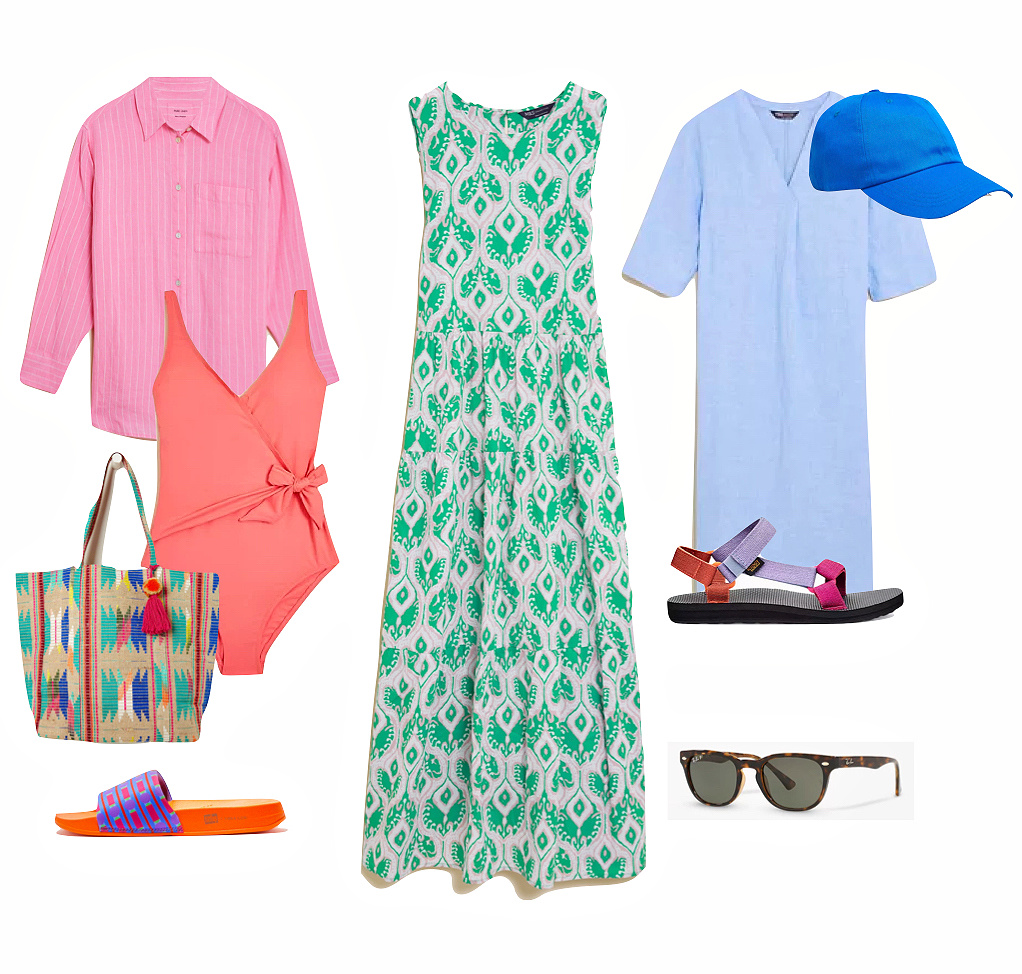 Whether you are staying at home, holidaying in the UK or braving the airports to fly to somewhere more exotic you may be wondering how to plan your wardrobe for the summer holidays. In this post I have collected a variety of items that could form the basics of your holiday wardrobe.
A colourful maxi dress is always a good starting point. If you are holidaying in the UK I would advise a sweater and/or a cardigan. If you wear a sweater over the dress, which I often do, you have created a more casual maxi skirt look. An oversized shirt can double up as a swimsuit cover-up.
I have just bought a pair of the colourful Fitflop slides and they are so comfortable. They will definitely be coming with me to France when we go in June. I bought a pair of Treva sandals in black last year and they are also very comfortable.
You have probably seen me in a recent post wearing my pink baseball cap. For some reason I love wearing it and may well buy the blue one shown above.
Details of above:
Pure line oversize shirt MarksandSpencer || Tummy control wrap swimsuit MarksandSpencer || Pure cotton print dress MarksandSpencer || Blue linen tunic MarksandSpencer || Blue baseball cap MarksandSpencer || Cotton ikat tote bag MarksandSpencer || Water-resistant slides Fitflop (other colours available) || Colourful sandals Teva at JohnLewis&Partners || Sunglasses Nordstrom.
How to plan your wardrobe for the summer holidays
A little more colourful and dressy. A pair of white trousers always look very summery and can be dressed up or down. I have shown a pair of shorts in the collage. I don't often wear shorts but if I do on the beach they need to be longish and a bit baggy. Gone are the days of skimpy tight shorts. The straw basket is very similar to the ones you can buy in St.Tropez market.
Details of above:
Blue print cotton dress Boden || Green print top Boden || Sun hat JohnLewis&Partners || High waisted shorts Boden || Wide leg white trousers Hobbs at JohnLewis&Partners || Sunglasses JohnLewis&Partners || Mini straw basket MarksandSpencer || Footbed sandals by White Stuff at JohnLewis&Partners.
I hope you are all enjoying the Jubilee celebrations this weekend. We are off to a tea party this afternoon. I even managed to bake some muffins.