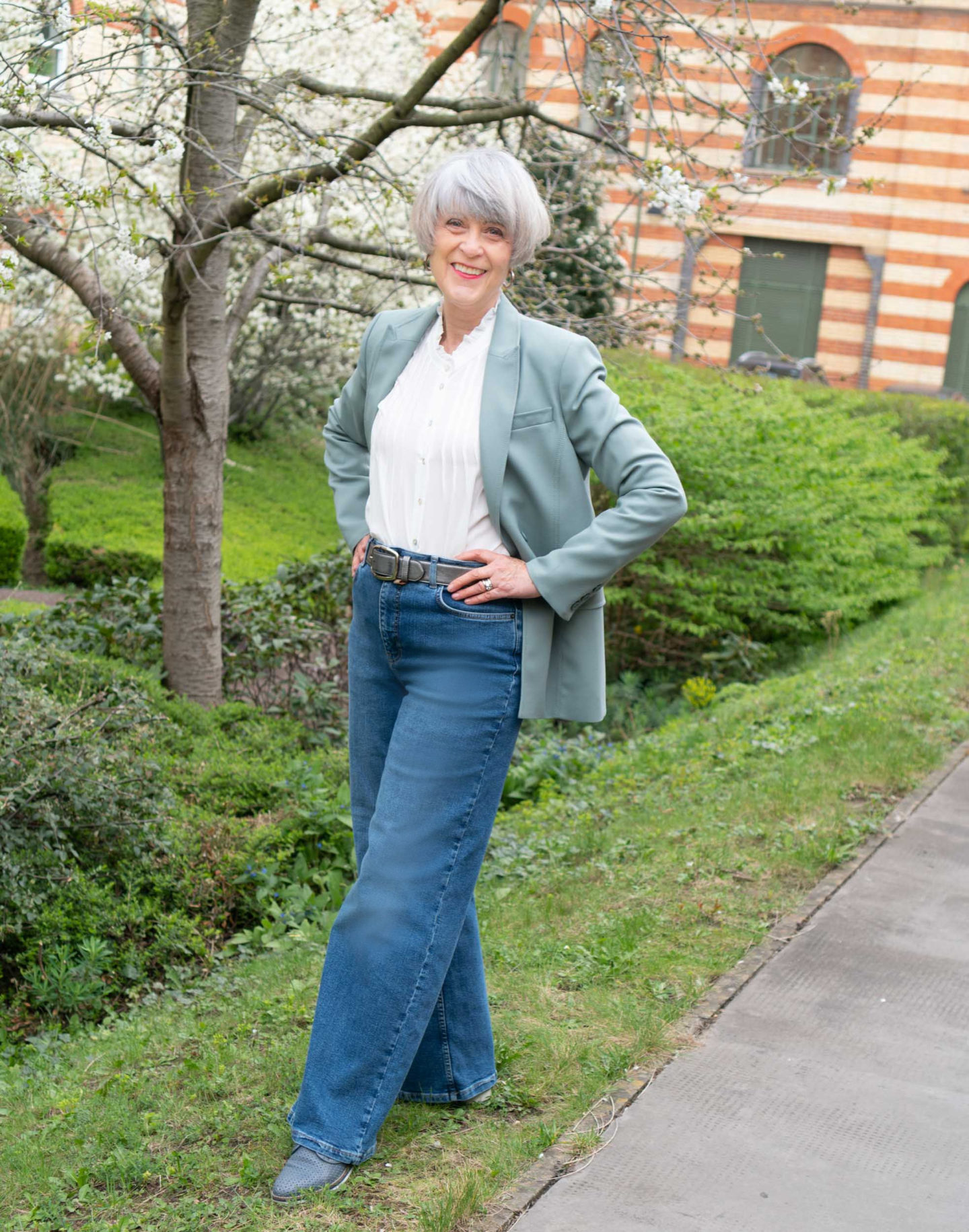 A few of you have asked about buying jeans online. This is understandable as some of us may not be ready to go back into the center of town or enter a department store just yet. I am definitely in the market for a new pair of jeans as I think that the last pair I bought was the Levi 274 about three years ago. They are a classic style and have worn well. Since then many new shapes and styles of jeans have sprung up so I thought I would write a post on how to experiment with new jeans styles. My jeans are the Rowan flared jeans from Hush. They only seem to have large sizes left. It is worth checking back as they often have returns or send them an email and they will notify you if they get new stock.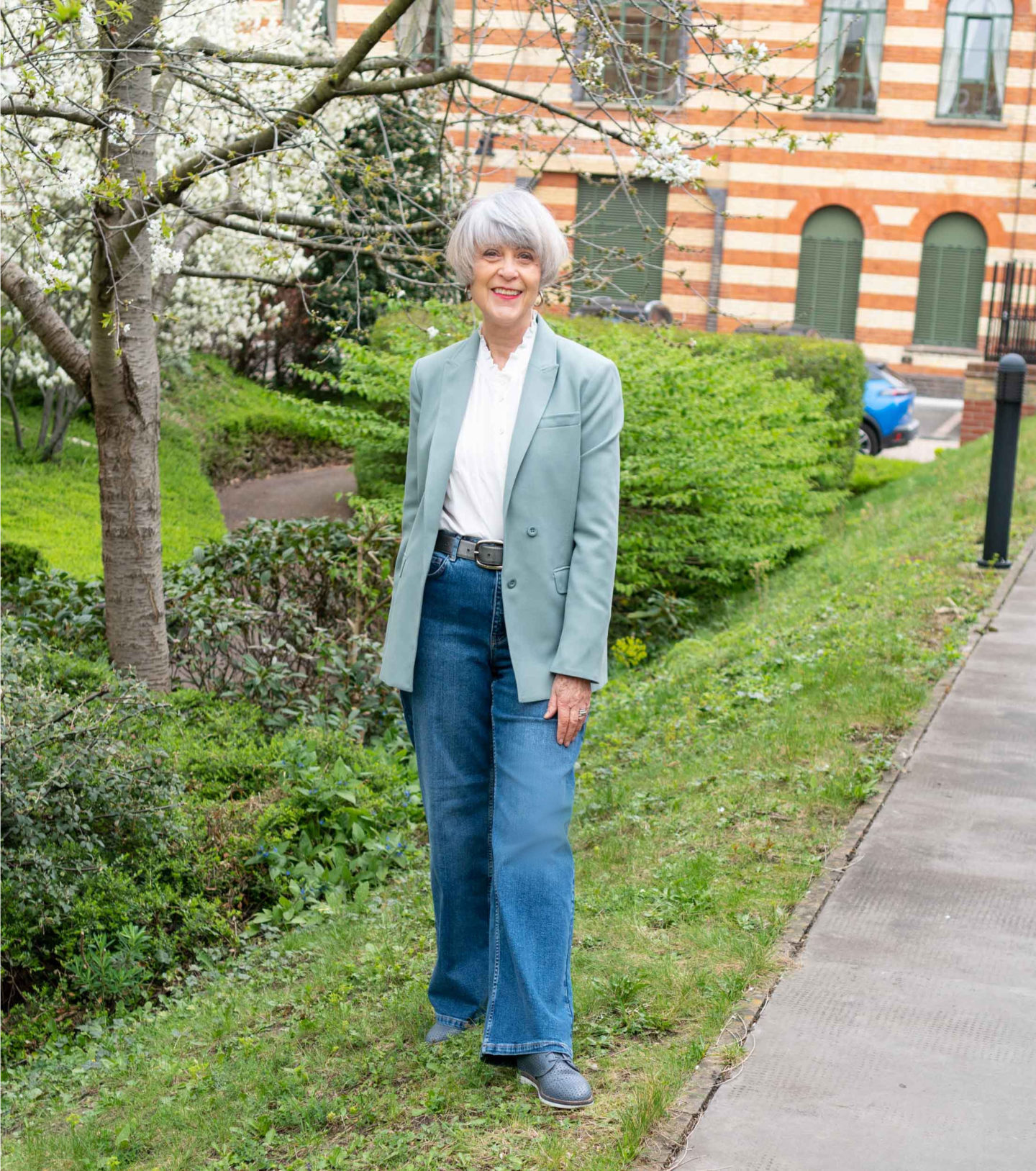 The first style I thought that I would cover is the wide leg jean which seems to be the most on-trend style this season. I know this style may not suit everybody however personally it is one of my favorites. The reason for this is that if you a wide hip to waist ratio wide straight-leg jeans can be very flattering. They don't cling to the widest part of the hips.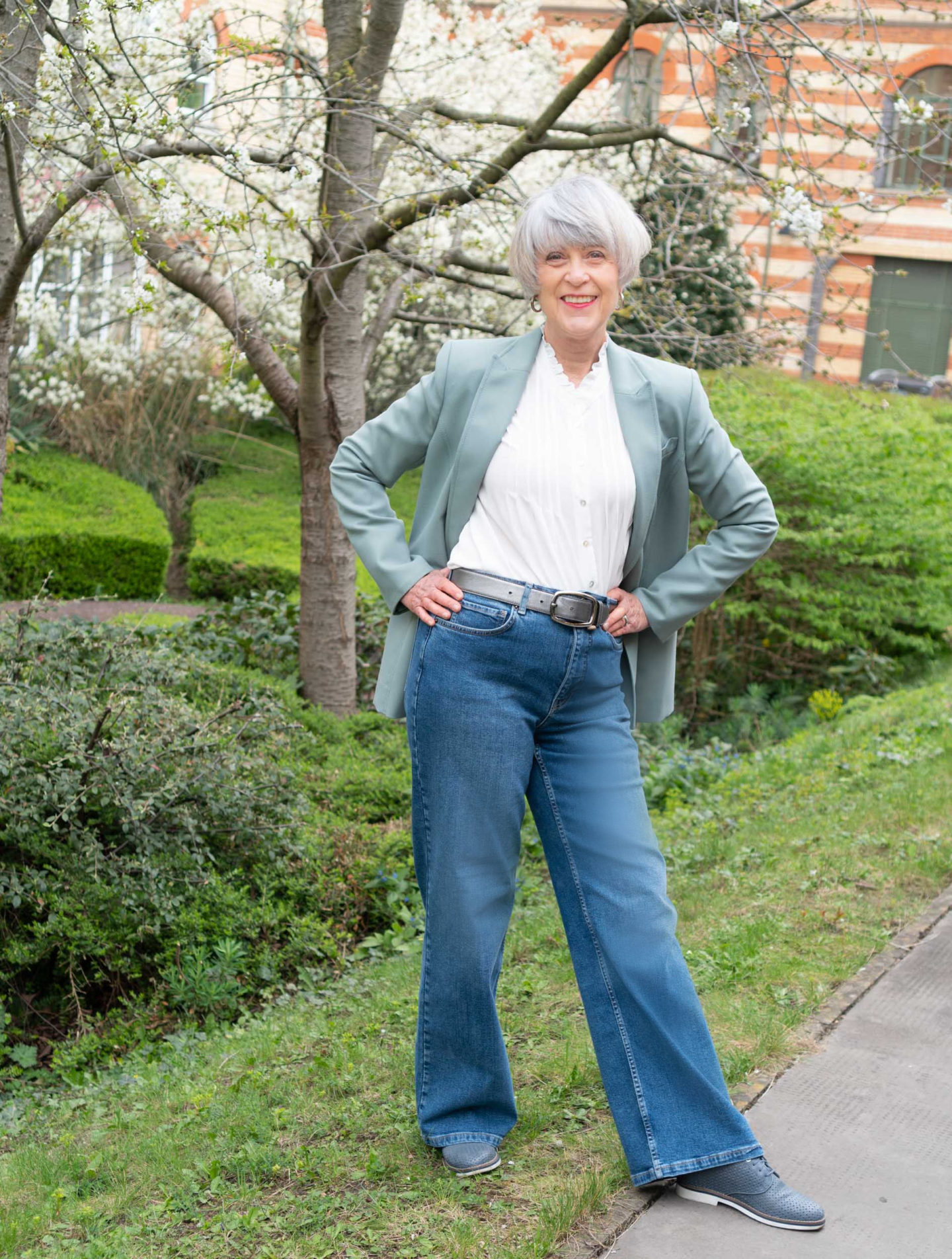 I am 5ft 7ins which does help with wider jeans. Having said that I think that it depends on the proportion of the outfit. The length of the jeans needs to be perfect and definitely not too long. I have seen petite women look very stylish in wide-leg jeans. Another alternative would be to choose cut-off wide jeans. There are plenty of different lengths available. I have selected a selection of different styles and lengths at the bottom of the post.
Dressing up a pair of wide jeans
I have dressed up my jeans for these photos by teaming them with an off-white frill collar blouse and my Me+Em green blazer (reduced to £91 in the sale) but only a small size left. Me+Em do excellent blazers and they go very well with jeans. The frill collar blouse is originally from Mango. Me+Em do a very nice similar broderie voile blouse. These jeans would look equally good teamed with a hoodie or a chunky knit sweater.
I used to wear NYDJ jeans a few years ago and the fit was perfect. I do still like the brand although I have found that their fabric is now a bit thinner. Marks&Spencer do a very comfortable and reasonably priced style in their Sophia rang. I have worn mine so much that they are beginning to look a bit tired. They are an excellent price and I find them extremely comfortable. They are also available on the Marks&Spencer US site.
For my US readers Madewell do a wide range of jeans including styles for petites and curvy figures.
Pop back next week when I will be reviewing a pair of Mom jeans. A style I had never tried before.
HOW TO EXPERIMENT WITH NEW JEAN STYLES