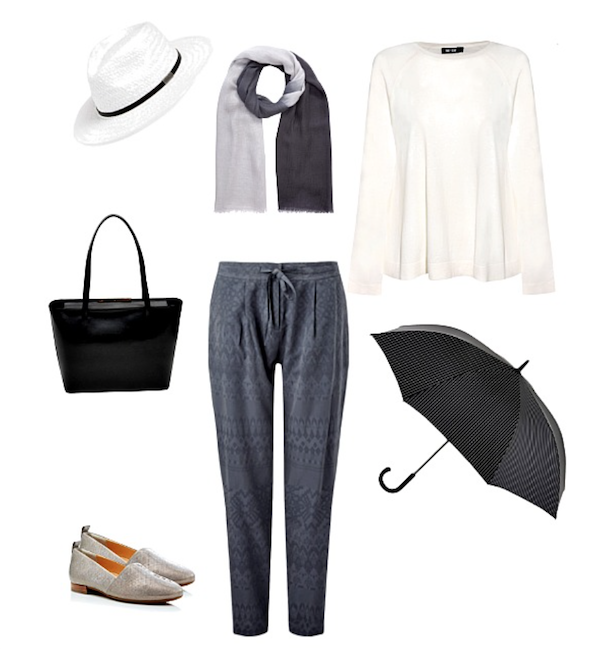 I know we Brits spend a lot of time discussing the weather since it can be contrary to say the least. This year has been no exception. One minute sunshine the next rain. I am often asked by my American readers what to wear for a summer visit to London.

I have put together an outfit that I consider would be suitable for a wander round our lovely parks. Perhaps a visit to one of our many museums or art galleries plus a spot of lunch in a casual bistro.
As you can see I have included a sunhat and an umbrella! Best to be prepared. I recently purchased the grey Whistles trousers, the cream Me&Em silk/cotton sweater and the Paul Green shoes in the summer sales. I have worn each piece frequently during the last couple of weeks. A post showing how I wear them will be published next week.
White fedora hat at Nordstrom.
Grey ombre scarf Jigsaw sale
Cream silk/cotton swing sweater Me&Em sale.
Black shopper at John Lewis.
Relaxed jacquard trousers Jigsaw sale.
Umbrella John Lewis.
Flat metallic shoes by Paul Green (mine are a pale grey) the seem to be sold out so I found similar at Bloomingdales.

I have also been perusing the Net-a-Porter sale. I have chosen classic items, mostly accessories, or simple pieces that are will give good value for many years.