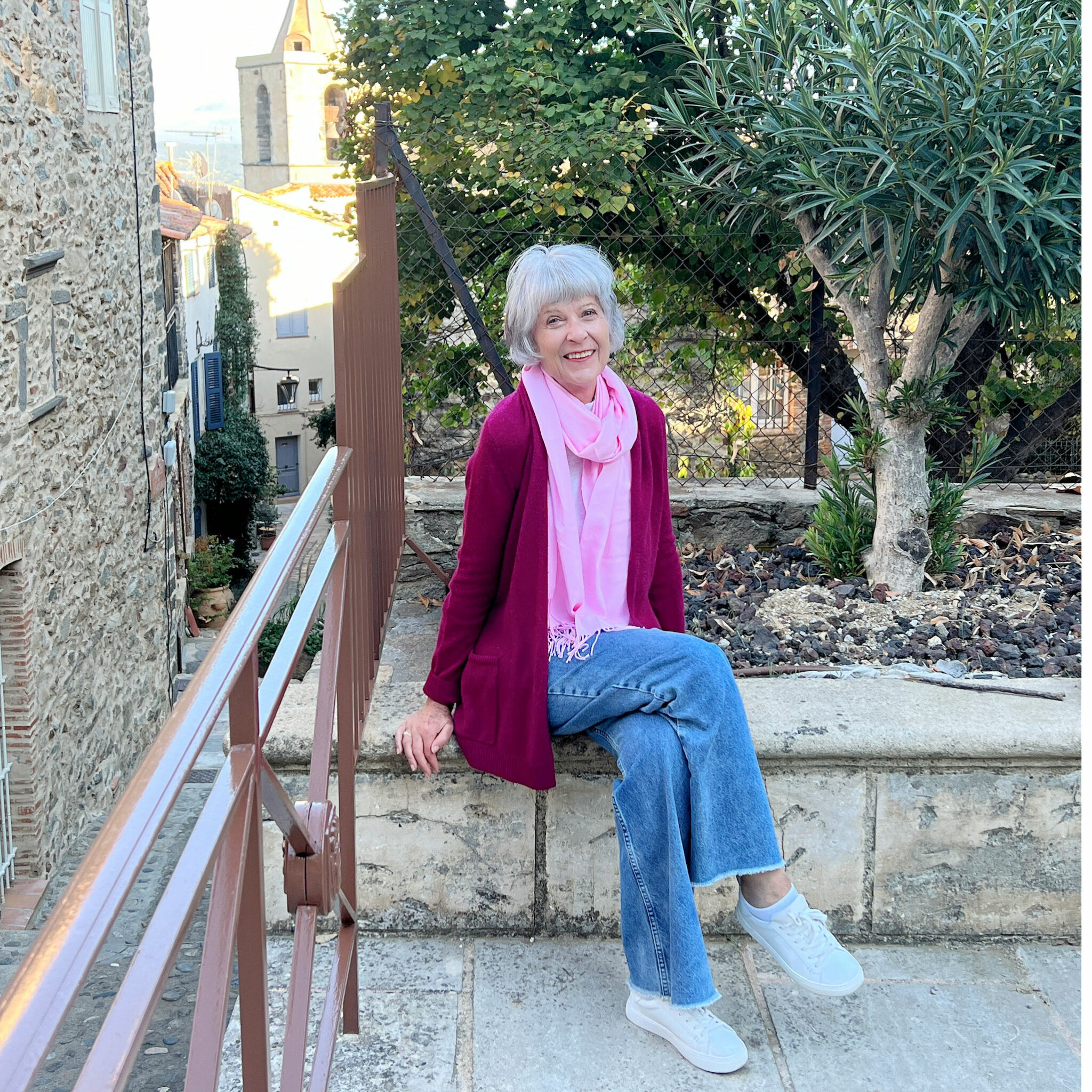 These photos were taken during the last few days of our stay in Grimaud. The sun was still shining most days however there was a chill in the air in the early morning and evenings. For the first time in ages, I fished my jeans out of my wardrobe and felt quite comfortable wearing them. So I thought that I would write a post about how to adapt a pair of jeans for Autumn.
Some of us might have had a break from wearing jeans over the last few months depending on where we live. Now, however, as we begin to embrace autumn and the cooling temperatures we can team them with our sweaters and scarves.
I would describe the jeans I am wearing here as a medium wide-leg on me. Bearing in mind that I am 5'7″. My Jeans are from Aligne. They are nice and soft and wash well.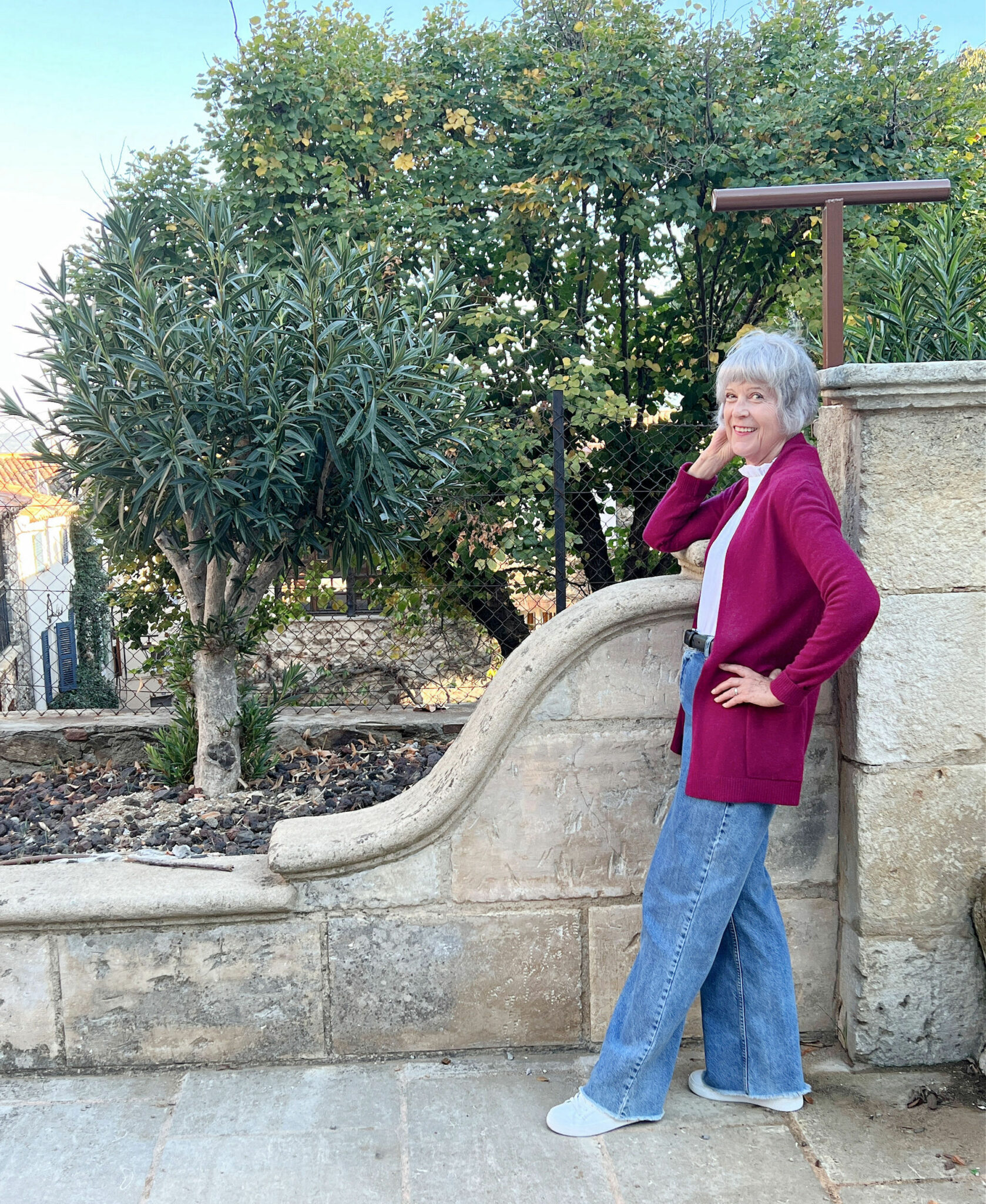 My Berry-coloured cashmere cardigan is from JohnLewis&Partners. It is also available in mid-blue, navy, silver grey and charcoal. I really like the edge-to-edge style. This means that you can wear it loose, with a belt or wrapped over and secured with a broach. I am told that broaches are very on trend this season. Not that in my opinion they ever went out of fashion. JohnLewis&Partners have been stocking this style for a few seasons. I used to have one in silver grey that I loved. In fact, I think that I wore it nearly every day during lockdown.
The cardigan I am wearing in the photograph I borrowed from my friend Dee (who took these lovely photos in our village). This season I am going to buy another one as we will need to wrap up warm this winter. I can't decide between the mid-blue or the berry.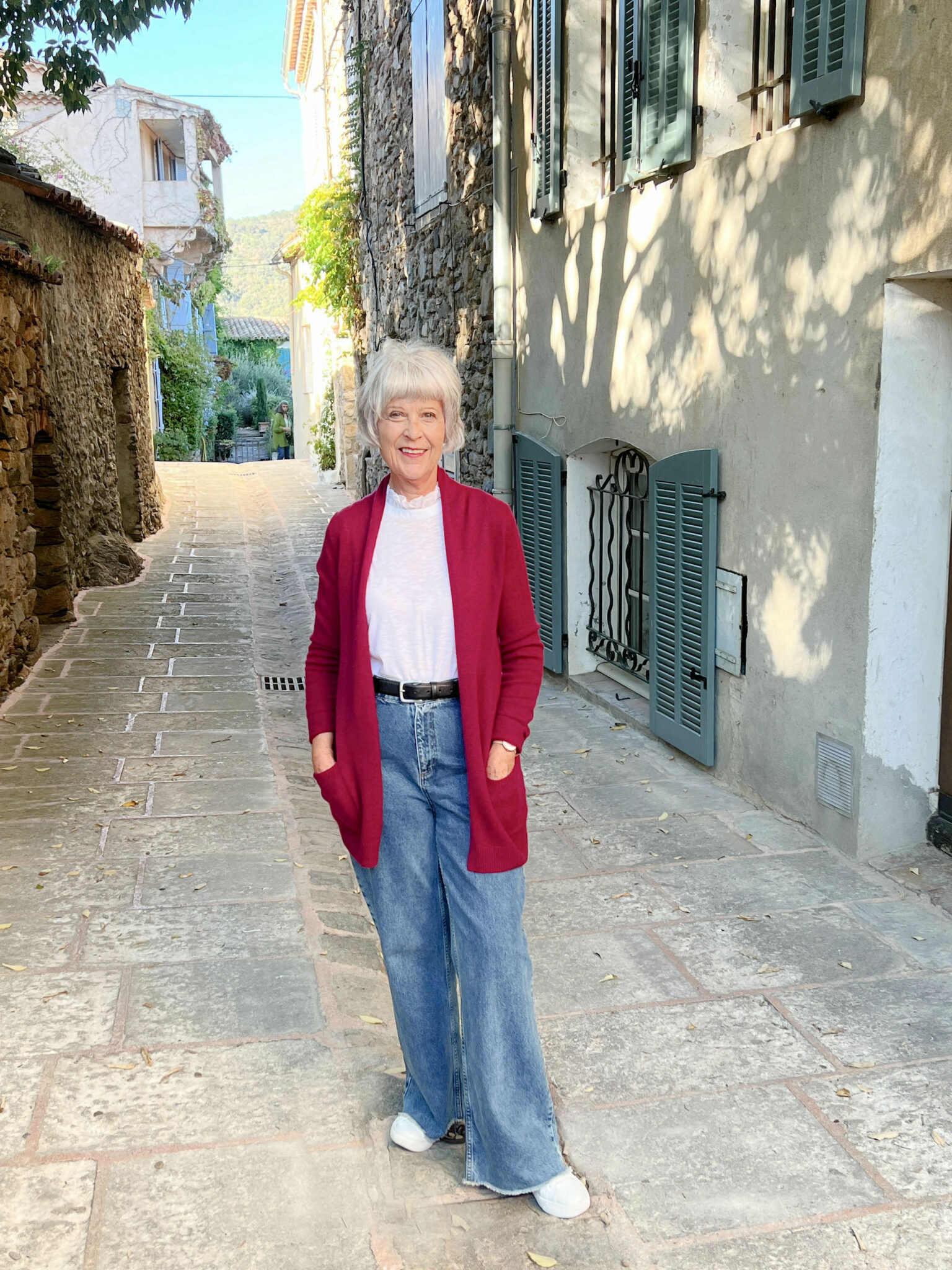 The sleeveless white top I am wearing under my cardigan is from MeandEm.
The pink cashmere scarf is from St.Tropez market. I was able to bring a small collection of cashmere and wool scarves back with me. I have decided to impose a limit of one scarf per customer due to the limited supply. I hope to be able to get a further supply when we return to France in January. If the colour you want is sold out you can leave me a request in the comments box and I will do my best to fulfil your order.
MarksandSpencer (US link) offers a good range of jeans. They have a wide selection of styles. You can choose the length as well as size therefore they are particularly good if you are petite. I have chosen a small selection below.