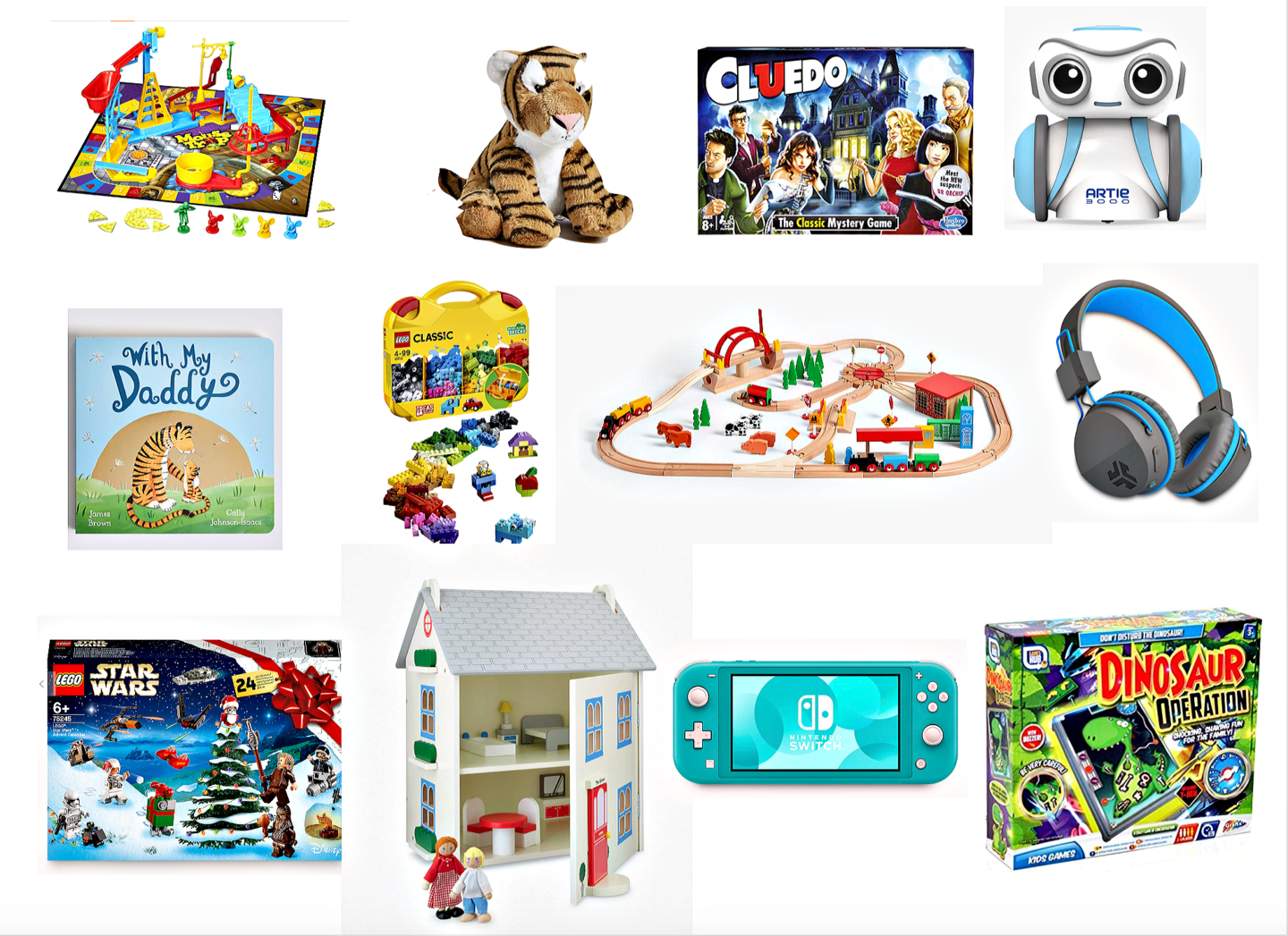 Details of the above:
Top row: Mouse trap game / Tiger / Cleudo board game / Drawing coding robot.
Middle row: With my daddy tiger book / Classic lego kit / Wooden train set / Blue tooth children's headphones
Bottom row: Lego StarWars advent calendar / Dolls house / Nintendo switch lite consul / Dinosaur operation game
As a grandmother, I find buying gifts for my grandchildren the most fun. This Christmas we have decided to concentrate on presents for the children. For the adults in our family we will be organising a Secret Santa. As my husband and I will be spending Christmas in France this year it means that we will be having our family celebratory lunch early this year.
I have already started searching for presents for my three grandsons, aged eight, six and four. I have decided to focus on games. I find that games are fun for all the family as well as for the children. I can highly recommend Cleudo. It has always been one of my favourites and we have already had many hours of fun playing it with my two older grandsons. Mouse trap is also an excellent game.
Lego and train sets can also keep little ones occupied for hours.
More choices for girls as well as boys:
Shortcode
Update on current sales:
Fitflop – Deep discounts + extra 20% off with CODE: BLACK20. I have already bought a pair of sneakers and have my eye on a pair of waterproof boots
JohnLewis&Partners – continue to offer great deals. Good for presents for men and kitchenware as well as fashion.
Marks and Spencer – Good for fashion discounts also check out their gift list especial the bath and body gift sets. If you are not sure what to buy these are always welcome.
Black Co – Excellent luxury gifts especially for men. 20%off plus an extra 10% for my readers with CODE: CHIC10.
Arket: Good winter coats and knitwear (including my navy jacket seen here)
Nordstrom cyber sale for my American readers. Up to 50%