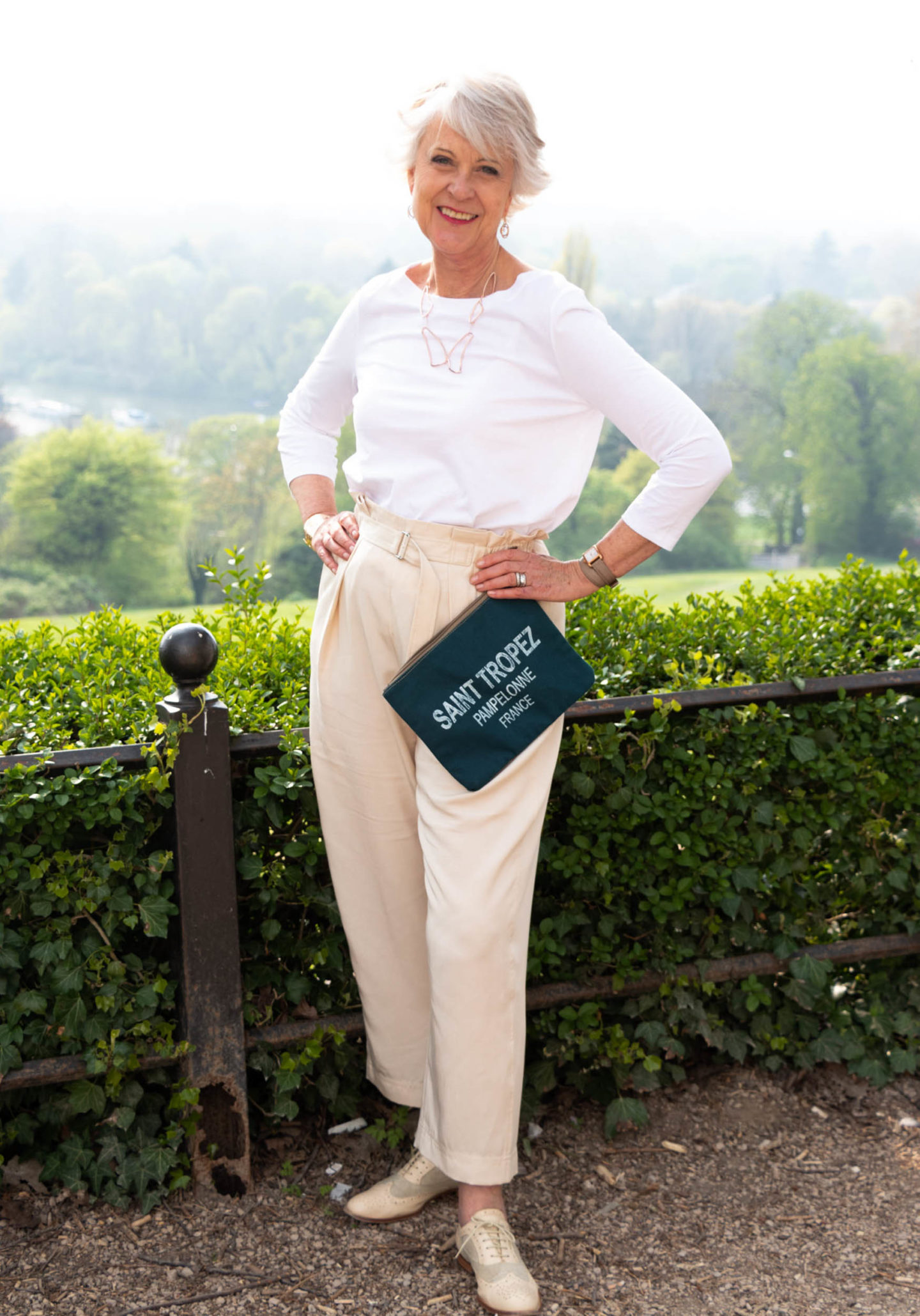 Cool beige and white for summer seems like a refreshing mix.
I am still in experimental mode with my summer wardrobe. When I unpacked and sorted through last years summer pieces many of my lighter weight trousers were getting a bit tired and worn out. Now I could have repeated the same recipe and bought more of the same styles. However, I decided to try a couple of new shapes.
Details of above outfit:
White tee Cos / beige trousers Arket / St.Tropez pochette / Beige brogues many years old (similar)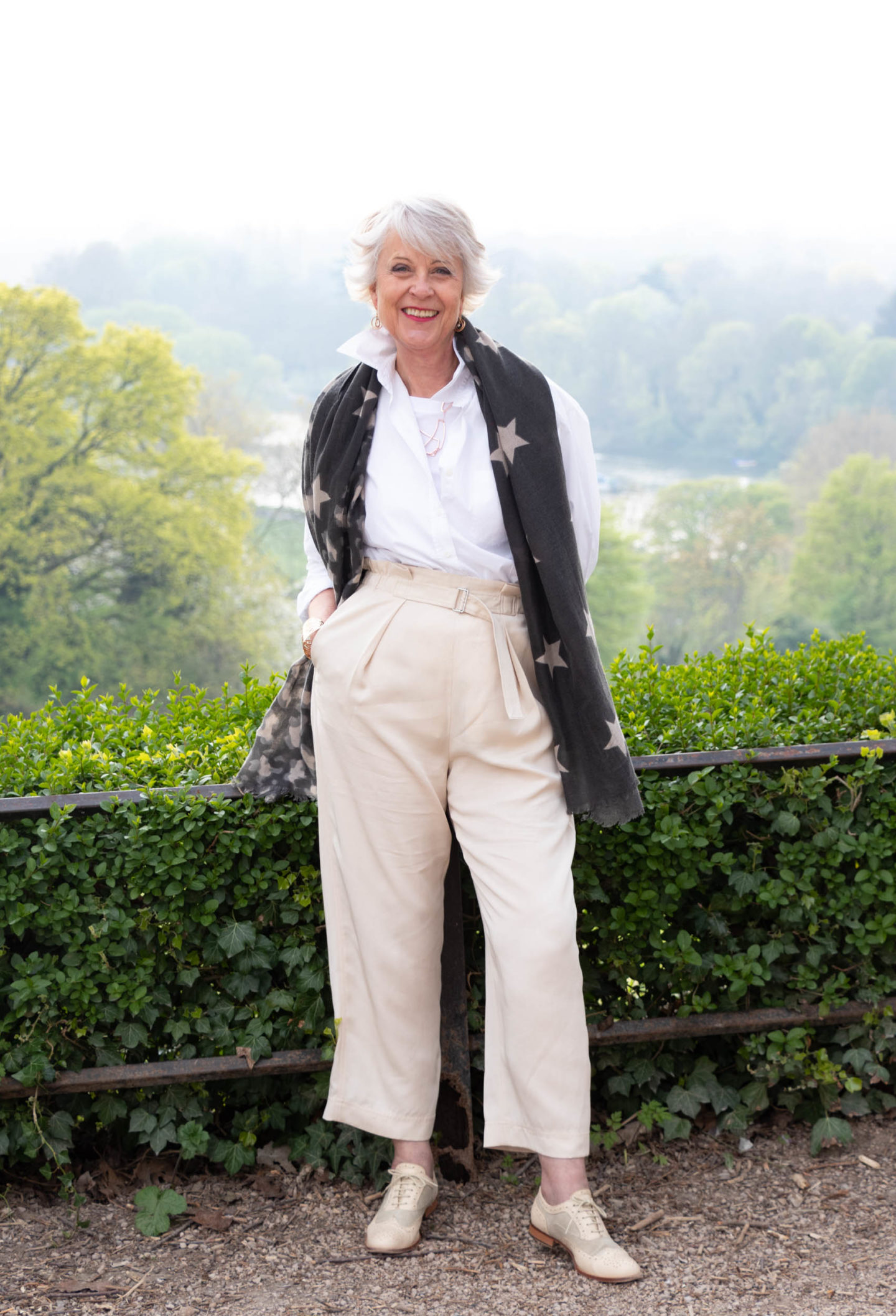 I know there is much written about finding your own unique style and that is fine. If it works stick with it. If I look back at my style in decades it has evolved not just with my changing figure shape and lifestyle but also with my mindset and emotions. I recently visited the Mary Quant exhibition at the V&A museum. I would highly recommend it, a real trip down memory lane. It brought back memories of those years of wanton experimentation. I am sure that some of the styles I wore then did not conform to my "figure shape rules" but it was such fun.
During the years when I worked in the fashion industry, I was lucky enough to have access to high fashion with a discount, heaven! I later worked in the corporate market running seminars and speaking at conferences. In this environment we had a very strict dress code, mostly navy blue suits, no trousers allowed only skirts.
I now work from home and can dress in a more relaxed style. Society has also evolved, more casual dress codes are acceptable and even embraced. As I approach my late 60s I feel the urge to push the boundaries, to have fun with fashion, to take risks, to break the rules and try new looks. When we take risks in life not everything works out; yet if we never try we never know. If not now when?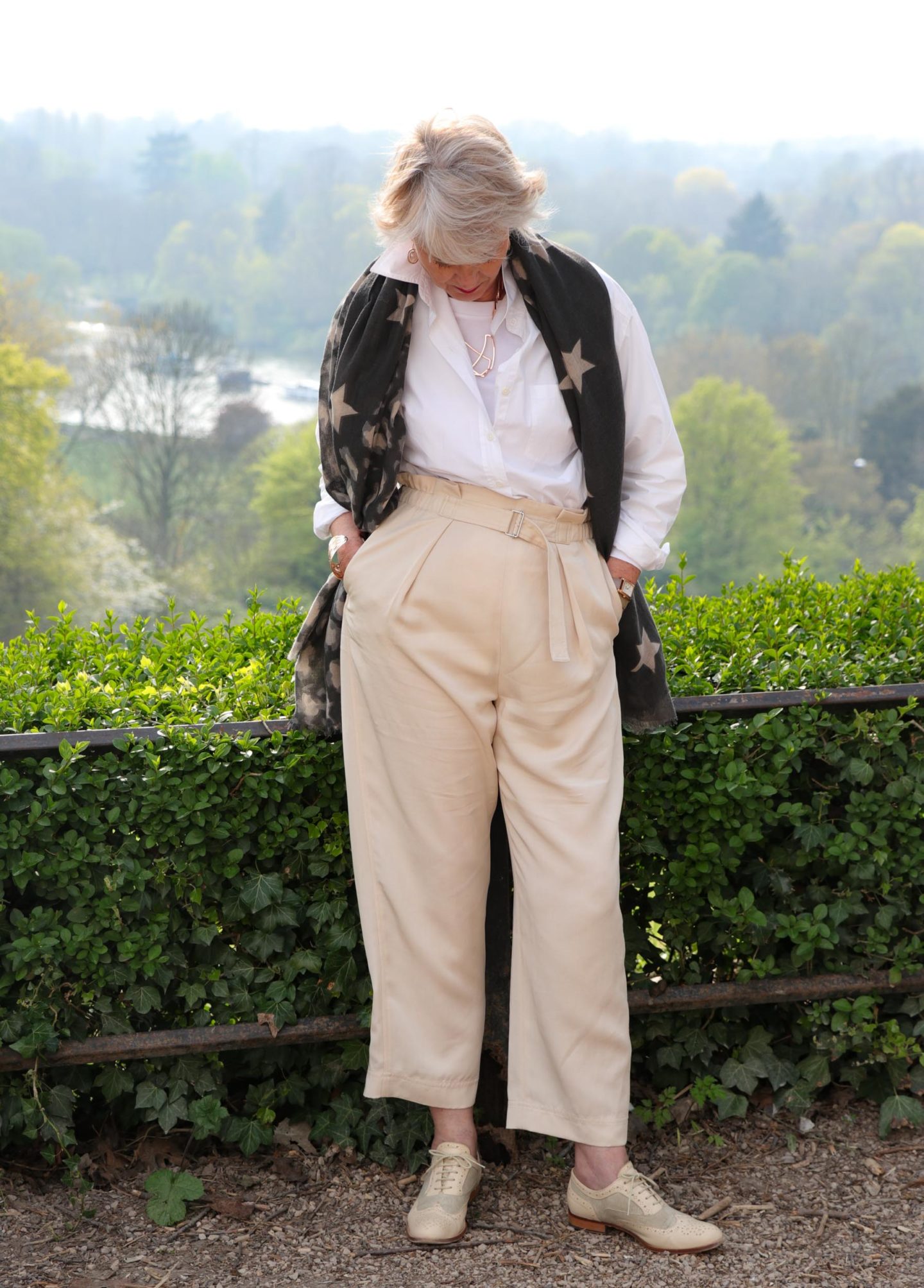 I find that adding a scarf to a simple outfit adds a touch of interest and expresses your personality. The dark grey and beige star print scarf I am wearing is from St.Tropez market.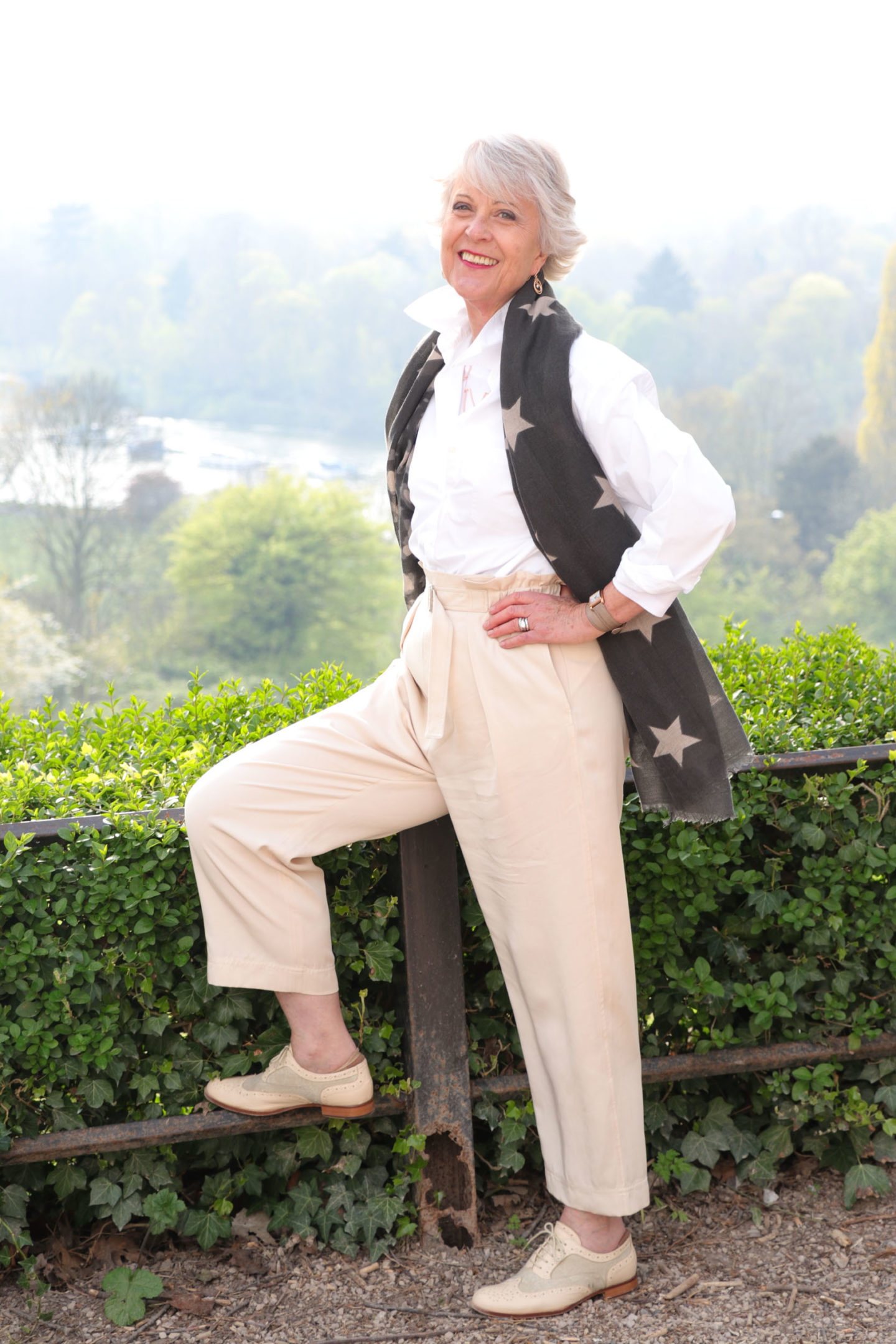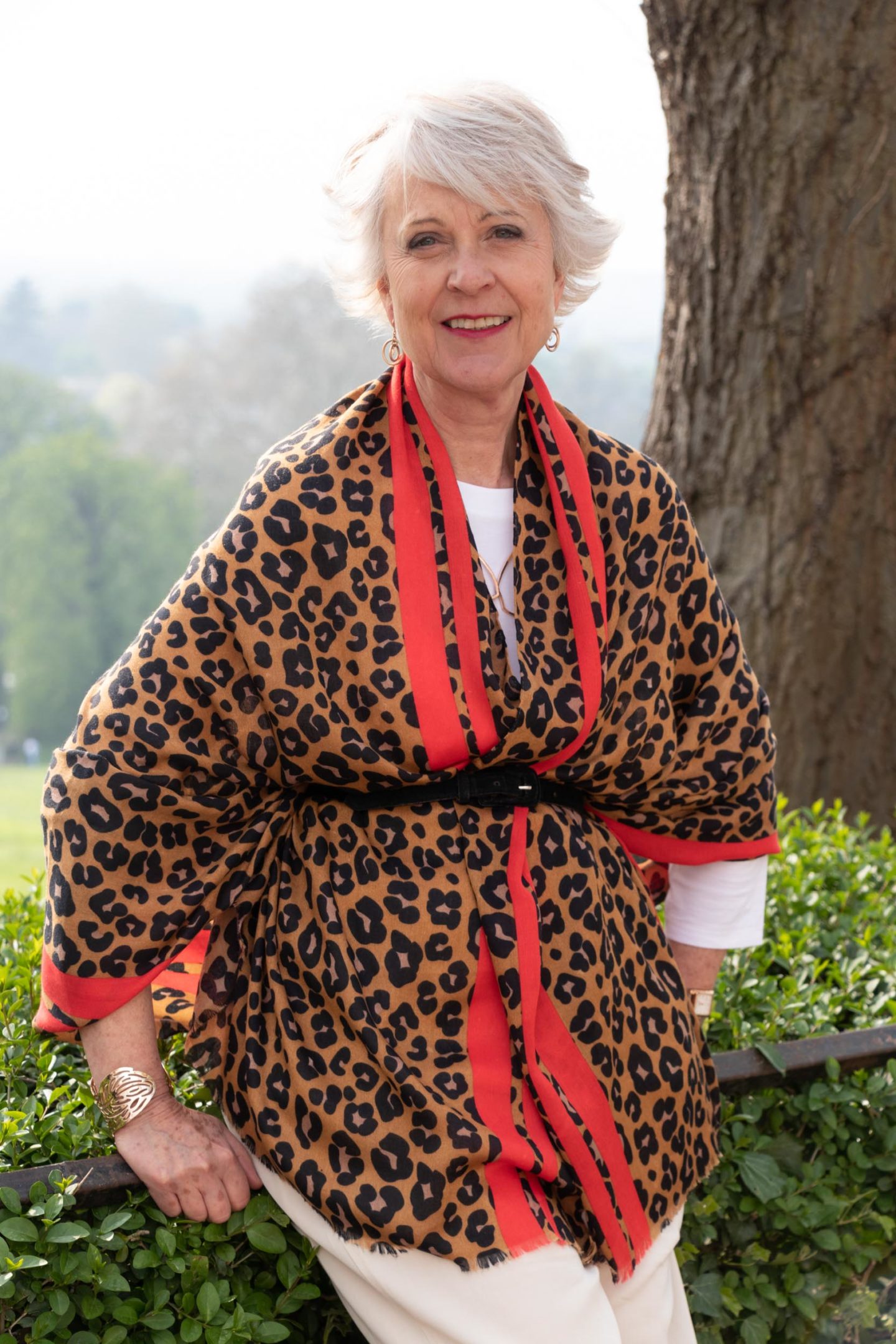 A great tip to extend your wardrobe especially when you are travelling is to include a large scarf/stole in your suitcase. It is incredibly versatile. Here I am using it as a top. I have added a belt to keep it in place. If you are not a fan of belts you could keep it in place with a strategically placed broach. My vibrant coloured scarf/stole is from St.Tropez market.
Well, it was certainly a lively debate on my last post on trousers. I always welcome all your comments, provided they are respectful. It is good to have a different opinion on what we like and what we don't.
I thought I would do some research on wide trousers over the decades and came up with the following image of Coco Chanel in the South of France. She was slim but definitely petite. So my wide trousers will be coming with me when I go to St.Tropez in June. I think that will be a better environment for them.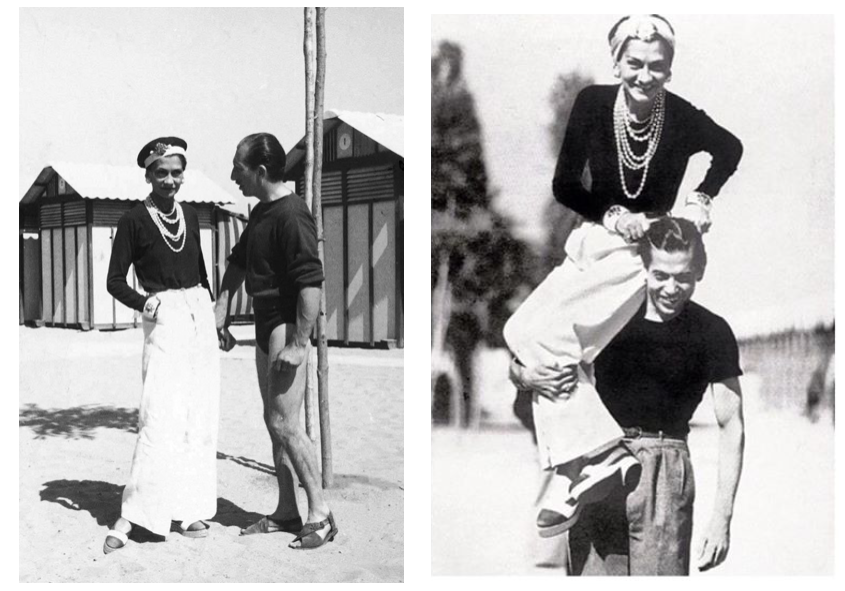 Good article of women wearing wide leg trousers over the years (not all tall, thin or young) shown by one of my favourite brands MeandEm, who offer great examples of this style. I also wrote a post on wide trousers with examples in 2015.