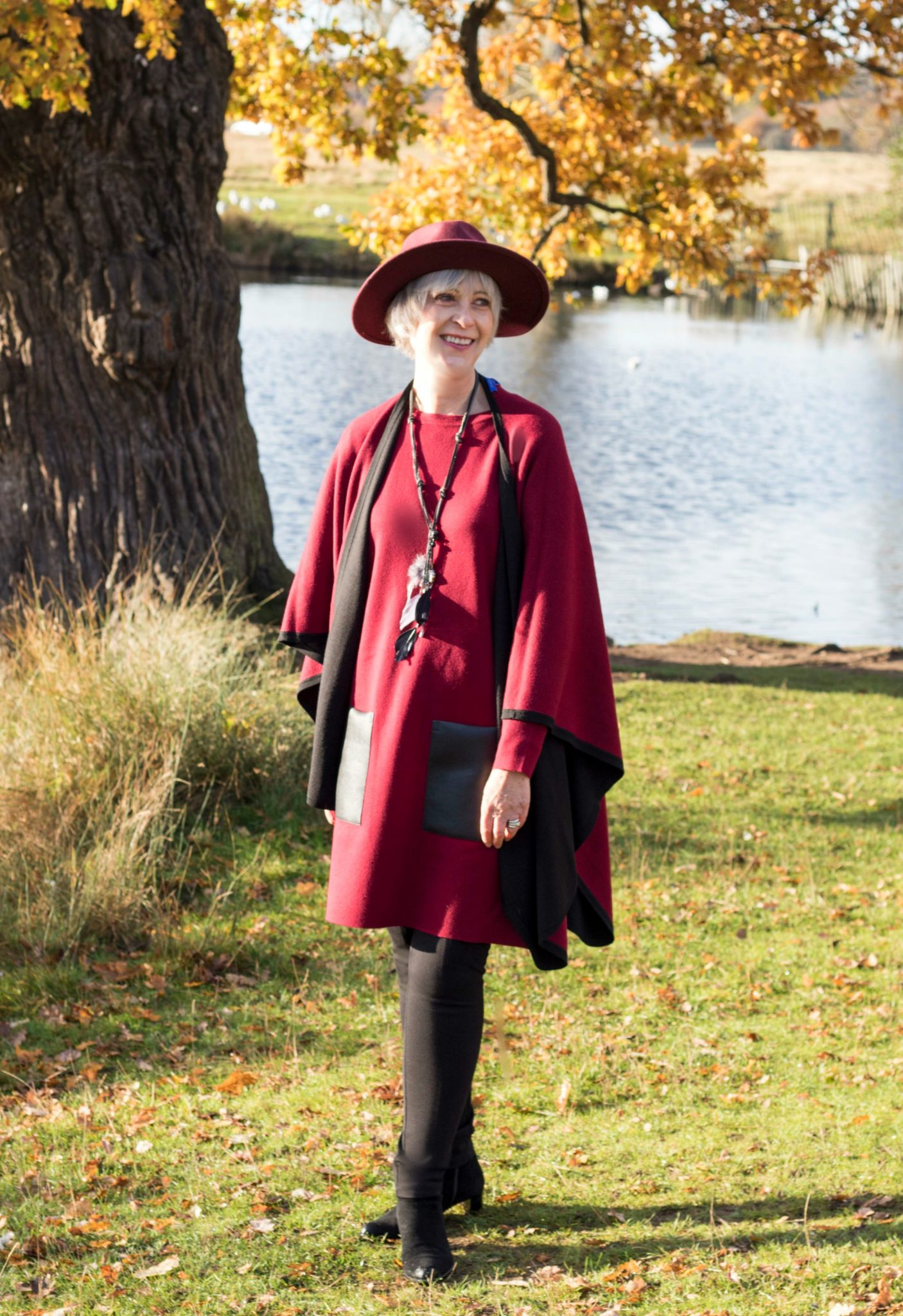 I have completely fallen in love with this colour. It is a beautiful rich shade of burgundy (yes I am also fond of a good burgundeon wine). It has a touch of brightness which is very flattering. I find some burgundy/wine tones can be a bit flat. This merino wool dress has faux leather patch pockets and is from one of my favourite brands winserlondon. It is also available in charcoal and black. With the addition of bold statement jewellery the black would be ideal for evening. They do ship internationally. (Your will have to hurry as free international shipping offer closes today).
I find that sometimes knit dresses can be a bit clingy round the bum. This style has a tailored appearance and is very comfortable. The gentle A line shape is flattering on the hips. I am wearing mine as a tunic with the Winserlondon miracle leggings. I am quite tall so like this look. The tunic covers my knees and keeps me extra warm.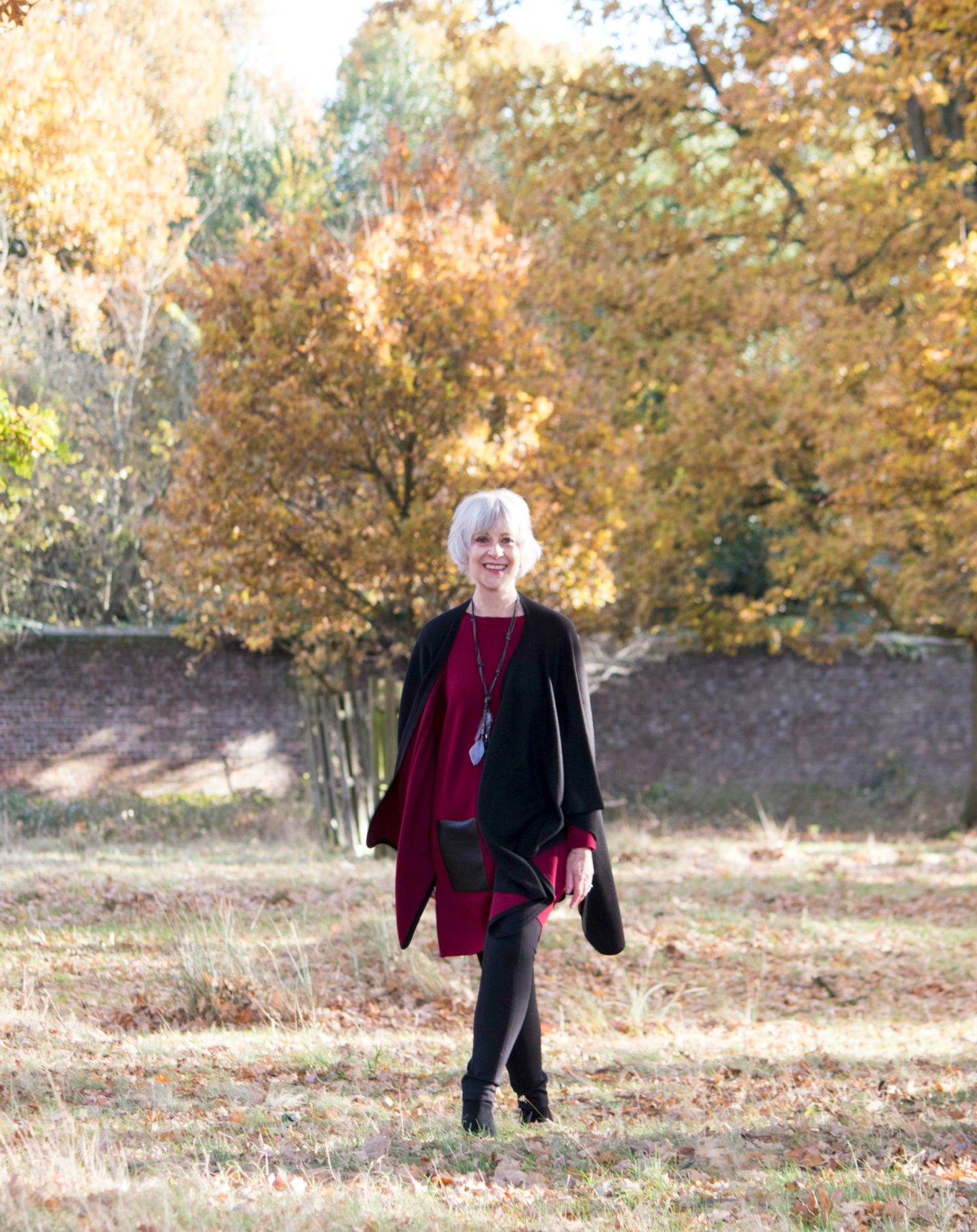 This is the second Winserlondon reversible cape in my wardrobe. I have a lovely light blue one for summer. They are so useful. You can quickly drape them round a dress, jacket or coat for added warmth and glamour. In the photos I have worn the cape showing both the burgundy and black sides. Two looks for the price of one.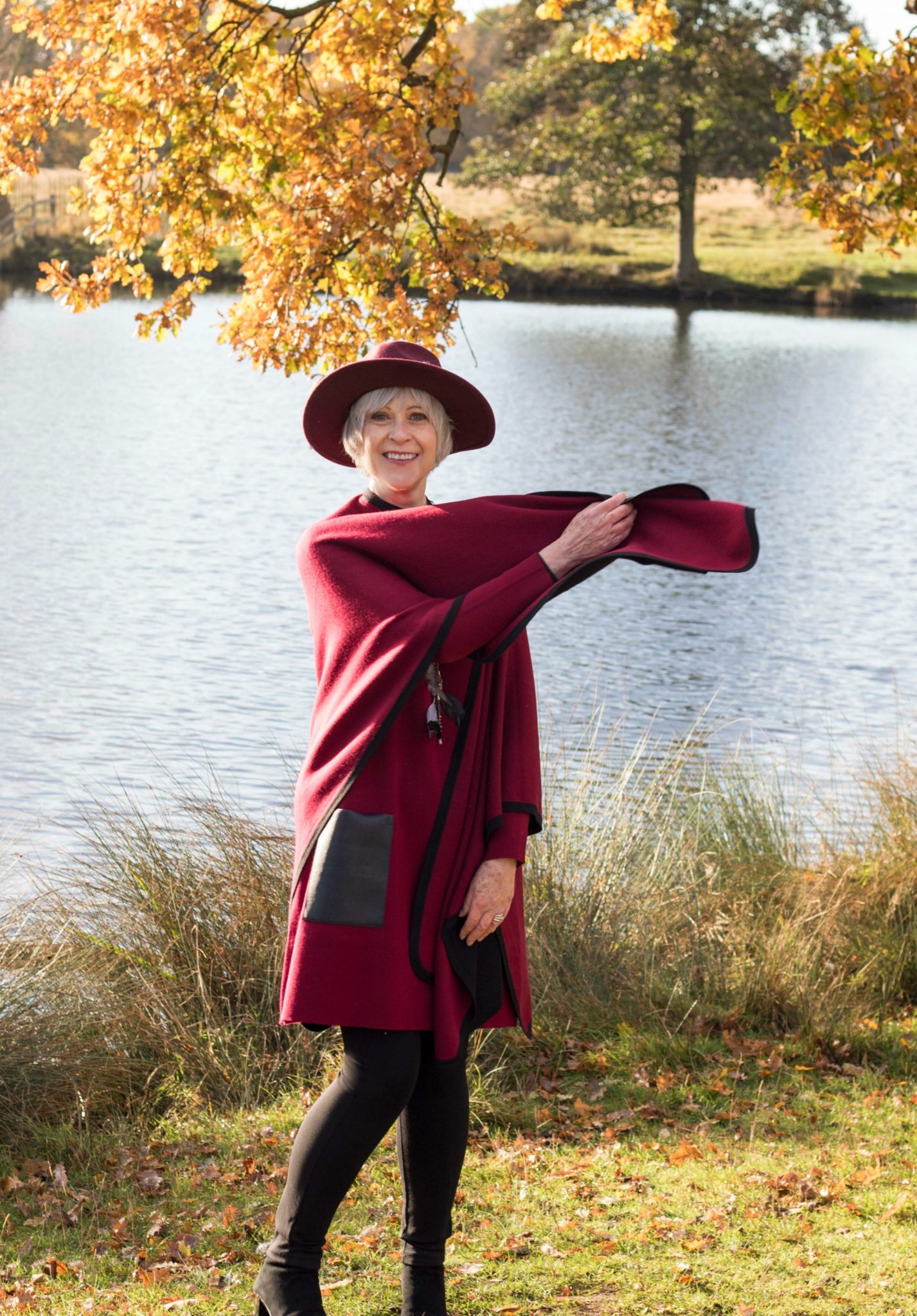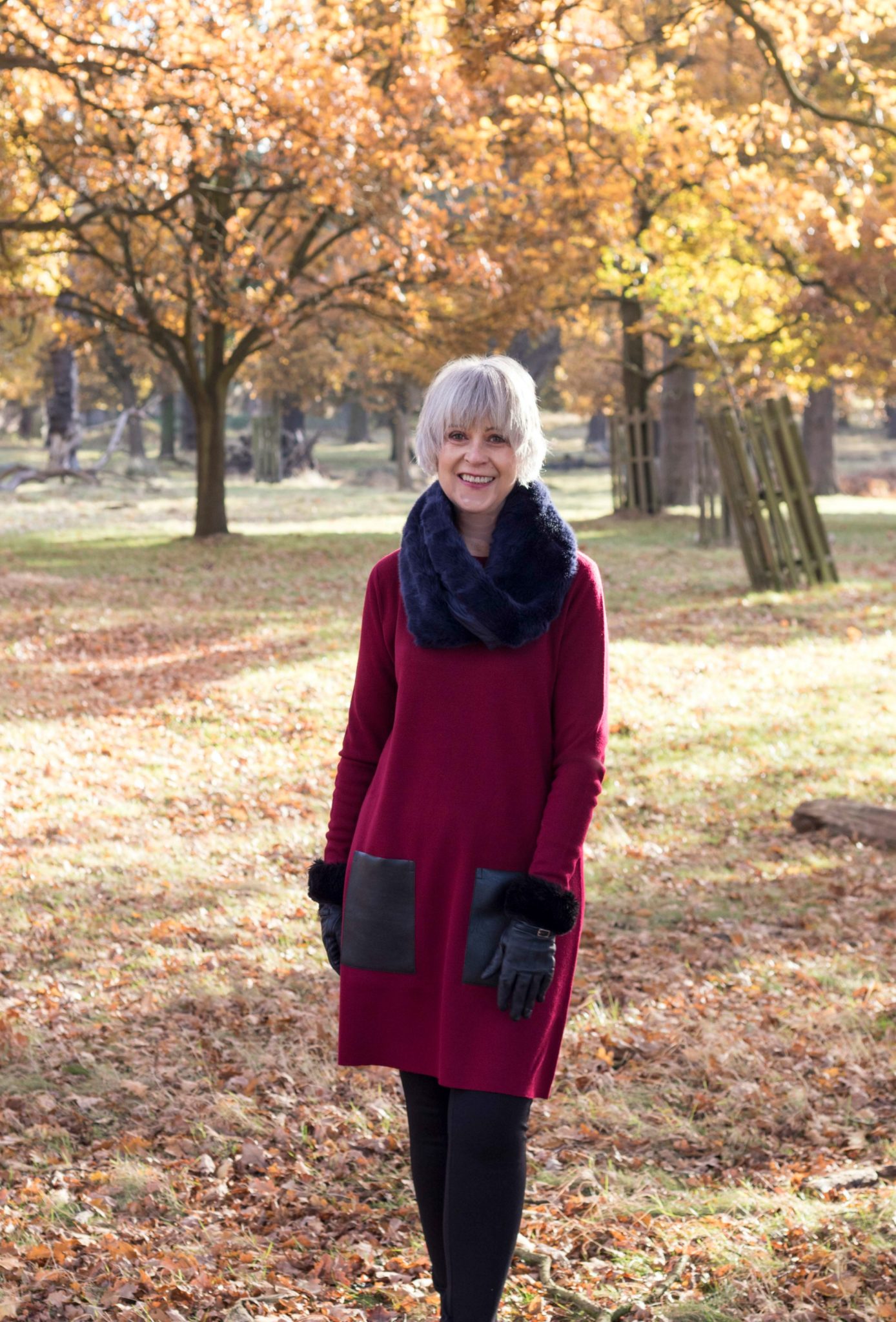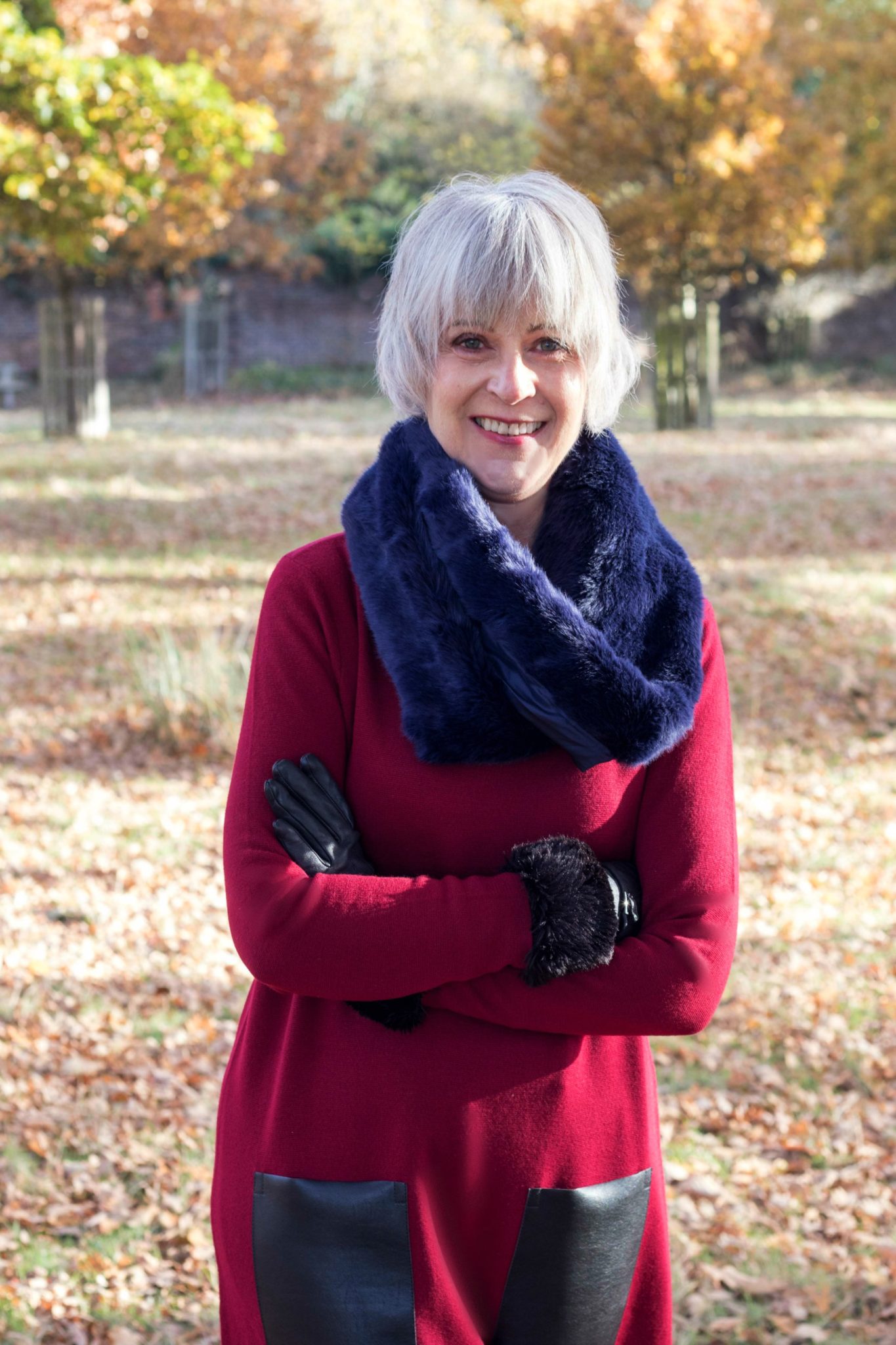 Accessories: My blue faux fur snood is a couple of years old similar. Gloves with faux fur cuffs similar. Feathered necklace St. Tropez market similar.
The dress/tunic is also available at John Lewis in midnight/black.
Photos by Jaf_in_the_box The photographic adventures of a French girl in London. We had such fun photographing the outfit in Richmond Park. The autumnal colours were stunning and provided the perfect backdrop for the rich tones of the outfit. Do pop over to Jaf_in_the_box Instagram . The photographs are stunning.