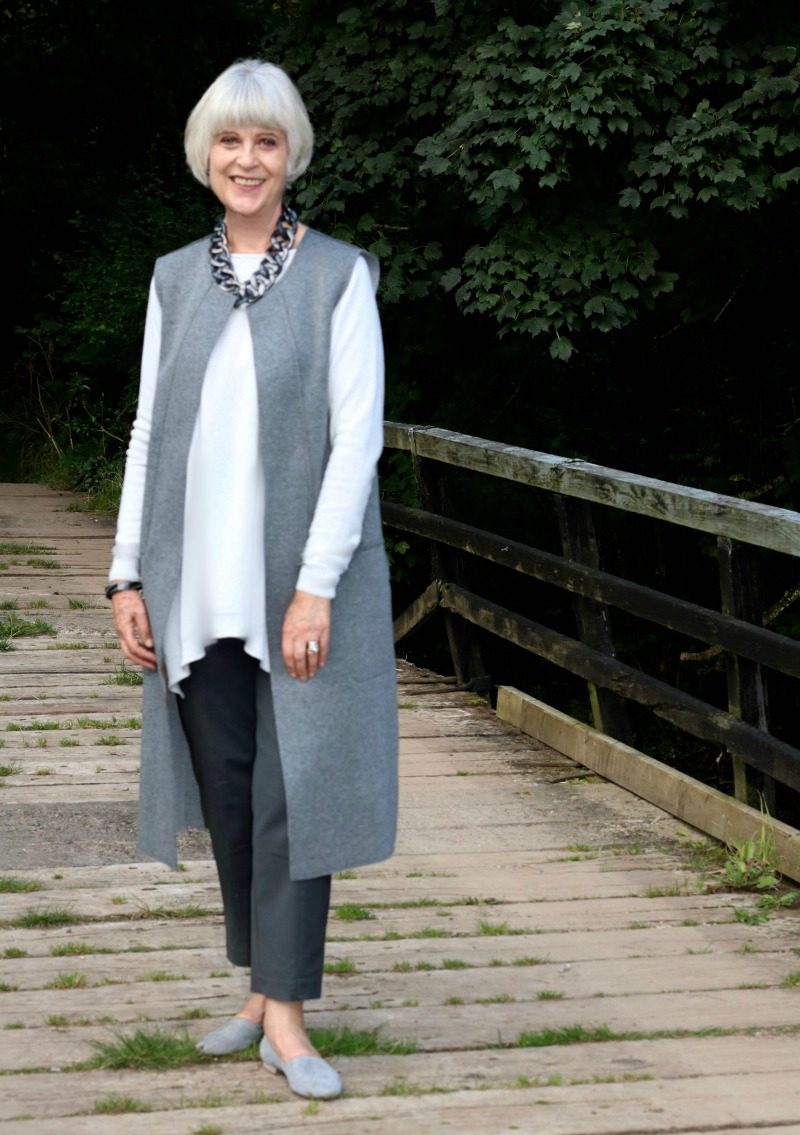 I am now back in London and summer has finally faded into a mellow autumn. My linens and cottons are packed away safely for another year. I have sorted through my autumn/winter wardrobe. My heavy knits and coats are still in moth balls, I am not quite ready for those yet. I don't have much wardrobe space so have to continually rotate my clothes.
Now it is time to update and add a few "on trend" pieces. The first is a long sleeveless coat by Hopefashion in a soft wool fabric. I loved this style last year and am really glad the style is still popular. It extremely useful over a sweater on mild autumn days.
I find it flattering as I have narrow shoulders and wide hips. The style is great for skimming over the hips and bum thus providing balance where it is needed and doing a good camouflage job. If you are petite I would suggest maybe getting a slightly shorter version or having a dressmaker take up the hem.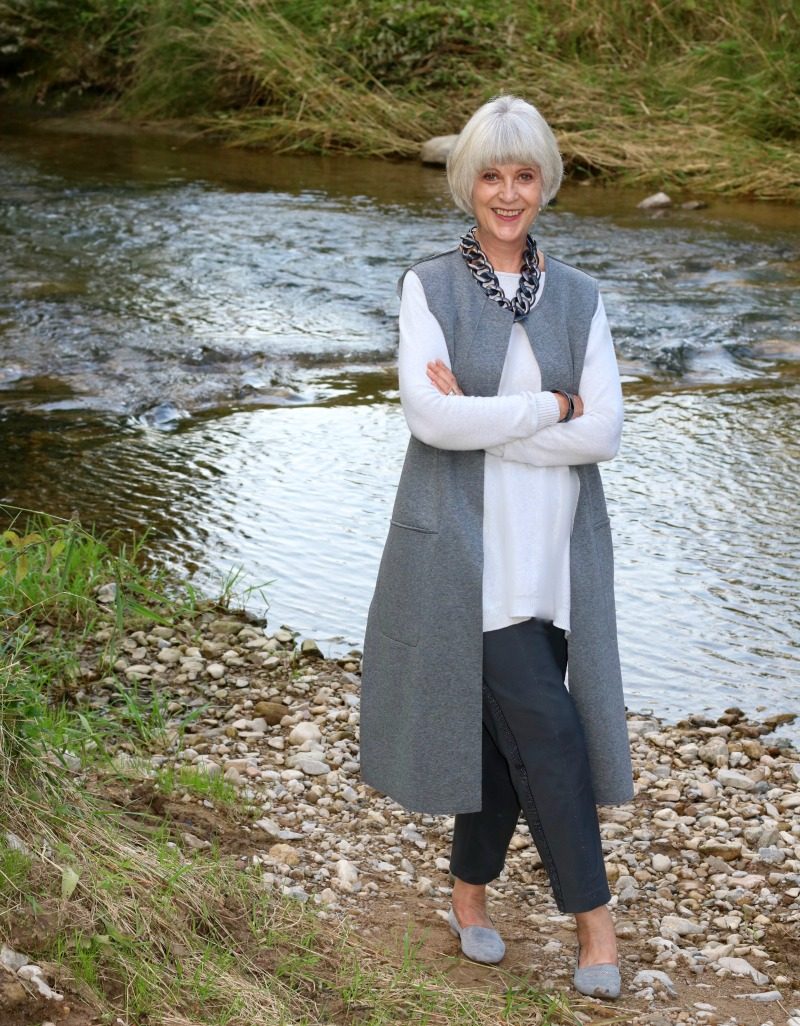 I have received several requests recently to feature clothes that are suitable for bigger/curvier women and plus sizes. I have a narrow frame however am definitely curvy and seem to have got more so especially round the middle. I am finding that I need to invest in better fabrics that drape well over my curvy areas. There is nothing worse than fabric that clings in all the wrong places.
It is difficult to define plus sizes these days. Many brands like Hopefashion are changing the way they size their garments. They have a great philosophy. It is worth watching their video on sizing. They also use real women to show their collections, not glamorous older women who are or were professional models.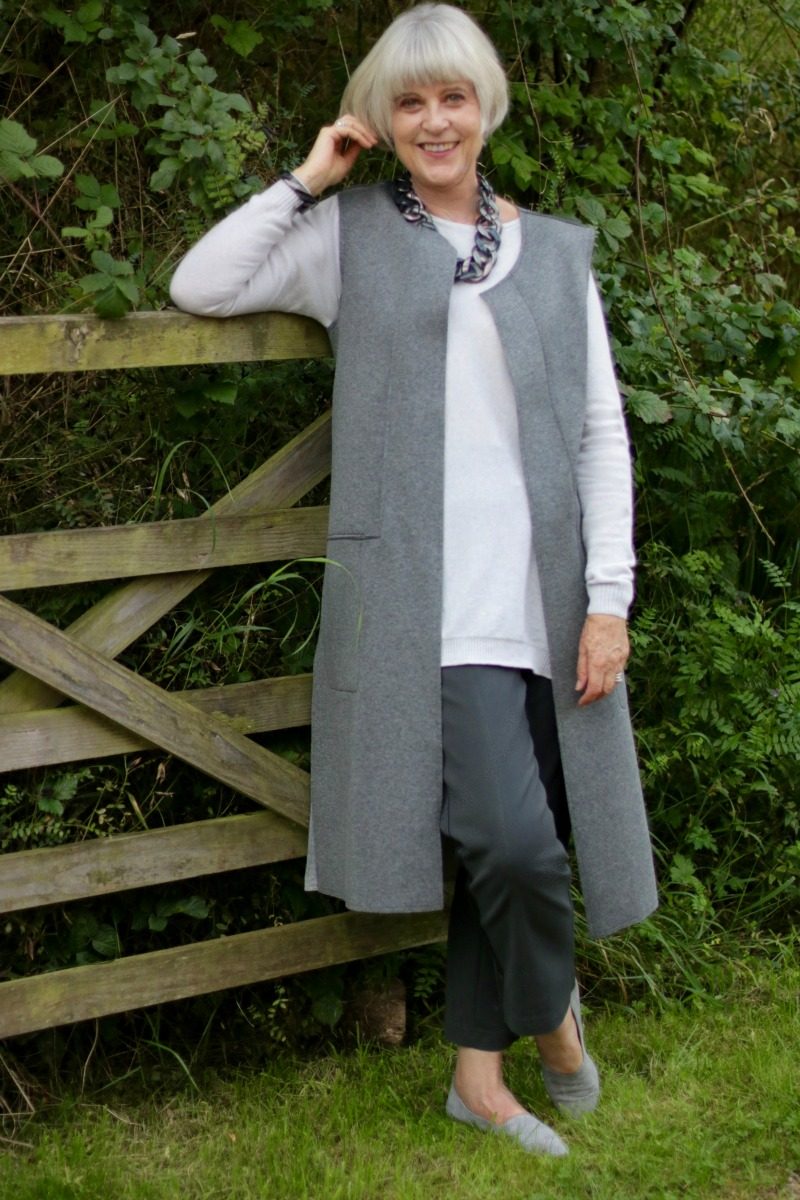 Photos taken by Karen on our recent trip to Cumbria.
My light grey sweater is also by Hopefashion (now reduced from £95 to £47.50 in the sale). My grey trousers are a few years old purchased in France similar. Shoes by Paul Green, last season new collection. Necklace Jaeger last year. Love this years version.
International Delivery
Hope are happy to send orders overseas and, as a small company, can quote individually to give you the best price for each destination, simply contact customerservice@hopefashion.co.uk.