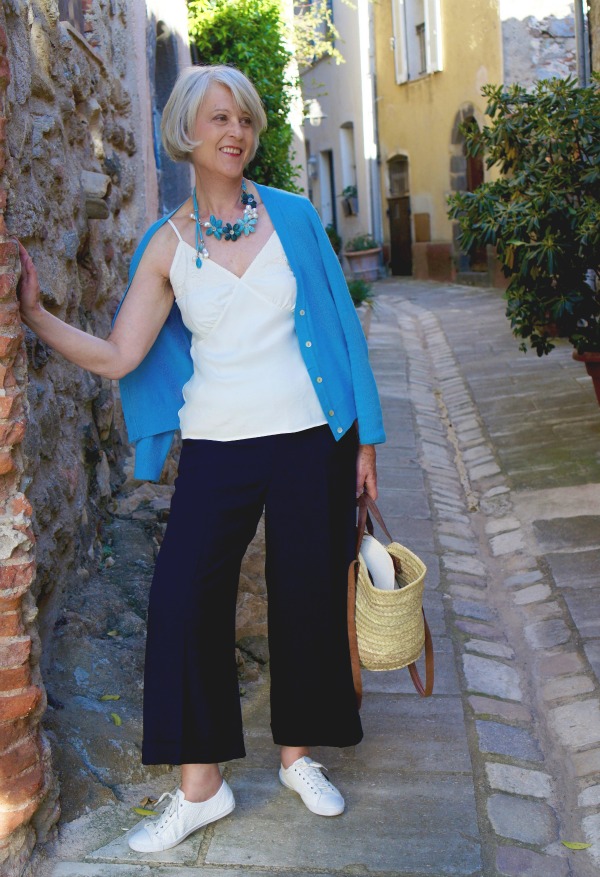 Alexa Chung collaboration with M&S.
If you live in the UK do you shop at M&S? If so what clothes do you expect to find there?
M&S used to be a store where you stocked up on classic sweaters and trousers. Over the last few years they have been offering more fashion forward looks.
Their recent collaboration with the style icon Alexa Chung is aimed at capturing a younger audience.
Just before my trip to France I was invited to the launch of Alexa's Archive range at the M&S Marble Arch flagship store.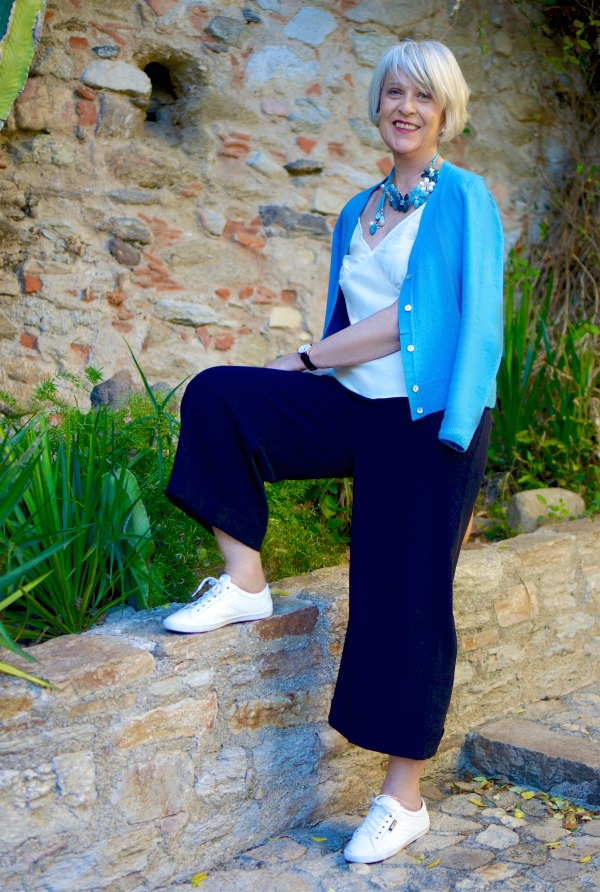 At the event I was introduced to Alexa, who was charming. She told me how she had enjoyed delving into the rich M&S company archives to create the 31-piece collection. She described how she had chosen pieces from the 60's and 70's and brought them up to date with the clever use of fabric and colour. She laughed when I told her that I had once worn the original versions!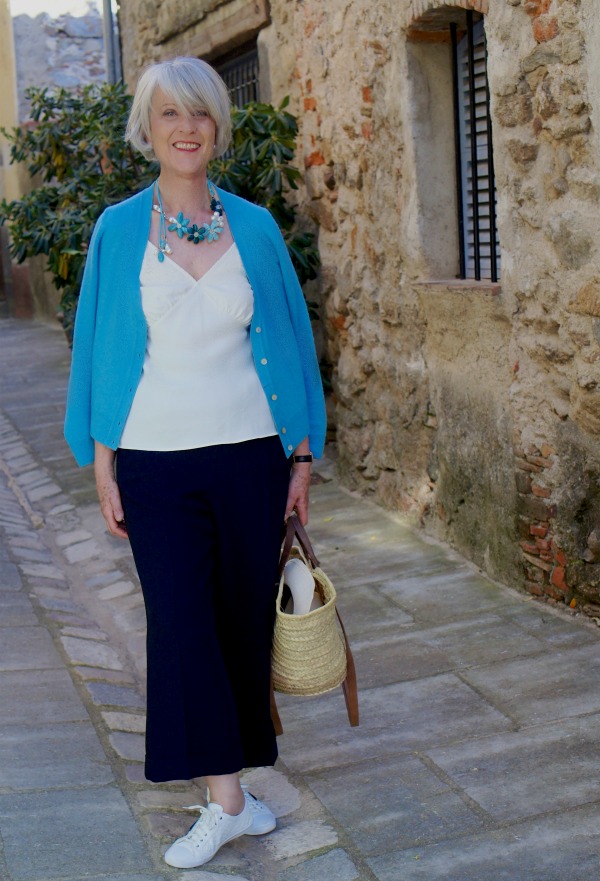 I was invited to choose a few key pieces from the range. I picked the navy Ada trousers (modelled on a pair of wide leg canary yellow trousers from 1972), the Bertha cardi and the Hattie Camie. I have teamed them with white keds available here and here for a casual look.
I have worn the trousers on several occasion whilst in France. They are the right weight for in-between seasons and can be dressed up or down. They also travel well as they do not crease. The Cardi I have teamed with an A line dress for a casual evening out.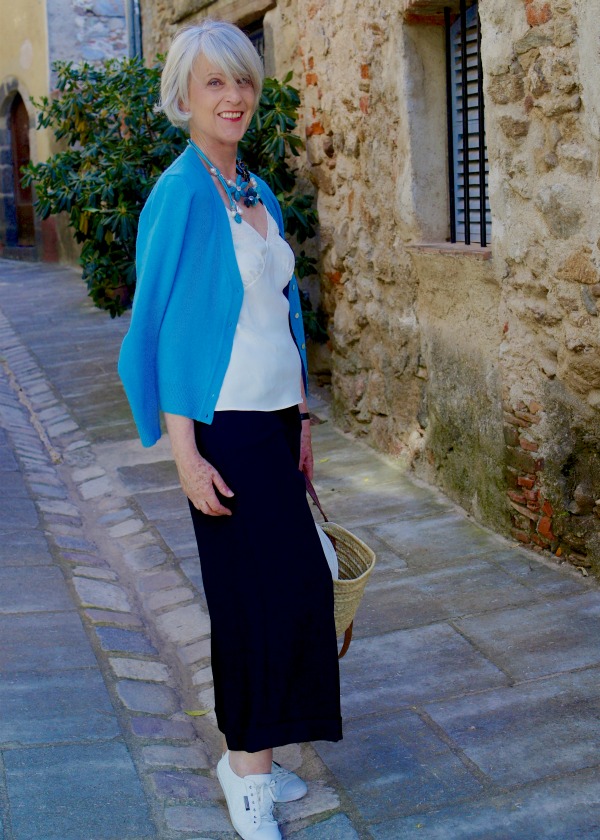 Photos by Dee
I am not into vintage styles; however I can live happily with re-imagined wardrobe classics. I found that many of the dresses in the range were very short, (Alexa has legs like a giraffe). Probably best suited to our daughters rather than us. The classic styles do cover a wide age range. Catherine of Notdressedaslamb chose the same trousers as me. I will be interested to see how she wears them.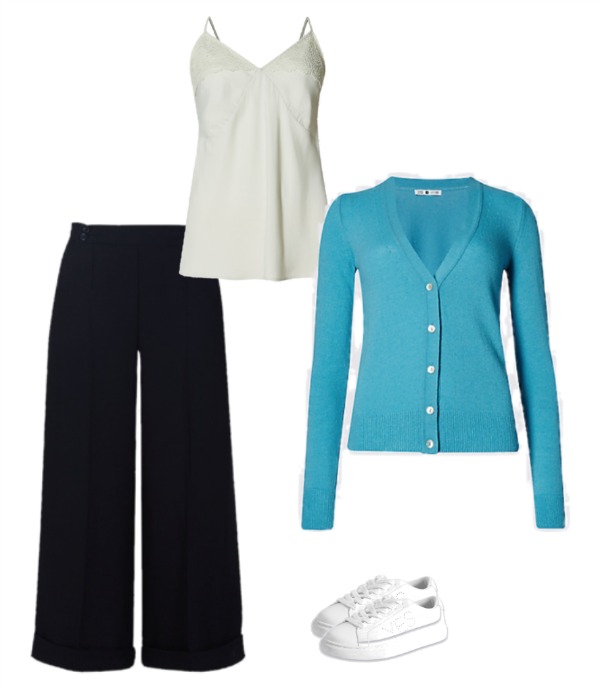 All items from the Alexa Chung Archive Collection
British fashion re-interpreted for 2016.
I would love to know what my UK readers think of the direction M&S is taking? Does it work for you? What would you like to see more of in the M&S stores?
PS. Thank you for all you kind support. It is due to you that I continue to have the energy and desire to develop the blog.
I wrote a post on "How I wear the new trouser shape" due to "stuff happening" it did not reach all my readers. It is a controversial subject so if you have not seen it you might like to click here and join the conversation.
Disclaimer: I was given a voucher to choose an outfit from the Alexachungarchive collection. All opinions are my own.