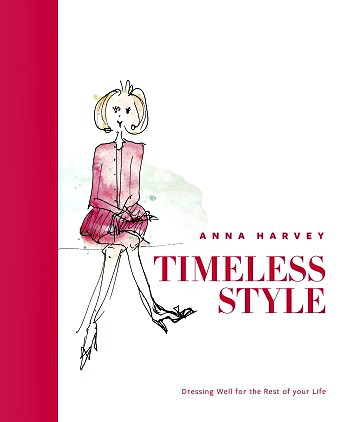 Timeless style something we all aspire to. I have written reviews on a variety of books on the subject of "what to wear after a certain age". I have never quite ascertained exactly where this dividing line is or at what age we are supposed to adapt our "look".
Timeless Style by Anna Harvey is in my opinion the first book aimed at our demographic that is truly honest and says it as it is "wobbly' bits and all. There are no celebrities featured in the book, nor any of our to me admired "older models" just some charming sketches.
Anna's style is anecdotal and friendly with some wonderful quotes by some of the "fashion greats".
I had a lovely chat with Anna a few weeks ago and we definitely seemed to be "on the same page" when it came to what we considered was "Timeless style". We both agreed that we hated labels such as pro-age, anti-age etc.
Anna has enjoyed a distinguished career in fashion working on Harper's Bazaar and Vogue. She has also been a fashion advisor to may stylish women of the 20th Century including Diana, Princess of Wales. She has based much of her book on the questions she has been asked by readers over the years.
In the book Anna offers very practical advice on how to dress for the figures we have now. There is an excellent chapter on how to be truly honest with ourselves and tips on how to analyse and accept the shape we are now (lumps and wobbly bits and all).
I have already adapted Anna's advice on buying my sweaters one size larger. There is nothing worse than knitwear clinging round ones' middle.
I asked Anna for one piece of advice for us more mature women. Here is what she said:
"Believe in yourself" She also added that personal grooming is very important. A good haircut, manicure, pedicure (that reminds me I promised myself a pedicure).
I also asked her what she had learned regarding style during all the years she had spent working in the fashion industry:
That she had learnt to avoid mistakes and to build up confidence in the way she looked. Not forgetting posture and deportment.
Another great piece of wisdom she imparted:
Take pride in yourself. Be pleased with what you have achieved and have self-respect.
A woman after my own heart!.
Back to the content of the book.
She warns us not to get stuck in a rut. I am definitely trying out some new colours this season, such as a soft mid-tone khaki, which I never thought would suit me but it actually does. Also shift and tunic dresses, which are so kind and forgiving round the middle. I wear mine with opaque tights (now back in fashion apparently) or leggings.
I really enjoyed Anna's book. I have lots of post-it notes stuck in relevant chapters and will be using it as a reference resource going forward.
At this time of year it will make a great gift for a "fashionista of a certain age". Alternatively treat yourself to an excellent style reference book.
You can buy the book on Amazonuk and Amazon.com
"Timeless Style by Anna Harvey is published by Double-Barrelled Books.