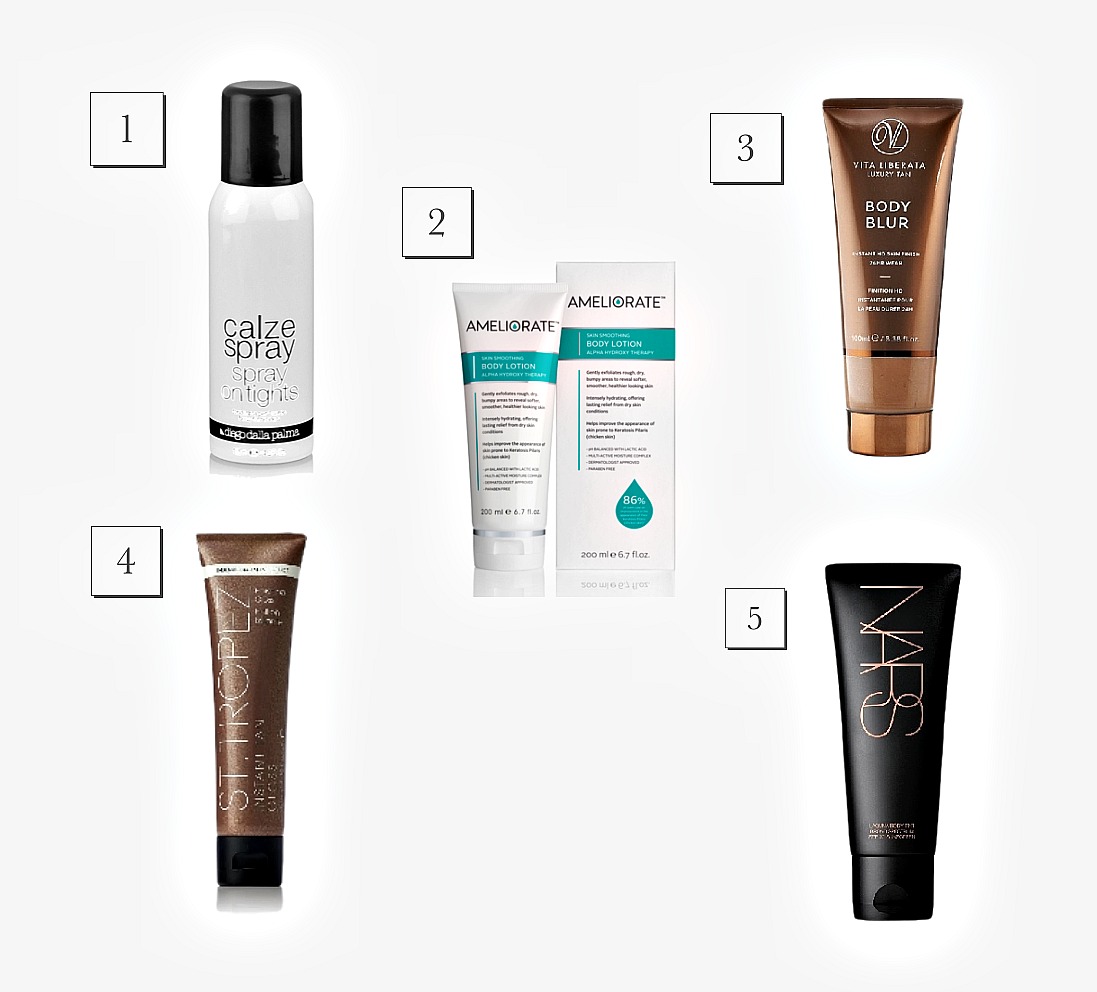 Summer has suddenly arrived here in London and holidays and summer parties may be on our horizons. Many of us will be wearing our summer skirts and dresses. What to do with our pale winter legs?
Summer leg make-up may be the answer. I recently received an email from one of my readers asking my advice on whether to wear tights or not with open toed sandals. My answers was that it is more modern to invest in a good pedicure and go bare legged. So how do we prepare our legs and in my case camouflage my less than perfect "pins".
ABOVE:
l. Calze spray on tan leg make-up MarksandSpencer // 2. Ameliorate body lotion Feelunique // 3. Body blur instant HD finish Nordstrom 4.St.Tropez Tan body gloss Lookfantastic // 5. Nars laguna body tint
For many years I used fake tan, yes the kind that often went streaky or turned an unflattering shade of orange. Things have moved on since then and modern self tan formulas are much improved. However I personally prefer camouflage leg make-up sometimes referred to as wash-off leg tans. I find that it gives better coverage specially if you are prone to bruising, have discolouration or thread veins. They look more realistic and are perfect for our changeable climate. Tan if the sun is shining and don't bother on the rainy days.
The wonderful Ameliorate, a niche brand dedicated to the treatment and relief of bumpy, grey and flaky skin, is a good place to start to prime your skin. It uses lactic acid to exfoliate and smooth, and keeps skin moist for several hours.
Vita Liberata's Body Blur Instant HD Finish is a bit pricey but brilliant leg make-up. Available in three believable shades, it glides on smoothly to tan legs, disguises thread veins, evens out knocks and grazes, and generally makes legs appear sheathed in 15 denier. Comfortable and luxurious-feeling is Nars's limited-edition Laguna Body Tint which features broad spectrum SPF30 (very often, we presume fake tanners protect us from the sun).
St Tropez Instant Tan Body Gloss imparts only the sheerest tint and a subtle sheen. Great for enhancing a light tan, if you have one.
The sun was shining at the week-end and I wanted to wear my new Hope linen dress. So I went through the procedure of camouflaging my legs using the Calze spray tights. I used gloves to exfoliate, slathered on lots of moisturiser (wait for this to sink into skin) then used the leg make-up. It took two layers and lots of rubbing in and making sure every inch of leg was covered. VERY IMPORTANT leave time for this to settle and dry before putting on clothes. A word of warning whatever the manufacturer says I would be wary of wearing white trousers. I had an incident last year when it was very hot and sticky and humid. I was wearing linen trousers. Everything seemed to melt that day including my leg make-up. The good news is that it does wash out.
Do you have any tips for summer legs? Do share with us.